ENGLAND ASHES CRICKET MEMORABILIA

(Team Items Listed Chronologically)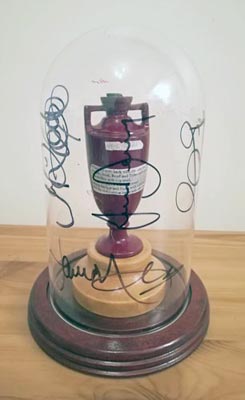 REPLICA ASHES URN & PLINTH
Official MCC-sanctioned full-size Ashes Urn replica model.
Outer protective cover signed by England captain Joe Root + Jimmy Anderson, Joe Denly & selector James Taylor.

Overall size: 22 cms

Open to offers.
Please CONTACT US with bids or for more info.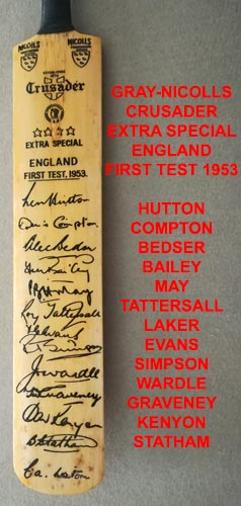 ENGLAND ASHES CRICKET BAT

FIRST TEST 1953 v AUSTRALIA
13 x printed autographs of the England team
inc: Compton, Hutton, Laker, May & Bedser...
(other names as per picture)
on a Gray-Nicolls Crusader Extra Special mini-bat.

SOLD £25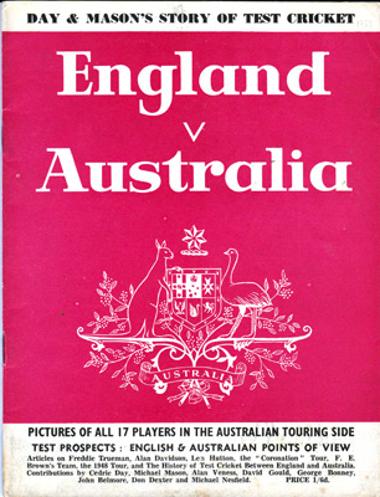 1953 DAY & MASON'S STORY OF TEST CRICKET
ENGLAND v AUSTRALIA
booklet featuring pictures of all 17 Australian Touring Party and articles & features.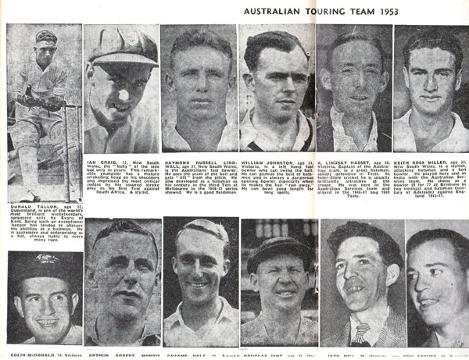 1954-55 ASHES MEMORABILIA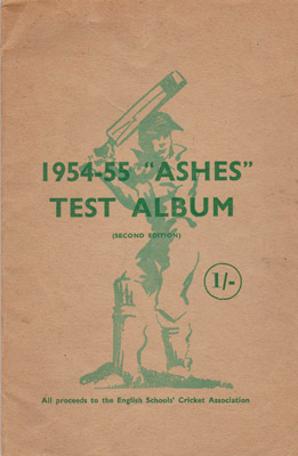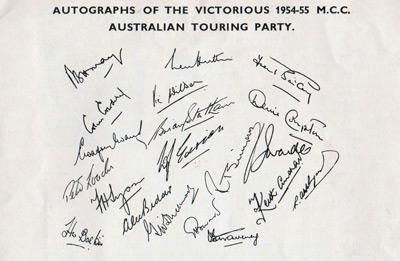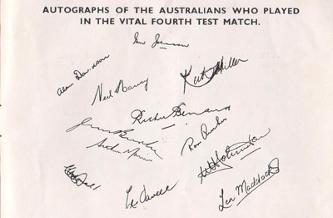 1954-55 'ASHES' TEST ALBUM - Second Edition
Includes facsimile autographs of both teams + scorecards of the Test matches. In aid of the English Schools' Cricket Association.
Printed by
Robert H.Baker, Northampton (1955)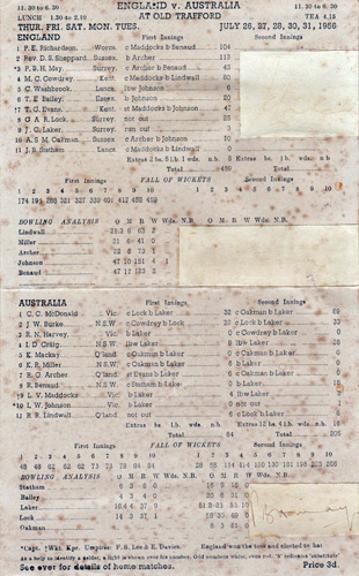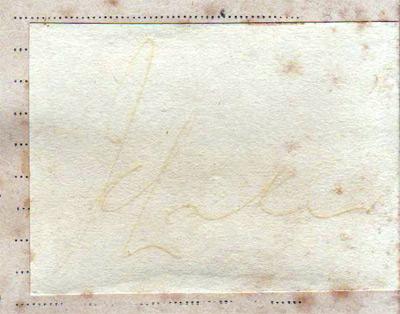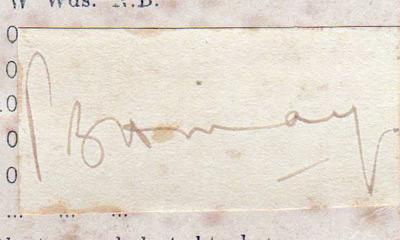 1956 ENGLAND v AUSTRALIA Ashes Scorecard from the Old Trafford Test Match in which Jim Laker took a world record 19 wickets.
The card has three autographed cards laid down:
1: Jim Laker (feint) 2: Unknown (faded) 3: Peter May (England Captain)
Card has some foxing and is folded across the middle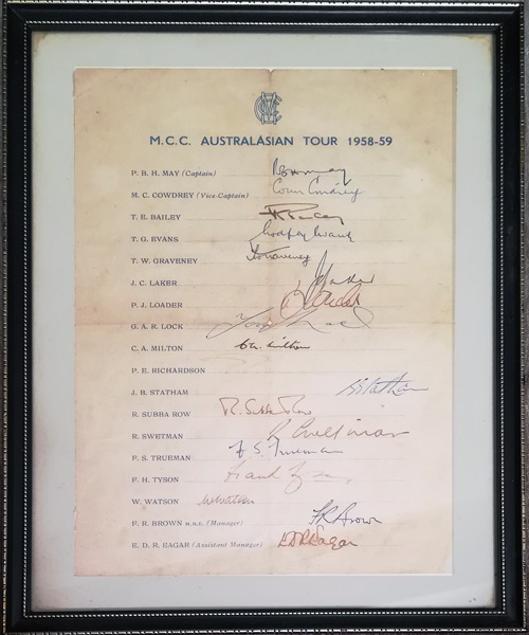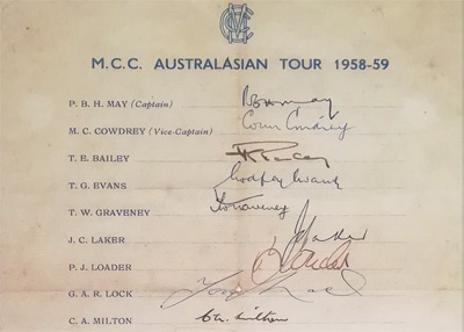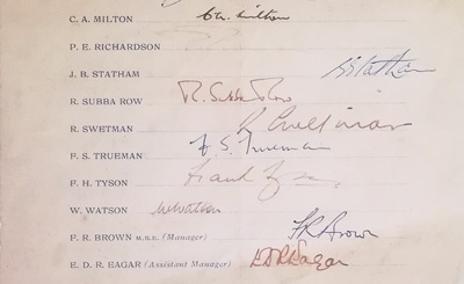 ENGLAND ASHES TOUR 1958-59
Squad signed Official MCC Team Sheet.
15 player autographs: Peter May (captain), Colin Cowdrey (vice-capt), Trevor Bailey, Godfrey Evans, Tom Graveney, Jim Laker, Phil Loader, Tony Lock, Arthur Milton, Peter Richardson, Brian Statham, Raman Subba Row, Roy Swetman, Fred Trueman, Frank Tyson & Willie Watson
+ Freddie Brown (Tour manager) & Desmond Eagar (Asst Mgr).
Framed
UK delivery only

SOLD £100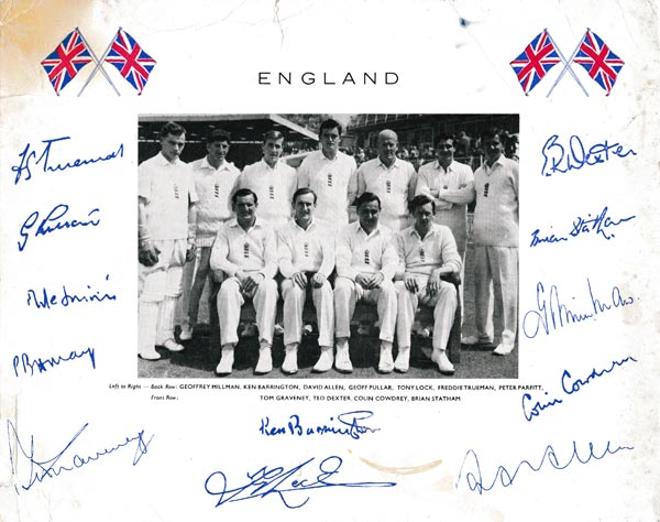 ENGLAND TEAM PHOTO

1962 England squad photo with printed autographs, inc: Colin Cowdrey, Ken Barrington, Fred Trueman, Tony Lock, Peter May, Ted Dexter, Tom Graveney, Brian Statham.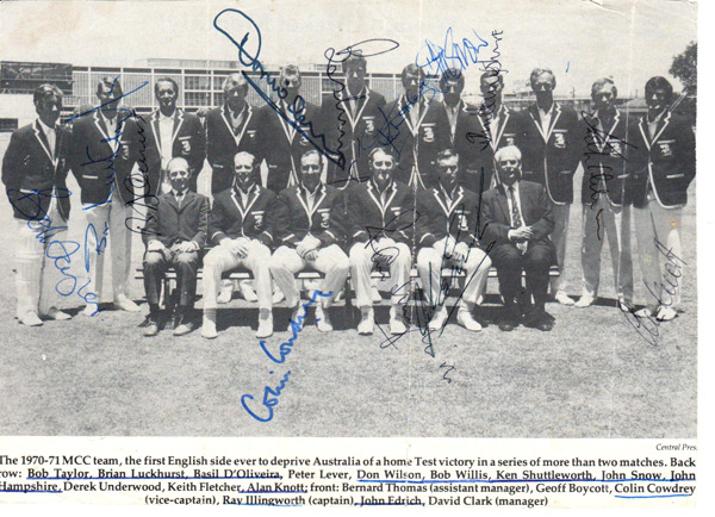 ENGLAND ASHES TOUR 1970-71
Signed magazine team pic.
12 player autographs: Ray Illingworth (captain), Colin Cowdrey (vice-capt), Bob Taylor, Brian Luckhurst, Basil D'Oliveira, Don Wilson, Bob Willis, Ken Shuttleworth, John Snow, John Hampshire, Alan Knott & John Edrich.

Approx size: 19 x 14 cms.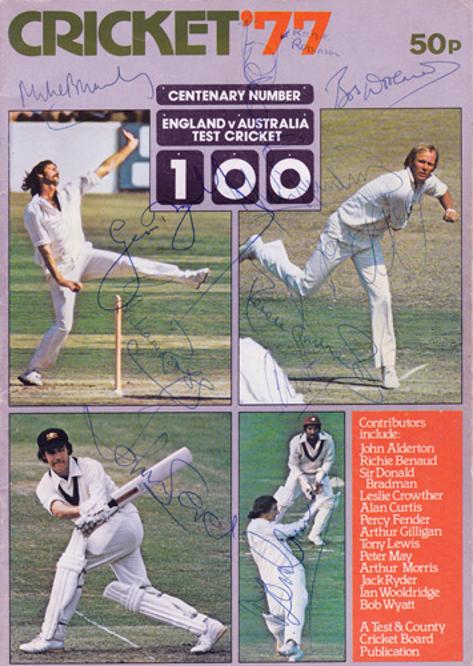 1977 100th ASHES TEST MATCH
Official TCCB publication - cover signed by:

Mike Brearley, Tony Grieg, Geoffrey Boycott, Alan Knott, Derek Underwood, Bob Woolmer, Derek Randall, Graham Roope, John Lever + 1 unknown.
Also signed by Australian Richie Robinson.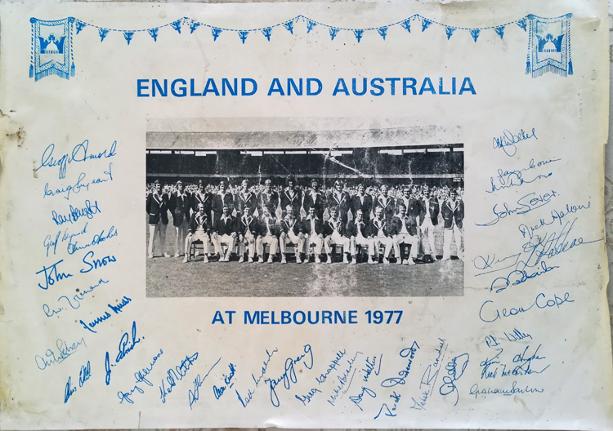 1977 100th ASHES TEST MATCH
Centenary photo print of both England & Australia squads with facsimile autographs of all the players inc: Mike Brearley,

Tony Grieg, Geoffrey Boycott, Alan Knott, Derek Underwood, Bob Woolmer, Derek Randall, John Snow, John Edrich, Greg Chappell, Gary Gilmour, Rod Marsh, Doug Walters, Dennis Lillee, etc.

Approx size: 44 x 31 cms
Print has some minor damage to the edges.

SOLD £20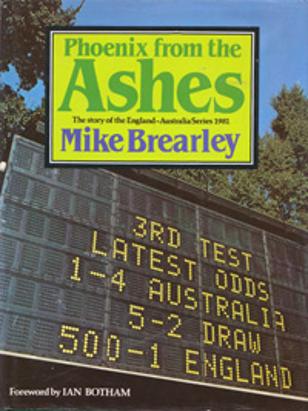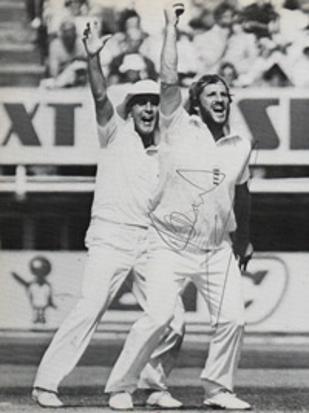 1981 ASHES MEMORABILIA

IAN BOTHAM
Signed B&W full page picture in front of book "Phoenix from the Ashes" recounting the 1981 Ashes series.
The book was written by Mike Brearley but Botham provided the Foreword, with in-depth analysis on the series.
First Edition (1981)

SOLD £25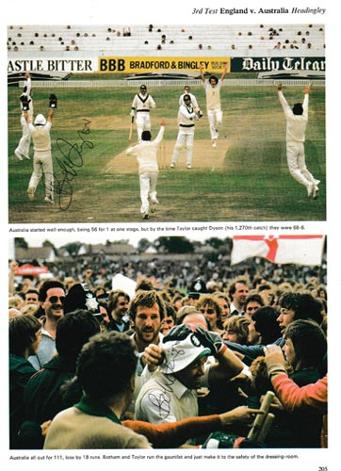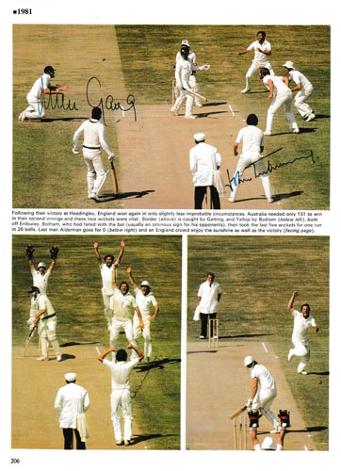 1981 ASHES SERIES

Multi-signed book pages:
1. Bob Taylor 2 x signed pics from Headingley.
2. John Emburey (twice) and Mike Gatting signed pics from Edgbaston.
Approx A4 size.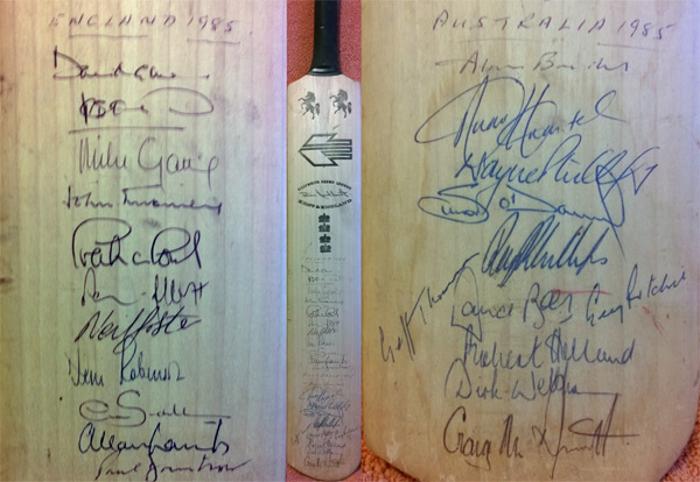 1985 Ashes Series Signed Bat
England: David Gower, Phil Edmonds, Mike Gatting, John Emburey, Graham Gooch, Paul Allott, Neil Foster, Tim Robinson, Arnie Sidebottom, Allan Lamb, Paul Downton.
Australia: Allan Border, Andrew Hilditch, Wayne Phillips, Simon O'Donnell, Ray Phillips, Geoff Lawson, David Boon, Greg Ritchie, Bob Holland, Dirk Wellham, Craig McDermott.

England won the six Test series 3-1 with two matches drawn.

SOLD £100
1986-87 ASHES MEMORABILIA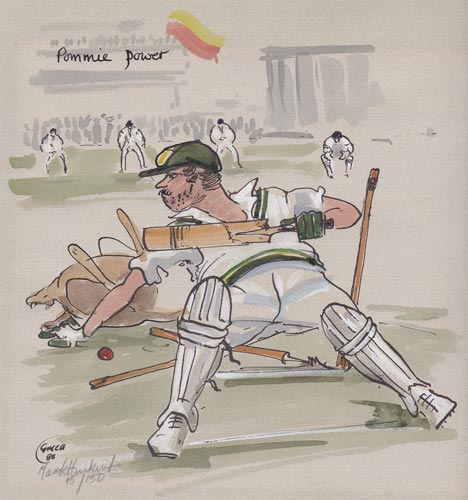 "POMMIE POWER"
Original watercolour: 15 of 150.
Signed by artist Mark H.... (1986)

Approx size: 22 x 22 cms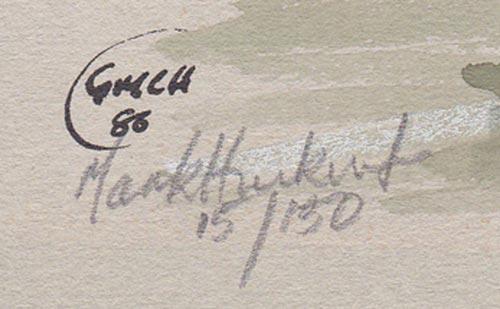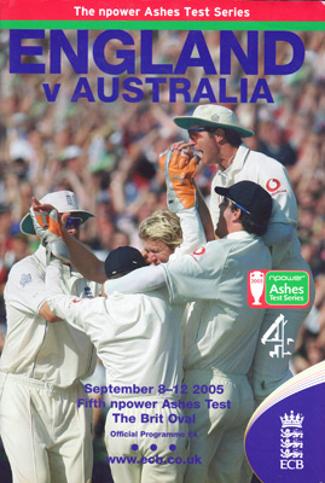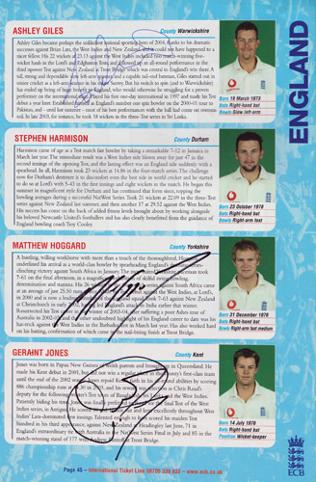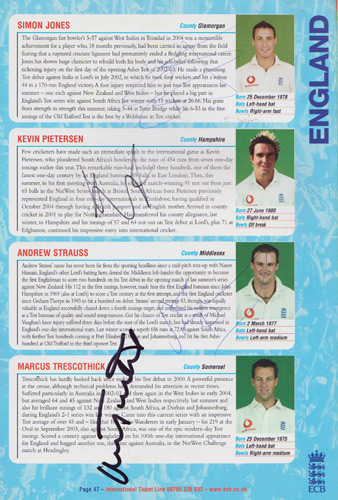 2005 nPower Ashes Test Series Official Programme
from The Brit Oval - September 2005
This A5 programme comes from the historic Final Test that saw England regain the Ashes after 16 years. Various player biopics have been signed, inc: Kevin Pietersen, Andrew Strauss, Marcus Trescothick, Geraint Jones, Ashley Giles, Simon Jones & Justin Langer.
----------------------------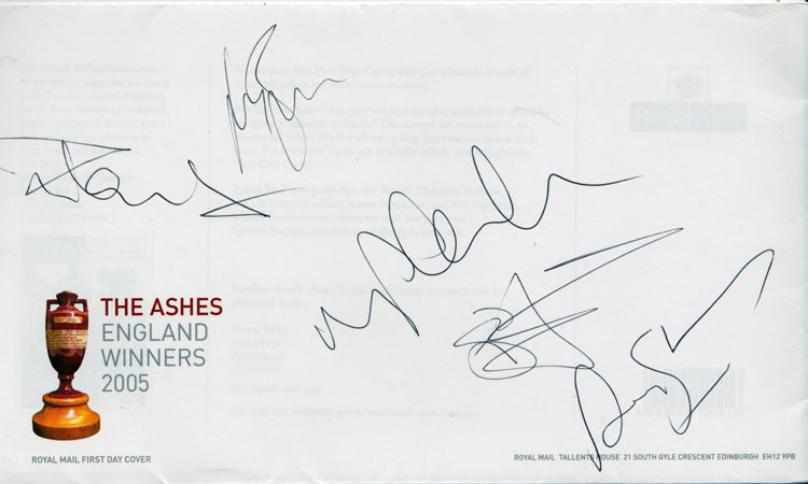 England cricket team signed Ashes 2005 Winners First Day Cover

Autographed by Michael Vaughan (captain), Ian Bell, Steve Harmison, Simon Jones and Andrew Strauss.
--------------------------------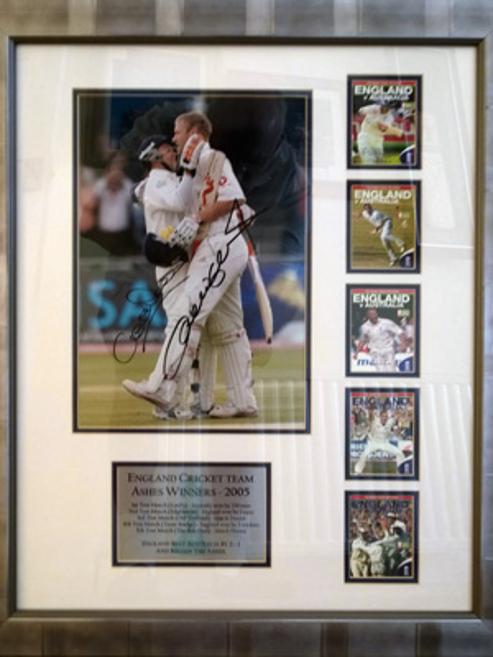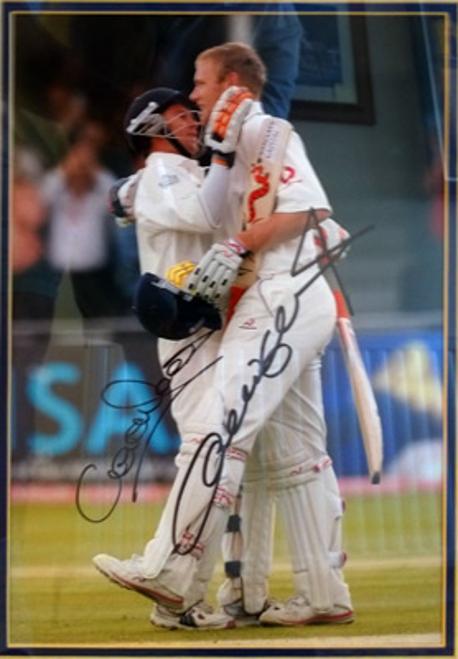 Andrew Flintoff & Geraint Jones signed England Cricket Team Ashes Winners montage with autographed colour photo & five vignettes of each match in the series.

--------------------------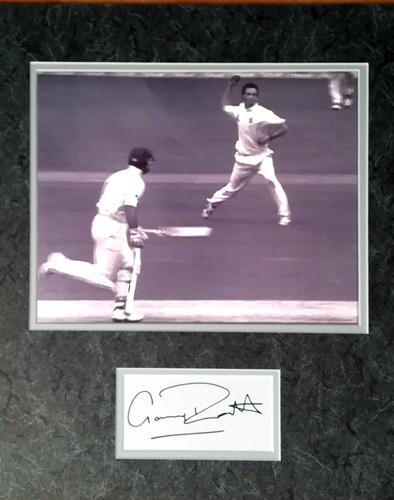 GARY PRATT Memorabilia
(Durham CCC & England 12th Man)

Autographed photo display of his infamous run out of Australia captain Ricky Ponting at Trent Bridge during the 2005 Ashes series.

Approx size: 34 X 37 cms

SOLD £45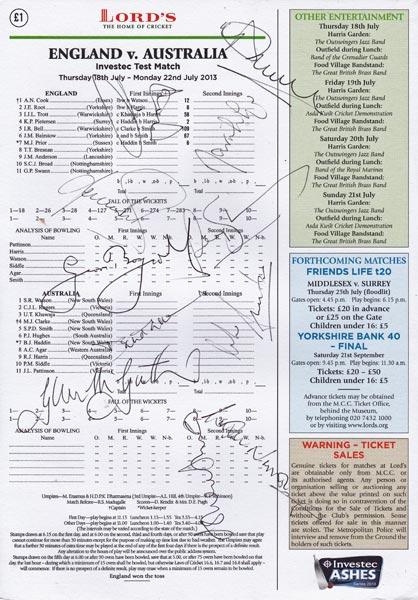 2013 England v Australia Ashes Lord's Test Match scorecard signed by various former players now media figures (from Test Match Special, Sky Cricket, Channel 5)

Autographs inc: Ian Botham, David Gower, Geoff Boycott, Jonathan Agnew, Shane Warne, David Lloyd, Glenn McGrath, Michael Atherton, Mark Nicholas & others.

2010 WORLD T20 CHAMPIONS Memorabilia

England beat Australia by 7 wickets in the ICC World T20 Final
in Bridgetown, Barbados on June 6th 2010.

Squad: Paul Collingwood (capt), James Anderson, Ravi Bopara, Tim Bresnan, Stuart Broad, Craig Kieswetter, Michael Lumb, Eoin Morgan, Kevin Pietersen, Ajmal Shahzad, Ryan Sidebotton, Graeme Swann, James Tredwell, Luke Wright & Michael Yardy.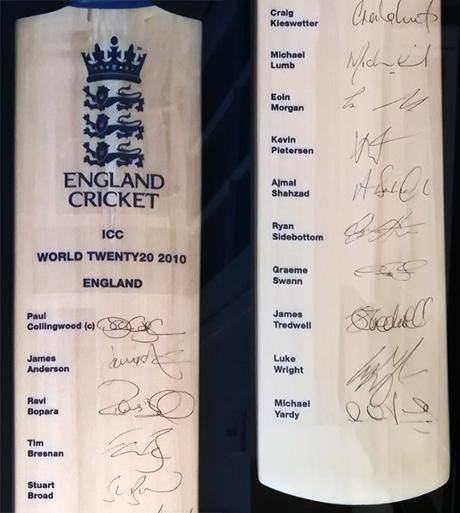 ENGLAND World T20 squad signed bat & case.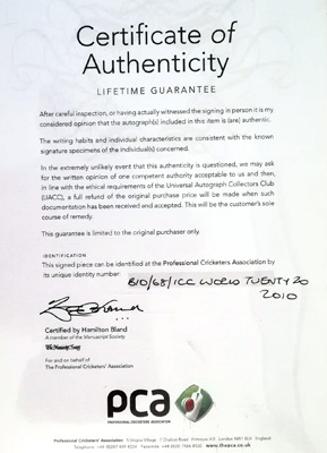 A team-signed bat in wooden display case was presented by the PCA to each player in the victorious squad. The bat has been signed by all 15 players.

Comes with PCA CoA on reverse.
Approx size of display case: 31 x 105 cms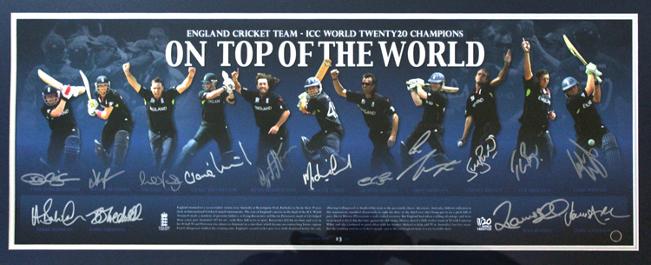 ENGLAND CRICKET TEAM
ICC WORLD TWENTY20 CHAMPIONS
"ON TOP OF THE WORLD"
Official ECB squad-signed framed poster display featuring pics of the eleven players who beat Australia in the Final.
Limited edition 23 of 100.
Approx size: 50 x 100 cms
UK Only - £250 (excl P&P)
CONTACT US for delivery / collection options

-----------------------------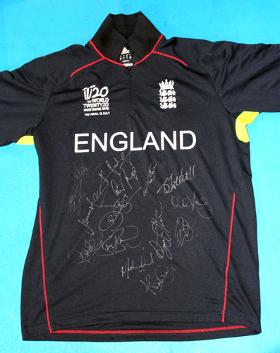 ENGLAND World T20 squad player's shirt worn by James Tredwell and signed by all 15 players.
SOLD £250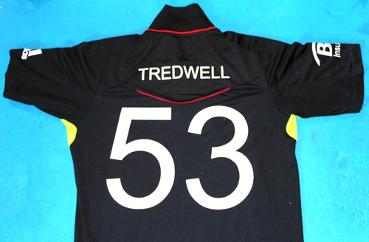 ----------------------------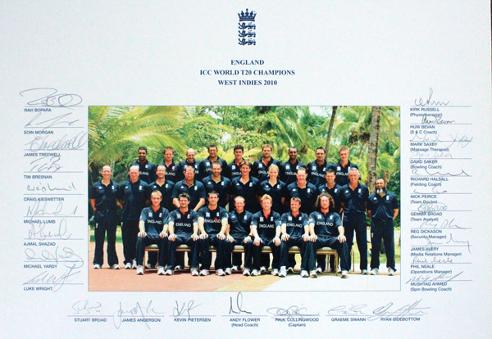 ENGLAND World T20 team photo signed by all 15 players, coaches and support staff.
Approx size: 42 x 30 cms
---------------------------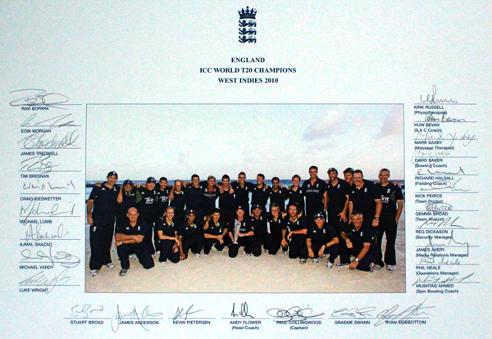 ENGLAND World T20 team photo (on beach with trophy) signed by 15 players, coaches & staff.
Approx size: 42 x 30 cms

OTHER ENGLAND CRICKET MEMORABILIA
(Listed chronologically)


ENGLAND'S GREATEST ELEVEN (1877-1977)

The Cricketer magazine print to celebrate the Centenary of Test Cricket in 1977 drawn by cartoonist Trog.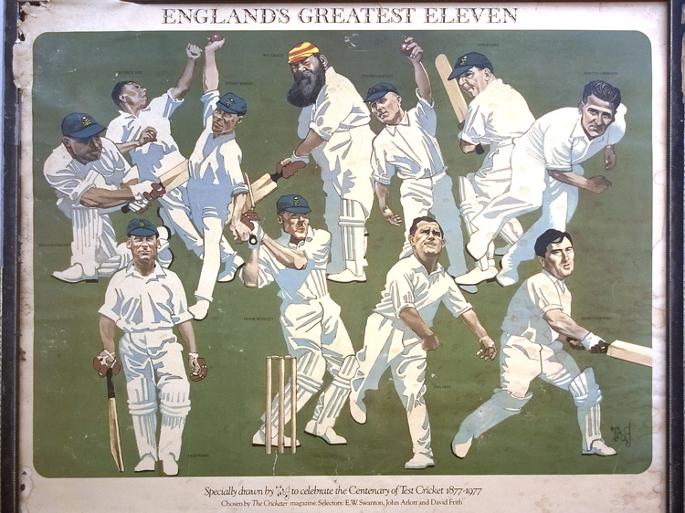 Features caricatures of England's greatest 11 players (as chosen by EW Swanton, John Arlott & David Frith).

Players: Jack Hobbs, Frank Woolley, Denis Compton, WG Grace, Wally Hammond, Les Ames, Wilfred Rhodes, Harold Larwood, Jim Laker, Maurice Tate & Sydney Barnes.
Approx A3 size
Some damage to edge
-----------------------------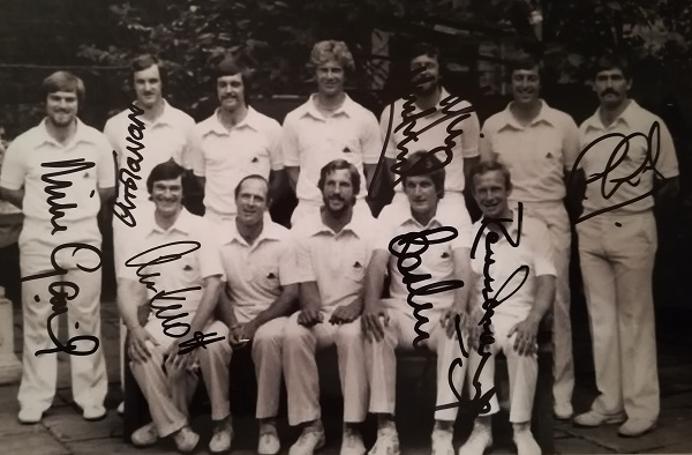 1980 England Test Match team photo (v West Indies at Trent Bridge) signed by 7 players: Mike Gatting, Chris Tavare (debut), Mike Hendrick, Graham Gooch, Alan Knott, Bob Willis & Derek Underwood.
Approx size: 25 x 16 cms
-----------------------------

1980s England Test Match cricket player cards x 5:
L-R: Bob Willis, Chris
Tavare, David
Gower, Ian
Botham & Allan
Lamb.
(Produced by Texaco for the West Indies tour)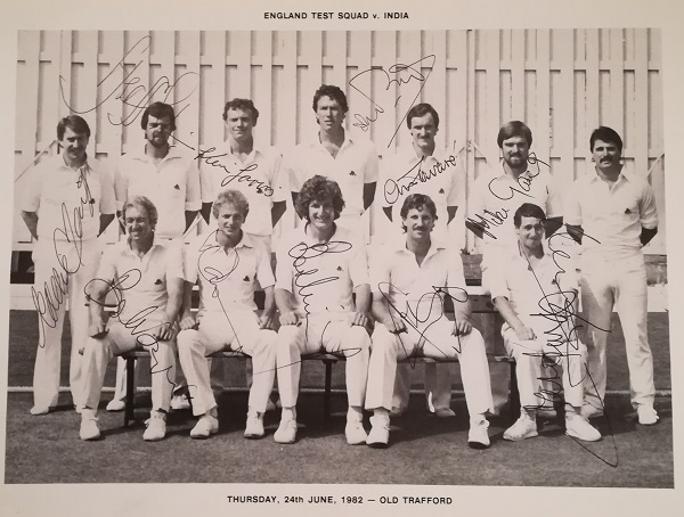 1982 England Test Match squad magazine pic (v India at Old Trafford) signed by 11 players: Eddie Hemmings, Geoff Miller, Kevin Jarvis, Derek Pringle, Chris Tavare, Mike Gatting, Bob Taylor, David Gower, Bob Willis, Ian Botham & Derek Randall.

Approx size: 30 x 20 cms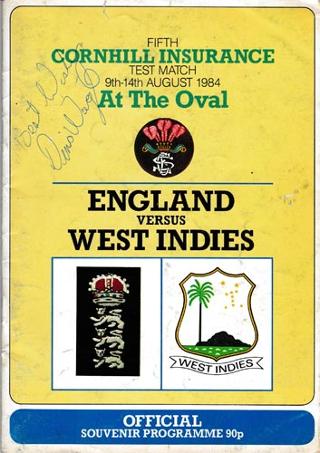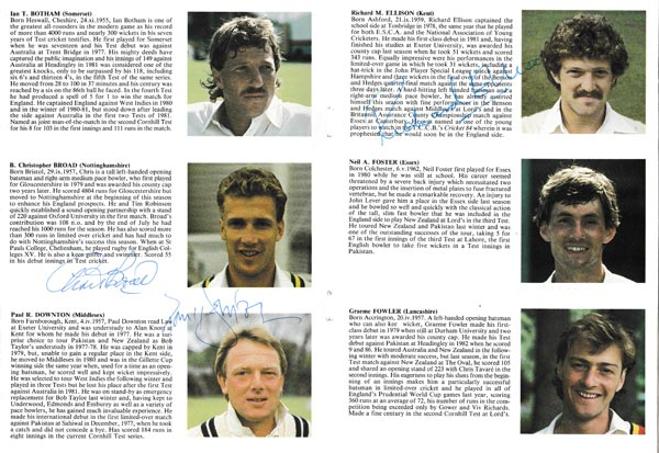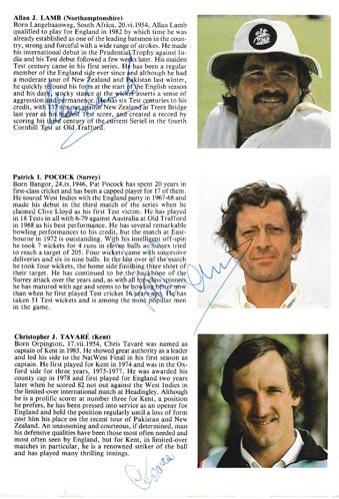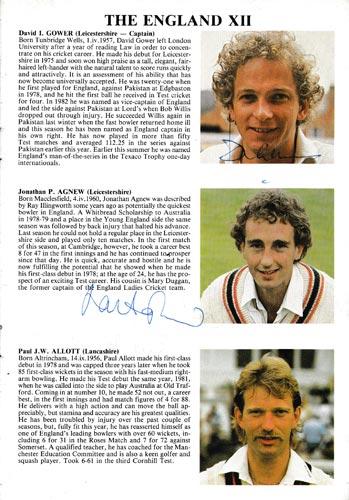 THE OVAL, 1984 FIFTH TEST MATCH Official programme
Signed on bio-pics by eight England players : David Gower, Jonathan Agnew, Allan Lamb, Chris Broad, Chris Tavare, Pat Pocock & Paul Downton.
Also signed on bio-pics by 14 of the West Indies Touring Party: Malcolm Marshall, Courtney Walsh, Gordon Greenidge, Desmond Haynes, Joel Garner, Jeff Dujon, Gus Logie, Richie Richardson, Eldine Baptiste, Larry Gomes, Roger Harper, Winston Davis, Thelston Payne & Tour Manager John L. Hendricks.
Signed on the cover by long-serving team physio Dennis Waight.

SOLD £75

--------------------------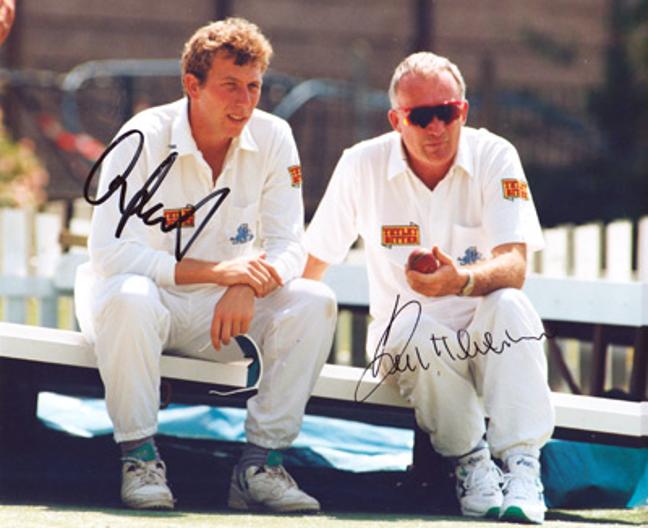 ATHERTON & FLETCHER

Dual-signed colour press photo of England captain Mike Atherton chatting with coach Keith Fletcher
during the Old Trafford Test match against New Zealand in 1994.

Approx 25 x 20 cms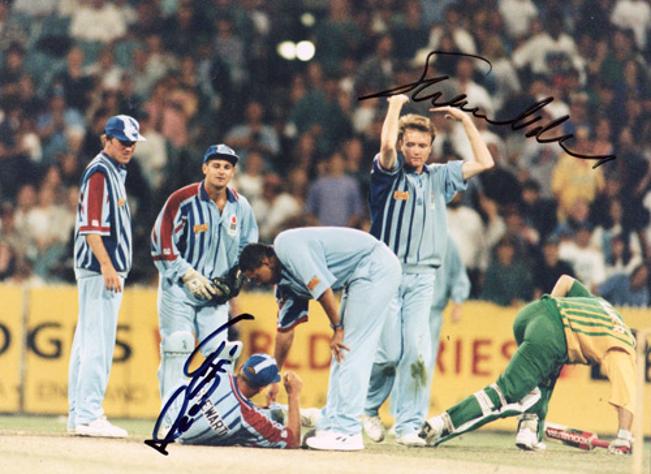 STEWART & UDAL

Dual-signed colour press photo of England's Alec Stewart and Shaun Udal, showing Stewart prostrate after the running out of Australia's Justin Langer at the MCG in 1994.

Approx 25 x 20 cms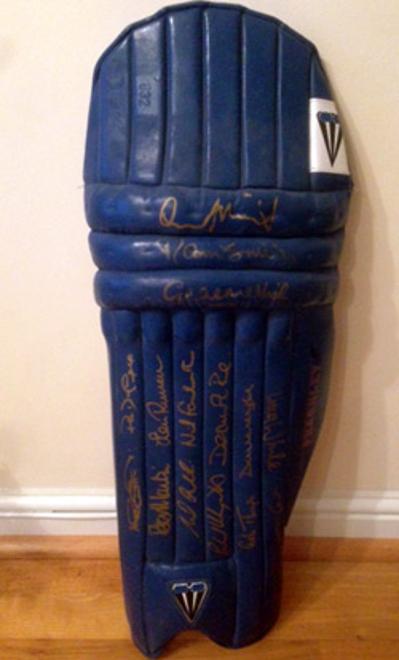 1996 WORLD CUP ENGLAND CRICKET PAD
officially signed in gold ink by the 15 man squad :
Mike Atherton
Neil Fairbrother
Dominic Cork
Phil de Freitas
Peter Martin
Darren Gough
Graeme Hick
Richard Illingworth
Dermot Reeve
Alec Stewart
Graham Thorpe
Craig White
Jack Russell
Neil Smith
Robin Smith

N.B. The pad has the initials 'DR' on the inside & is thought to have been one of Dermot Reeves' match-worn pads (not authenticated).

SOLD £60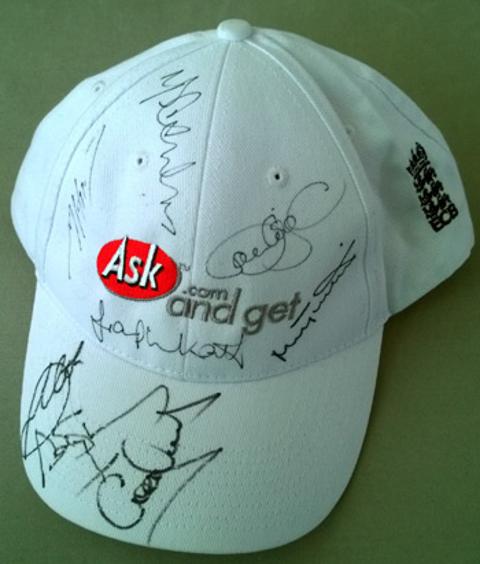 OFFICIAL ECB AUTOGRAPHED CAP

ASK.com (Official Partner / Sponsor) white cap
signed by:
Michael Vaughan, Marcus Trescothick,
Alastair Cook, Paul Collingwood,
Andrew Strauss, Geraint Jones,
Matthew Hoggard & Liam Plunkett
(July 2006 prior to First Test
with Pakistan at Lords
& includes 6 players from the
2005 Ashes winning team)
SOLD £30
2016 ENGLAND ODI squad signed bat

England's ODI Squad signed Gray-Nicolls full-size cricket bat.


Autographed by 14 players

:
JOS BUTTLER (Captain)

MOEEN ALI




JONNY BAIRSTOW




JAKE BALL




SAM BILLINGS




LIAM DAWSON




BEN DUCKETT




LIAM PLUNKETT


ADIL RASHID
JASON ROY
BEN STOKES
JAMES VINCE
DAVID WILLEY
CHRIS WOAKES



SOLD £75



ENGLAND CRICKETERS Memorabilia
(Click player name below to go to their individual page)
Welcome to Uniquely Sporting's online catalogue for England Test Match, One Day International and 20/20 signed Cricket Memorabilia featuring unique collectables and authentic autographed souvenirs from bats to caps, shirts to gloves, photos to prints, Testimonial Brochures to First Day Covers.
MAIN SPORTS MEMORABILIA MENUS