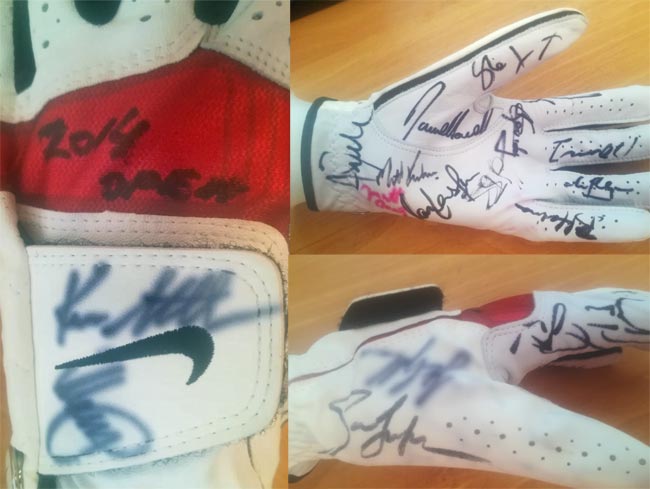 2014 OPEN GLOVE

Nike glove signed by 17 pro golfers at the 2014 British Open at Royal Liverpool GC won by Rory McIlroy.

Signed by two Open champions: Justin Leonard & Shane Lowry
+ Matt Kuchar, Jason Day, Billy Horschel, Kevin Na, David Howell, Stephen Gallacher & 9 others.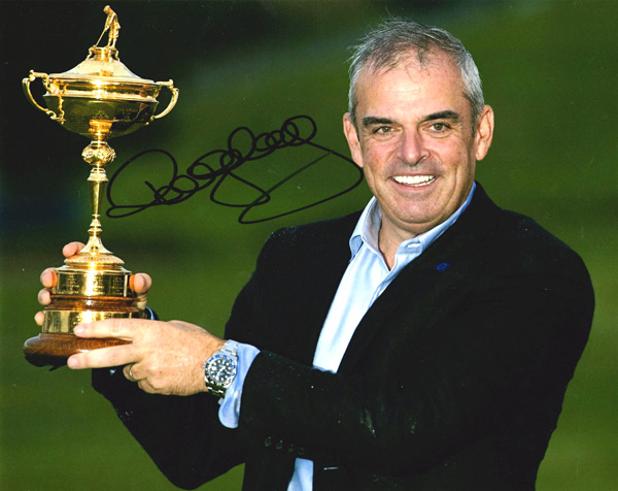 2014 RYDER CUP WINNING CAPTAIN PAUL McGINLEY
Signed colour photo with him holding the Samuel Ryder Trophy at Gleneagles, where Europe beat the USA.
Approx A4 size.

(Golfer memorabilia listed alphabetically)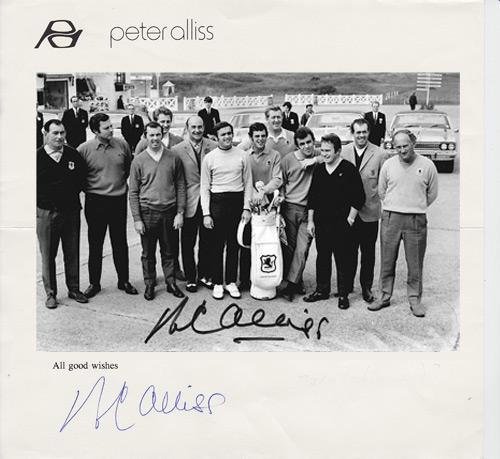 PETER ALLISS

Hand-signed personal letterhead and logo with 1969 Ryder Cup team photo laid down (with printed signature).
SEVERIANO BALLESTEROS Memorabilia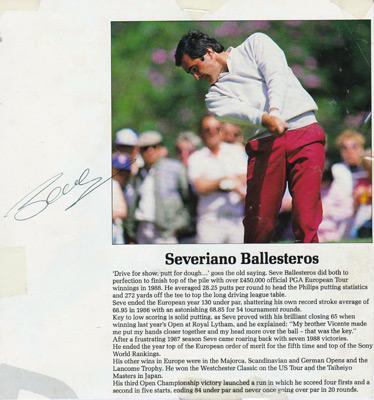 SEVE BALLESTEROS

Signed magazine pic and feature article.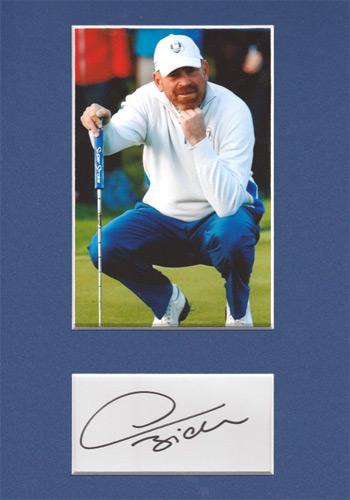 EUROPE'S 2018 RYDER CUP CAPTAIN
THOMAS BJORN

Autograph + Ryder Cup photo mount display.

Approx A4 size.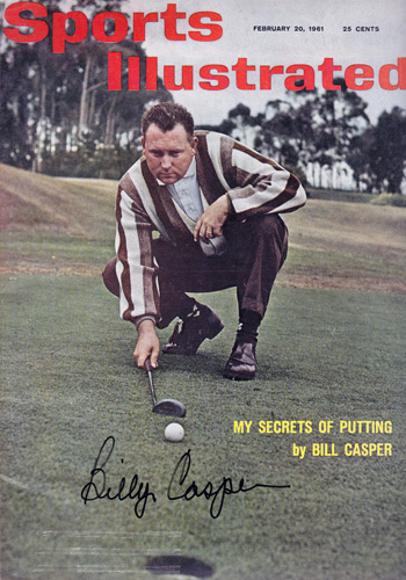 BILLY CASPER
(2 x US Open champion & US Masters)

Signed Feb 20, 1961 "Sports Illustrated" cover.

Mounted in card frame.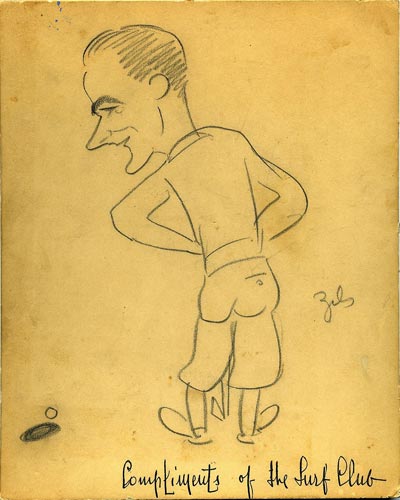 SIR HENRY COTTON
Original pencil drawing on card canvas (signed by artist Zels) of Cotton putting with the hand-written note "Compliments of the Turf Club"
Approx A4 size (unframed)
c 1930s

SOLD £150
Dame LAURA DAVIES Memorabilia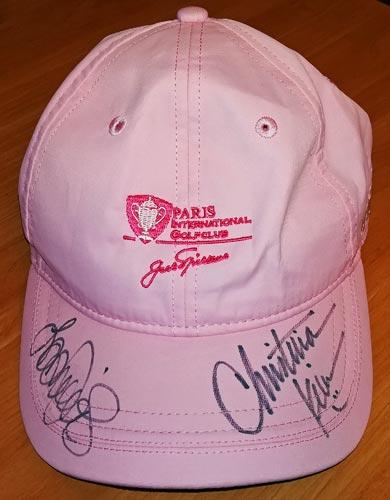 LAURA DAVIES



Signed Paris International Golf Club Adidas pink cap.

Also signed by Christina Kim on course
at the Open de France Dames.



DAME LAURA DAVIES

3 x signed / laminated golfing photos / St Andrews Greetings card.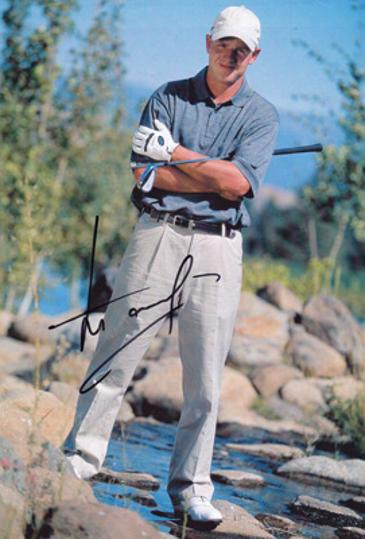 LUKE DONALD

Signed "Golf Monthly" magazine page.

Approx A4 size
SIR NICK FALDO Memorabilia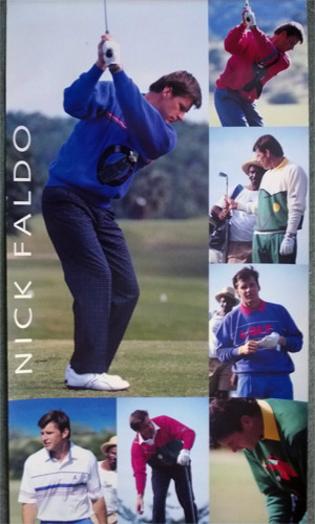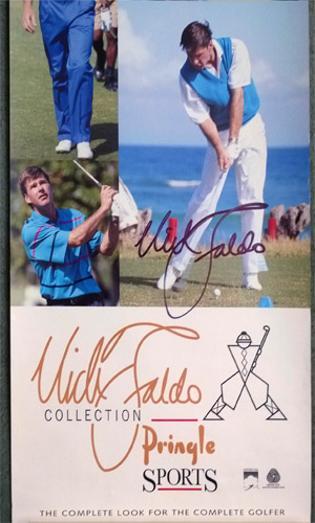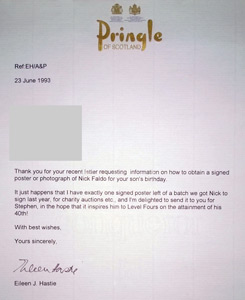 SIR NICK FALDO signed Pringle Sports Nick Faldo Collection Golf Sweater poster (c 1993) + letter of authenticity direct from Pringle of Scotland.
Very Limited Edition
Approx size: 27 x 90 cms
-----------------------------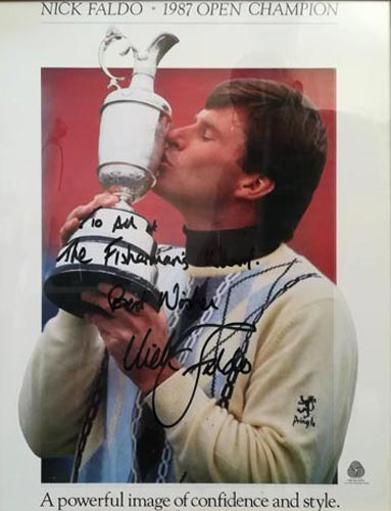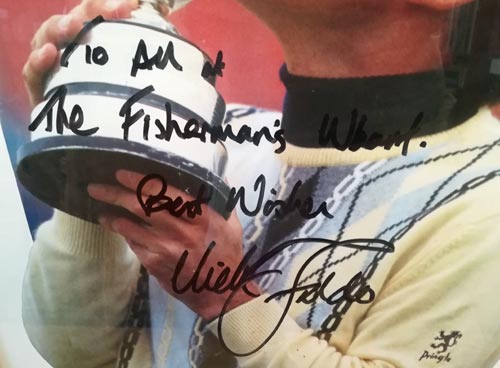 NICK FALDO
Large signed / dedicated 1987 British Open champion poster for Pringle Sweaters / Pure Wool - A powerful image of confidence & style.

SERGIO GARCIA Memorabilia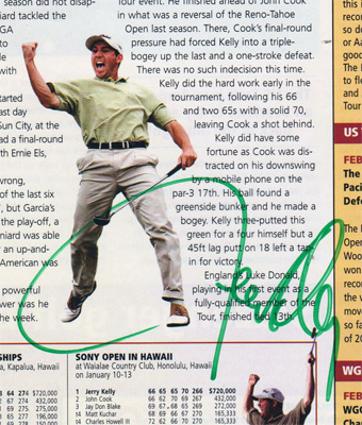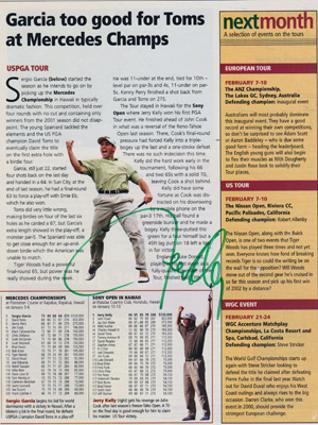 SERGIO GARCIA

Signed Golf magazine feature page.

Approx A4 size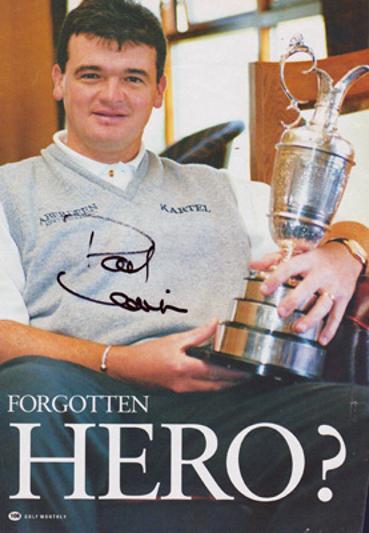 PAUL LAWRIE



Signed "Golf Monthly" magazine feature page showing Paul with the Claret Jug he won as British Open Champion at Carnoustie in 1999.

Approx A4 size
PERCY "LADDIE" LUCAS Memorabilia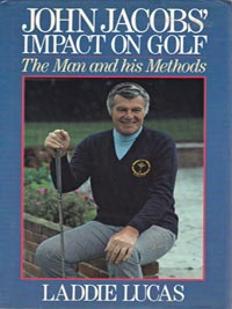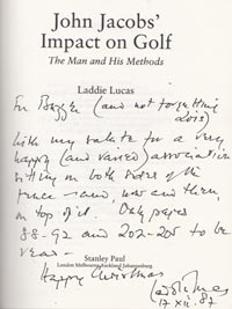 LADDIE LUCAS
(Wing Commander, MP & golfer)
Signed first edition copy of his book: "John Jacobs' Impact on Golf - The Man and his Methods."
With long, handwritten personal note.
First Edition (1987)

---------------------------------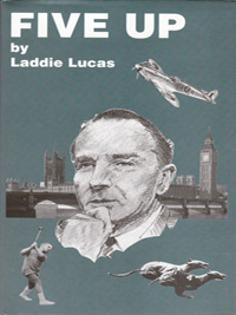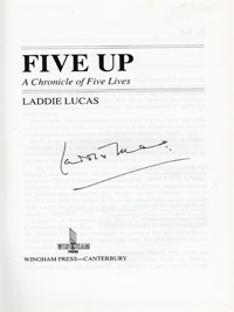 LADDIE LUCAS


(Wing Commander, MP & golfer)

Signed first edition copy of his autobiography: "Five Up - A Chronicle of Five Lives."

First Edition (1978)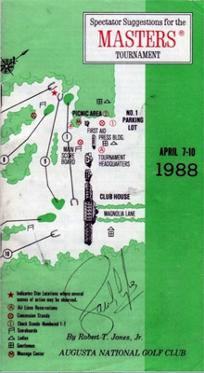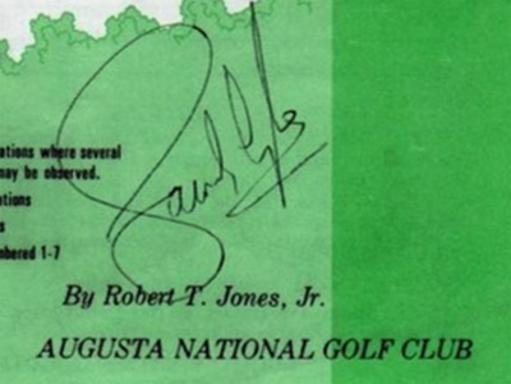 SANDY LYLE
(1988 US Masters champion)
Signed 1988 Robert T Jones Jr Augusta National Golf Club "Spectator Suggestions for the Masters Tournament" guide.
Also signed by Byron Nelson, Fred Couples, Ben Crenshaw, Scott Simpson & Billy Casper.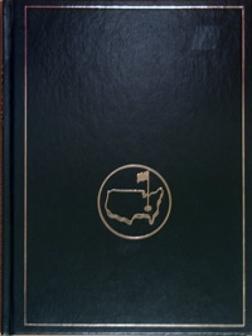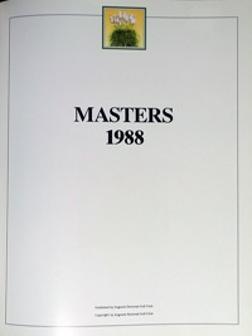 NINETEEN HUNDRED EIGHTY-EIGHT U.S. MASTERS 1988
OFFICIAL
REPORT
HANDBOOK
details the events and results of the 1988 Augusta Masters Tournament won by Sandy Lyle. Heavily illustrated with statistics and expert commentary on the golfing action.

-----------------------------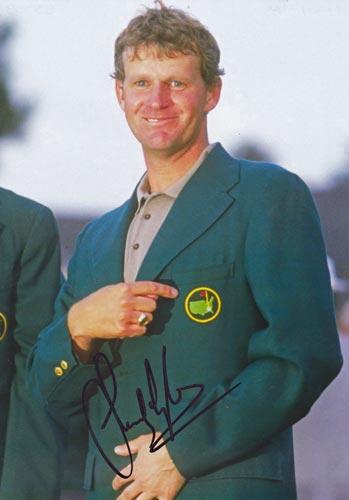 SANDY LYLE



Signed colour photo showing Lyle wearing his newly donned Green Jacket after winning the 1988 US Masters at Augusta
.
Approx A4 size.

PAUL McGINLEY Memorabilia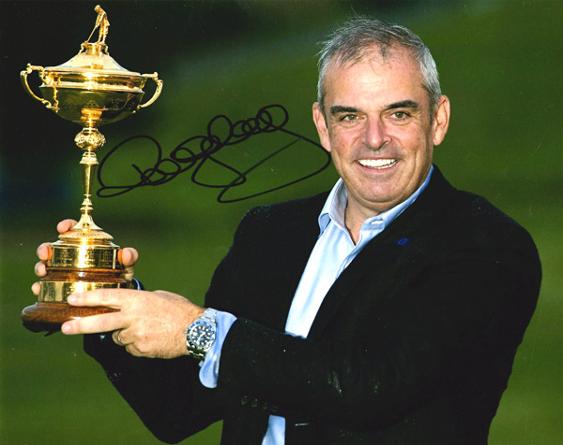 EUROPE'S RYDER CUP CAPTAIN PAUL McGINLEY signed colour photo with him holding the Samuel Ryder Trophy at Gleneagles in 2014 where EUR beat the USA.

Approx A4 size
.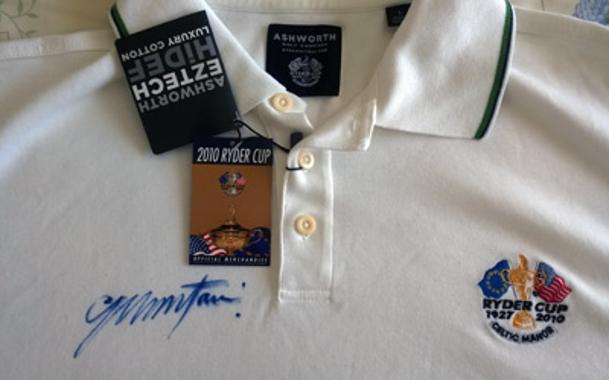 COLIN MONTGOMERIE
(Winning 2010 Ryder Cup Captain)
signed Ashworth Official Ryder Cup Merchandise golf shirt + original tags.


CLICK HERE FOR MORE
COLIN MONTGOMERIE
SIGNED GOLF MEMORABILIA
ARNOLD PALMER Memorabilia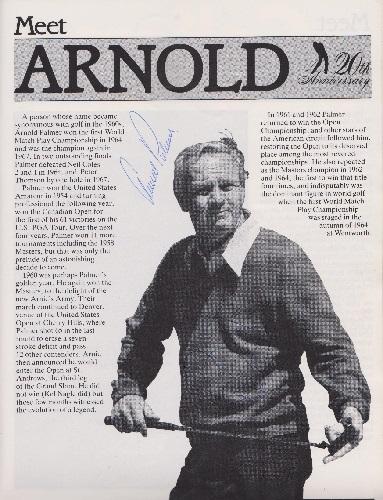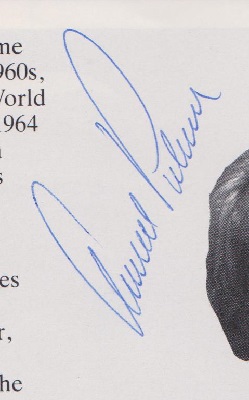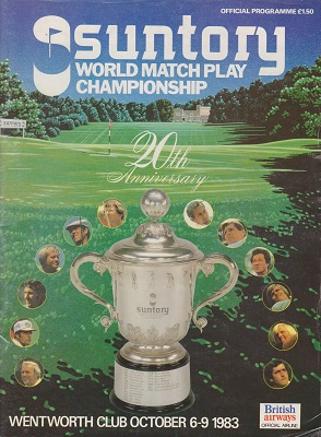 ARNOLD PALMER signed 'Meet Arnold' biography / career page in the Official 1983 Suntory World Matchplay Golf tournament programme. 20th anniversary edition.
October 6-9 at Wentworth Golf Club.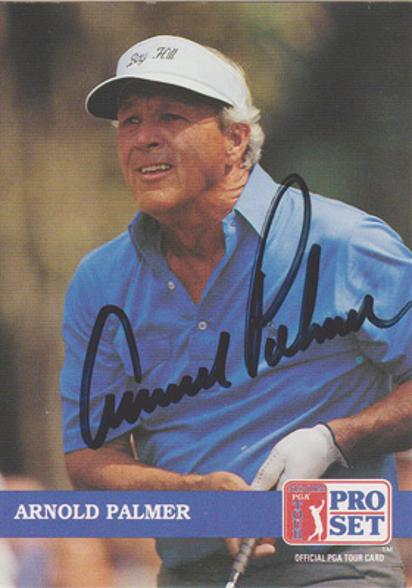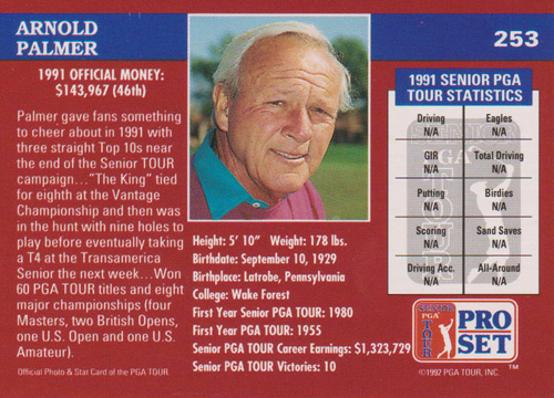 ARNOLD PALMER
Signed Official 1992 PGA Tour Pro Set player card.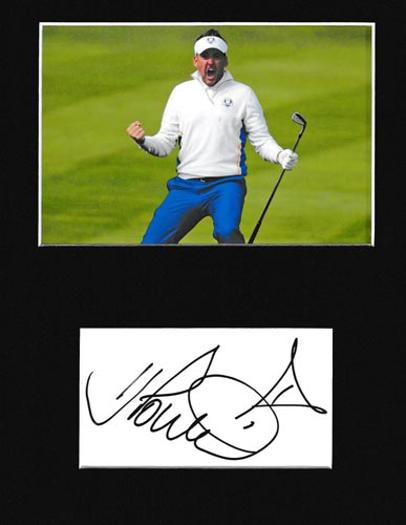 IAN POULTER


Autographed Ryder Cup display.
Mounted for framing.

Approx 8" x 10" size.
PHILLIP PRICE Memorabilia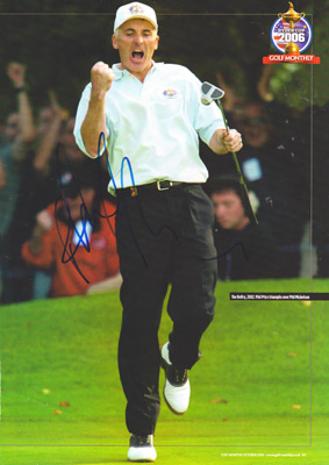 PHILLIP PRICE


Signed "Golfing Monthly" magazine pic showing Price celebrating during the 2002 Ryder Cup.

Approx A4 size.
JUSTIN ROSE

(2013 US Open Champion & Olympic gold medallist)
Signed colour action photo with the US Open trophy.


Approx size: 8" x 10"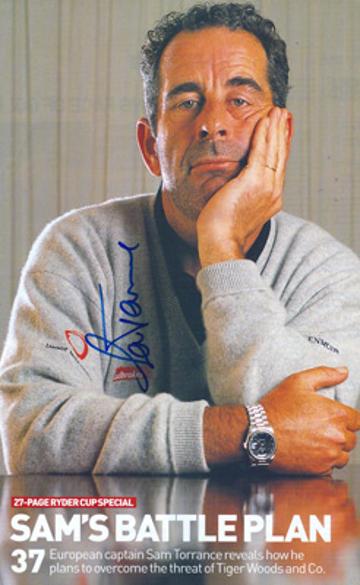 SAM TORRANCE


Signed 2002 Golfing magazine portrait pic and feature "Sam's Battle Plan" on the European Ryder Cup captain's preparations.

Approx A4 size.
OTHER GOLFING MEMORABILIA


BERNARD DARWIN Memorabilia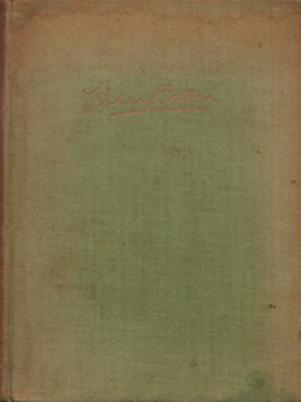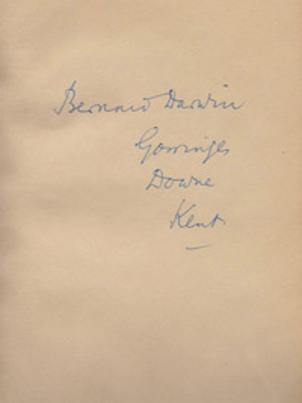 BERNARD DARWIN
(Grandson of Charles, noted golfing writer and amateur golfer)
Signed first edition copy of Henry Cotton's "My Swing" golf manual.

Also inscribed with his home address "Gorringes, Downe, Kent" signifying this was Darwin's personal copy.

SOLD £75

BOB HOPE GOLF Memorabilia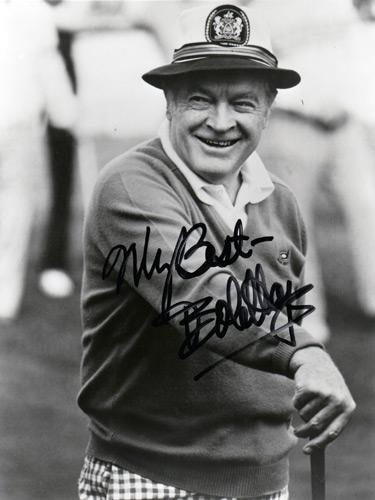 BOB HOPE
Signed B&W celebrity golf photo

Approx A4 size
Comes with accompanying envelope from
Bob Hope Enterprises in the USA.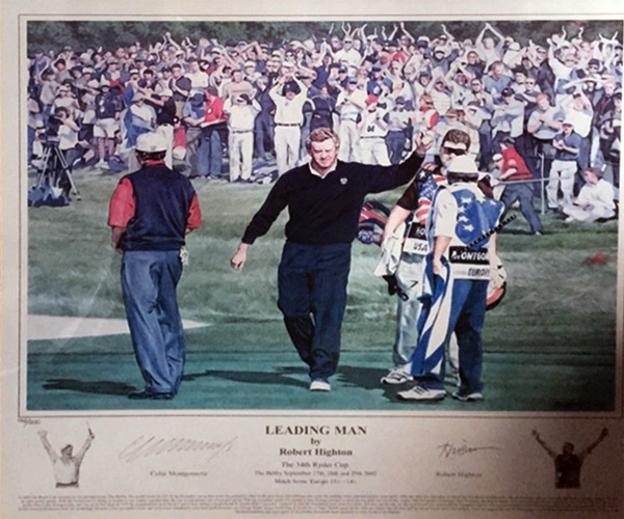 COLIN MONTGOMERIE
Signed "Leading Man" Limited Edition Print by Artist Robert Highton (also signed) commemorating the 2002 Ryder Cup victory at The Belfry.
Approx size: 70 x 50 cms
£100
UK Collection only -
Contact Us
for details.
SOLHEIM CUP GOLF
Memorabilia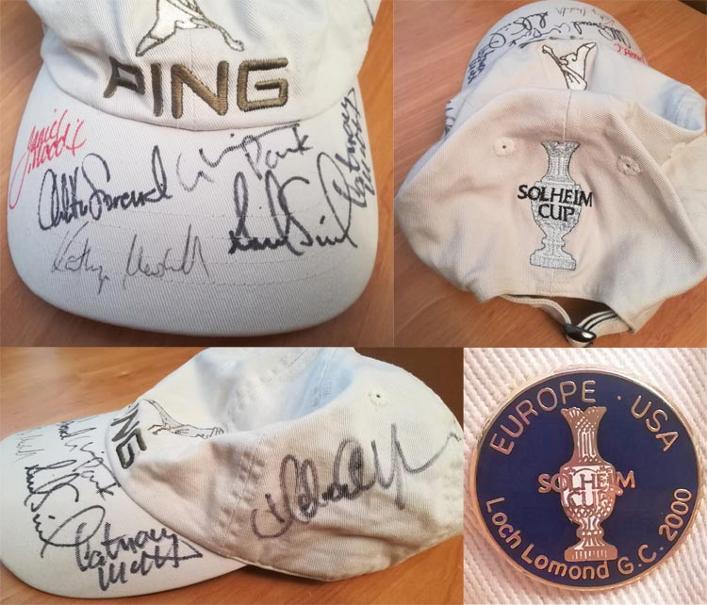 2000 SOLHEIM CUP
Loch Lomond GC, Scotland

Multi-signed Official Europe team PING golf cap with official pin badge.
Signed by European Solheim players: Annika Sorenstam, Charlotta Sorenstam, Catriona Matthew, Janice Moodie & one other
+ Kathy Whitworth (US captain at inaugural Solhuim Cup in 1990).
+ Gloria Park (S. Korean golf pro).

Europe won the trophy (for the second time) 14½ - 11½ points.


GOLFING ARTWORK / PRINTS
Please CONTACT US
with offers or for more info on the items below
.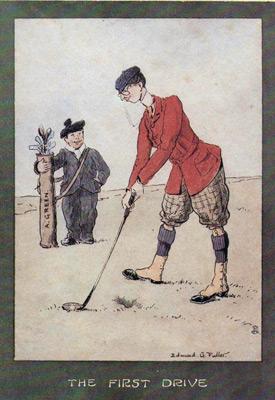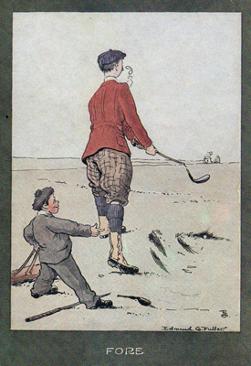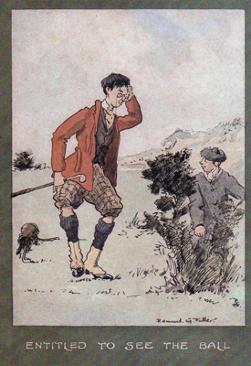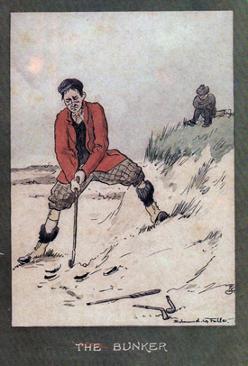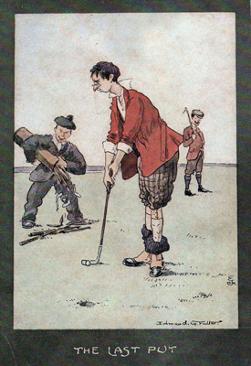 EDMUND G FULLER
Set of Six Antique / Humorous Golfing Cartoons (1903)

1. The First Drive
2. Fore
3. Entitled to See the Ball
4. The Bunker
5. The Last Putt
6. Clean Yer Clubs Sir?

Each print approx A4 size

Please CONTACT US with offers or for more info.
----------------------------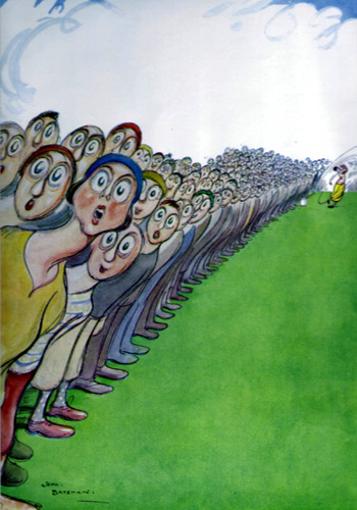 Henry Mayo H.M. BATEMAN
Full page Colour Cartoon
Originally from May 1932 Punch Magazine.
Unframed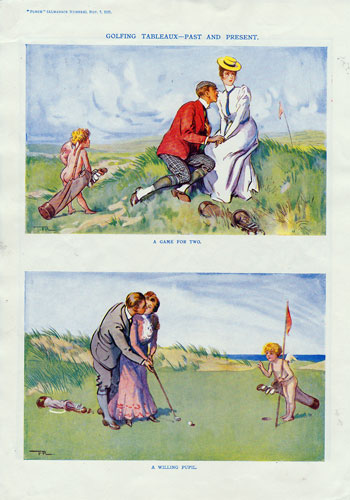 1927 Punch magazine golf print
by
Frank Reynolds
"Golfing Tableaux: Past and Present"
Top: "Game for Two"
Bottom: "Willing Pupil"
Full Page / Framed under Glass
Punch (Almanack Number) Nov 7, 1927
"A Game for Two" shows Cupid caddying for a love-struck couple relaxing on a hillock beside the green
&
"A Willing Pupil" shows Cupid caddying for a couple kissing on the green while they make a putt together.
Very collectable A4 size print comes suitably framed for the UK only. If purchased outside UK, only the print will be dispatched.
Would make a great romantic anniversary gift for a golfing couple or a cute sporting valentine's present for a golfer, or simply a lovely double print in its own right.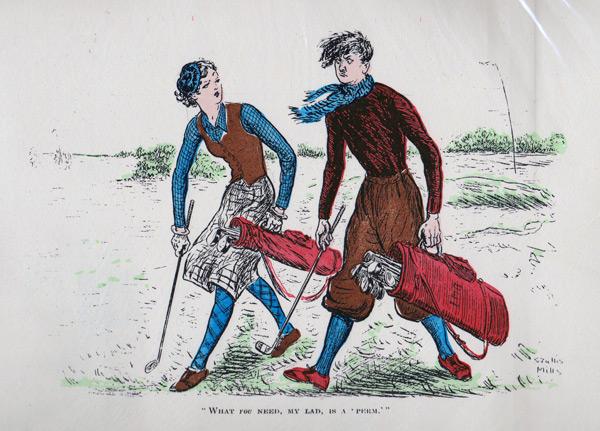 1930s Punch Magazine
Wallis Mills Golf Cartoon
"What You Need, My Lad, is a Perm"
Framed / Approx A4 size (Hand-Coloured)
---------------------------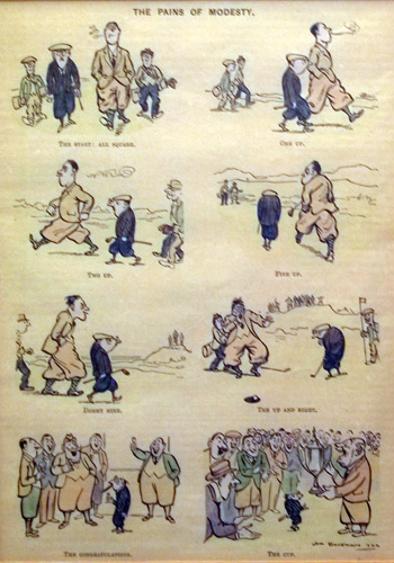 H.M. BATEMAN
1922 Punch magazine golfing cartoon
"The Pains of Modesty"

Hand-Coloured print / A4 Framed
---------------------------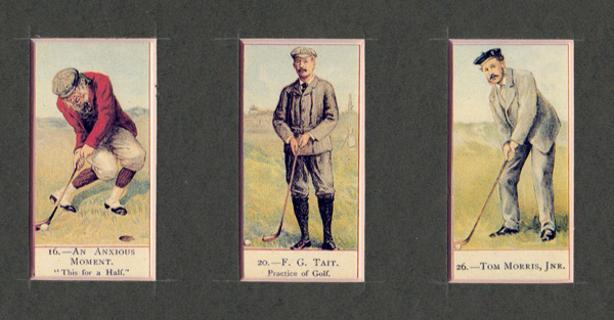 GOLFING COLLECTORS CARDS
Trio of Golf related portraits
F.G. Tait,
Tom Morris, Jnr
&
An Anxious Moment.
GOLF MAGAZINES & EPHEMERA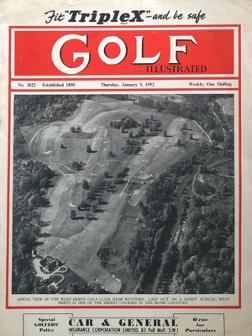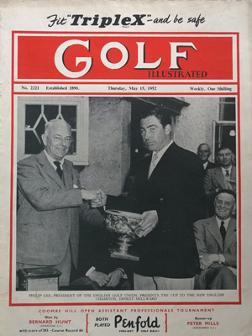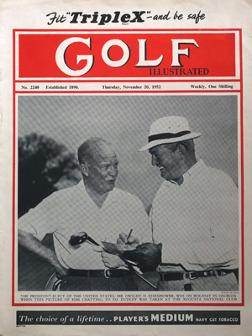 "GOLF ILLUSTRATED" magazine - 1952 UK editions: Jan 3rd, May 15th & Nov 20th. One shilling
(3 copies)
GOLF JEWELLERY & GOLFING BLING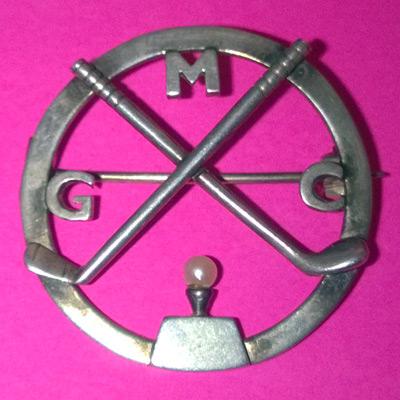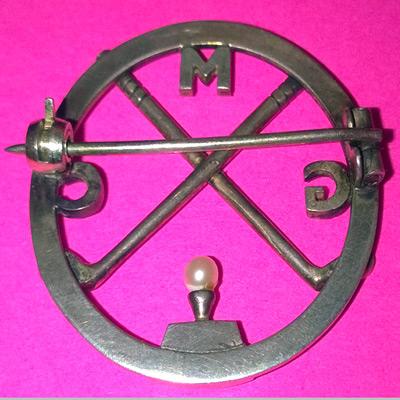 LADIES GOLF BROOCH
Metal brooch with crossed golf clubs (driver and iron), 'pearl' ball on a tee mounted on an outer ring with lockable clasp to reverse - with the initials M.G.C. (Moortown Golf Club ??). Date & metal unknown.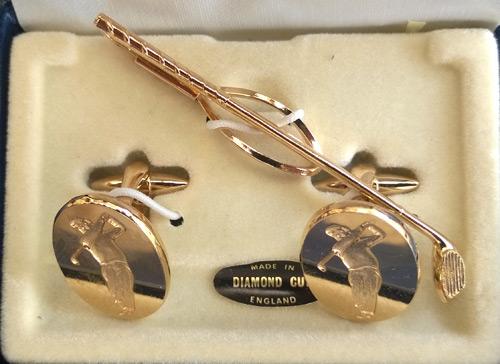 GOLFING CUFF LINKS & DRIVER TIE CLIP
Diamond Cut fashion jewellery in its original jewellers box.
Made in England

LADIES GOLF BROOCH - Long metal one wood / driver brooch, yellow metal with clasp to reverse. Date & metal unknown.
----------------------------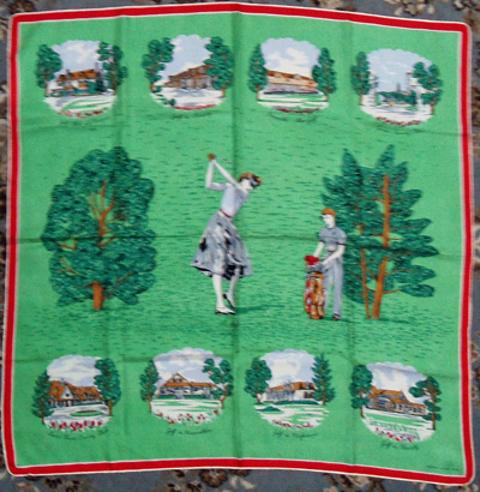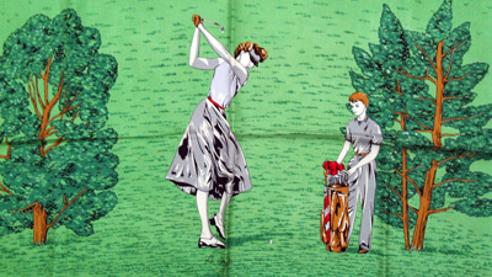 1950s BIANCHINI FERIER LADIES GOLF SCARF
features French golf country clubs: Le Tourquet, Biarritz, Deauville, Cannes, Saint Cloud, Fontainebleau, Morfontaine, Chantilly.
Approx size: 85 x 85 cms
----------------------------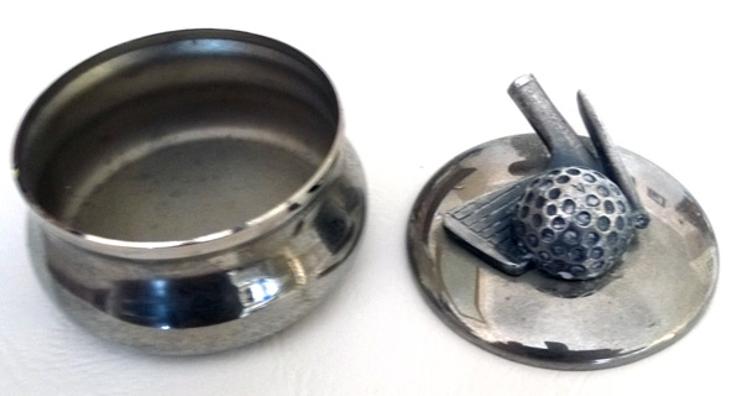 GOLF PIN DISH + LID
Festooned with golf club head, golf ball, and golf tee. Silver plated / date unknown (vintage / antique).
----------------------------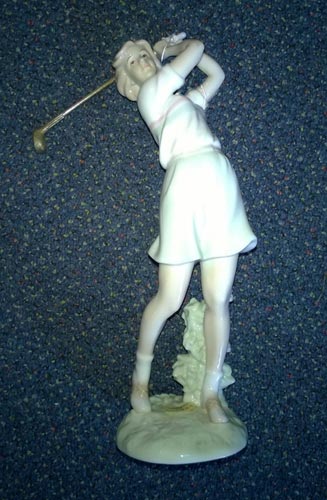 LADY GOLFER

Porcelain action figurine in post-drive pose.

Approx 14" tall.
Collection only.

Please CONTACT US with offers
or for more info & delivery options.
---------------------------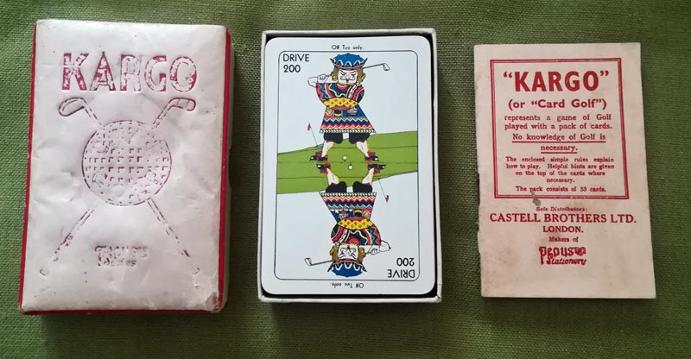 "KARGO" Golf Card Game
by Castell Brothers of London
Pepys Series (1935)
with rules booklet.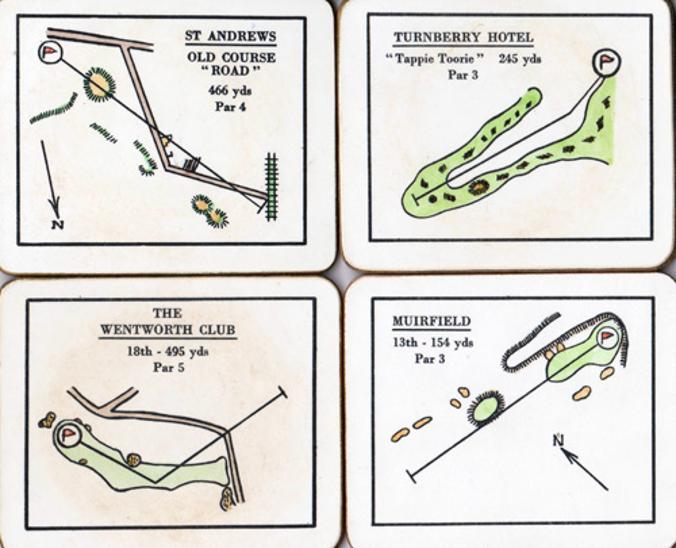 LADY CLARE GOLF COASTERS
Six melamine flock-backed mini-place mats featuring 4 famous golf holes
St Andrews Old Course Road Hole x 2
Turnberry Hotel "Tuppie Toorie" x The Wentworth Club 18th
Muirfield 13th
Approx coaster size: 11 x 9 cms
with original gift box.
Heat resistant.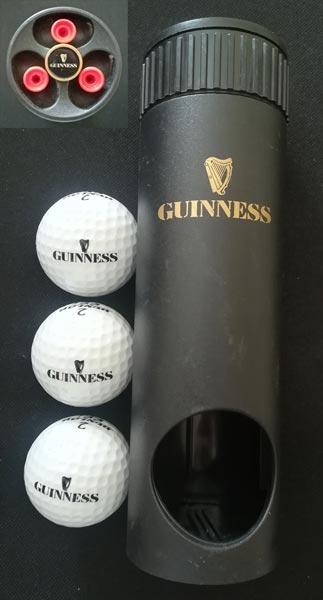 GUINNESS GOLF BALL DISPENSER
Plastic tube with three Guinness branded golf balls + three red tees + Guinness ball marker (all unused).
Attaches to golf bag.
--------------------------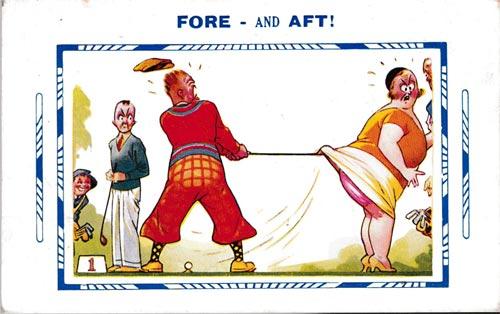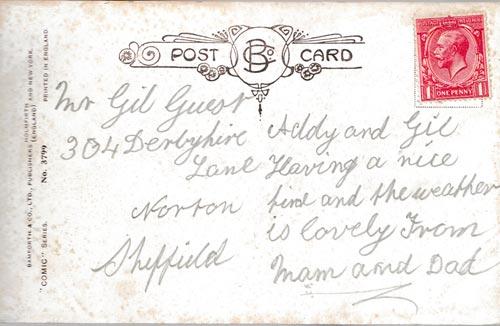 "FORE AND AFT!"
Saucy 1930s golfing postcard
Bamforth & Sons Comic Series with hand-written note on reverse
+ King George V One Penny Scarlet stamp.
SAUCY 1970s GOLF POSTCARD
"HOLED IN ONE"
By artist CHAS.
------------------------------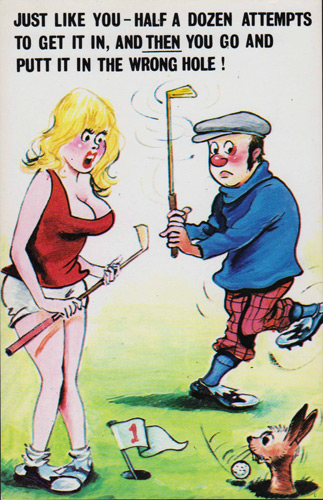 SAUCY 1970s GOLF POSTCARD

"WRONG HOLE!"
PLEASE USE THE CONTACT FORM >>>
FOR FURTHER DETAILS ON THE ABOVE ITEMS.
IF YOU WANT TO BUY AN ITEM OR ITEMS ... PLEASE SEND US YOUR BID OFFER.
IF YOU ARE LOOKING FOR A SPECIFIC ITEM OR SPORTS STAR / TEAM / EVENT.
IF YOU HAVE A "UNIQUELY SPORTING" ITEM OF MEMORABILIA YOU WANT TO SELL, PLEASE SEND DETAILS WITH YOUR VALUATION & A CONTACT EMAIL / PHONE NUMBER.
Please note we cannot always reply to every enquiry given the amount of mail we receive. We will be in touch only if we are interested.
IF YOU HAVE ANY OTHER QUESTIONS...
WE LOOK FORWARD TO HEARING FROM YOU!
-
Welcome to Uniquely Sporting's sports shop / store page for golf memorabilia & golfing collectables - with a great collection of autographed & signed items: golf photos, golfing prints, golf posters, golf artwork, golf cards, golf balls, golf clubs, golf caps, golf shirts, golf clothing, golf books & golf First Day Covers ... across the Majors - British Open, Masters, U.S. Open, U.S.A. PGA, from Ryder Cup to the Claret Jug, from St Andrews to Augusta, from professional to pro-am celebrity, from matchplay to strokeplay.
MAIN SPORTS MEMORABILIA MENUS