"THE KRAYS" SIGNED BOXING GLOVE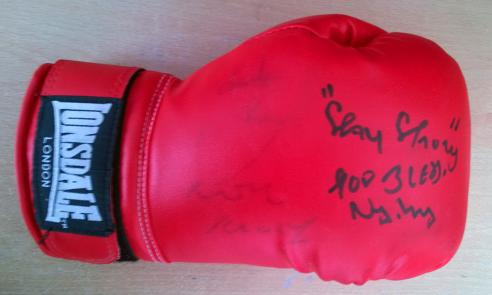 ACCEPTING OFFERS for a client
A rare and very collectable Lonsdale boxing glove signed by ALL three Kray brothers: Reggie, Ronnie & Charlie. The autographs of Ronnie Kray & Charlie Kray have become faded over the years, but the Reggie Kray autograph is bold and clear with the added message: "Stay Strong" God Bless.

The right hand glove is in very good condition.

Offers are being accepted via our CONTACT US page.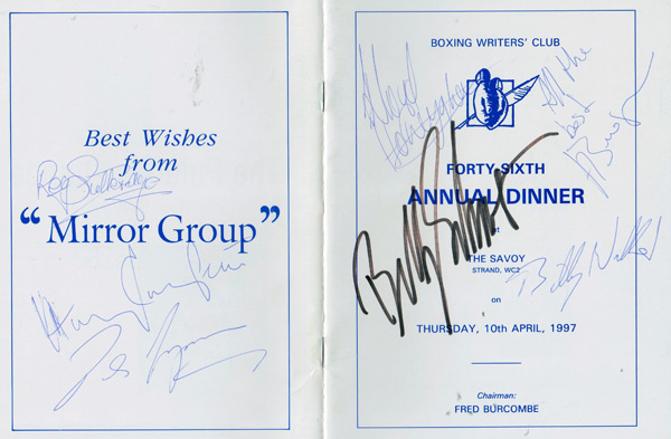 1997 Boxing Writers' Club 46th Annual Dinner menu signed by
British Boxing Champions: Frank Bruno, Lloyd Honeyghan, Billy Walker, & Billy Schwer (on front cover)
and
TV commentators: Harry Carpenter, Reg Gutteridge & Des Lynam (on back).

20 page booklet
Approx A5 size
BOXERS
(Listed alphabetically)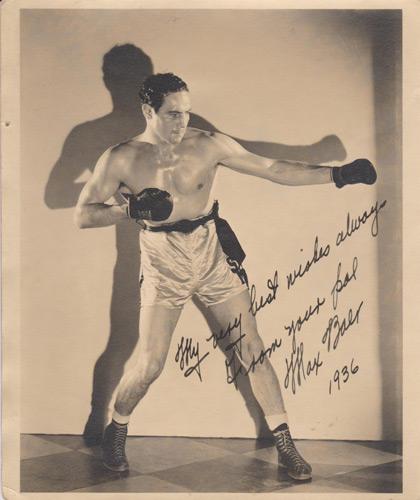 MAX BAER
"Signed" shadow boxing pose photo (sepia) with personal message: "My very best wishes always. From your pal Max Bear 1936."

Approx: 20 x 25 cms

--------------------------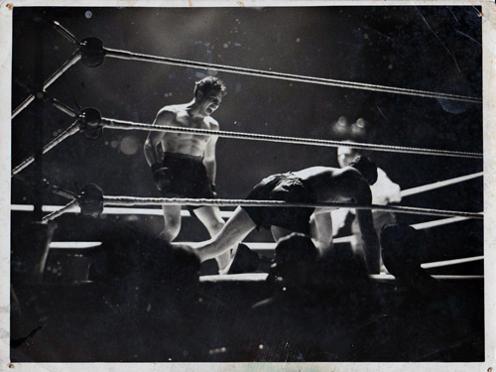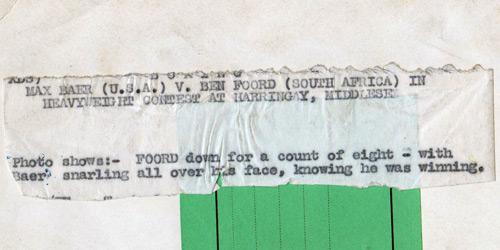 MAX BAER v BEN FOORD original news photo from the 1937 Heavyweight fight at Harringay Arena, London.
Photo shows: "FOORD down for a count of eight - with Baer snarling all over his face, knowing he was winning."


Approx 21 x 16 cms
Photo has some scratches, minor folds and pin holes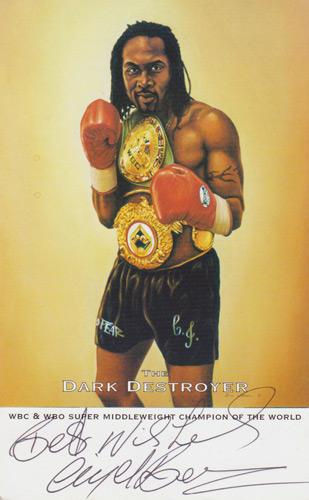 NIGEL BENN
(World Super Middleweight Champion)

Signed "The Dark Destroyer" postcard showing Benn with his WBC and WBO worl title belts.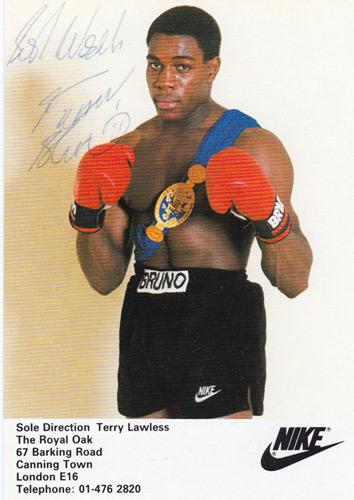 FRANK BRUNO
(World Heavyweight champion)

Signed Nike promotional card.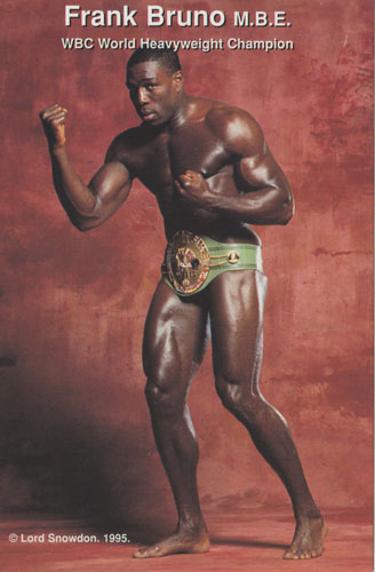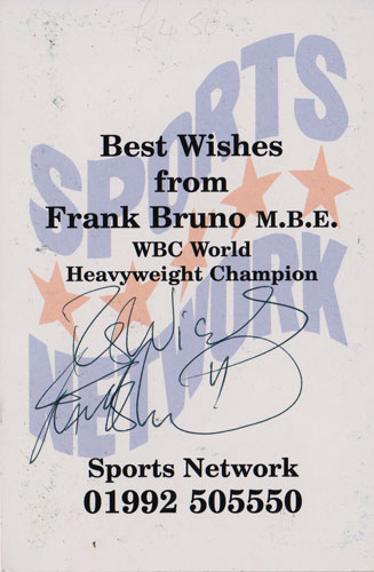 FRANK BRUNO M.B.E.

Sports Network promotional postcard signed on reverse with a Lord Snowdon colour photo of Frank wearing his WBC heavyweight title belt.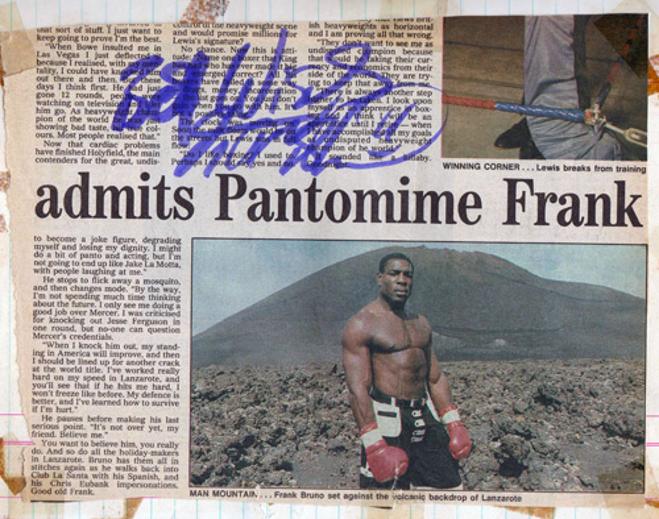 FRANK BRUNO
Signed newspaper article and pic.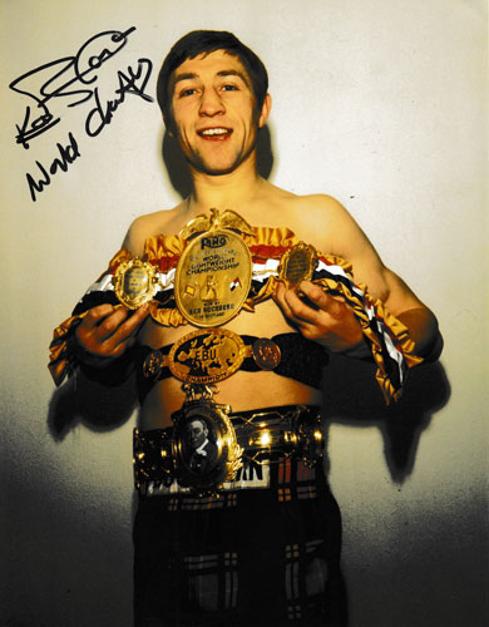 KEN BUCHANAN
(Undisputed world lightweight champion)

Signed colour photo of Ken (with the words "World Champ") showing off his world title belts.

Approx size: 20 x 25 cms.
JOE CALZAGHE & RICKY HATTON
"Best of British" Montage Tribute.

Large / Framed

Please CONTACT US for prices & delivery options in the UK only.
STEVE COLLINS Memorabilia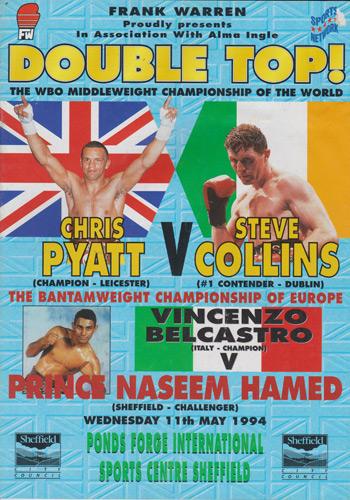 STEVE COLLINS

aka 'The Celtic Warrior'

(World Super / Middleweight Champion)
1994 "Double Top!" programme for his successful fight against Chris Pyatt for the WBO Middleweight crown.

Also on the Frank Warren card in Sheffield was Naseem Hamed fighting Vincenzo Belcastro for a European Bantamweight title.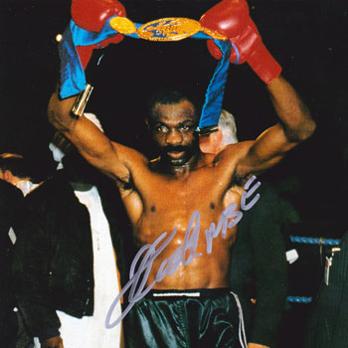 JAMES COOK
(European / British Super-Middleweight champion)

Signed boxing photo.

Approx A4 size
SIR HENRY COOPER Memorabilia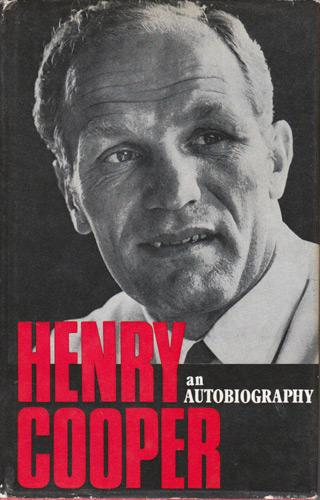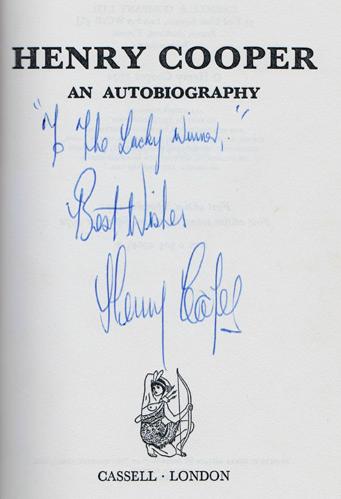 HENRY COOPER
Signed book "An Autobiography"
First Edition, Second Impression (1972)
Dedicated to "The Lucky Winner" so most likely a signed prize from Our 'Enery.
WILLIAM FRANK ESCOTT Memorabilia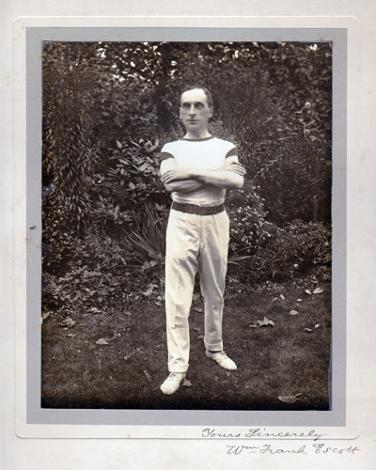 Wm. FRANK ESCOTT
(British Featherweight Boxer - 1899-1911)
Signed / Card Framed B&W vintage photo.
Approx A4 size

MICHAEL GOMEZ Memorabilia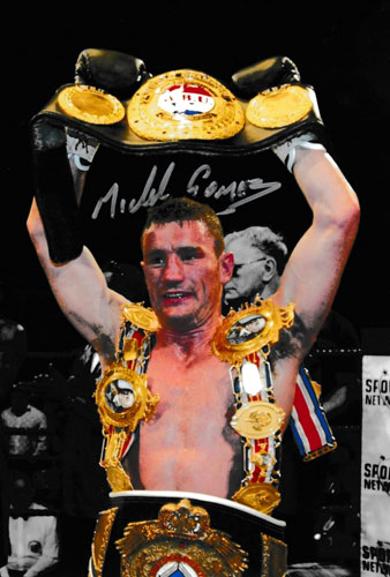 MICHAEL GOMEZ
(British & WBU Super Featherweight champion)
Signed colour photo of Gomez showing off his WBU title belt.

Approx size: 20 x 30 cms.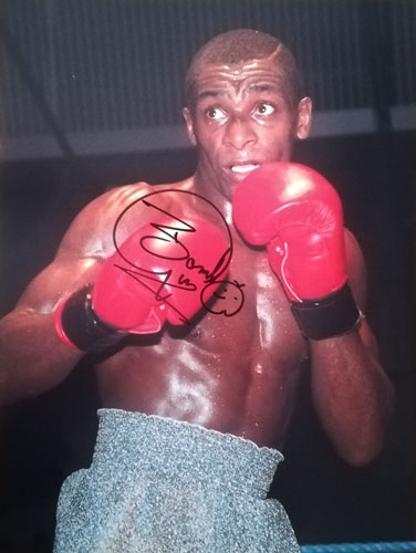 HEROL "Bomber" GRAHAM
(British & European Lightweight champion)
Signed large colour action photo.

Approx size: 30 x 40 cms.
PRINCE NASEEM HAMED Memorabilia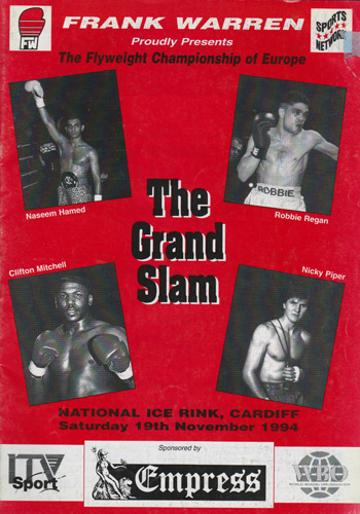 NASEEM HAMED

aka 'Prince'

(World Featherweight Champion)
1994 "The Grand Slam" programme featuring Hamed's WBC Intl Bantamweight championship fight against Laureano Ramirez.

Also featured Robbie Regan's European Flyweight Championship bout against Luigi Camputaro, and fights featuring 1992 Olympic chanpion Michael Carruth, Nicky Piper, Robin Reid & James Oyebola.
A Frank Warren promotion at the National Ice Rink, Cardiff.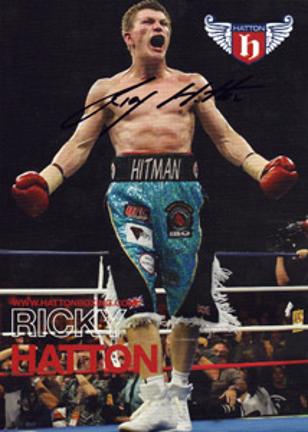 RICKY HATTON aka 'The Hitman'

(World Welterweight Champion)

Signed 'Hatton Boxing' promo card
LLOYD HONEYGHAN Memorabilia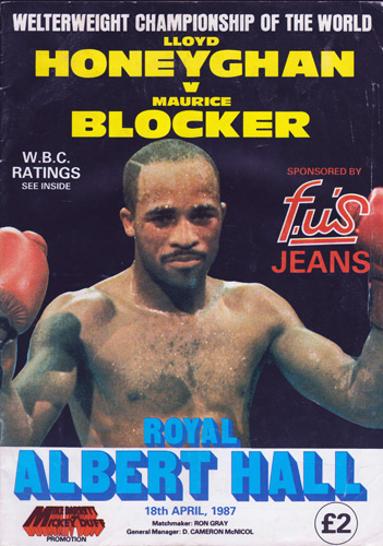 LLOYD HONEYGHAN

aka 'Honey'
(Undisputed Welterweight Champion)

1987 programme for his unanimous decision Welterweight championship of the World win over Maurice Blocker, at the Royal Albert Hall.

Also featured, Mark Kaylor, Gary Mason & Chris Pyatt.

A Mike Barrett & Mickey Duff Promotion.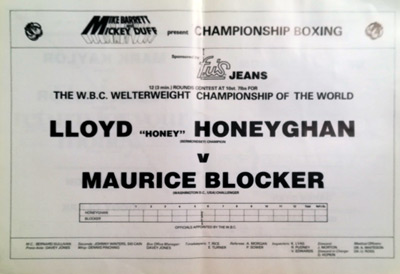 BARRY McGUIGAN Memorabilia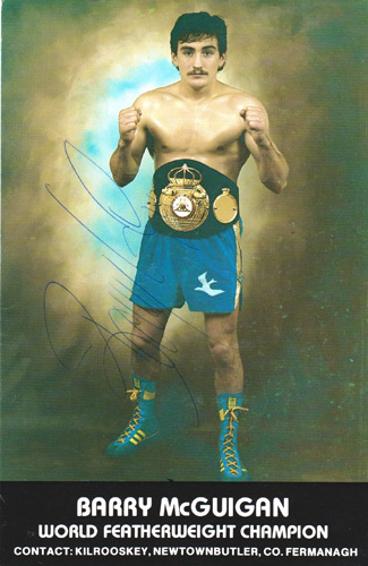 BARRY McGUIGAN

aka 'The Clones Cyclone'

(World Featherweight Champion)
Signed World Champion Photo-Card.

Approx size: 12 x 19 cms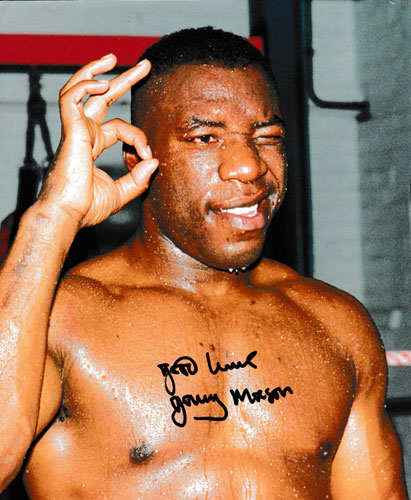 GARY MASON



(British Heavyweight Champion)
Signed colour press photo.

Approx size: 20 x 25 cms

SOLD £30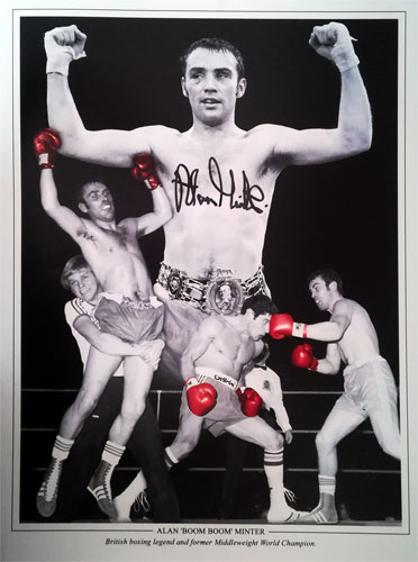 ALAN "Boom Boom" MINTER



(World Middleweight Champion)
Signed large colour & B&W action photo montage.

Approx size: 30 x 40 cms
EARNIE SHAVERS Memorabilia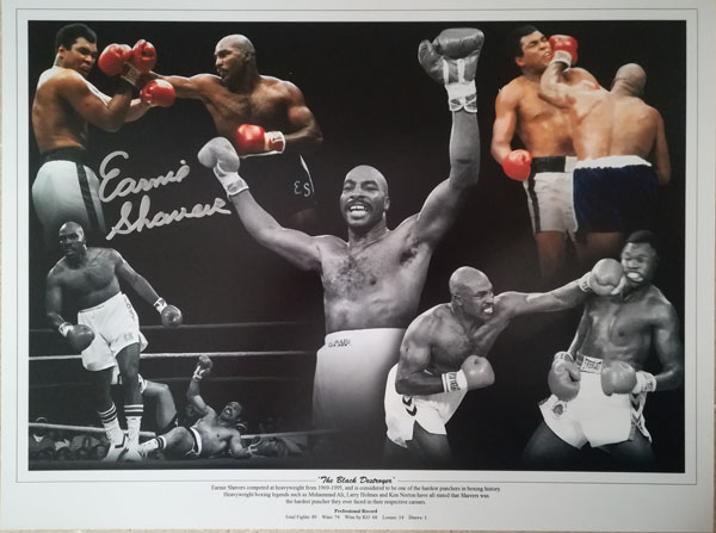 EARNIE SHAVERS



(World Heavyweight contender)
Signed large colour & B&W action photo montage - "The Black Destroyer" - showing Shavers fighting Ali and Holmes.

Approx size: 30 x 40 cms
--------------------------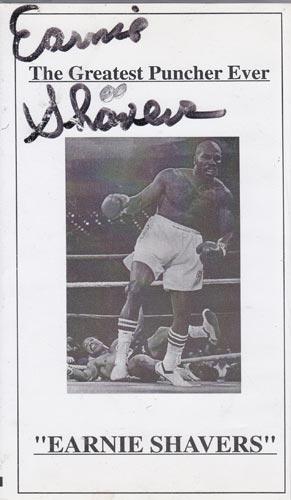 EARNIE SHAVERS



(Mr Devastation)
Signed cover & cassette label for the official "Greatest Puncher Ever" video. Comes with back up documentation.
Video has not been viewed so quality / playback cannot be guaranteed. Being sold as an authentic signed item.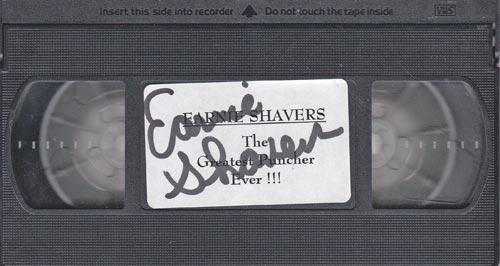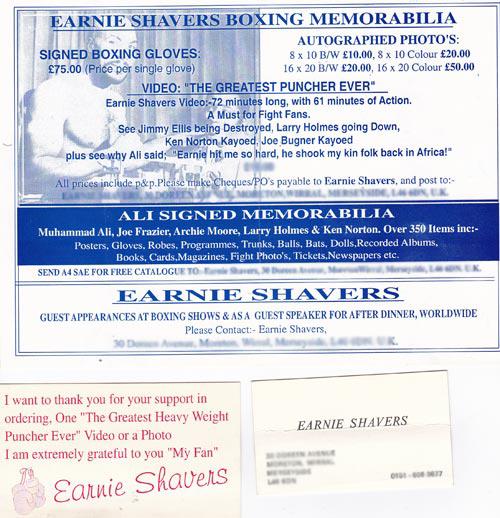 CARL THOMPSON Memorabilia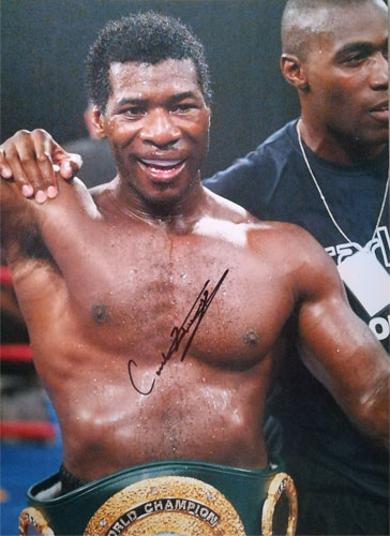 CARL "The Cat" THOMPSON



(World Cruiserweight Champion)
Signed large colour photo of Thompson wearing one of his world title belts.

Approx size: 30 x 40 cms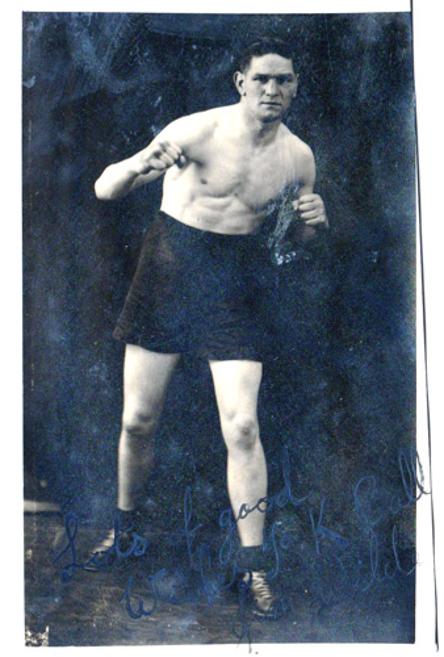 JIMMY WILDE

aka 'The Tylorstown Terror'

(World Flyweight Champion)
Signed & Dedicated B&W Photo-Card (c 1935)
With message: "Lots of good wishes to K. Ball"

Approx size: 8 x 13 cms
Slightly off cut.
Enhanced view of signature below.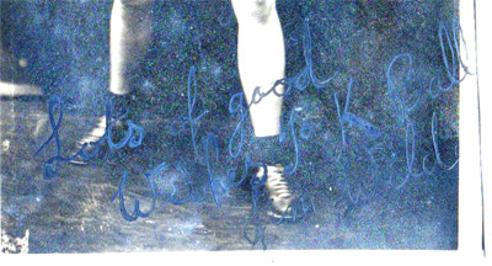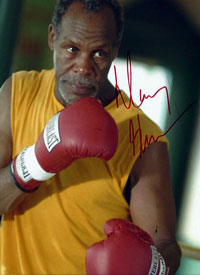 DANNY GLOVER
(Actor)
Signed "Poor Boy's Game" (2007)
boxing movie photo.
----------------------------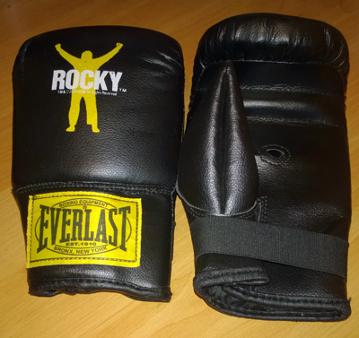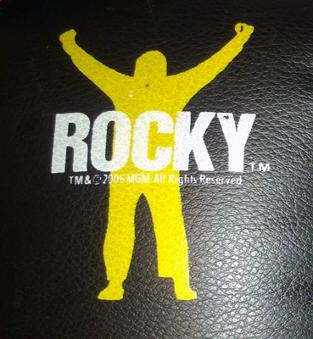 EVERLAST "ROCKY" BOXING SPARRING GLOVES.
Unused / As new
SOLD £15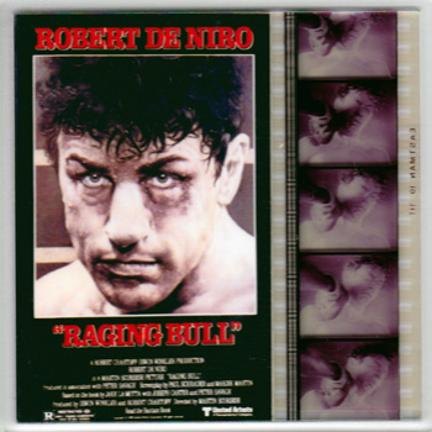 "RAGING BULL" Movie
Starring Robert DeNiro as Jake La Motta

Directed by Martin Scorsese


Official 5 x consecutive film cells display
(see below for more detail)
and mini movie poster.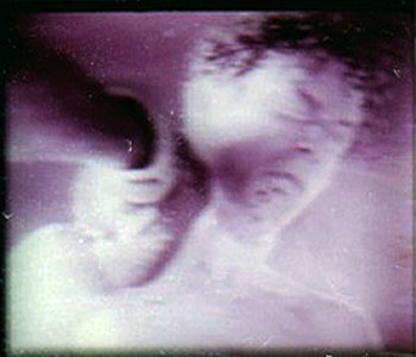 WORLD HEAVYWEIGHT CHAMPION BOXING MEMORABILIA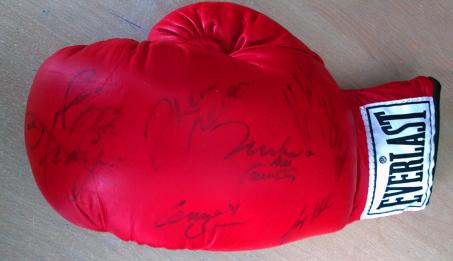 Everlast boxing glove signed by nine World Heavyweight champions: Muhammad Ali (aka Cassius Clay), Joe Frazier, Ken Norton, Larry Holmes, Mike Tyson, Evander Holyfield, Riddick Bowe & Lennox Lewis. Comes with COA from 2001.

SOLD at auction (£600)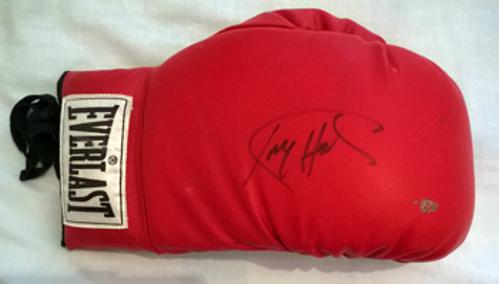 LARRY HOLMES
(World Heavyweight Champion)
Signed Everlast boxing glove.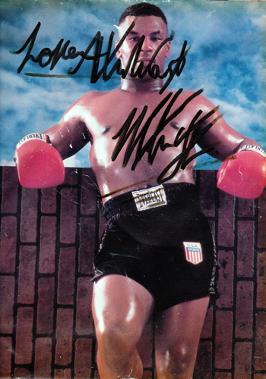 MIKE TYSON
(former World Heavyweight Champion)
Signed boxing pic.

Note: Photo has some minor

damage / creasing
But autograph is unaffected
S O L D £40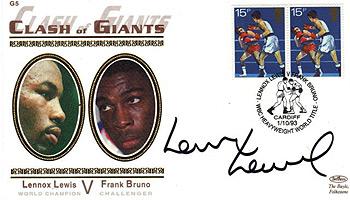 Signed FDC 2003 Frank Bruno "Clash of Giants' fight.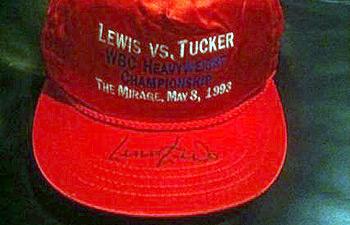 S
igned cap for 1983 Las Vegas fight vs Tony Tucker.
JAKE LA MOTTA Memorabilia
(Raging Bull)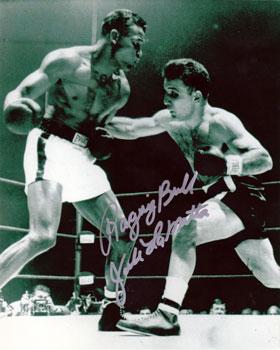 JAKE LA MOTTA
aka "Raging Bull"
(former World Middleweight champion)

Signed boxing photo
vs Sugar Ray Robinson.
S O L D £40
-------------------------
TIM WITHERSPOON Memorabilia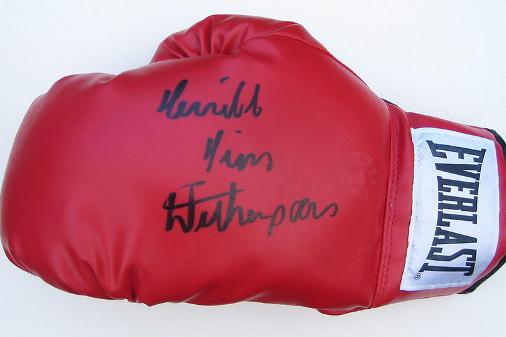 "Terrible" TIM WITHERSPOON
Signed Everlast Boxing Glove
S O L D £40
-------------------------
"TERRIBLE" TIM WITHERSPOON
(former World Heavyweight Champion)
Autograph highlighted in inset
+B&W Photo of Witherspoon opposite >>>>
S O L D £30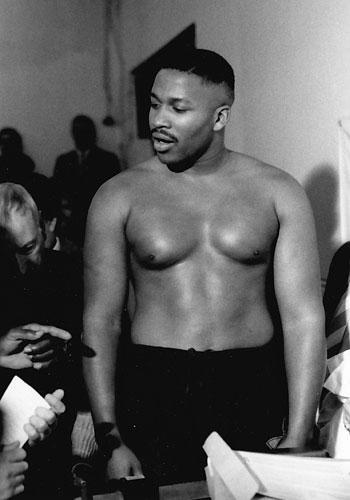 Original Black & White photo of Tim Witherspoon
at the weigh-in for his 1986 Heavyweight title fight
against Frank Bruno in London.
Copyright Colin M Jarman
MUHAMMAD ALI / CASSIUS CLAY MEMORABILIA
96 newspaper articles, clippings, posters & paper ephemera featuring Clay / Ali from 1962 to 1978 inc Liston, Cooper, Frazier, Foreman & Norton fights.
34 Boxing magazines (1964 to '76) inc "The Ring", "Boxing Annuals" & "Boxing Illustrated." 13 feature Clay / Ali on the cover; most feature Clay / Ali in articles, editorials or photos in his professional prime.
2 Playboy magazines featuring full length interviews with Clay (1964) & Ali (1975)

SOLD at auction £200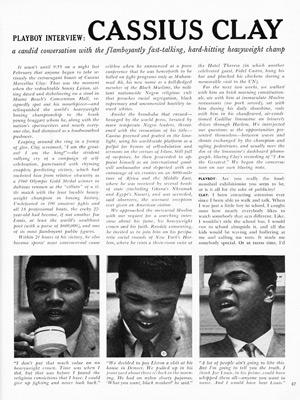 CASSIUS CLAY
"Playboy" interview - Oct 1964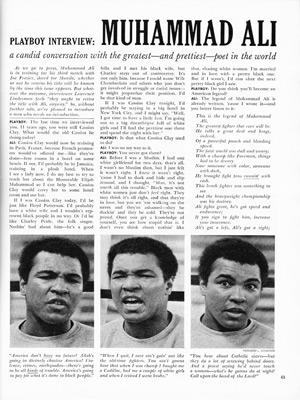 MUHAMMAD ALI
"Playboy" interview - Nov 1975
SIR HENRY COOPER Memorabilia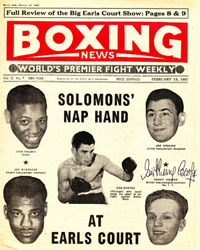 (former British heavyweight champion)
Signed 1957 Boxing News cover for his fight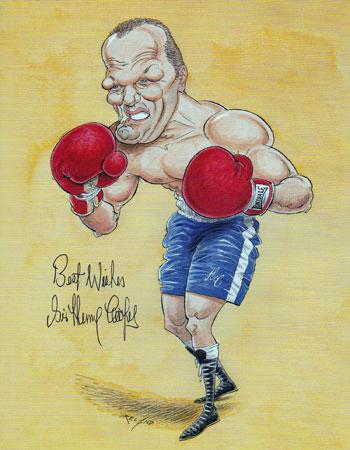 Signed John Ireland boxing print
Click here for more details & prices for Sir Henry Cooper Boxing Memorabilia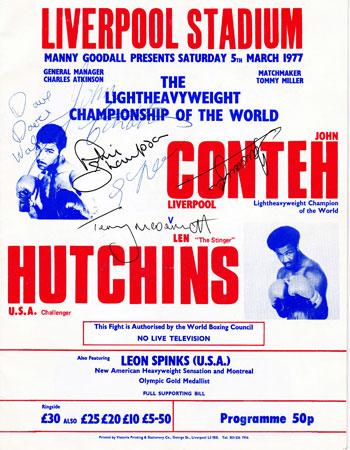 (former Light-Heavyweight world champion)


Signed 1977 WBC World Title fight programme
vs Len Hutchins (USA).
Also autographed by four Liverpool football players:
Phil Thompson, Ian Callaghan, Phil Neal & Terry McDermott + Welsh Boxer David Davies.
Programme also features
"New American Heavyweight Sensation and
Montreal Olympic Goild Medallist"
& future World Champion
Leon Spinks (USA)
on the undercard
S O L D £40
-------------------------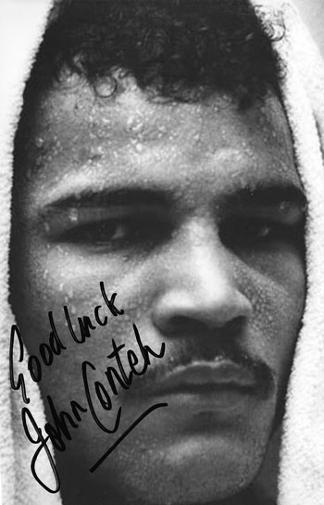 JOHN CONTEH
(former Light-Heavyweight world champion)
Signed, large boxing portrait B&W photo
"Good Luck John Conteh"
S O L D £30
ROY JONES Jnr Memorabilia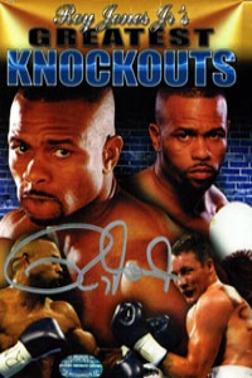 (multi-weight World Champion)
Signed "Greatest Knockouts" DVD Box Set.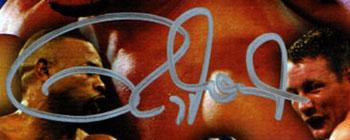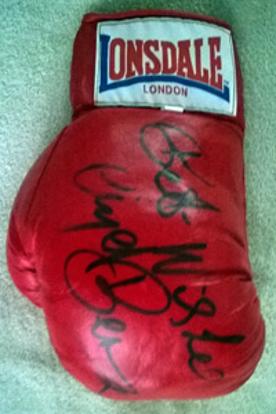 NIGEL BENN
aka 'The Dark Destroyer'
(former World Middleweight Champion)
Signed Lonsdale boxing glove
with "Best Wishes" dedication.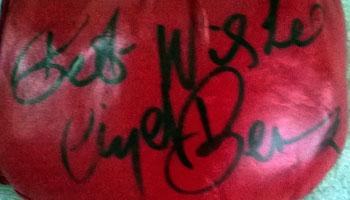 MICHAEL WATSON Memorabilia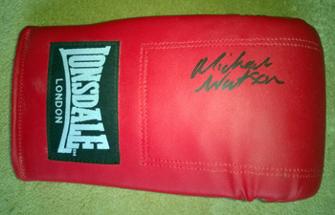 MICHAEL WATSON
(Super-Middleweight)


Signed Lonsdale boxing glove.
S O L D £50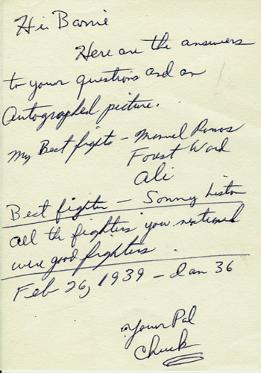 CHUCK WEPNER
Handwritten & signed letter.
S O L D £30
KELLIE / FRANK MALONEY MEMORABILIA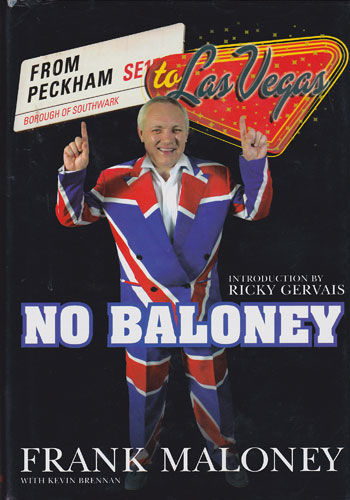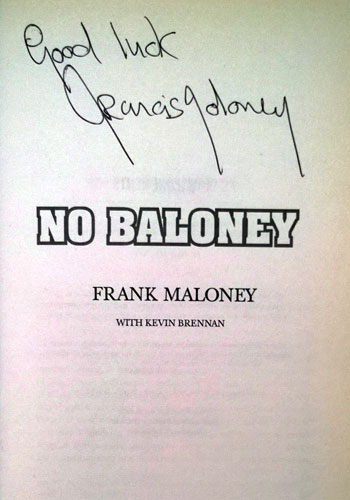 FRANK

now KELLIE MALONEY

(Lennox Lewis' former manager)
signed copy of autobiography: "No Baloney"
First Edition
SYLVESTER STALLONE / ROCKY BALBOA
MOVIE MEMORABILIA

Rocky Balboa / Sylvester Stallone actual film cells and mini-posters for each of the six movies in the Rocky series.
S O L D £30
Special Collector's DVD Box Set of all six Rocky movies:
ROCKY + ROCKY II + ROCKY III + ROCKY IV + ROCKY V + ROCKY BALBOA
-------------------------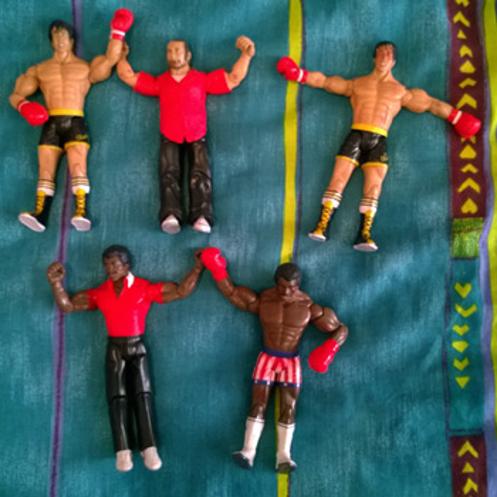 Rocky Balboa
5 x boxing movie action figures
2 x Rocky Balboa
2 x Apollo Creed
1 x Paulie.
S O L D £20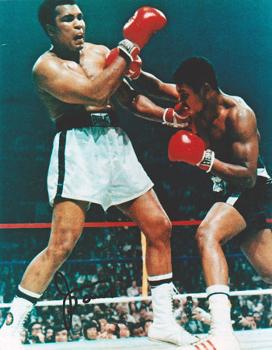 JIMMY YOUNG
Signed Muhammad Ali 1971 boxing photo.
S O L D £25
-------------------------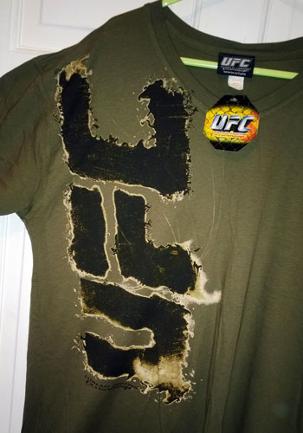 ULTIMATE FIGHTING CHAMPIONSHIPS
OFFICIAL U.F.C. T-SHIRT
with UFC Tags
S O L D £15
WRESTLING MEMORABILIA

(Listed alphabetically)
JOHNNY BLYTHE Memorabilia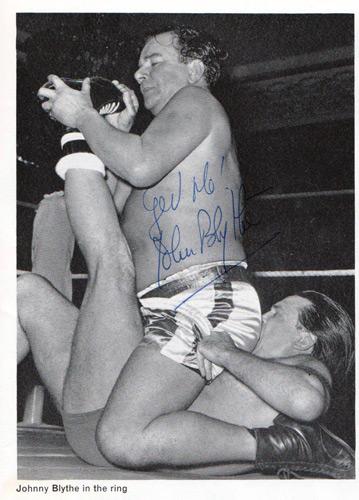 JOHNNY BLYTHE
Signed B&W magazine pic of John Blythe in action in the 1960s.
RICHIE BROOKS Memorabilia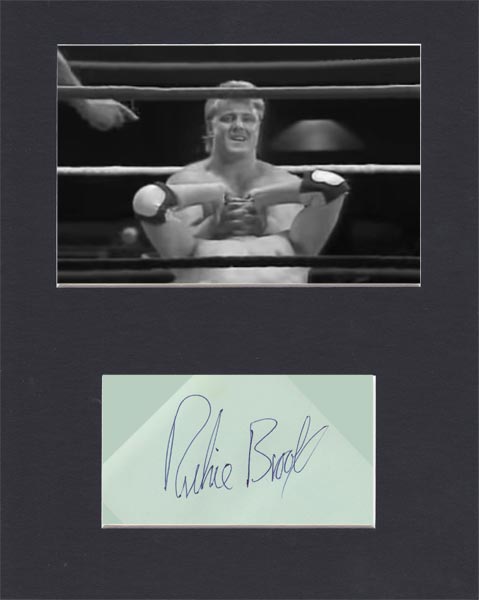 RICHIE BROOKS


(aka Golden Apollon
British Heavy-Middleweight Champion - 1990)

Autographed wrestling display.

Approx size: 8" x 10"
Mounted ready for framing
PETER "TALLY HO" KAYE Memorabilia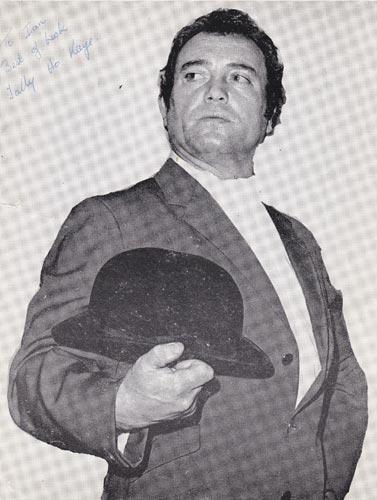 PETER "TALLY HO" KAYE



Signed & dedicated B&W photo of Kaye in his equestrian stage clothes.

Approx size: 20 x 25 cms

DREW McDONALD Memorabilia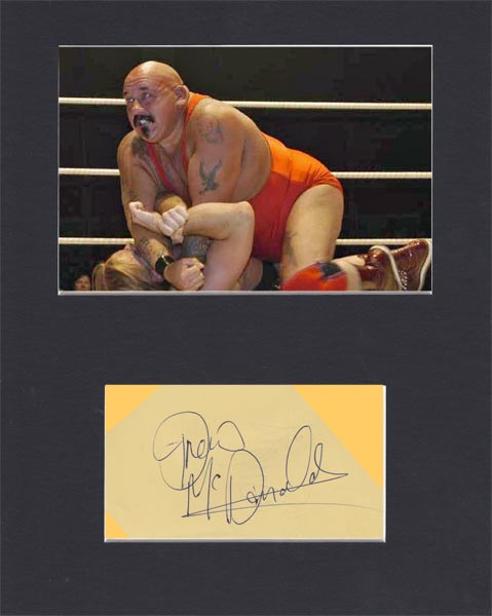 DREW McDONALD
(Scottish & British Heavyweight Champion)

Autographed wrestling display.

Approx size: 8" x 10"
Mounted ready for framing
NAT PENDLETON Memorabilia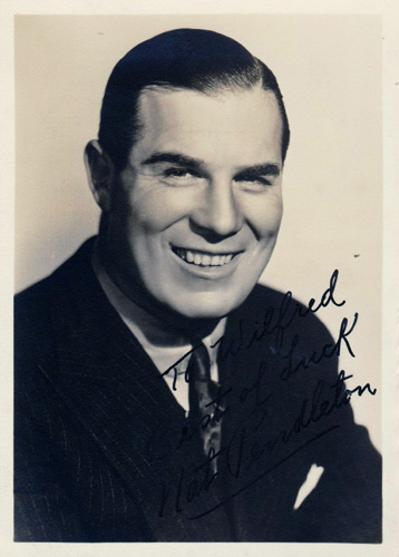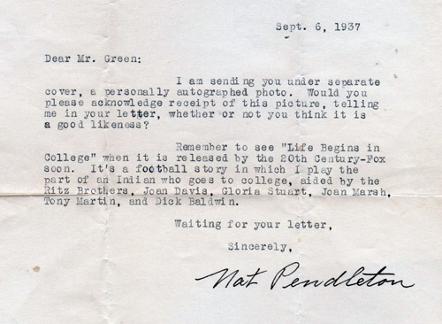 NAT PENDLETON
(1920 Olympic wrestling silver medallist)


Signed 1930s B&W publicity photo + signed letter dated Sept 8, 1937 mentioning his role as Little Black Cloud in the Ritz Brothers' film "Life Begins in College".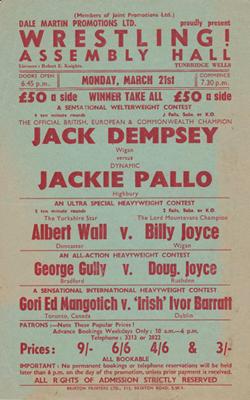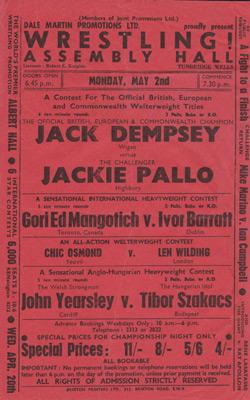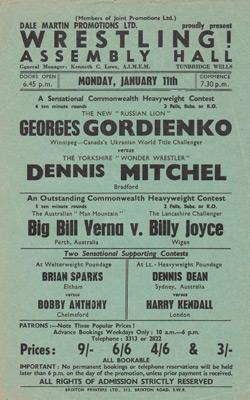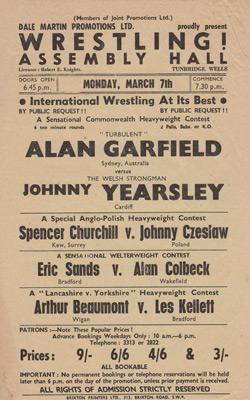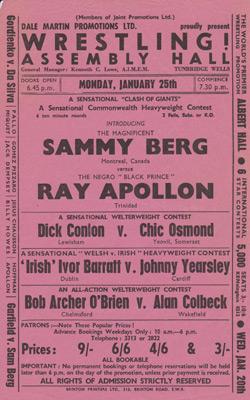 1970s Dame Martin Productions Wrestling Flyers
from the Assembly Rooms in Tunbridge Wells, Kent

featuring top of the bill bouts between:
JACKIE PALLO v JACK DEMPSEY
GEORGES GORDIENKO v DENNIS MITCHELL
ALAN GARFIELD v JOHNNY YEARSLEY
SAMMY BERG v RAY APOLLON
MARIO MATASSA v RAY APOLLON

Also featuring on the undercards:
Les Kellett, Tibor Szakacs, Johnny Czeslaw, Spencer Churchill, Mr Universe, Dick Conlon, Chic Osmond, Big Bill Verna, etc.
Approx A5 size


Set of Six for £15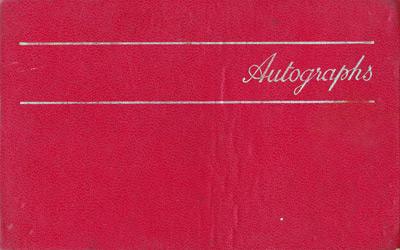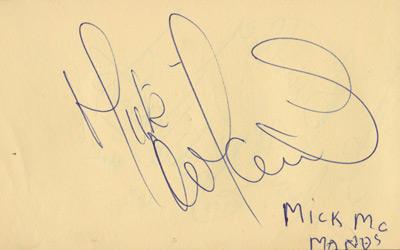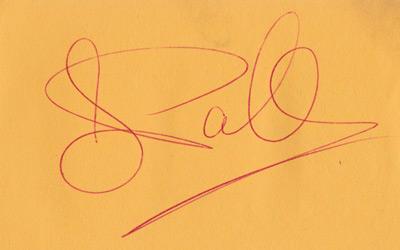 "MR TV" JACKIE PALLO autograph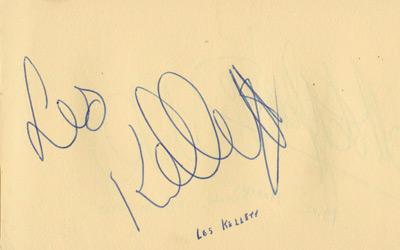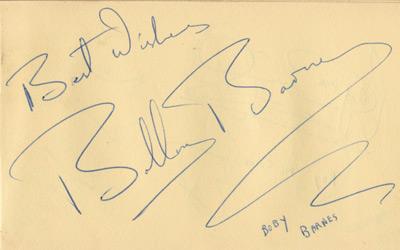 "BAD BOY" BOBBY BARNES autograph
1960s/70s Autograph book with 120 hand-signed autographs from the legendary wrestlers of the British Wrestling / Kent Walton ITV World of Sport & Dale Martin Promotions era, including Mick McManus, Les Kellett, Jackie Pallo, Bad Boy Bobby Barnes, Honey Boy Zimba,
Pat Roach x 2,
Johnny Czeslaw, Steve Vidor, Masambula, Johnny Eagle x 2, Cyanide Sid Cooper, Wayne Bridges, Tibor Szakacs, Peter
Szakacs,
Tony St Clair,
Count Bartelli, Adrian Street, Brian Maxine, Johnny Kincaid,
Cheyenne Hardin, Clayton Thomson, Eddie Capelli, Tommy Grant, Bill Torontos, Ted Heath x 2, Harry Kendale, Prince Kumali x 2, Mike Eager x 2, Charles Verhulst x 2, Alan Denison, Ian Campbell, Crusher Verdu, Steve Logan, Le Grand Vladimir, Tony Charles, Bob Kirkwood, Sean Reagan, Al Fontayne, Chris Bailey x 2, Jack Cunningham, Albert Wall, Stan Gray, Black Angus, Rajinder Singh, Tom 'Tug' Holton, Ivan Penzecoff, Peter Rann, Bobby Palmer, Ray Fury, Bernard Murray, Tony Borg, Len Hurst, Jock Cameron, Big Bruno Elrington, Tony Costas, Dory Dixon x 2, Charles Vearmulst, Mark Anthony, Wolfgang Stark, John Lees, Mohammed
Meru Ullah, Geoff Portz, Lindy Caulder, Dick Conlon, Leon Fortuna, Tiger Lombardo, Steve Haggerty, Alan Colbeck, Quasimodo, Peter Preston, Alan Sargeant, Serge Strogoff, Al Nichol, Terry Rudge, Max Ward, Joe Katich, Charlie Fisher, Reg Trood, Julien Maurice, Peter Stewart, Stefan Miller, Ian Gilmour, Bob Taylor, Gori Ed Mangotich, Billy Stock, Ray McGuire, Mike Bennett, Kalman Gaston, John Cox, Yuri Borienko, Mike Marino, Professor Adi Wasser, Judo Al Hayes, Doug Joyce, Colin Joynson, Johnny Yearsley, Miguel Santos, Johnny Kowalski, Tony Scarlo, Doctor Death, The Dominators, Ajit Singh,
Maruti Vadar, Jack Savvas, Docker Don Stedmann,
Henry S Randhawa
, Steve Romanos, Peter Kelly, Paul Duval, Mal Kirk, Bob Archer O'Brien, Reverend Michael Brooks, Earl Black + four unknown autographs.
S O L D £120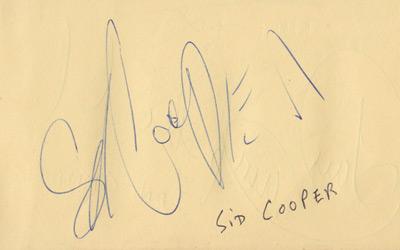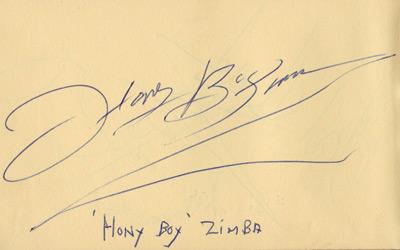 HONEY BOY ZIMBA autograph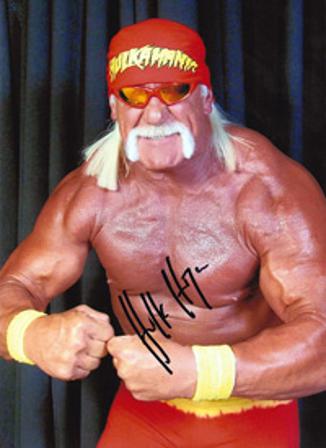 HULK HOGAN memorabilia

(former WWF Heavyweight Wrestling Champion)



Signed 'Hulkmania' photo.


Approx A4 size.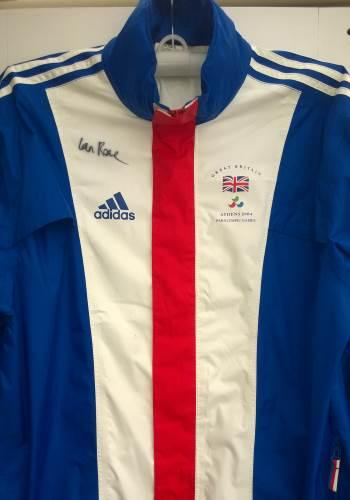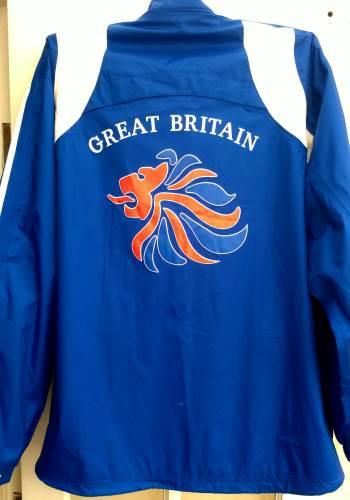 IAN ROSE
(5 x Paralympian Judoka & 4 x European Judo champion)
Signed 2004 Athens Great Britain Paralympics Official team jacket.
S O L D £40

-------------------------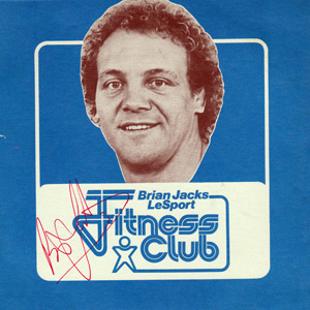 BRIAN JACKS
(Judo Olympic & World bronze medallist)
Signed LeSport Fitness Club single

S O L D £30

Welcome to Uniquely Sporting's sports shop / store page for authentic boxing memorabilia, wrestling memorabilia & Ultimate Fighting Championship / UFC Memorabilia, Mixed Martial Arts MMA Memorabilia Cage Fighter, Judo memorabilia, Karate memorabilia, collectable souvenirs with a great collection of autographed & signed items: photos, prints, posters, artwork, cards, balls, gloves, caps, shirts, clothing, books & First Day Covers ... from Muhammad Ali to Lennox Lewis, Jake La Motta to Mike Tyson, Henry Cooper to Ricky Hatton, from Hulk Hogan to Randy Couture, from Rocky Marciano to Rocky Balboa, from Mark Coleman to Georges St-Pierre, from Heavyweight to Lightweight, from boxing ring to octagon, from World Title to Olympic Champion, from Black Belt to Lonsdale belt.
If you wish to find out more about a specific item, please email us using the Form below.
PLEASE USE THE CONTACT FORM >>>
FOR FURTHER DETAILS ON THE ABOVE ITEMS.
IF YOU WANT TO BUY AN ITEM OR ITEMS ... PLEASE SEND US YOUR BID OFFER.
IF YOU ARE LOOKING FOR A SPECIFIC ITEM OR SPORTS STAR / TEAM / EVENT.
IF YOU HAVE A "UNIQUELY SPORTING" ITEM OF MEMORABILIA YOU WANT TO SELL, PLEASE SEND DETAILS WITH YOUR VALUATION & A CONTACT EMAIL / PHONE NUMBER.
Please note we cannot always reply to every enquiry given the amount of mail we receive. We will be in touch only if we are interested.
IF YOU HAVE ANY OTHER QUESTIONS...
WE LOOK FORWARD TO HEARING FROM YOU!
-