Signed CYCLING / TOUR DE FRANCE MemorabiliA


GERAINT THOMAS Memorabilia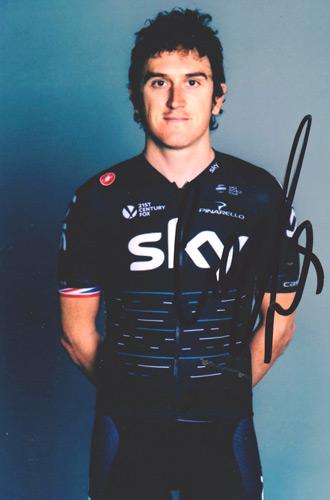 GERAINT THOMAS
(2018 Tour de France champion)
Signed Team Sky promotional colour photo.
MARK CAVENDISH Memorabilia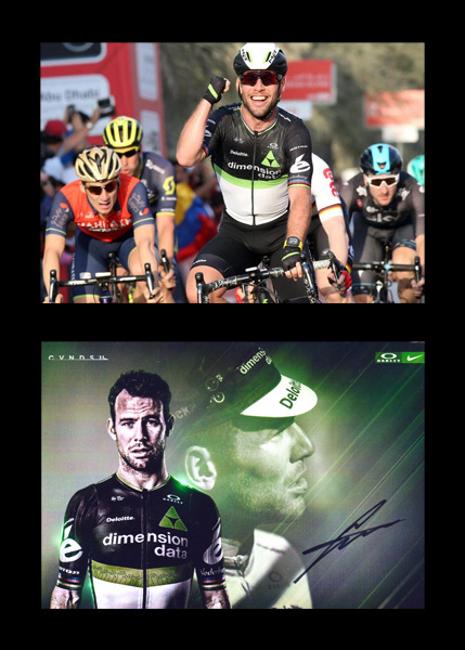 MARK CAVENDISH
(30 x Tour de France stage winner
+ 2011 World Road Race champion)
Signed Dimension Data / Oakley / Nike cycling display.

Mounted for Framing
Display size: 25 x 35 cms.
SIR BRADLEY WIGGINS Memorabilia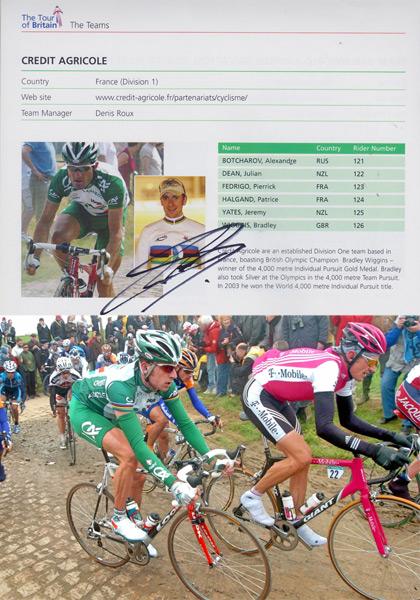 BRADLEY WIGGINS
(2012 Tour de France champion
5 x Olympic Cycling Champion
7 x World Cycling Champion)

Signed Credit Agricole page from the 2004 Tour of Britain programme - mounted with photo of Wiggins competing for CA in the 2004 Paris Roubaix road race.

Framed
Approx A4 size

LIZZIE DEIGNAN / ARMITSTEAD Memorabilia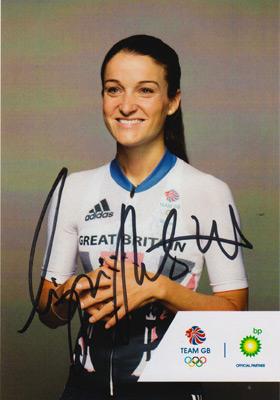 ELIZABETH DEIGNAN
(2015 World Road Race Champion)

Signed TEAM GB Olympic portrait photo card.
MAURIZIO FONDRIEST Memorabilia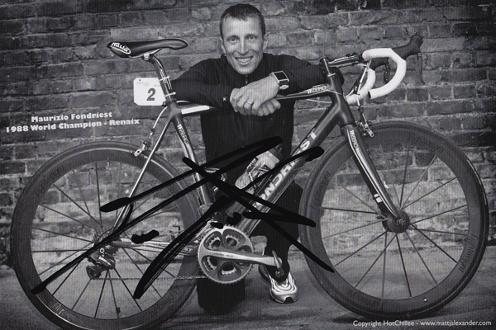 MAURIZIO FONDRIEST
(1988 UCI Road Race World Champion
Also 2 x winner of UCI World Cup,
Milan-San Remo
& Tour of Britain)
Signed Fondriest Cycles promo photo
Approx 7"x5"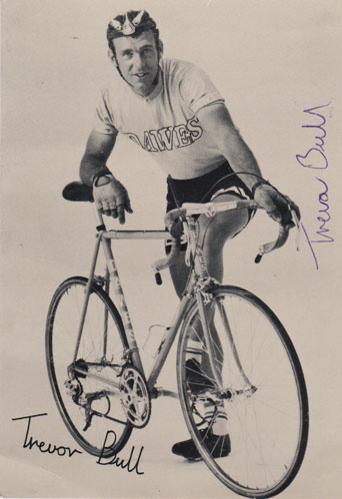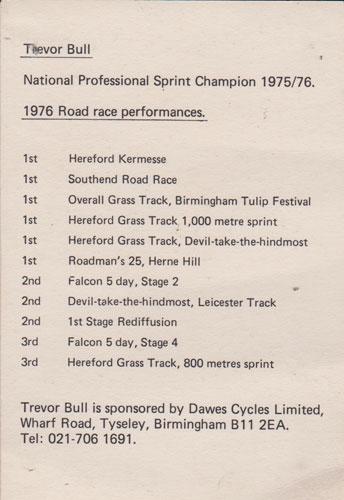 TREVOR BULL (1944-2009)
(1975/76 National Professional Sprint Champion)
Signed Dawes Cycles promotional postcard (1976)
TEAM T-MOBILE Memorabilia
T-MOBILE Promotional Team Photo
Celebrating the squad winning the 2004 Tour de France Team Event.
Signed by two riders (possibly)
Andreas Klier + Cadel Evans.

Approx A4 size
TOUR DE FRANCE Memorabilia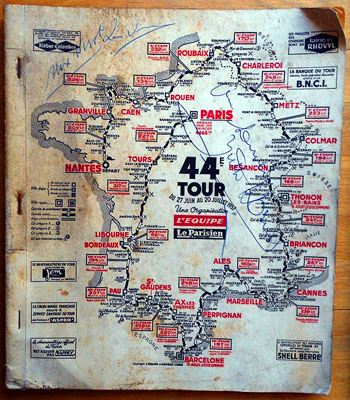 1957 Tour de France media guide
Signed by French radio legend Alex Virot
+ 2 others.
Uniquely Sporting video documentary
on Alex Virot - "The Voice of the Tour de France"
Click here for more info on this
Tour De France Media Guide & Video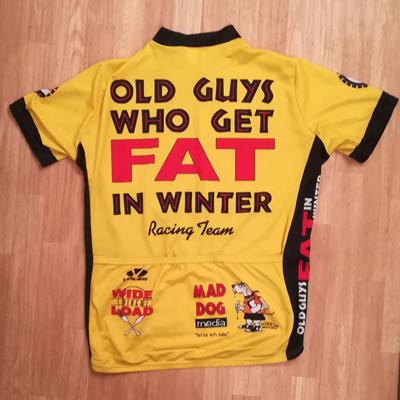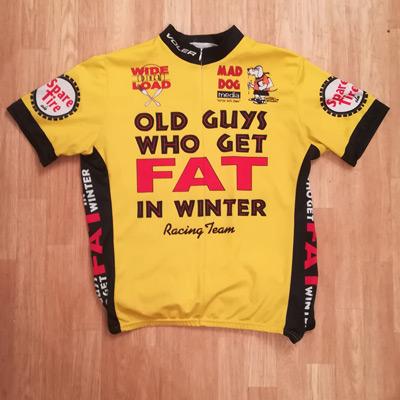 OLD GUYS WHO GET FAT IN WINTER RACING TEAM

Cycling jersey with sponsors logo / badges from Spare Tire, Wide Load & Mad Dog Media.

Size: XXL
CHRIS BOARDMAN Memorabilia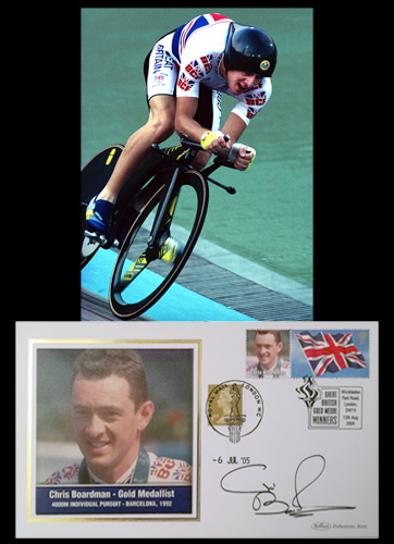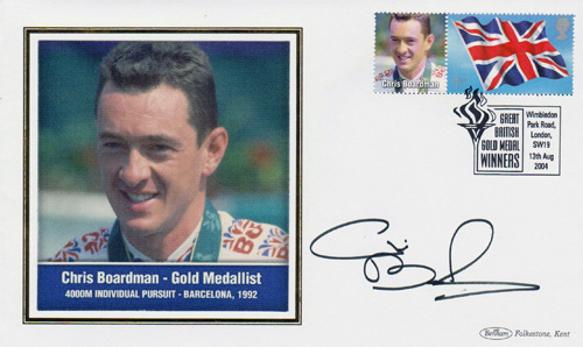 CHRIS BOARDMAN
1992 Barcelona Olympics 4000m Pursuit champion display with signed Benham First Day Cover & personalised stamp & pic
+ action photo from the Olympic Games winning "Superman" performance.
Approx A4 size
SOLD £30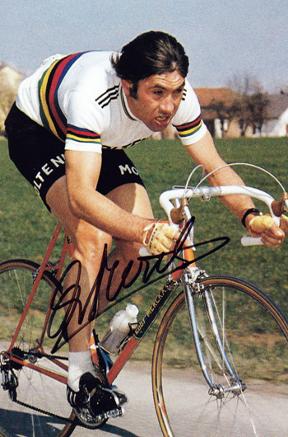 EDDY MERCKX

(five-time winner of the Tour de France)
Hand-signed cycling photo.

S O L D £30
MARCO PANTANI Memorabilia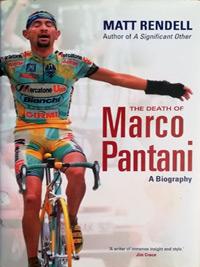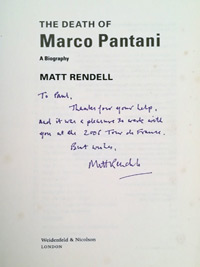 MATT RENDELL
(Cycling Journalist & Author)
signed biography: "The Death of Marco Pantani" with dedicated message of thanks for help during the 2007 Tour de France.


First Edition (2006)


SOLD £15
ALESSANDRO PETACCHI Memorabilia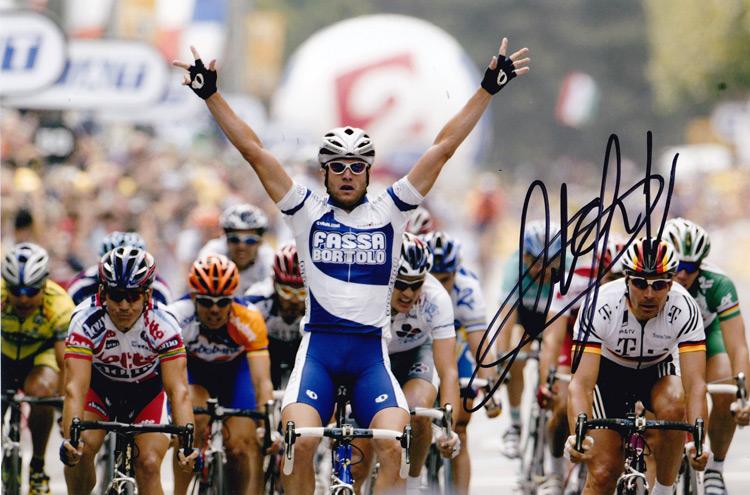 ALESSANDRO PETACCHI
(Winner of Points Classification in
Tour de France, Giro d'Italia & Vuelta a Espana)
Signed 12"x8" cycling photo.

SOLD £15
STEPHEN ROCHE Memorabilia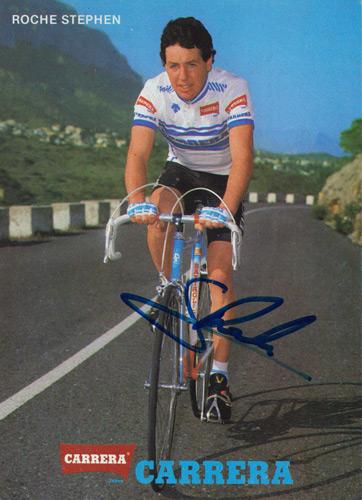 STEPHEN ROCHE
(1987 Tour de France & Giro d'Ialia champion)
Signed 1987 Carrera team postcard.

SOLD £30

TOUR OF BRITAIN MEMORABILIA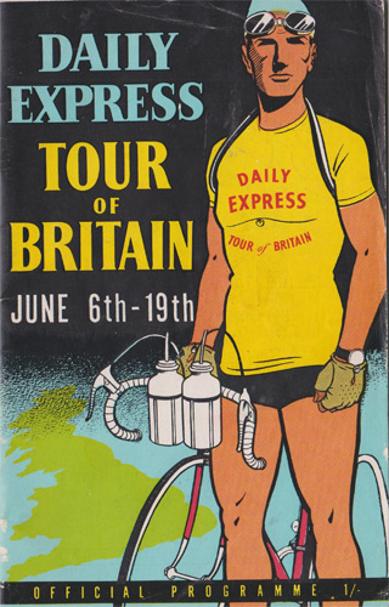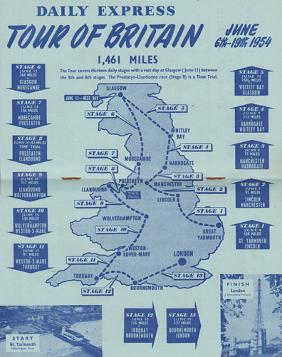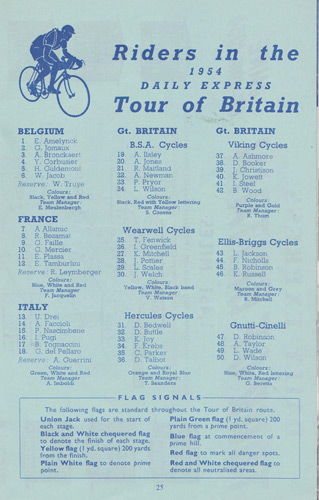 1954 DAILY EXPRESS TOUR of BRITAIN PROGRAMME
June 9th-16th - London to Great Yarmouth Approx A5 size

SOLD £25
-------------------------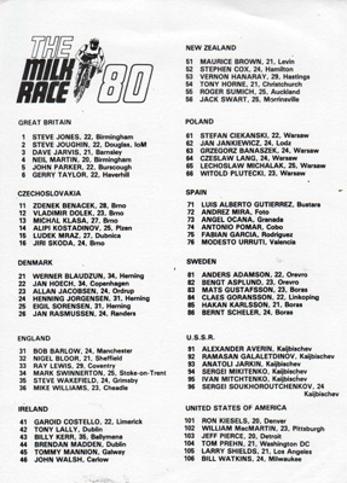 1980 MILK RACE / TOUR of BRITAIN
Official Cyclist / Team Starters List Card

Approx A5 size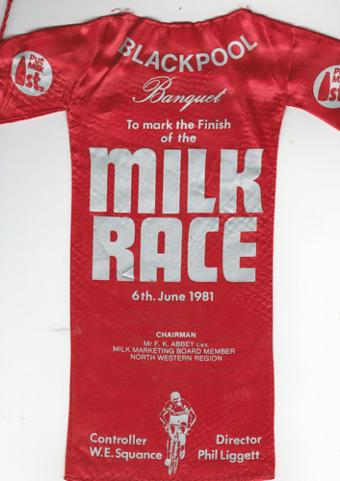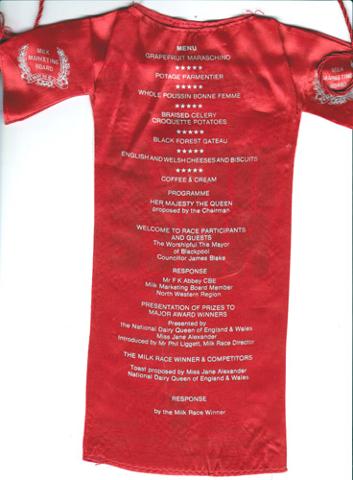 1981 MILK RACE
TOUR of BRITAIN
Official Blackpool Banquet Red Jersey Menu Pennant
to mark the finish of the race
on 6th June 1981.
Banquet menu printed on the back
Approx 28 cms long
SOLD £15
OTHER BICYCLING MEMORABILIA
(Books, Programmes, Postcards, Jewellery, etc)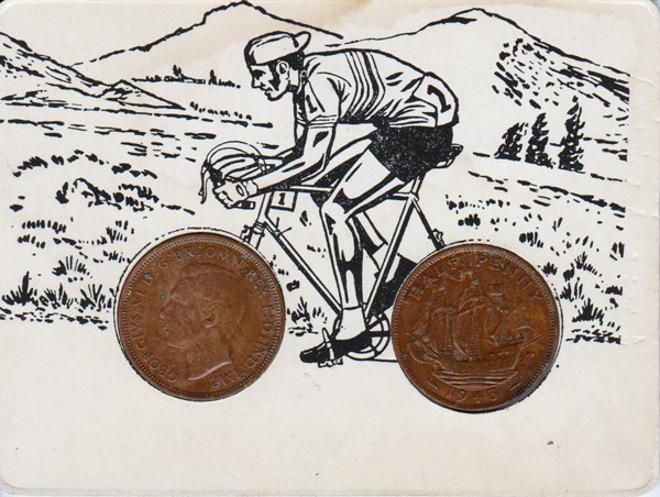 1945 CYCLING CARTOON
Framed card artwork with Halfpennies for the wheels.

Approx size: 13 x 9 cms

SOLD £20
-------------------------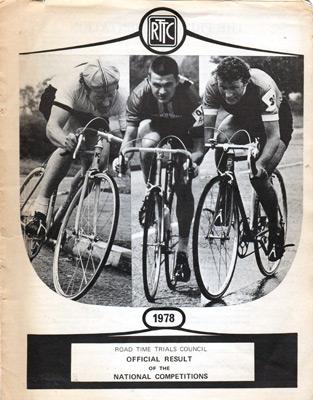 1978 ROAD TIME TRIALS COUNCIL

Official Result of the National Competitions booklet.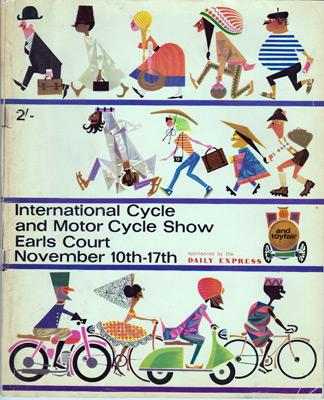 1962 International Cycle and Motorcycle Show Programme - Earls Court, London.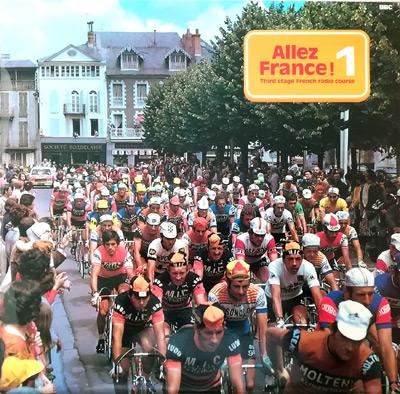 ALLEZ FRANCE! 1
BBC French Language Record
with French Cycling photo on the cover.

ALBUM 2 also available with the same cover photo

-------------------------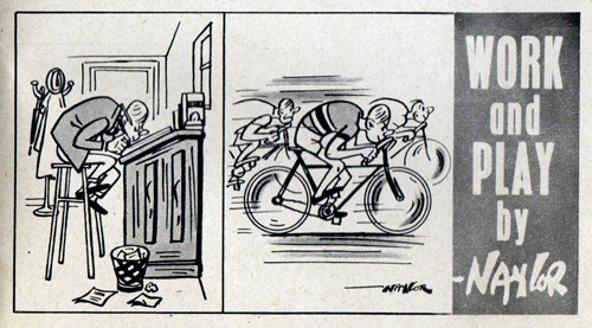 "BOY'S OWN PAPER" CYCLING CARTOON (1953)
"Work and Play"

by cartoonist Naylor
Mounted on black card for framing.


-------------------------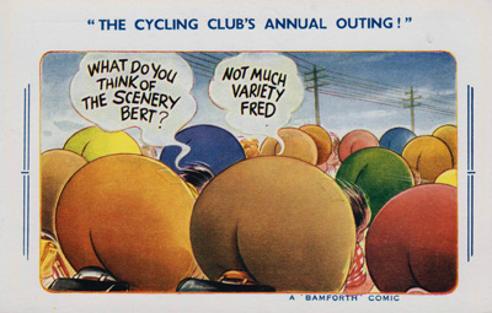 "The Cycling Club's Annual Outing !"
A Bamforth Comic Postcard
-------------------------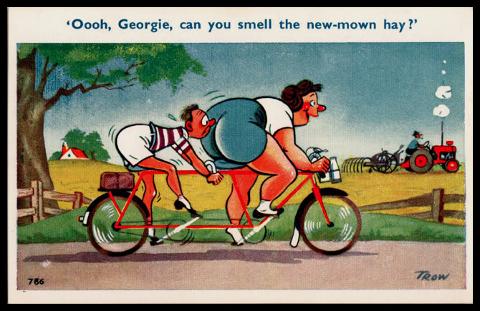 SAUCY SEASIDE HUMOUR CYCLING POSTCARD
by cartoonist Trow
"Oooh, Georgie, can you smell the new-mown hay?"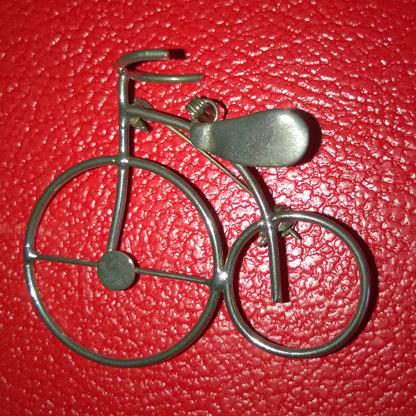 CYCLING BROOCH / PENDANT
Hand-made from white metal.


Welcome to Uniquely Sporting's sports memorabilia page for cycling memorabilia, cycling collectables, cycling autographs, cycling souvenirs, Tour de France memorabilia, signed cycling items, cycling clothing, cycling photos, cycling posters, cycling cards, cycling books: and other bike related memorabilia.