RYDER CUP MEMORABILIA

(GB&NI / Europe v USA)
RYDER CUP RAP [ No Easy Ride! ]
THE RYDER CUP RHAPSODY (1999)
A celebration of the first 70 years of the world's greatest team golf event.
Music and Vocals by
Tim Bricheno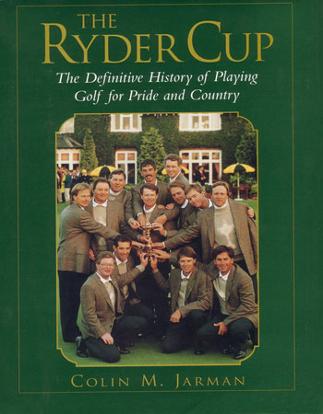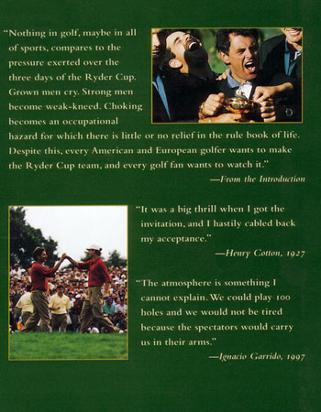 "The Ryder Cup: Definitive History
of Playing Golf for Pride and Country
1929-1997"

700+ page Golfing Book
signed by author Colin M Jarman
Ryder Cup matches memorabilia
(Listed chronologically)

1985 - The Belfry Memorabilia


EUR 16.5 v USA 11.5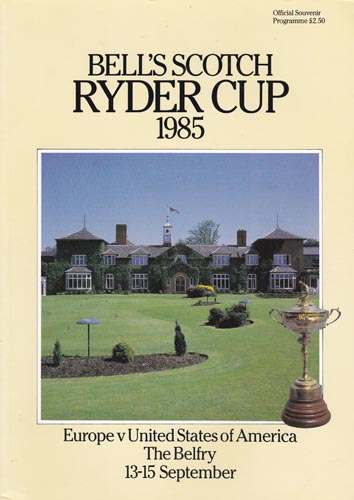 BELL'S SCOTCH RYDER CUP 1985
Official Souvenir Programme
for the Three Days of Competition
at The Belfry, Sutton Coldfield.
Approx A4 size
1991 - KIAWAH ISLAND Memorabilia
"The War on the Shore" - USA 14.5 v EUR 13.5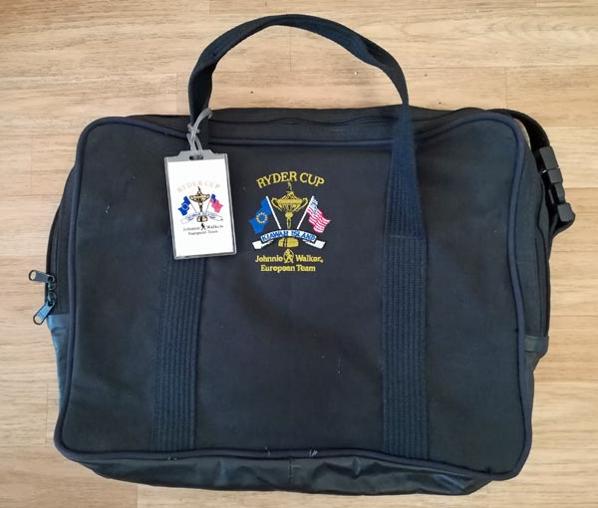 OFFICIAL KIAWAH ISLAND HOLDALL
Canvas satchel / shoulder bag with hand & shoulder straps, embroidered Johnnie Walker European Team logo, luggage tag with logo. Zipped top and zip compartment inside with slots for pens, etc.

Approx size: 40 x 30 cms

------------------------------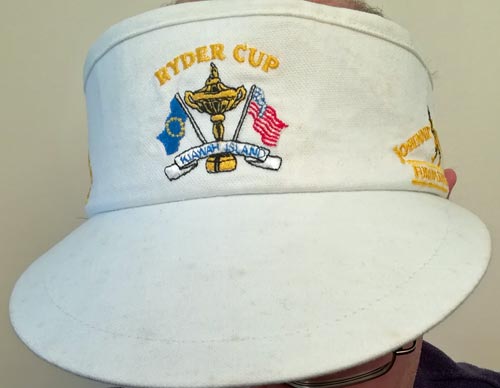 OFFICIAL KIAWAH ISLAND VISOR
Embroidered Ryder Cup logo on front and embroidered Johnnie Walker European Team logo on both sides.

Adjustable head band - fits all.

----------------------------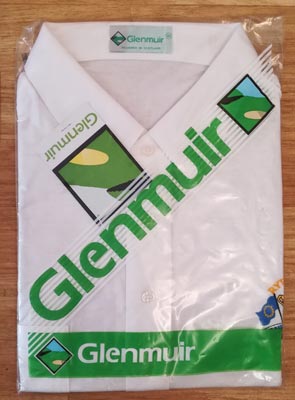 OFFICIAL KIAWAH ISLAND GOLF SHIRT
XXL Glenmuir white Moffat shirt
with embroidered 1991 Ryder Cup logo on the chest.
"Johnnie Walker European Team" on left sleeve.
Designed by European Team captain Bernard Gallacher.

Still in original Glenmuir wrapper.
1993 - The BELFRY Memorabilia


EUR 13 v USA 15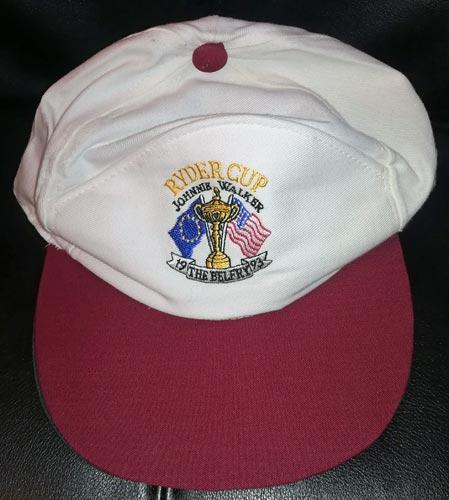 JOHNNY WALKER RYDER CUP
BASEBALL CAP
with embroidered logo.
One size fits all.
2002 - The BELFRY Memorabilia


EUR 15.5 v USA 12.5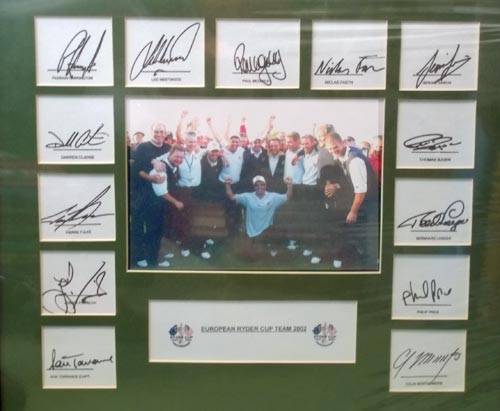 EUROPE TEAM SIGNED CELEBRATION DISPLAY
Pre-printed signatures of the 12 European players and captain Sam Torrance after they had beaten the United States.

Approx A4 size
Ryder Cup Player / Captain Memorabilia
(Listed alphabetically)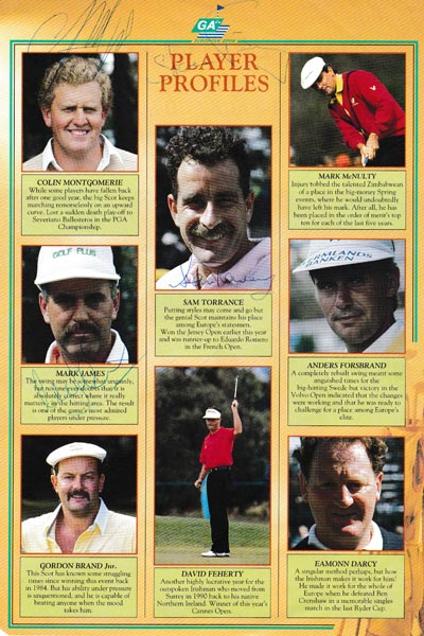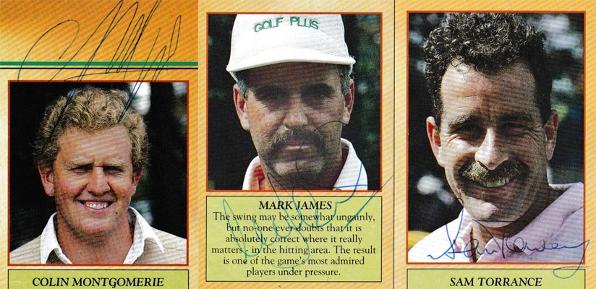 GA European Open player profile page
signed by three former Ryder Cup Captains:
Colin Montgomerie
Mark James
Sam Torrance.

Page approx A4 size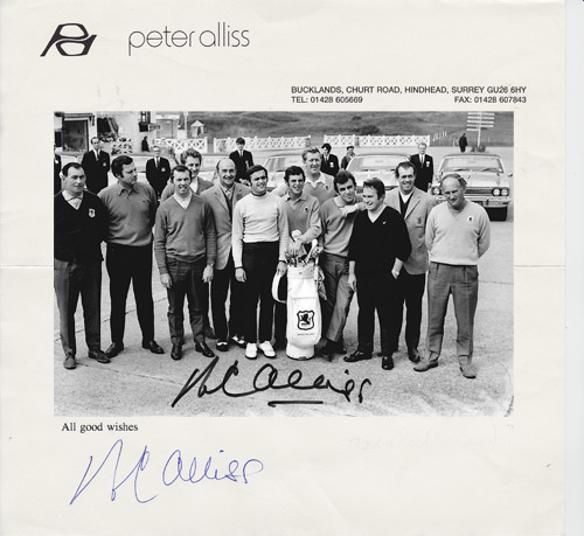 PETER ALLISS

Hand-signed personal letterhead and logo with 1969 Ryder Cup team photo laid down (with printed signature).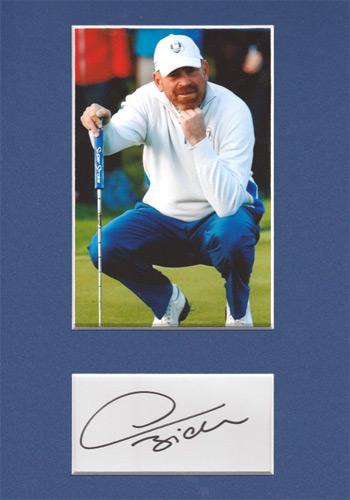 EUROPE'S 2018 RYDER CUP CAPTAIN
THOMAS BJORN
Autograph + Ryder Cup photo mount..

Approx A4 size.
---------------------------
DARREN CLARKE Memorabilia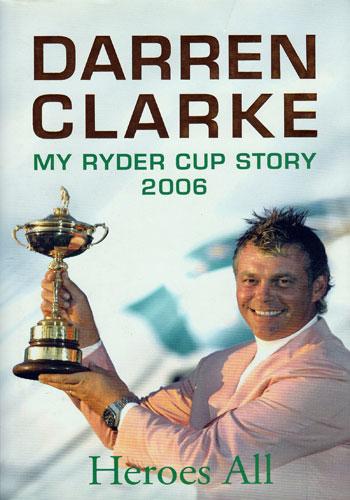 DARREN CLARKE

"My Ryder Cup Story:
Heroes All

"
golf book (2006)
---------------------------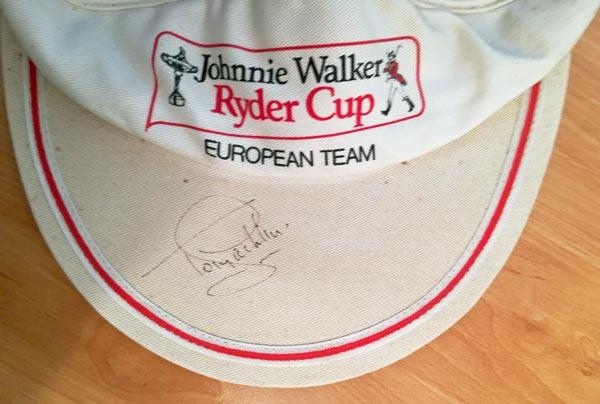 TONY JACKLIN
(Europe Team Captain: 1983-89)

Signed 1980s Official Johnnie Walker Ryder Cup European Team visor.

SOLD £50
---------------------------
PAUL McGINLEY Memorabilia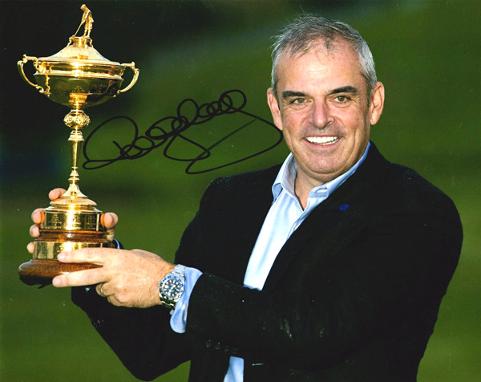 EUROPE'S 2014 RYDER CUP CAPTAIN PAUL McGINLEY signed colour photo with him holding the Samuel Ryder Trophy at Gleneagles, where Europe beat the USA.

Approx A4 size.
---------------------------
COLIN MONTGOMERIE Memorabilia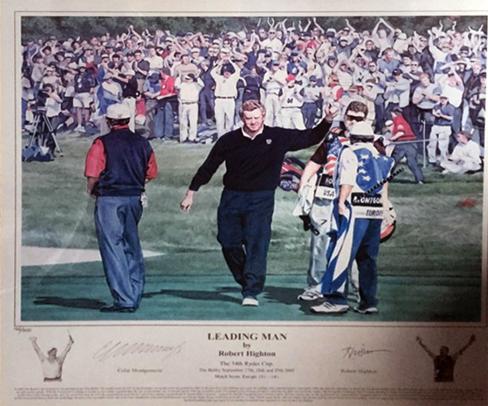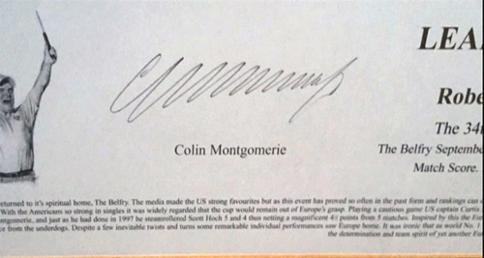 COLIN MONTGOMERIE signed "Leading Man" Limited Edition Print by Artist Robert Highton (also signed) commemorating the 2005 Ryder Cup victory at The Belfry.
Approx size: 70 x 50 cms
£100
UK Collection only - Contact Us for details.
------------------------------
IAN POULTER



Autographed Ryder Cup display.
Mounted for framing.

Approx 8" x 10" size.
---------------------------
PHILLIP PRICE Memorabilia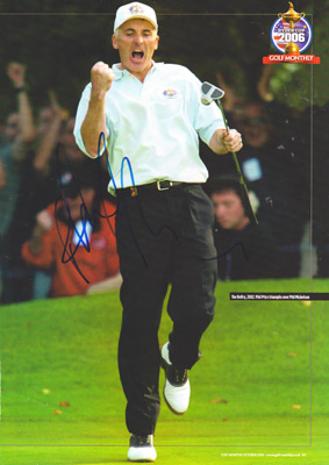 PHILLIP PRICE



Signed "Golfing Monthly" magazine pic showing Price celebrating during the 2002 Ryder Cup.

Approx A4 size.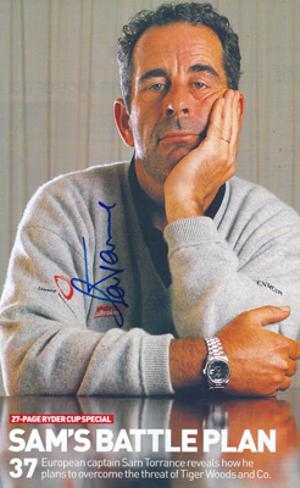 SAM TORRANCE


Signed 2002 Golfing magazine portrait pic and feature "Sam's Battle Plan" on the European Ryder Cup captain's preparations.

Approx A4 size.
OTHER RYDER CUP MEMORABILIA - SOLD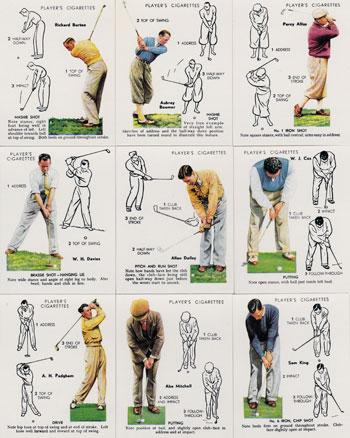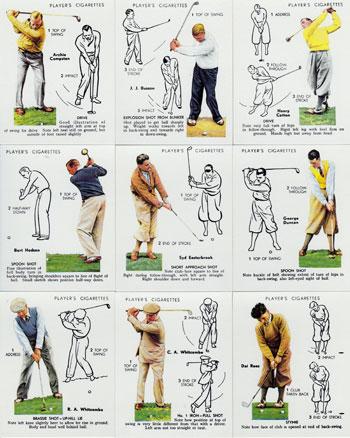 25 x Instructional golf cards featuring Great British Ryder Cup golfers from the 1920s & 1930s + others, inc:
"Golfing Greats" Montage framed under glass - approx size 46 x 60 cms
SOLD £50
---------------------------
RARE 1993 Ryder Cup Official BBC TV Scorecards - Three Days Complete Scoring
Framed & Signed by Peter Alliss, Alex Hay, Bruce Critchley & Dave Marr.

Three LARGE Framed 1993 Ryder Cup Golf Scorecards from the BBC TV Commentary Box at The Belfry,
signed by commentators: Peter Alliss, Bruce Hay and Dave Marr.
SOLD £300

Welcome to the Uniquely Sporting Sports Memorabilia page for Ryder Cup golf memorabilia and Ryder cup memorabilia, and other golf related collectables and signed golfing souvenirs: Europe v USA, GB&NI v United States.