ENGLAND WOMEN'S CRICKET MEMORABILIA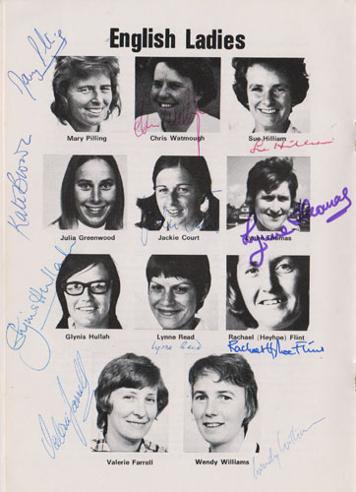 ENGLISH LADIES team signed 1975 Watsonians cricket programme.
Cricket programme signed by eleven England Ladies players: Rachael Heyhoe Flint, Mary Pilling, Chris Watmough, Sue Hilliam, Julie Greenaway, Jackie Court, Lynne Thomas, Glynis Hullah, Lynne Read, Valerie Farrell & Wendy Williams.

Also signed by the Watsonians CCC men's team.

SOLD £75
Baroness RACHAEL HEYHOE-FLINT Memorabilia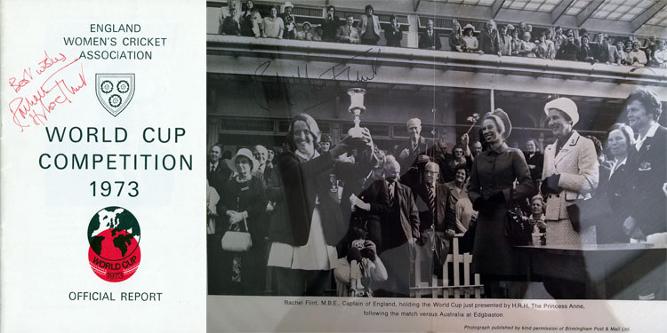 RACHAEL HEYHOE-FLINT
(England Cricket Captain)

1973 Women's World Cup Winning Report -
Signed
Cover & Inside Double Spread.

SOLD £30
---------------------------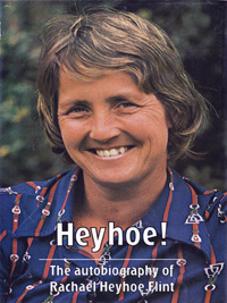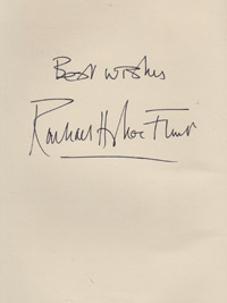 RACHAEL HEYHOE-FLINT
(West Midlands & England)
Signed autobiography
"Heyhoe!
"
1978 First Edition

SARAH TAYLOR
(Sussex & England)
Signed Duncan Fearnley mini-bat.

Approx size: 42 cms long (c 2015)

OTHER COUNTRIES WOMEN'S CRICKET MEMORABILIA
(listed in alphabetical order)
WOMEN'S WORLD CUP CRICKET MEMORABILIA

Coming Soon
Welcome to Uniquely Sporting's sports shop / store page for Women's cricket memorabilia, collectables & souvenirs, with a great collection of autographed & signed items: photos, prints, posters, player cards, postcards, balls, boots, shirts, clothing, books & First Day Covers ...
PLEASE USE THE CONTACT US FORM ...
FOR FURTHER DETAILS ON THE ABOVE ITEMS.
IF YOU ARE LOOKING FOR A SPECIFIC ITEM
OR SPORTS STAR / TEAM / EVENT.
IF YOU HAVE A "UNIQUELY SPORTING" ITEM OF MEMORABILIA YOU WANT TO SELL, PLEASE SEND DETAILS WITH YOUR VALUATION & A CONTACT EMAIL / PHONE NUMBER.
Please note we cannot always reply to every enquiry given the amount of mail we receive. We will be in touch only if we are interested.
IF YOU HAVE ANY OTHER QUESTIONS...
WE LOOK FORWARD TO HEARING FROM YOU!
-