BRAD "One Punch" PICKETT
(Cage Rage British Featherweight Champion &
UFC Bantamweight fighter)
Signed ESPN baseball cap with his nickname.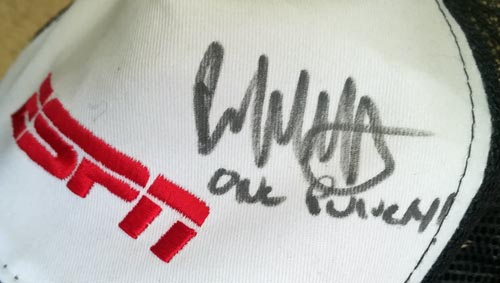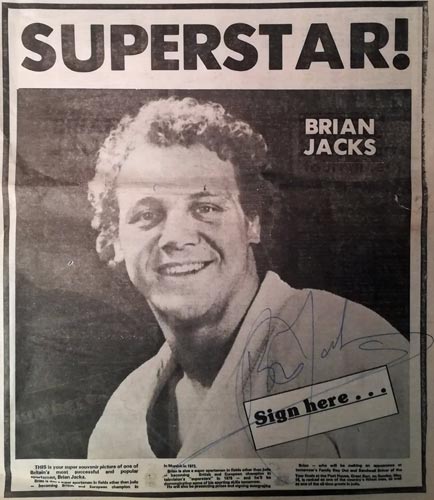 BRIAN JACKS
(Judo Olympic & World bronze medallist
& TV Superstars Champion)
Signed newspaper portrait pic.

Approx size: 30 x 35 cms

-------------------------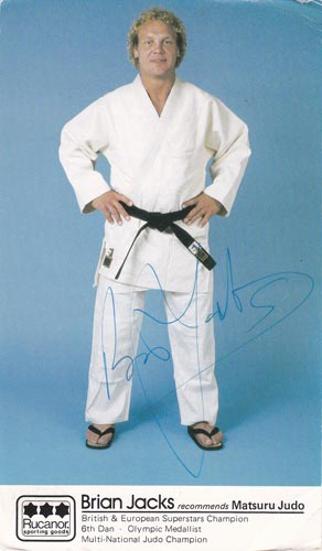 Signed Rucanor Matsuro Judo postcard portrait pic.

Welcome to Uniquely Sporting's sports shop / store page for authentic martial arts memorabilia & Ultimate Fighting Championship / UFC Memorabilia, Mixed Martial Arts MMA Memorabilia Cage Fighter, Judo memorabilia, Karate memorabilia, tae kwan do collectable souvenirs with a great collection of autographed & signed items: photos, prints, posters, artwork, cards, balls, gloves, caps, shirts, clothing, books & First Day Covers ...
If you wish to find out more about a specific item, please email us using the Form below.
PLEASE USE THE CONTACT FORM >>>
FOR FURTHER DETAILS ON THE ABOVE ITEMS.
IF YOU WANT TO BUY AN ITEM OR ITEMS ... PLEASE SEND US YOUR BID OFFER.
IF YOU ARE LOOKING FOR A SPECIFIC ITEM OR SPORTS STAR / TEAM / EVENT.
IF YOU HAVE A "UNIQUELY SPORTING" ITEM OF MEMORABILIA YOU WANT TO SELL, PLEASE SEND DETAILS WITH YOUR VALUATION & A CONTACT EMAIL / PHONE NUMBER.
Please note we cannot always reply to every enquiry given the amount of mail we receive. We will be in touch only if we are interested.
IF YOU HAVE ANY OTHER QUESTIONS...
WE LOOK FORWARD TO HEARING FROM YOU!
-