DEREK UNDERWOOD Memorabilia
(Kent & England)


DEREK UNDERWOOD

1986 Benefit Year cricket bat
Signed by England, Australia, Kent and Warks CCC players.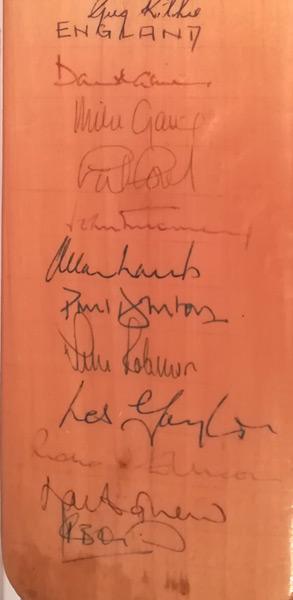 Duncan Fearnley full size bat signed (on front) by members of the England & Australia Ashes series squads plus (on reverse) signed by Kent and Warwickshire players.
Australia players include: Allan Border, Jeff Thomson, Geoff Lawson, Craig McDermott, David Boon, Greg Ritchie, Graeme Wood, Dirk Wellham + 6 others.
England players include: David Gower, Mike Gatting, Ian Botham, Graham Gooch, John Emburey, Allan Lamb, Paul Downton, Richard Ellison + 3 others.
Kent players include: Underwood, Chris Cowdrey, Mark Benson, Graham Dilley, Alan Knott, Simon Hinks, Steve Marsh, Neil Taylor, Chris Tavare, Eldine Baptiste, Richard Ellison + 2 others.
Warks players include: Alvin Kallicharan, Dennis Amiss, Geoff Humpage, Andy Lloyd, Asif Din, Gladstone Small + 6 others.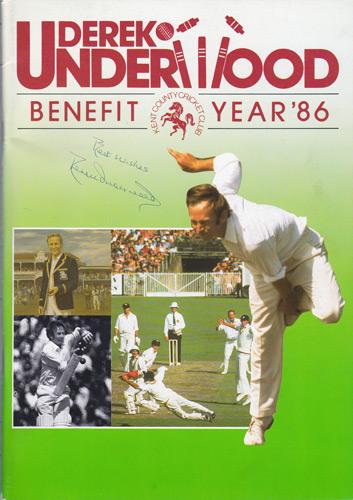 DEREK UNDERWOOD

Signed Kent cricket 1986 Benefit Year brochure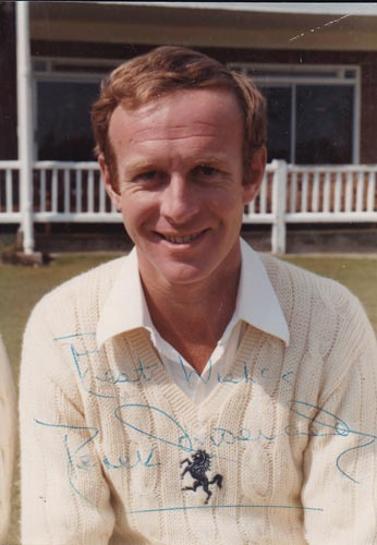 DEREK UNDERWOOD


Signed Official 1970s KCCC portrait photo.


Approx size: 9 x 12 cms
---------------------------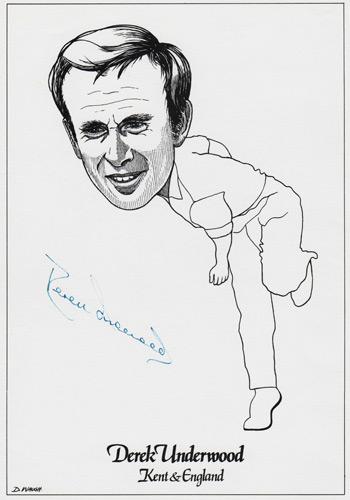 DEREK UNDERWOOD

Signed D. Waugh caricature print
Approx A4 size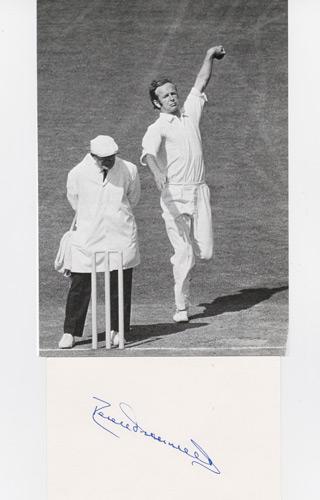 DEREK UNDERWOOD

Autograph mounted with B&W England Test match pic.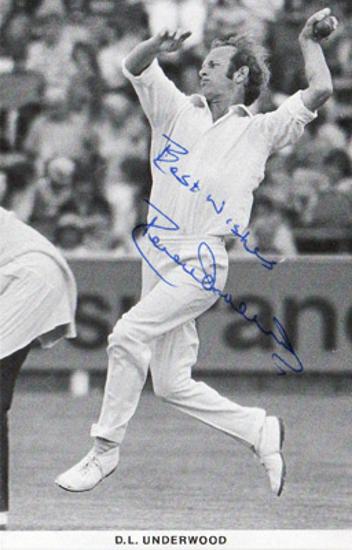 DEREK UNDERWOOD

Signed B&W J/V Series Cricket Postcard.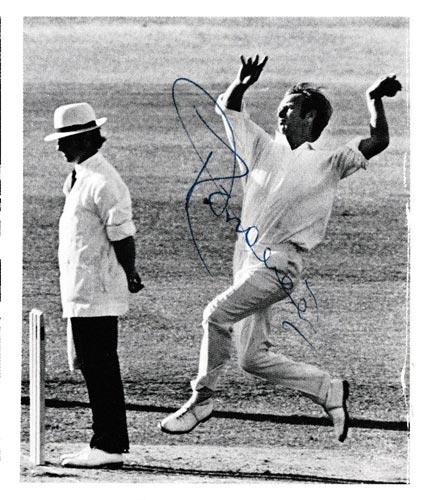 DEREK UNDERWOOD

Signed B&W book pic - bowling.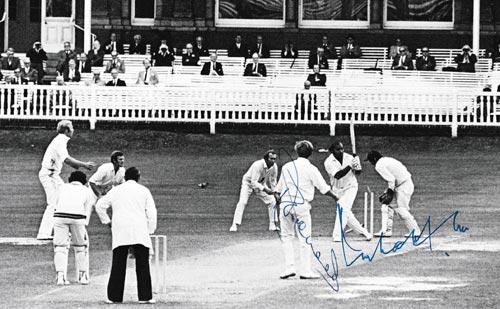 DEREK UNDERWOOD

Signed B&W book pic - bowling for England against Pakistan at Lords.

Also signed by batsman Intikhab Alam.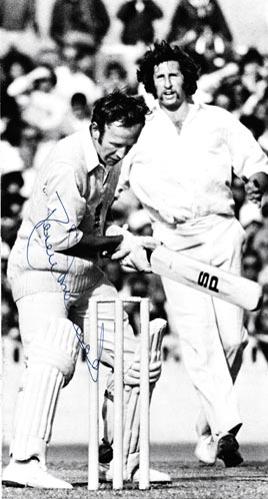 DEREK UNDERWOOD

TWO signed B&W book pics - batting against Australia.

All three combined as one lot.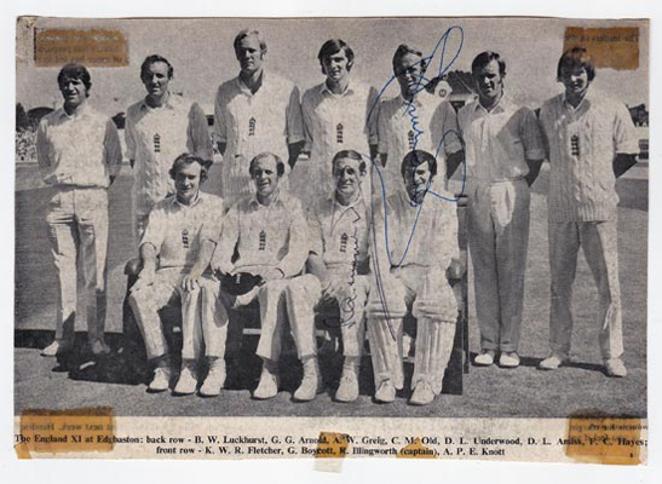 DEREK UNDERWOOD

Signed England team B&W pic at Edgbaston.

*Scrapbook quality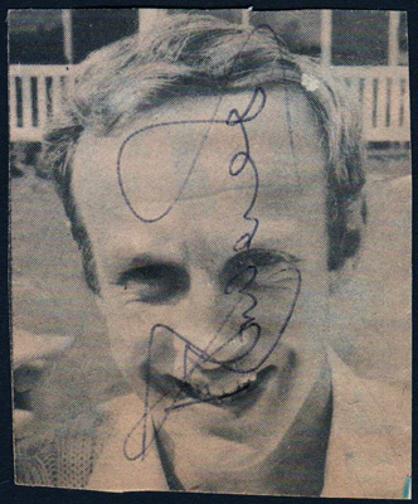 "DEADLY DEREK" UNDERWOOD

Signed small newspaper portrait picture.
Approx size: 6 x 7 cms.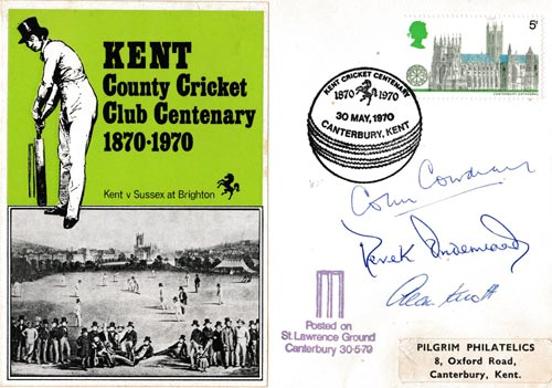 KENT COUNTY CRICKET CLUB CENTENARY 1870-1970 multi-signed First Day Cover



KCCC FDC signed by 3 Kent Cricket legends: Colin Cowdrey, Derek Underwood & Alan Knott.
Posted at St Lawrence Ground, Canterbury (30th May 1970)
--------------------------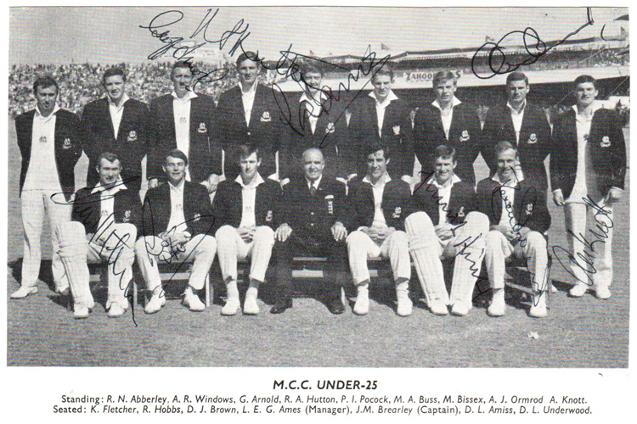 ALAN KNOTT & DEREK UNDERWOOD
Signed 1960s MCC under-25 squad pic.
Also signed by Geoff Arnold, Richard Hutton, Pat Pocock, Alan Ormrod, Keith Fletcher, Robin Hobbs and Dennis Amiss.
Approx size: 17 x 12 cms
B&W mag pic laid to white card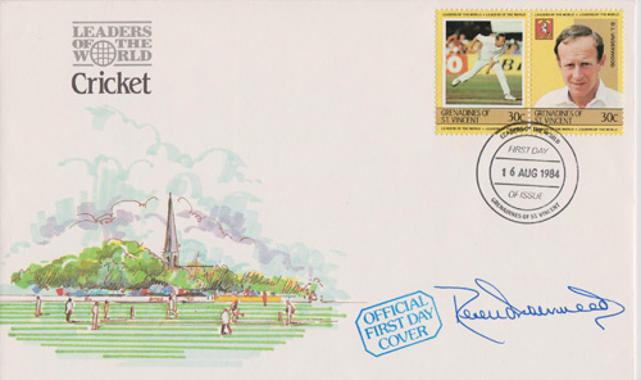 DEREK UNDERWOOD
Signed First Day Cover
+
2 x Deadly Derek stamps.

FDC issued Aug 1984

by Grenadines of St Vincent
===========
Welcome to the Uniquely Sporting page for signed cricket memorabilia relating to Kent and England cricketing legend 'Deadly' Derek Underwood.