F1 DRIVERS' Memorabilia
(Drivers listed alphabetically)
MARTIN BRUNDLE Memorabilia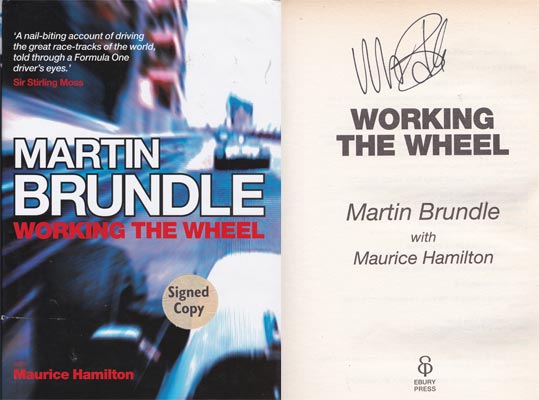 MARTIN BRUNDLE

(F1 driver and TV Commentator)
Signed autobiography
"Working the Wheel"
First Edition (2004)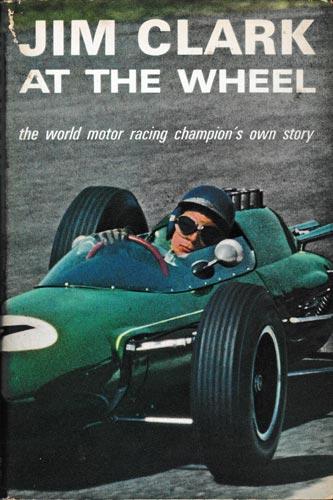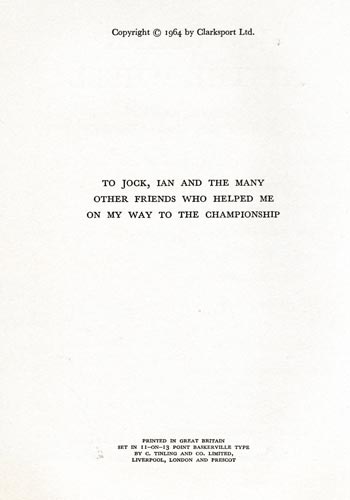 JIM CLARK

Autobiography: Jim Clark At The Wheel - the world motor racing champion's own story.
With original cover
(some slight damage)


Rare First Edition (1964)
Published by Arthur Barker
--------------------------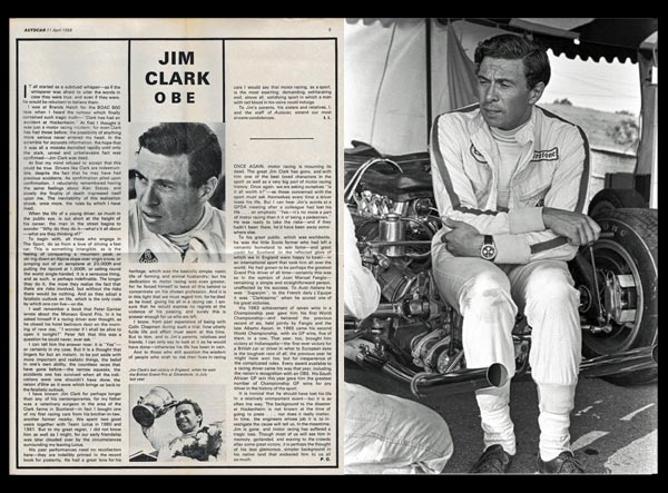 JIM CLARK
(1936-68)

Tribute display.
Full page obituary from Autocar magazine (11 April 1968 - four days after Clark's death at Hockenheim). Mounted for framing with portrait photo of Clark.


Approx A3 size

CONTACT US for more details /
Collection Only.
DAN GURNEY
Formula One driver 1959-70

[Also 1967 Le Mans winner +
Indy Car, NASCAR, Can-Am & Trans-Am Series winner]

Signed Nov 1959 Autosport magazine profile page.

LEWIS HAMILTON Memorabilia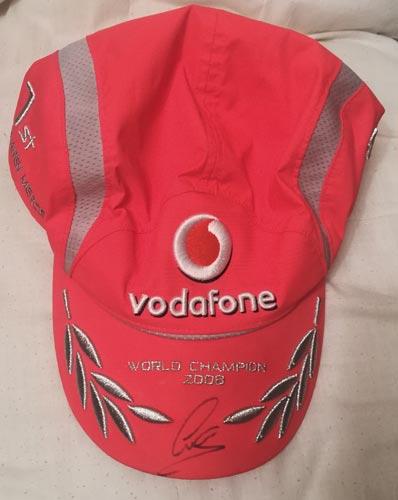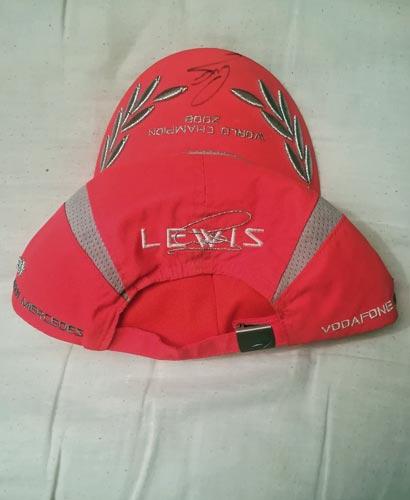 JOHNNY HERBERT Memorabilia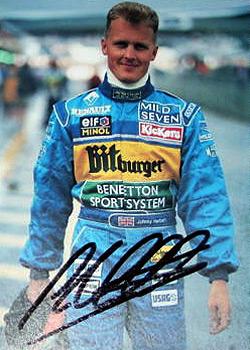 JOHNNY HERBERT
Signed F1 Benetton racing photo.
Approx A5 size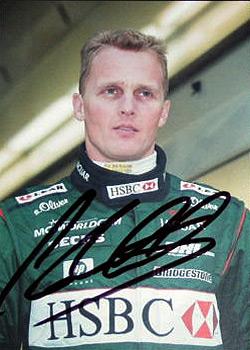 JOHNNY HERBERT
Signed F1 Jaguar racing photo.
Approx A5 size
NIGEL MANSELL Memorabilia

(1992 F1 World Champion &

1993 Indy Cart World Series champ)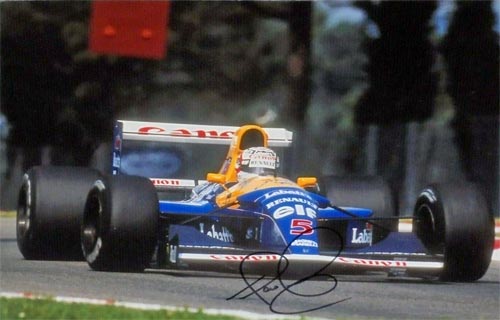 NIGEL MANSELL

Signed colour photo of Mansell driving his 1992 "Red 5" Williams-Renault

Approx size: 20 x 25 cms

SOLD £30
SIR STIRLING MOSS Memorabilia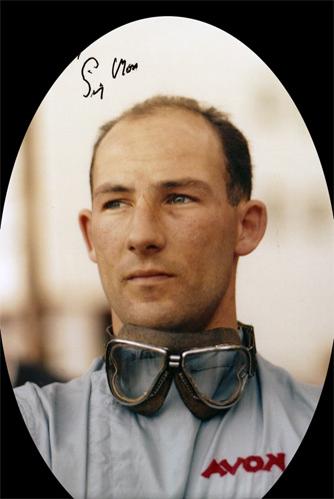 STIRLING MOSS

Small signed B&W photo
(circa late 1950s)

Framed in oval vignette card
RICARDO PATRESE Memorabilia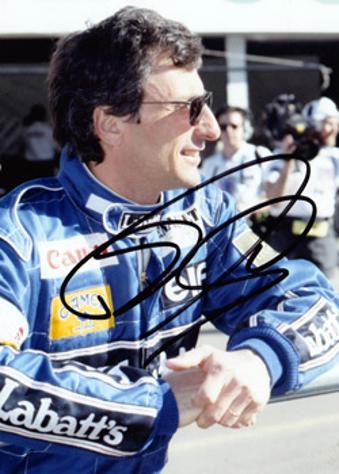 RICCARDO PATRESE

Signed Williams racing F1 photo.

UK only. £8.00 (inc P&P)
MICHAEL SCHUMACHER Memorabilia

Formula One Ferrari F1 F310 Car
No.1 Maisto Shell Model Car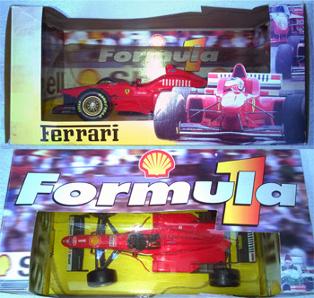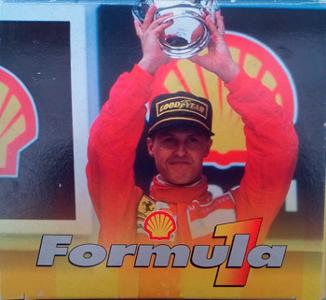 Released by Maisto for Shell
to celebrate

Formula One legend Michael Schumacher joining Ferrari in 1996.

1:20 Scale - die-cast metal (& plastic)
As new in original box (has minor scuffs).
-------------------------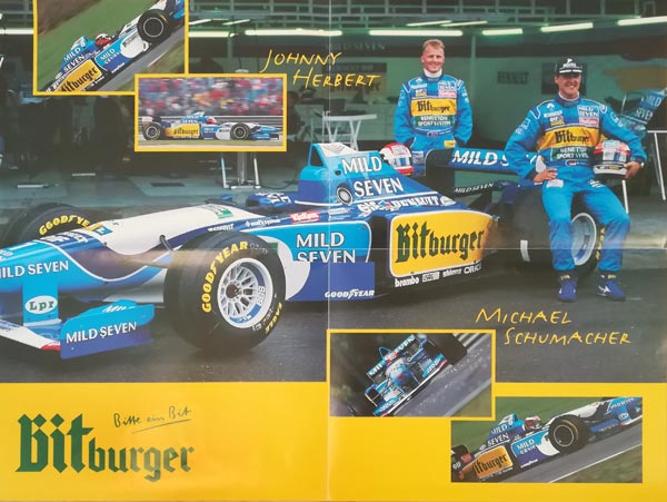 MICHAEL SCHUMACHER
& JOHNNY HERBERT
Bitburger Beer Benetton Motor Racing Formula One poster (c 1995).
Approx A3 size (with folds)
comes with
Schumacher Benetton Camel Postcard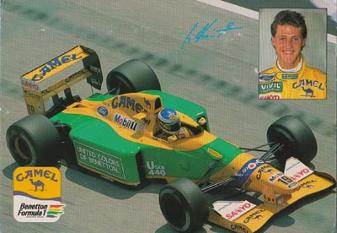 SIR JACKIE STEWART Memorabilia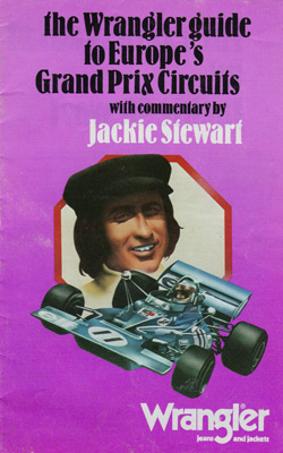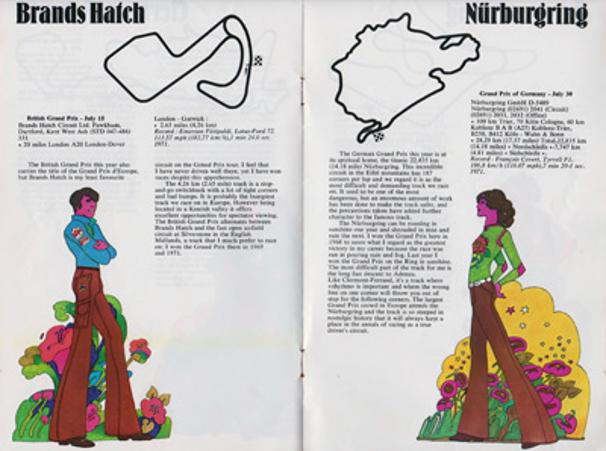 THE WRANGLER GUIDE TO EUROPE'S GRAND PRIX CIRCUITS
with Commentary by Jackie Stewart
16 page A5 promotional booklet reviewing the Formula One tracks in Europe with expert comments from the three-time F1 world champion and funky fashion pics.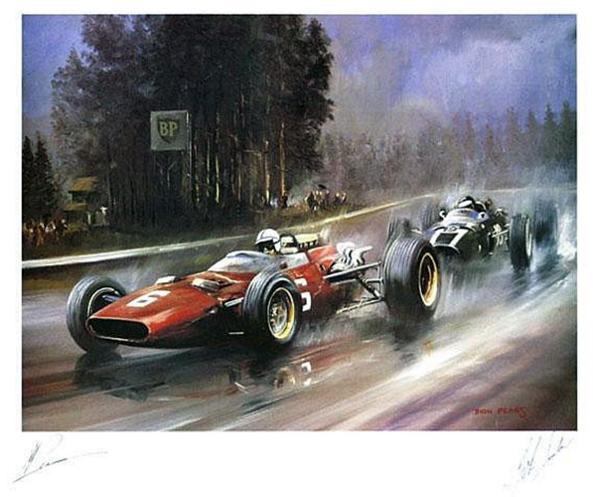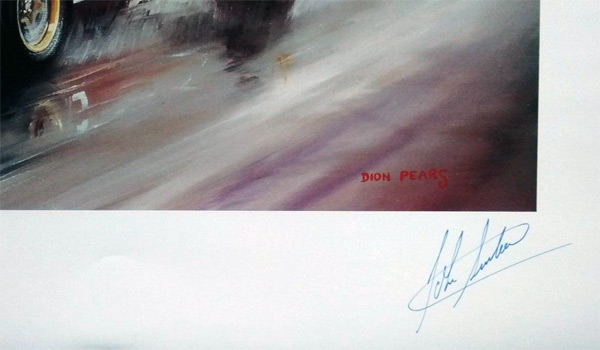 JOHN SURTEES
Signed Formula One Motor-Racing Limited Edition print 646/850 "My Favourite Race" - the 1966 F1 Belgium Grand Prix at Spa Francochamps.
Also signed by artist Dion Pears.
The 76 x 60 cms unframed print depicts John Surtees driving his Ferrari 312 in front of Jochen Rindt's Cooper Maserati in a Formula One Grand Prix that the Englishman went onto win.
A page-long typed narrative of Surtees' own description of the race is also included with the print.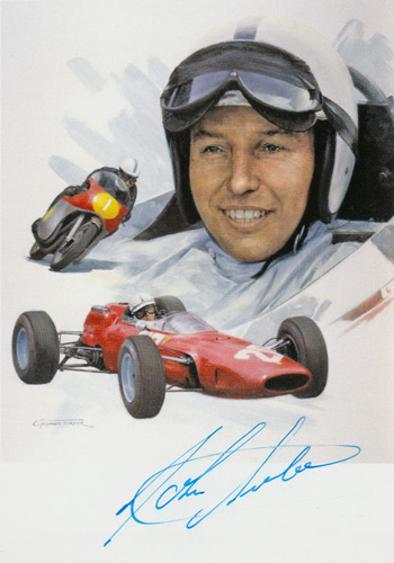 JOHN SURTEES


Signed Motor-Cyling &
F1 Motor-Racing Montage Postcard.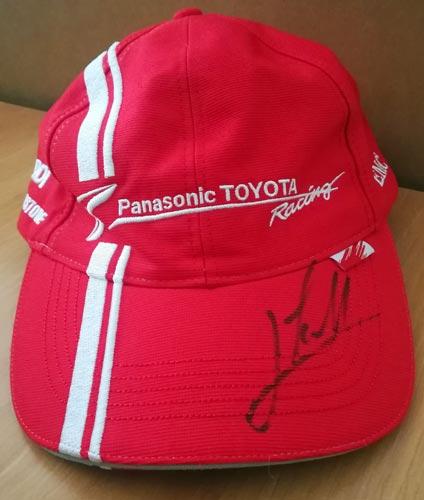 JARNO TRULLI

Signed official Panasonic Toyota Racing baseball cap
(c. 2006/7)

Adjustable / One Size Fits All
MURRAY WALKER
Memorabilia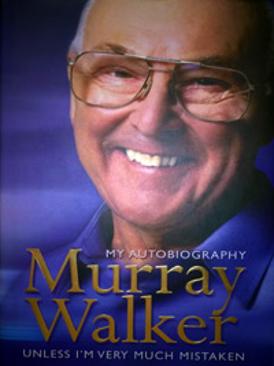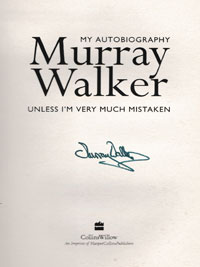 MURRAY WALKER

(Legendary F1 TV Commentator)

signed autobiography
"Unless I'm Very Much Mistaken"
First Edition (2002)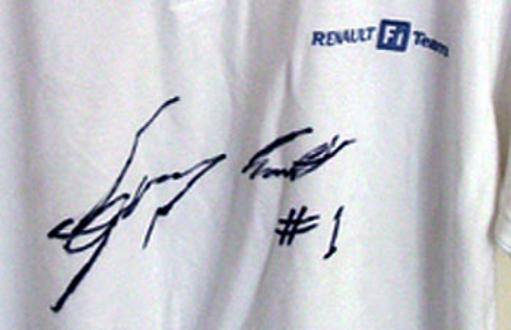 TERRY GRANT
(World Record stunt driver)
Signed Renault F1 polo shirt.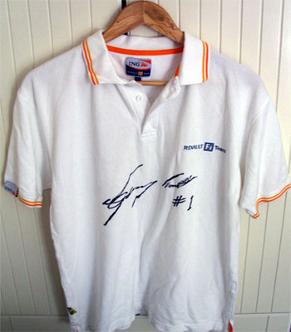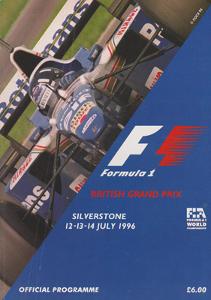 1996 BRITISH GP
Official Programme
Silverstone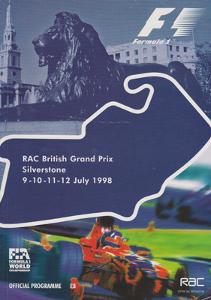 1998 BRITISH GP
Official Programme

Silverstone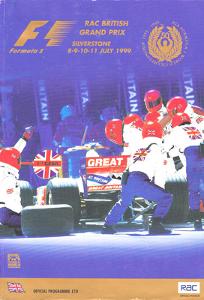 1999 BRITISH GP
Official Programme

Silverstone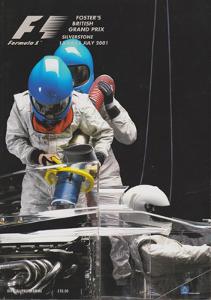 2001 BRITISH GP
Official Programme

Silverstone
FORMULA
THREE Memorabilia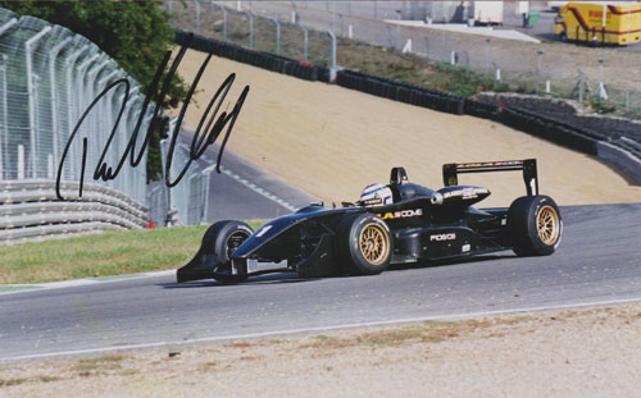 ROBBIE KERR


(2002 British F3 champion)

Signed Formula 3 action photo.

Approx size: 20 x 14 cms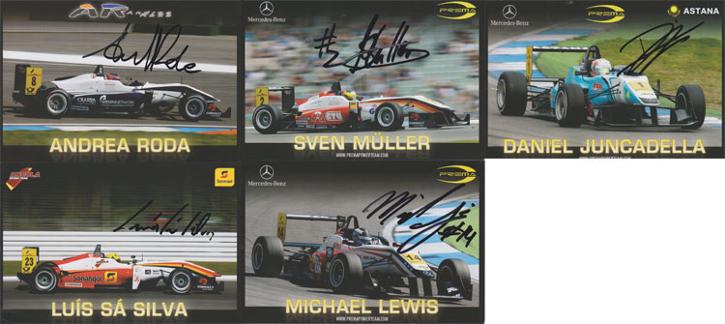 FORMULA 3 DRIVERS
Set of five signed F3 driver cards with career details on reverse:
ANDREA RODA
LUIS SA SILVA
SVEN MULLER
MICHAEL LEWIS
DANIEL JUNCADELLA
BRDC / SILVERSTONE Memorabilia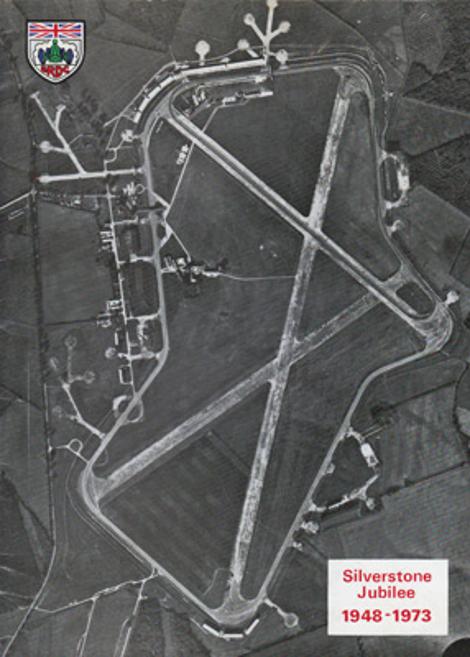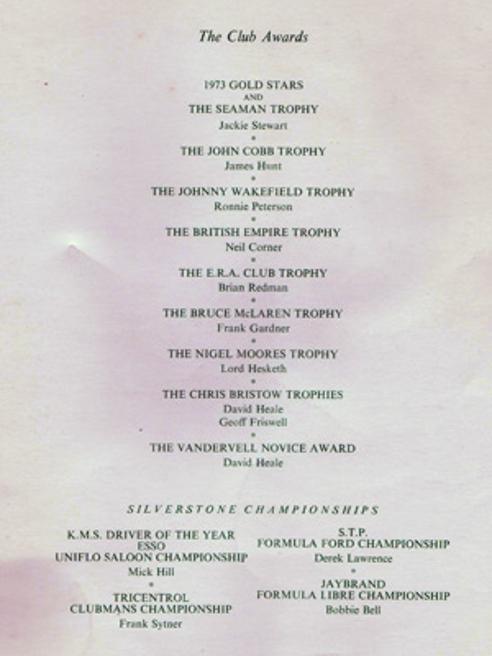 SILVERSTONE RACING CIRCUIT Silver Jubilee 1948-73
25th Anniversary Awards Dinner Menu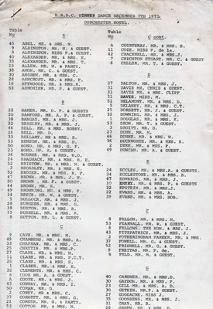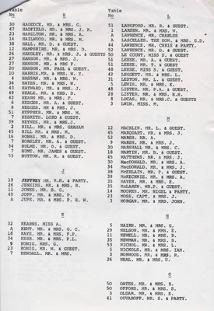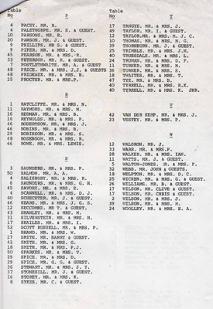 BRDC Awards recipients inc Jackie Stewart, James Hunt, Lord Hesketh & Ronnie Peterson.

Also includes seating list of British Racing Drivers Club attendees inc: Chris Amon, Derek Bell, Colin Chapman, Bernie Ecclestone, Peter Gethin, Mike Hailwood, Graham Hill, Denny Hulme, Jodie Scheckter & Ken Tyrrell,
Welcome to Uniquely Sporting's motorsports page for Formula One motor-racing memorabilia & F1 collectables - with a great collection of autographed & signed motorsport memorabilia: photos, prints, posters, cards, caps, shirts, clothing, books & First Day Covers ... from Formula One memorabilia to Indy Car memorabilia to NASCAR memorabilia to World Rally memorabilia to Le Mans memorabilia , from Superbikes memorabilia to Speedway memorabilia to Moto-Cross memorabilia to TT memorabilia, legendary marques: Jaguar, Ferrari, Lotus, McLaren, Mercedes, BRM, international legends, from Stirling Moss memorabilia to Jackie Stewart memorabilia to James Hunt memorabilia to Nigel Mansell memorabilia to Jenson Button memorabilia to Lewis Hamilton memorabilia , from the British Grand Prix memorabilia to Indy 500. memorabilia
PLEASE USE THE CONTACT US FORM >>>
FOR FURTHER DETAILS ON THE ABOVE ITEMS.
IF YOU ARE LOOKING FOR A SPECIFIC ITEM
OR SPORTS STAR / TEAM / EVENT.
IF YOU HAVE A "UNIQUELY SPORTING" ITEM OF MEMORABILIA YOU WANT TO SELL, PLEASE SEND DETAILS WITH YOUR VALUATION & A CONTACT EMAIL / PHONE NUMBER.
Please note we cannot always reply to every enquiry given the amount of mail we receive. We will be in touch only if we are interested.
IF YOU HAVE ANY OTHER QUESTIONS...
WE LOOK FORWARD TO HEARING FROM YOU!
-
MAIN SPORTS MEMORABILIA MENUS