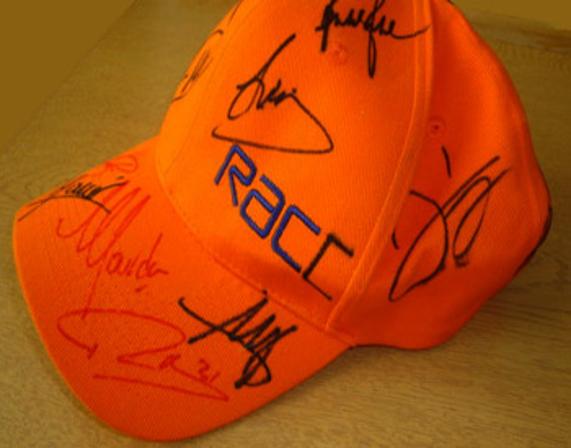 R.A.C. BASEBALL CAP

signed by 13 Motorsport legends:

RYAN HUNTER-REAY 2014 INDY 500 CHAMP
DAMON HILL FORMULA 1 WORLD CHAMPION
MARK BLUNDELL F1, CART & LE MANS DRIVER
JONATHAN PALMER F1 DRIVER
PAUL TRACEY CANADIAN INDY CAR CHAMPION
BOBBY RAHAL F1 & INDY CAR DRIVER
ROBERTO MORENO BRAZILLIAN INDY DRIVER
MARIO DOMINGUEZ MEXICAN INDY DRIVER
TIAGO MONTEIRO PORTUGUESE CART DRIVER
MICHEL JOURDAIN Jnr MEXICAN INDY DRIVER
ALEX YOONG MALAYSIAN F1 & LE MANS DRIVER
JOEL CAMATHIAS SWISS INDY DRIVER
ORIOL SERVIA SPANISH CHAMP CAR DRIVER


BRDC / SILVERSTONE Memorabilia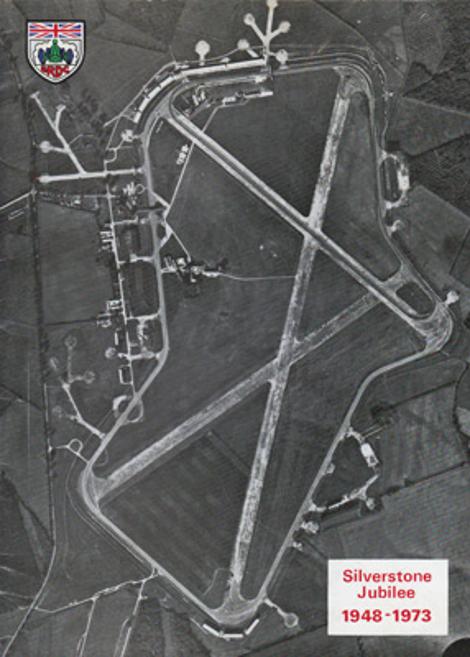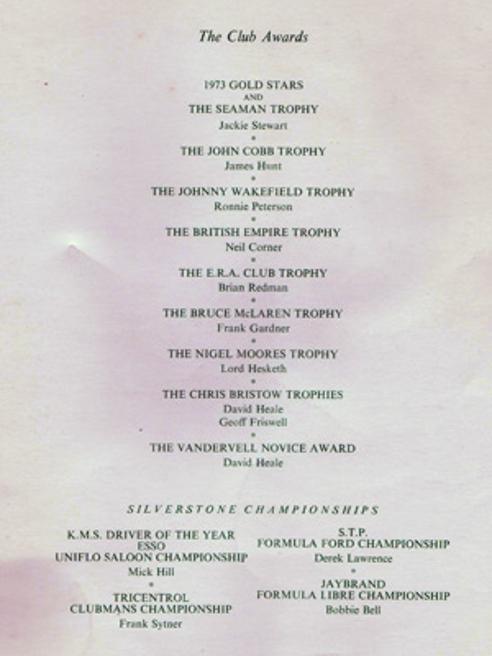 SILVERSTONE RACING CIRCUIT Silver Jubilee 1948-73
British Racing Drivers Club 25th Anniversary Awards Dinner Menu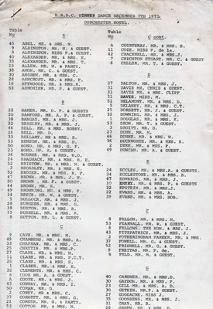 BRDC Awards recipients inc Jackie Stewart, James Hunt, Lord Hesketh & Ronnie Peterson.
Also includes seating list of British Racing Drivers Club attendees inc: Chris Amon, Derek Bell, Colin Chapman, Bernie Ecclestone, Peter Gethin, Mike Hailwood, Graham Hill, Denny Hulme, Jodie Scheckter & Ken Tyrrell,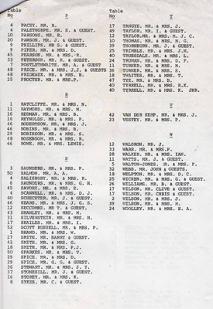 Le MANS 24 HOUR MEMORABILIA
JAGUAR RACING Memorabilia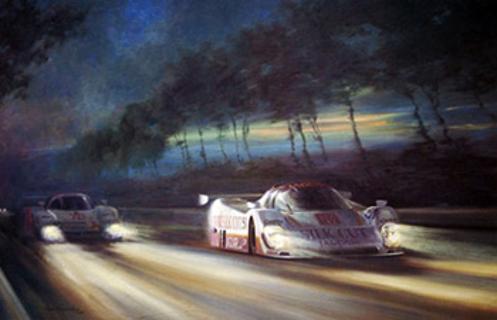 "NIGHTFALL" - Fearnley Jaguar Racing framed print
To commemorate the participation of TWR Jaguar in the 1986 Le Mans 24hrs Race. Jaguar Racing returned to LeMans for the first time since their triumphs in the 1950's. Hand-signed by DEREK WARWICK, EDDIE CHEEVER, TOM WALKINSHAW & the Artist.
----------------------------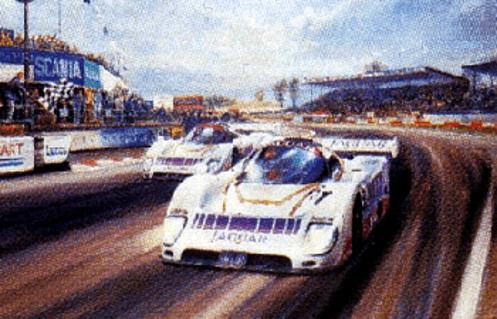 "JAGUARS RETURN" Alan Fearnley signed framed print
Derek Warwick & Eddie Cheever captured Jaguar's first international sports car victory in 29 years when they won the 1986 Kouros 1000km race at Silverstone. Hand-signed by DEREK WARWICK, EDDIE CHEEVER, TOM WALKINSHAW & the Artist.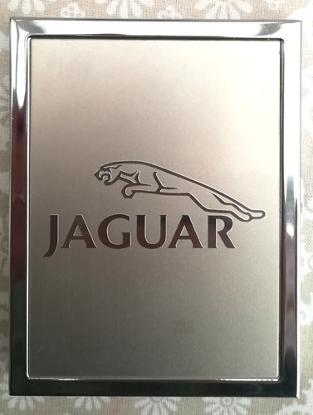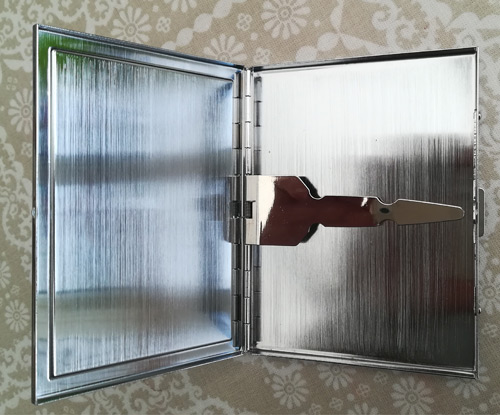 OFFICIAL JAGUAR MOTOR CARS
Brushed Steel Cigarette / Business Card Case with company logo etched onto front cover.

Approx size: 7.5 x 10 cms

WORLD LAND SPEED RECORD Memorabilia
SIR MALCOLM CAMPBELL / BLUEBIRD Memorabilia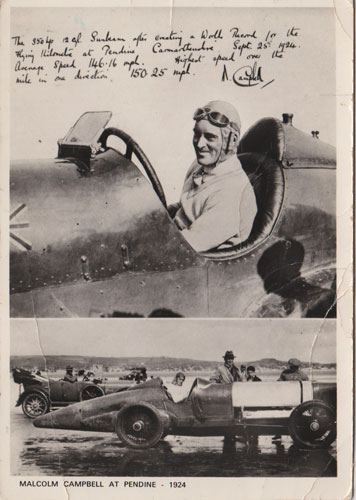 "MALCOLM CAMPBELL at PENDINE 1924"
B&W vintage photo card depicting Campbell at the wheel on Pendine Sands in Camarthen where he set a new Land Speed record of 146.16 mph driving a V12 Sunbeam in 1924.

Has a handwritten printed note from Campbell describing both runs on the "Flying Kilometre" with a facsimile signature.
-------------------------
"BLUEBIRD AT BONNEVILLE"
Jack Vettriano framed print of
Sir Malcolm Campbell's Bluebird
on the Salt Flats in Utah.
Print is custom framed with glass,
----------------------------

SIR DONALD CAMPBELL / BLUEBIRD Memorabilia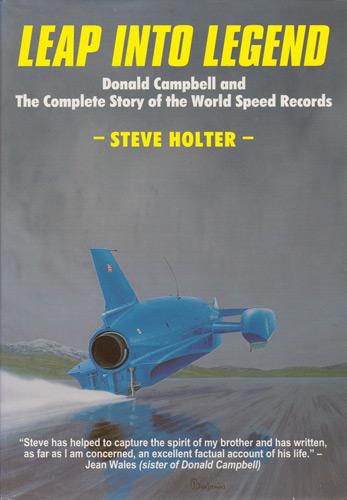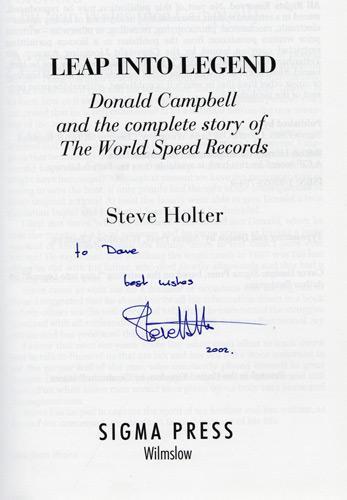 "LEAP INTO LEGEND"
Donald Campbell and the Complete Story of the World Speed Records
By Steve Holter (2002)
Rare Sigma Press First Edition signed & dedicated by author.
--------------------------
GINA CAMPBELL / BLUEBIRD Memorabilia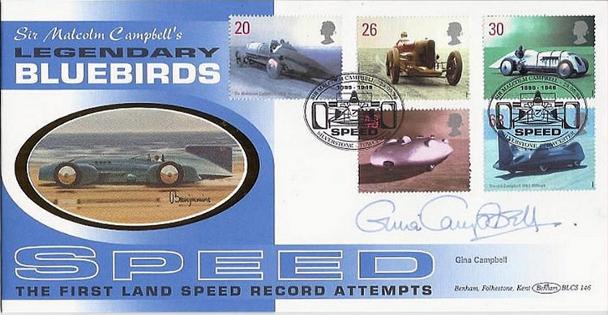 GINA CAMPBELL
(Daughter of Sir Donald Campbell &
Women's Water Speed world record holder)
Signed First Day Cover / FDC
"Sir Malcolm Campbell's Legendary Bluebirds - the First Land Speed Record Attempts"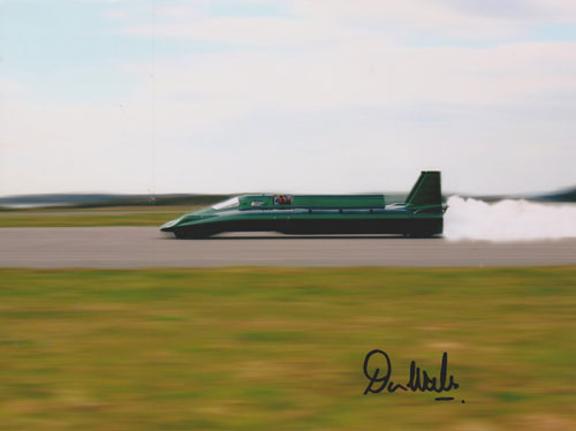 DON WALES


(Malcolm Campbell's Grandson &
multiple Land Speed record holder)
Signed colour photo of the steam powered car that broke the land speed record in 2009.

Approx size: 20 x 15 cms
MICHAEL ANDRETTI Memorabilia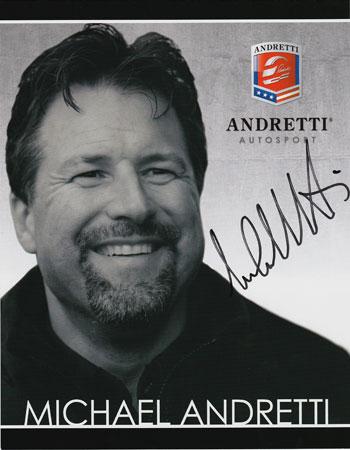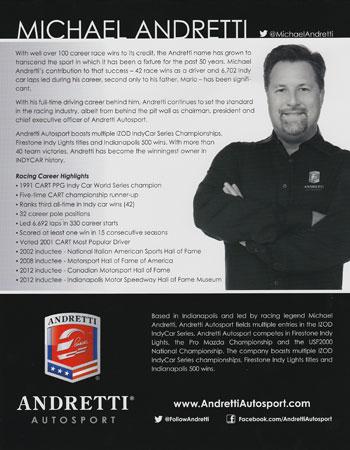 MICHAEL ANDRETTI
(1991 CART/PPG IndyCar World Series champion)

Signed Official 'Andretti Autosport' Motorsport Indy Car biopic autograph card.

Approx A4 size
RYAN HUNTER-REAY
Memorabilia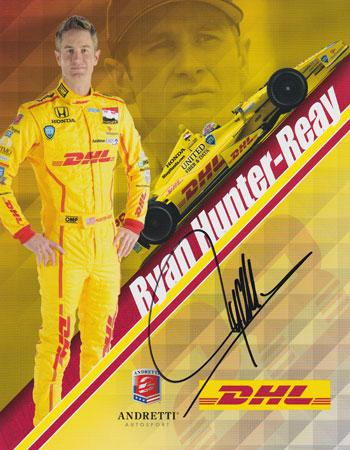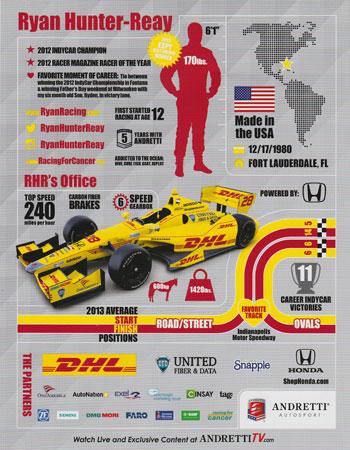 RYAN HUNTER-REAY

(2014 Indy 500 Champion)

Signed Andretti Autosport Motor sport Indy C
ar
biopic autograph card.

Approx A4 size
-------------------------
JAMES HINCHCLIFFE Memorabilia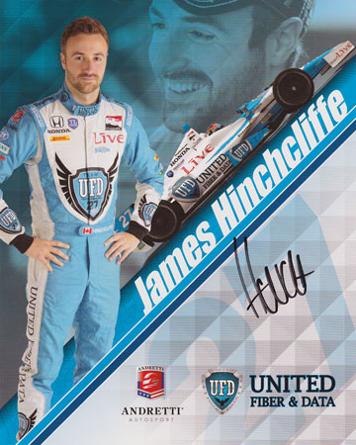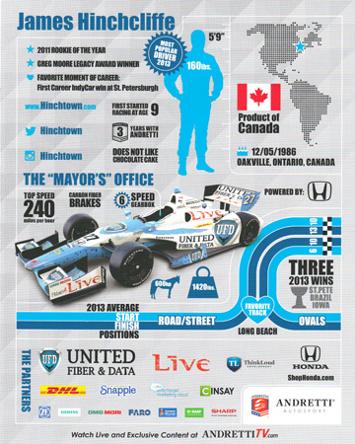 JAMES HINCHCLIFFE

(
2011 IndyCar Rookie of the Year
)


Signed Andretti Autosport Motorsport Indy car biopic autograph card.


Approx A4 size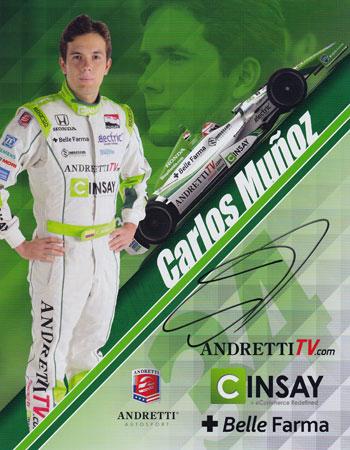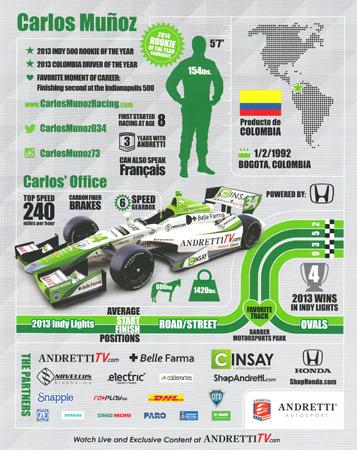 CARLOS MUNOZ

(
2013 Indianapolis 500 Rookie of the Year
)


Signed Andretti Autosport Motor sport Indy car biopic autograph card.


Approx A4 size
RICHARD PETTY Memorabilia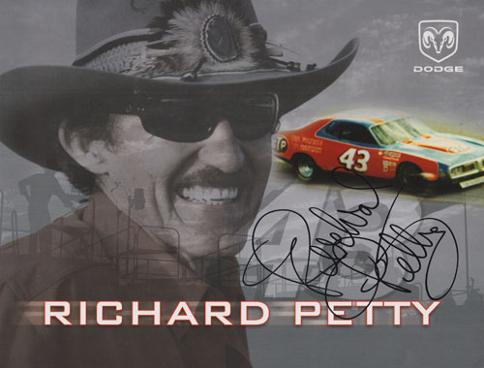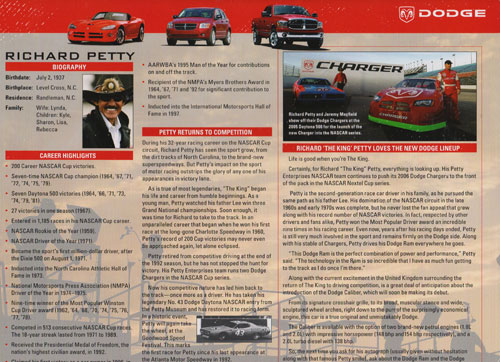 RICHARD PETTY (7 x NASCAR Champion & 7 x Daytona 500 Winner)
Signed DODGE career photo card

Approx A4 size.
LARRY McREYNOLDS Memorabilia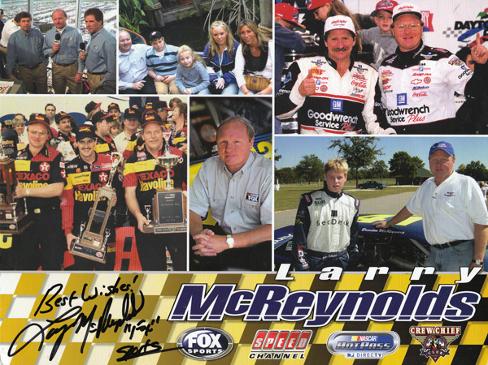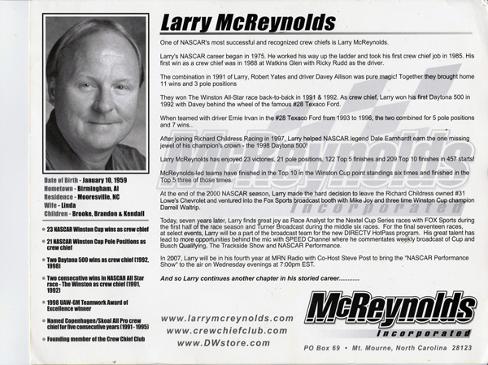 Fox Sports Speed Channel NASCAR photo montage card signed by legendary Crew Chief & TV Motor Racing analyst Larry McReynolds. Reverse has biography & career details.
Approx size: 28 x 22 cms
INDIANAPOLIS MOTOR SPEEDWAY Memorabilia

This JAMES BLAKEWAY 2000 panoramic aerial photo poster commemorates the 100th Anniversary of the first Indy 500 Mile Race.This poster includes all the legendary landmarks in and around the world-famous "Brickyard" - the inner and outer grandstands, the track, pit row, the under-track access road, the golf course, all the infield action, and the surrounding Indianapolis neighbourhood.

Print is 40" by 13½ inches
comes in a high quality aluminium custom fitted frame under glass.
WRC WORLD RALLYING Memorabilia
PADDY HOPKIRK Memorabilia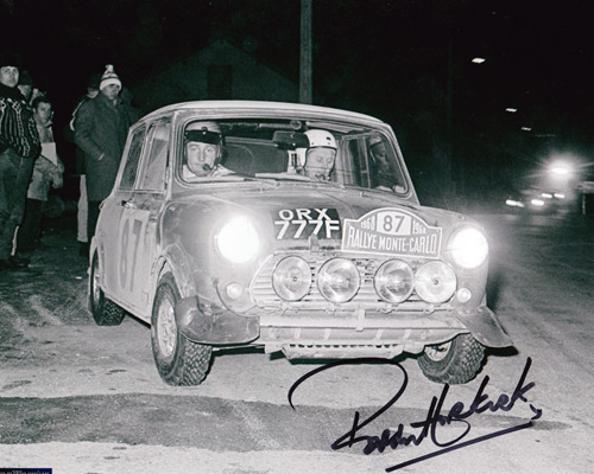 PADDY HOPKIRK

(1964 Monte Carlo Rally winner)
Signed Rallye Monte Carlo B&W photo
Approx A4 size

---------------------------
DAILY EXPRESS 1968 LONDON-SYDNEY MARATHON CAR RALLY
Official large reversible wall poster.
The 7000 mile rally was won by Andrew Cowan with Paddy Hopkirk second.
Approx 75 x 50 cms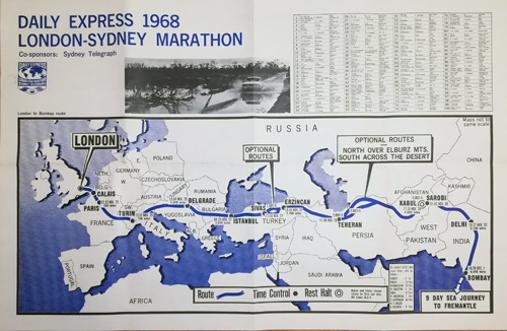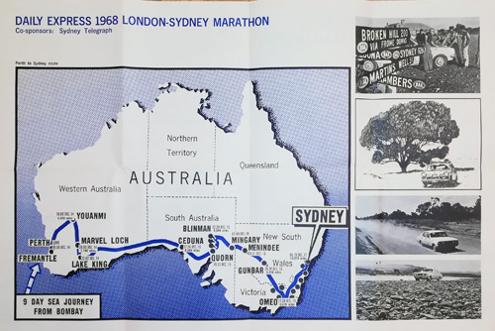 DTM Memorabilia
(Deutsche Tourenwagen Masters)
TOM KRISTENSEN Memorabilia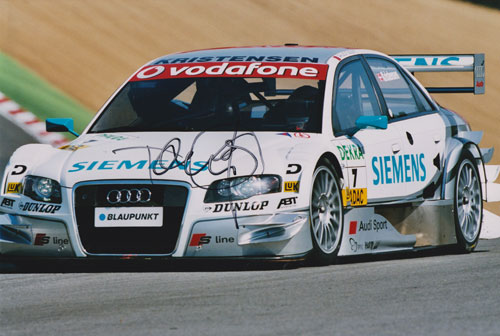 TOM KRISTENSEN
(9 x Le Mans 24 hour winner)
Signed large DTM photo - driving an Audi 4 in 2006.

Approx A4 size.
------------------------------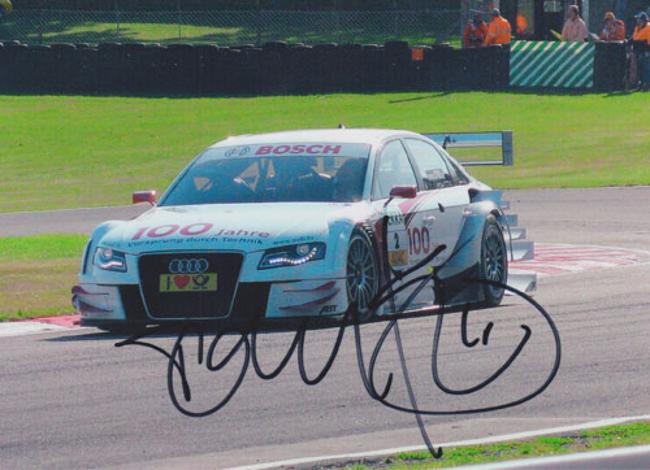 TOM KRISTENSEN

Signed DTM photo - driving an Audi 4 in 2010.

Approx size: 18 x 12 cms
MARKUS WINKELHOCK Memorabilia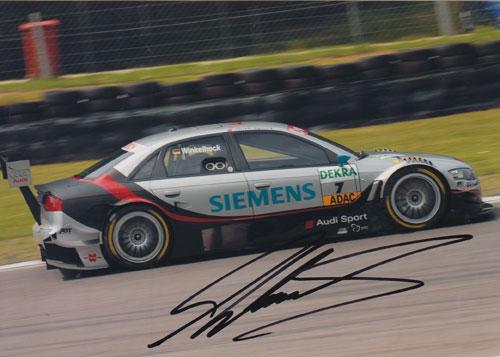 MARKUS WINKELHOCK
(2012 FIA GT1 World Champion)
Signed DTM photo - driving an Audi 4 in 2007.

Approx size: 18 x 13 cms

OTHER DRIVERS MEMORABILIA
BOB RIGGLE Memorabilia (Hurst Under Hemi Glass)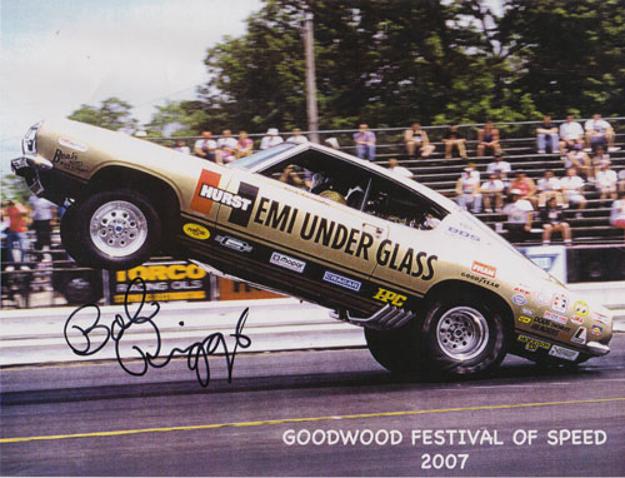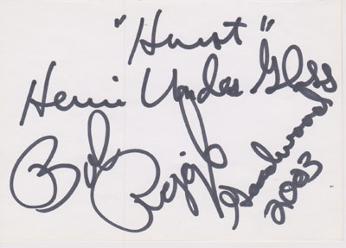 BOB RIGGLE
(Stunt Driver)
Signed Hurst Hemi Under Glass photo from the Goodwood Festival of Speed in 2007 + HHUG Autograph page signed by Riggle at GFOS 2003.

Photo approx size: 28 x 21 cms
Welcome to Uniquely Sporting's motorsports page for motor-racing memorabilia & collectables - with a great collection of autographed & signed motorsport memorabilia: photos, prints, posters, cards, caps, shirts, clothing, books & First Day Covers ... from Formula One memorabilia to Indy Car memorabilia to NASCAR memorabilia to World Rally memorabilia to Le Mans memorabilia , DTM, from Superbikes memorabilia to Speedway memorabilia to Moto-Cross memorabilia to TT memorabilia, legendary marques: Jaguar, Ferrari, Lotus, McLaren, Mercedes, BRM, international legends, from Stirling Moss memorabilia to Jackie Stewart memorabilia to James Hunt memorabilia to Nigel Mansell memorabilia to Jenson Button memorabilia to Lewis Hamilton memorabilia , from the British Grand Prix memorabilia to Indy 500. memorabilia .
PLEASE USE THE CONTACT US FORM >>>
FOR FURTHER DETAILS ON THE ABOVE ITEMS.
IF YOU ARE LOOKING FOR A SPECIFIC ITEM
OR SPORTS STAR / TEAM / EVENT.
IF YOU HAVE A "UNIQUELY SPORTING" ITEM OF MEMORABILIA YOU WANT TO SELL, PLEASE SEND DETAILS WITH YOUR VALUATION & A CONTACT EMAIL / PHONE NUMBER.
Please note we cannot always reply to every enquiry given the amount of mail we receive. We will be in touch only if we are interested.
IF YOU HAVE ANY OTHER QUESTIONS...
WE LOOK FORWARD TO HEARING FROM YOU!
-
MAIN SPORTS MEMORABILIA MENUS