MANY THANKS FOR DROPPING IN ON
"UNIQUELY SPORTING"
If you have a question about or
want to buy any of our items,
please contact us via the above form -
adding as much info as you can.



PLEASE MAKE SURE YOU ADD AN EMAIL ADDRESS !!



Due to the overwhelming stream of requests
we are unable to give individual valuations
and we can only reply to those messages we are interested in.
If you have an item of sports memorabilia
that you think we may be interested in buying
please follow these directions:
Give a detailed description / age + any authenticity details
& please include a sale price (with P&P options)
If interested we will reply requesting images
and any further relevant info.

.
By continuing to use this website, you agree to our standard Terms & Conditions of sale and service.

Terms & Conditions &
Frequently Asked Questions
in case we have already answered your enquiry.
CHARITY NOTICE
Please note to all those worthy charities out there,
we at Uniquely Sporting already work with
a chosen few good causes & charitable campaigns.
In the light of which, we are unable
- unfortunately - to meet the overwhelming
daily requests for sporting donations & gifts.
"UNIQUELY SPORTING"
Who are we ?? What do we do?? And Why ??
SIGNED SPORTS MEMORABILIA STORE
An eclectic and esoteric collection of rare and unique signed sporting memorabilia & collectables across all major sports with an emphasis on Cricket, Soccer, Rugby, Motorsport, Boxing, Athletics, Olympics and US Sports (esp Baseball & American Football).
Also look out for our "Uniquely Sporting" video show... with the latest updates on our newest items, celebrity features and top tips from the trade.
Our library of sporting books & autobiographies,many signed in person and sports movie DVDs + a selection of celebrity autographed media.
This library is run in conjunction with our publishing arm: Blue Eyed Books.
SPORTING BOARD GAMES & COLLECTABLES
A quirky collection of fun-packed vintage & retro table top games from Chess & Checkers, Subbuteo to Superstars, Card Games to Jigsaws to sports personality endorsed gaming products.
SPORTS CLOTHING, SHOES & CAPS
Complementing our main Memorabilia store, this wonderfully wacky wardrobe of worldwide sportswear includes signed shirts & jerseys, footwear and collectable caps ... even sport-themed baby clothes!
COMING SOON ... !!
FOLLOW US ON TWITTER
WELCOME to the
UNIQUELY SPORTING SPORTS MEDIA
website which features thousands of signed sports memorabilia and authentic autographed sporting collectables across: Football Memorabilia, Cricket
Memorabilia, Rugby Union
Memorabilia,
Rugby League
Memorabilia,
Tennis
Memorabilia, Golf
Memorabilia, Boxing
Memorabilia, MotorSports
Memorabilia,
Formula One
Memorabilia,
Athletics
Memorabilia, Snooker
Memorabilia, Darts
Memorabilia, Soccer
Memorabilia, US Sports
Memorabilia, Baseball
Memorabilia, American Football
Memorabilia, Ice Hockey
Memorabilia, Basketball
Memorabilia, NCAA
Memorabilia,
Horse Racing
Memorabilia, Equestrian
Memorabilia, Cycling
Memorabilia, Olympics
Memorabilia, Triathlon
Memorabilia, Ice Skating
Memorabilia, Lawn Bowls
Memorabilia, Swimming
Memorabilia, Hurling
Memorabilia, GAA
Memorabilia, Surfing
Memorabilia, Bowling
Memorabilia, Squash
Memorabilia, Archery
Memorabilia, Fishing
Memorabilia, Angling
Memorabilia, Parkour
Memorabilia, Skeleton
Memorabilia, Winter Sports
Memorabilia, Aussie Rules
Memorabilia, Sailing
Memorabilia, Yachting
Memorabilia. As well as Signed Sports Books, Sporting Board Games and other sports-related items of interest and historic value.

As well as the Sports Memorabilia business side to our charitable ventures, Uniquely Sporting Sports Media also develops sports-related projects for TV, video, online digital and radio broadcast - all with a charity / NFP link.
CALENDAR: Events, Fairs, News, etc...
SUMMER 2022: CRICKET MEMORABILIA FAIRS
Throughout the summer, we hosted a number of fairs at Kent Cricket matches - benefitting the Kent Cricket Heritage Trust. Thanks to all who who came along ... looking forward to more Fairs in 2023.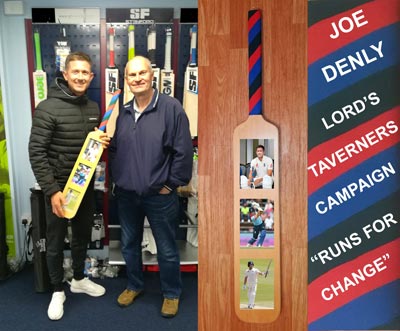 FEB 2020: Uniquely Sporting donated a unique bat-shaped photo frame with three signed photos of Joe Denly (Kent & England) to the Lord's Taverners "Runs For Change" campaign. Joe is seen with Colin M Jarman in the Kent Cricket Shop after signing the photos.
If you'd like to make a bid on this unique, one-off bat please contact us via the form on this page.
OCT 2019: On behalf of Royal St Georges Golf Club filmed current England Captain Joe Root holding a replica of the Ashes urn in front of a clubhouse photo (top left) of former RSG captain Ivo Bligh aka Earl of Darnley, who was the England captain originally presented with the actual Ashes urn in 1882-83 in Australia.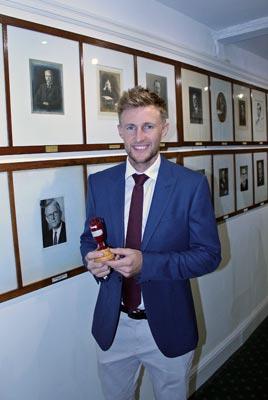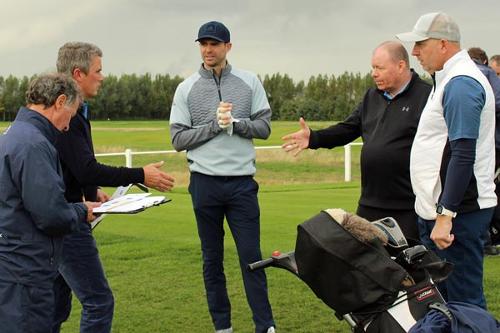 OCT 2019: Joe Denly Golf Day at Royal St George's GC with England cricketers James Anderson (above), Joe Root, Sam Billings (below) + James Taylor, Rob Key & more.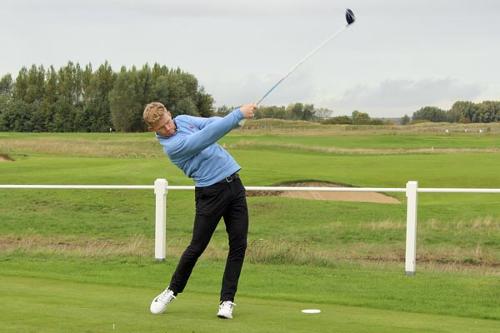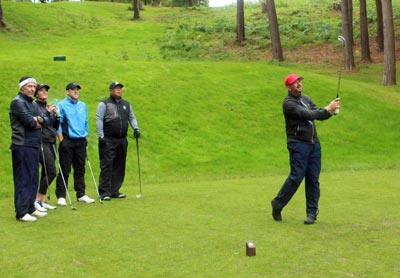 OCT 2019
: Photo / Video support for the 16th Iggy Golf Day at Westerham GC with Darren Stevens (above) & Kent Cricket.
Also supporting Lucy Goddard in the "Best the Pro" Challenge.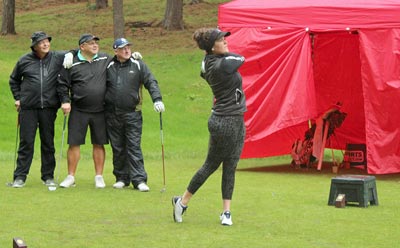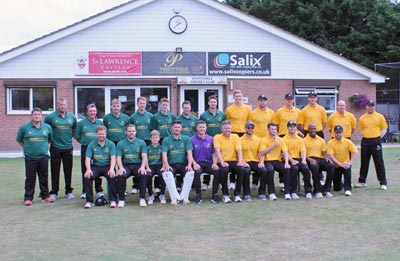 AUG 2019: Photo and Video support at the Joe Denly Testimonial T20 cricket match at Whitstable CC v Kent XI.
JUL 2019: Drone footage of Westerham Golf Course during the Joe Denly Golf Day.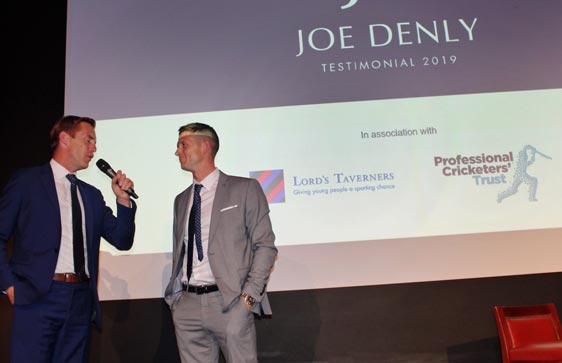 MAY 2019: Providing Media & Sports Memorabilia support for Kent & England all-rounder Joe Denly and his 2019 Testimonial season - kicking off at the Ashes Captains' Dinner in London with Sir Alastair Cook, Alec Stewart & Michael Vaughan, hosted by Dave Fulton.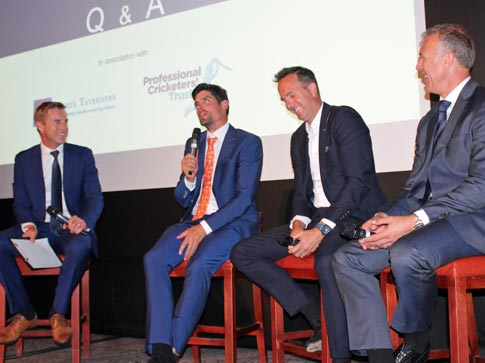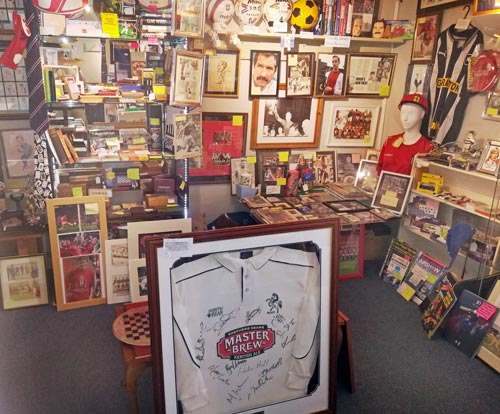 MAY 2019: Uniquely Sporting moved into a standalone salesroom on the first floor of Allsorts Antiques on Headcorn High Street in Kent. This allows us to display 100s of items of sports memorabilia in a standalone retail area.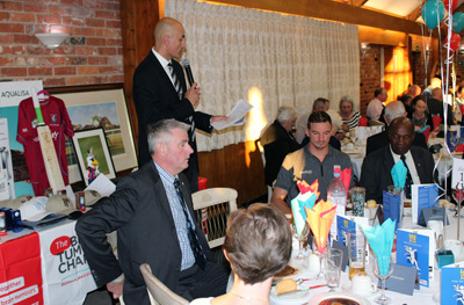 OCT 2018
: We provided photography for the Iggy Golf Day at Westerham Golf Club on behalf of Brain Tumour Charity.
MAY 2018: Proud to offer our photo services for the Box4Kids visit to Kent Cricket at the Spitfire Ground on behalf of the Barrie Wells Trust.
Below: Thomas and Jacob meet Kent all-rounder Joe Denly after he scored 150* and took 4 wickets in the match against Glamorgan.