WEST INDIES CRICKET MEMORABILIA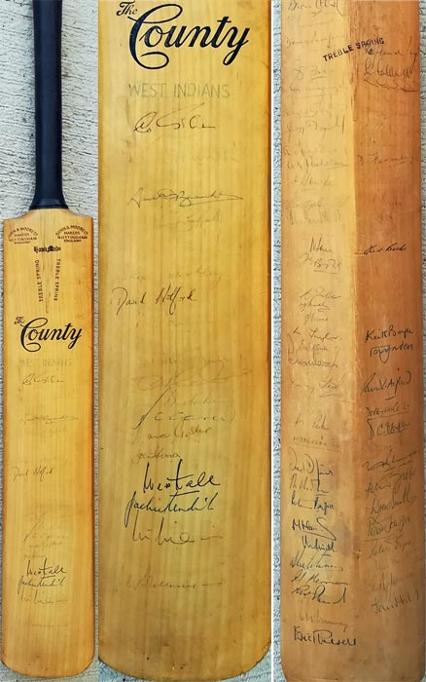 GUNN & MOORE "THE COUNTY" FULL SIZE CRICKET BAT
Signed by the 1966 West Indies squad: Gary Sobers (capt), Conrad Hunte (vc), David Allan, Rawle Brancker, Basil Butcher, Joey Carew, Rudolph Cohen, Lance Gibbs, Charlie Griffith, Wes Hall, Jackie Hendriks, David Holford, Rohan Kanhai, Peter Lashley, Easton McMorris, Seymour Nurse, Joe Solomon & Jeffrey Stollmeyer (Tour Manager).

Also signed on the reverse by players from:
Yorkshire (inc Boycott, Close, Trueman, Illingworth & Old)
Derbyshire (inc Morgan, Smith, Jackson, Rhodes & Gibbs)
Essex (inc Boyce, Acfield, Lever & East )
Worcestershire (inc Fearnley, Headley, D'Oliveira & Gifford)
Nottinghamshire (inc Bolus, Taylor, White & Hill)
and
Middlesex (inc. Titmus, Stewart, Parfitt, Smith & Bedser).

Approx 80+ players have signed this bat.
Most autographs are clearly legible but some are faded.
With original bat grip.

SOLD £250
INDIVIDUAL WEST INDIAN PLAYERS
(Players listed alphabetically)
CURTLEY AMBROSE Memorabilia

(Northants CCC & West Indies)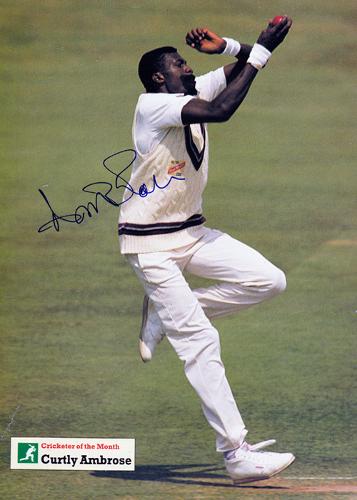 CURTLEY AMBROSE
Signed "Cricketer of the Month" Poster
Approx A4 size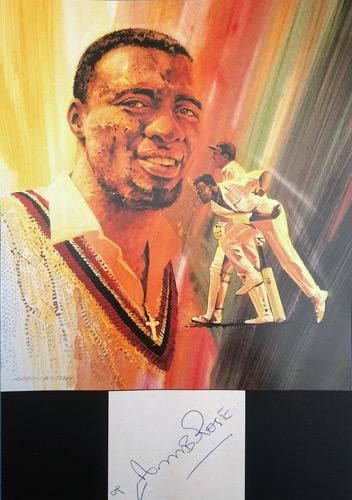 CURTLEY AMBROSE
Autograph + Lord's Taverners book plate
Approx A3 size
TINO BEST Memorabilia

(Yorks, Hants CCC & West Indies)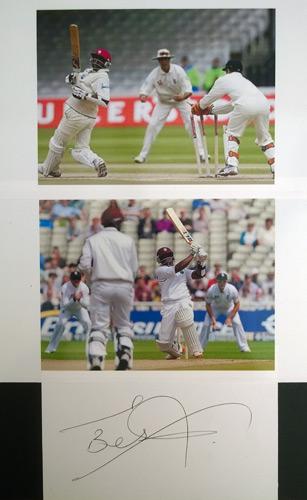 TINO BEST
Autograph West Indies "Mind the Windows" montage.
Approx A3 size
JOEL GARNER Memorabilia
(Somerset & West Indies)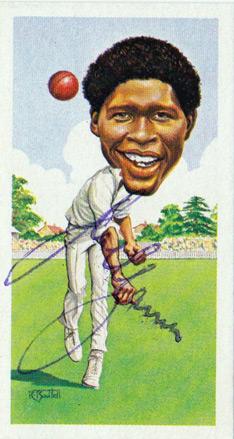 JOEL GARNER
(Somerset & West Indies)

Signed West Indies player card.
-------------------------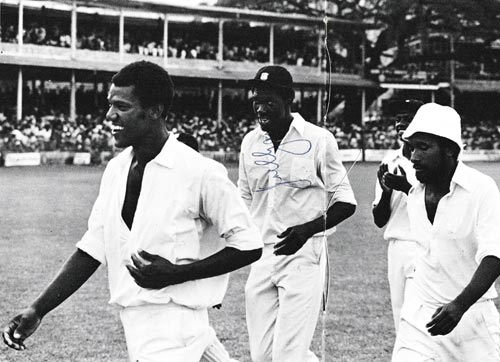 JOEL GARNER



Signed B&W pic from the First Test against Australia in Port of Spain in 1978.

Approx size: 20 x 15 cms
DESMOND HAYNES Memorabilia
(Middlesex & West Indies)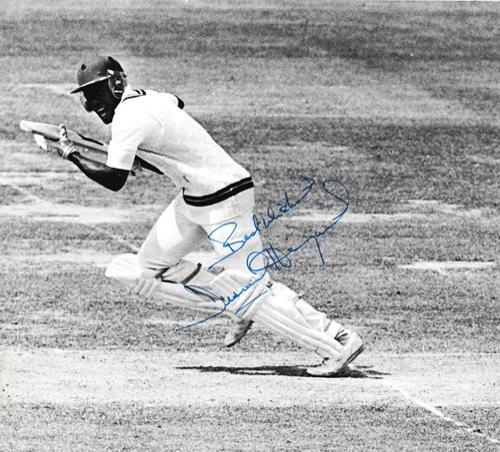 DESMOND HAYNES



Signed B&W West Indies action pic - batting at Lord's in 1980 en route to 184 against England.

Approx size: 21 x 19 cms
MICHAEL HOLDING Memorabilia
(Lancs, Derbys CCC & West Indies)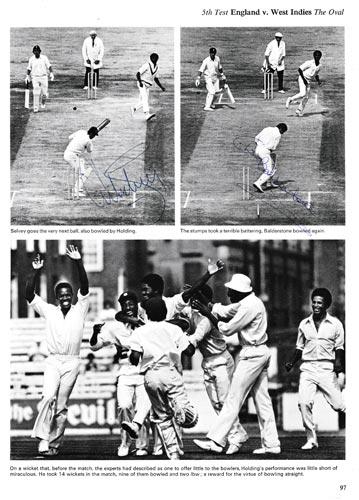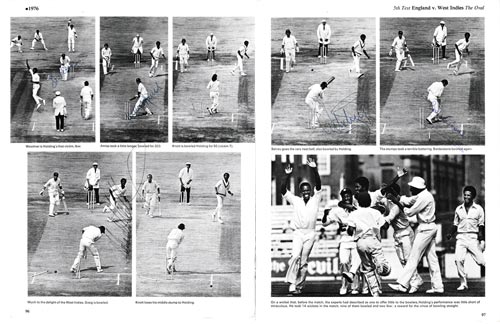 MICHAEL HOLDING
Multi-signed B&W double-page montage from the 1976 Oval 5th Test match v England in which Holding took 14 wickets - pictured and signed by victims Bob Woolmer, Dennis Amiss, Mike Selvey and Chris Balderstone.
Holding has signed the pic of him bowling England captain Tony Greig.
Approx montage size: 42 x 27 cms

Mounted & Framed/ / UK collection only
£125.00
-------------------------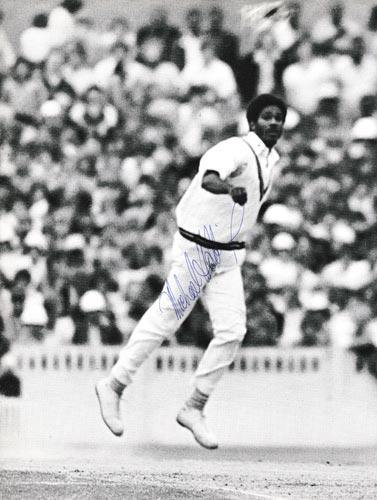 MICHAEL HOLDING

Signed B&W West Indies cricket pic from a Lords Test match v England.

Two B&W pics signed on reverse by England batsman David Steele.
Approx size: 21 x 27 cms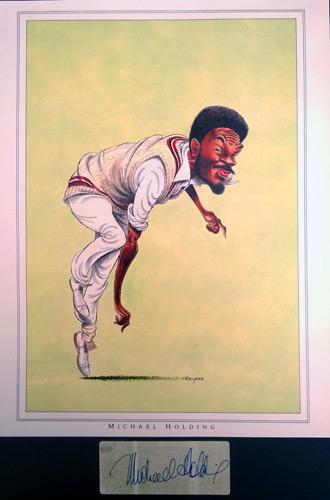 MICHAEL HOLDING

Autograph + John Ireland book plate
Approx A3 size
BRIAN LARA Memorabilia

(Warks CCC & West Indies)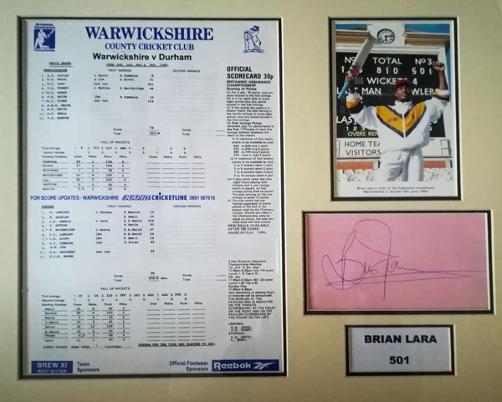 BRIAN LARA

Signed 1994 display celebrating his world record first-class score of 501* v Durham at Edgbaston.

Professionally framed display features an official scorecard from the match 9with details of the innings), a colour postcard of Lara celebrating in front of the scoreboard and a personally signed autograph page.
Approx size: 51 x 45 cms
Perspex so available for delivery in the UK

SOLD £150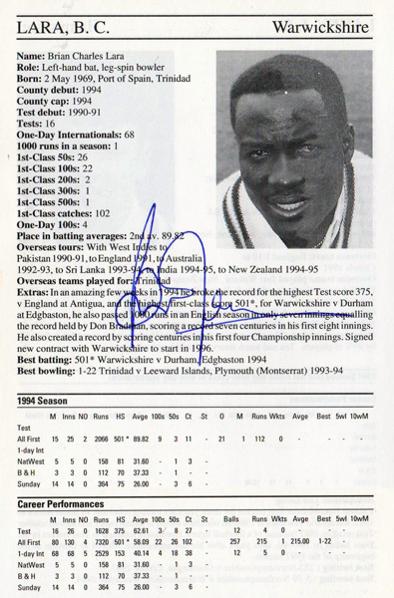 BRIAN LARA

Signed bio-pic and career records page from 1995 Cricketers' Who's Who Annual - the season after his world record innings of 501* for Warks CCC.

CLIVE LLOYD
Signed West Indies B&W cricket pic.
Pic approx 3 x 4 ins



DERYCK MURRAY Memorabilia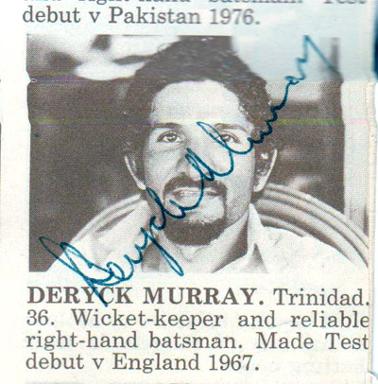 DERYCK MURRAY
(Warks CCC, Trinidad & West Indies)

Signed bio-pic on magazine page of West Indies team bio-pics (c 1979)
Sir ANDY ROBERTS Memorabilia
(Leics, Hants CCC & West Indies)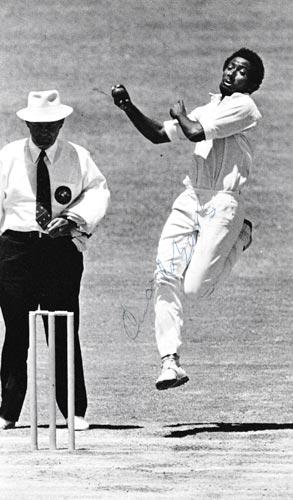 ANDY ROBERTS

Signed B&W West Indies cricket pic bowling in Perth, in 1975, where he took 7 for 54 in the second innings of the 2nd Test against Australia.

Approx size: 12 x 20 cms
SIR GARRY SOBERS Memorabilia
(Notts CCC & West Indies)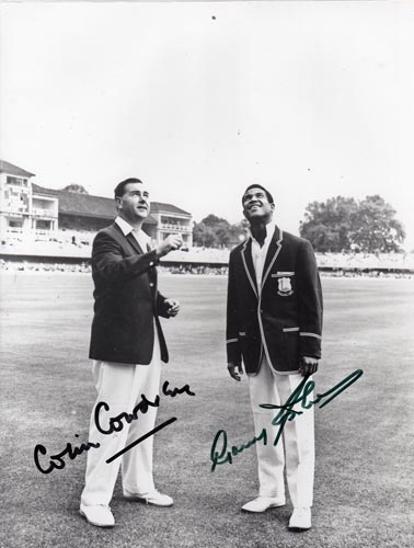 Signed B&W photo depicting the two legendary cricketing Knights tossing up before a Lord's Test match between England & the West Indies in 1966.
Sobers, famously, scored 163* in the second innings.
Approx size: 20 x 25 cms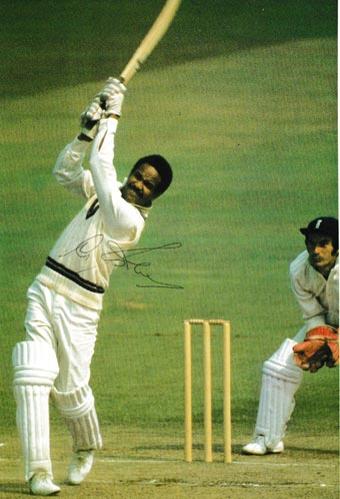 SIR GARY SOBERS

Signed B&W West Indies cricket pics showing Sobers batting and bowling.

Approx size: 19 x 11 cms
WEST INDIES TEAM Memorabilia
(Listed chronologically)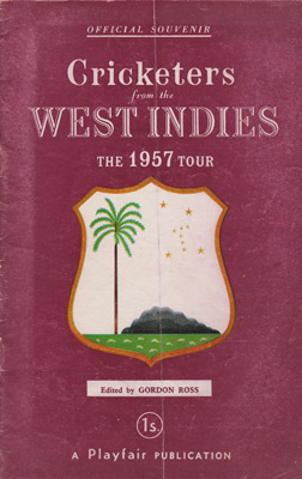 "CRICKETERS from the WEST INDIES"
The 1957 Tour
Official Souvenir Booklet by Playfair Books