VIV RICHARDS Memorabilia

(Somerset, Glamorgan, Antigua & West Indies)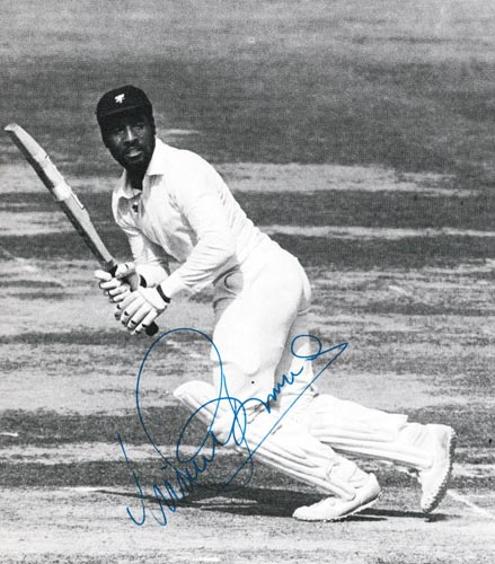 VIV RICHARDS
Signed West Indies B&W pic.
Another B&W pic on the reverse has been signed by Alvin Kallicharan.

Pic approx 14 x 15 cms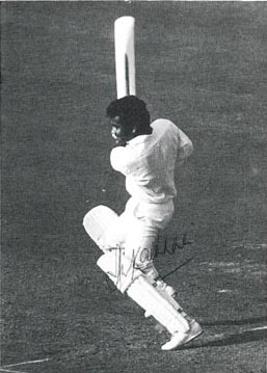 --------------------------

1993 AXA SUNDAY LEAGUE MATCH
KENT CCC v GLAMORGAN CCC

Squads signed full-size Gray-Nicolls bat
Glamorgan players inc: Viv Richards, Robert Croft, Matthew Maynard, Steve James, Steve Watkins, Alan Dale, Hugh Morris, Colin Metson, Roland Lefebvre, Steven Barwick,Tony Cottey + 2
Kent players include: Mark Benson, Steve Marsh, Matthew Fleming, Alan Igglesden, Trevor Ward, Graham Cowdrey, Mark Ealham, Darren Spencer, Dean Headley, Dave Fulton & Carl Hooper.

The 1993 AXA Equity & Law Sunday League season came down to a nail-biting finish with Kent & Glamorgan tied on points going into the final (televised) match in Canterbury.
Glamorgan (201-4) beat Kent (200-9) by six wickets to win the league. This match was West Indies legend Viv Richards' final one-day appearance and his last game for his adopted Welsh county. Fittingly the "Master Blaster" was at the crease (46*) when the winning runs were scored.

This win also saw Glamorgan lift their first-ever one-day trophy.

SOLD £200

-------------------------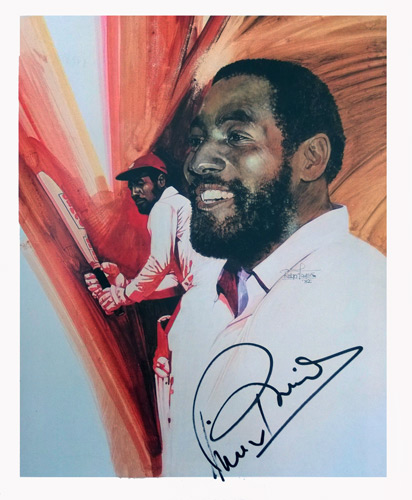 VIVIAN RICHARDS
Signed "Lord's Taverners Fifty Greatest" book plate.

Approx: 20 x 30 cms

SOLD £50
IVA RICHARDS
Signed West Indies B&W action pic.

Pic approx 11 x 20 cms

SOLD £20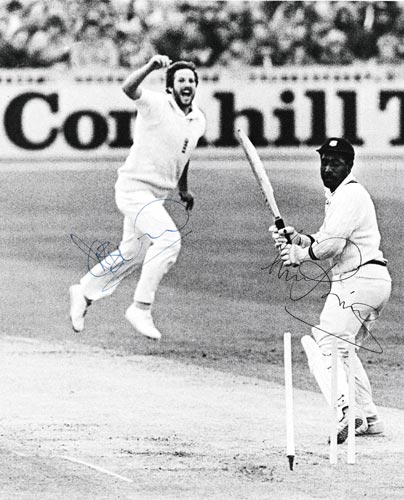 VIV RICHARDS & IAN BOTHAM
Multi-signed B&W England v West Indies cricket pic, showing Botham clean bowling Richards during the 1980 Test series.

Approx size: 20 x 24 cms

SOLD £75
-------------------------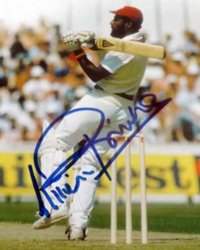 SIR VIV RICHARDS
Signed West Indies cricket magazine pic.
Approx: 13 x 13 cms

SOLD £35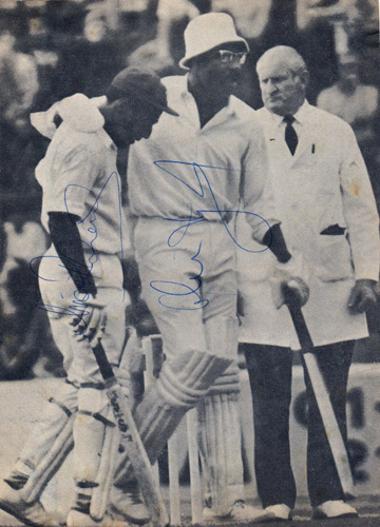 VIV RICHARDS & CLIVE LLOYD
Signed B&W West Indies cricket pic.

Approx size: 16 x 25 cms

SOLD £35

============

Welcome to our web page for West Indies cricket captain SIR VIVIAN RICHARDS and his signed cricketing memorabilia.


CLICK HERE for the main
CRICKET MEMORABILIA CATALOGUE
CLICK HERE for the WEST INDIES
CRICKET MEMORABILIA CATALOGUE