SOUTH AFRICA CRICKET MEMORABILIA




SOUTH AFRICAN 1935 CRICKET TOUR of ENGLAND
Printed autographs of the South Africa tour party on a Gradidge mini cricket bat.
SA squad: X C Balaskas, A J Bell, H B Cameron, R J Crisp, E L Dalton, A C B Langton, B Mitchell, A D Nourse, E A B Rowan, I J Siedle, D S Tomlinson, K G Viljoen, C L Vincent, H F Wade, R J Williams & S J Snooke - Manager

Reverse of bat hand-signed by players from the Middlesex and Lancashire teams who played the tourists in 1935.
N.B. The images of the reverse of the bat have been enhanced as the autographs have faded.

Middlesex team: WFF Price, GE Hart, JW Hearne, EH Hendren, JH Human, GC Newman, RWV Robins, HGO Owen-Smith, JHA Hulme, CIJ Smith & IAR Peebles.

Lancashire team: FB Watson, JL Hopwood, J Iddon, E Paynter, C Washbrook, W Farrimond, WHL Lister, PT Eckersley, FM Sibbles, G Duckworth & R Pollard.

HISTORIC ITEM: South Africa won this series 1–0 with the four matches drawn. A victory at Lord's was their first win in a Test match in England ...
This also meant that the tourists won a series for the first time in England.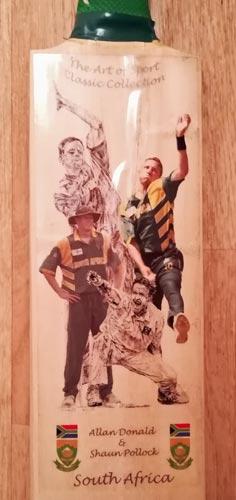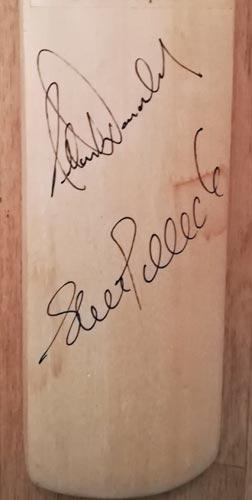 ALLAN DONALD
& SHAUN POLLOCK

Signed Art of Sport mini cricket bat featuring a photo sticker of the two legendary South African fast bowlers in action.

25 inches long
Green handle rubber has slightly perished.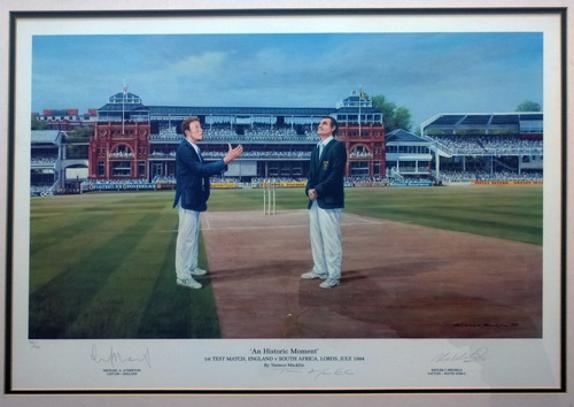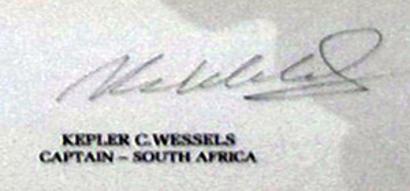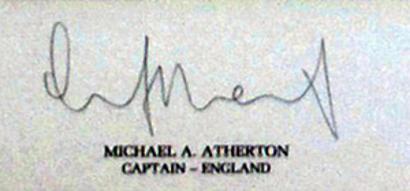 An Historic Moment
1st Test Match, England v South Africa, Lords, July 1994 by Terence Macklin.
The first test England played against South Africa since the last series against South Africa in 1965. The limited edition print shows the historic coin toss as England captain Michael Atherton tosses the coin, while South African captain Kepler Wessels calls. Both men stand in the middle of the wicket in front of the huge Lords crowd in July 1994. The reason for such a long period between tests was that South African cricket was isolated from the international cricket, as a result of ban by the ICC.


Print is signed by Wessels, Atherton & artist Macklin.

Large size / Framed

SOLD £75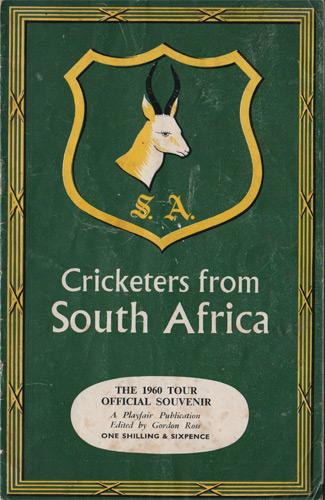 "CRICKETERS FROM SOUTH AFRICA"
The 1960 Tour official Souvenir Booklet
by Playfair Books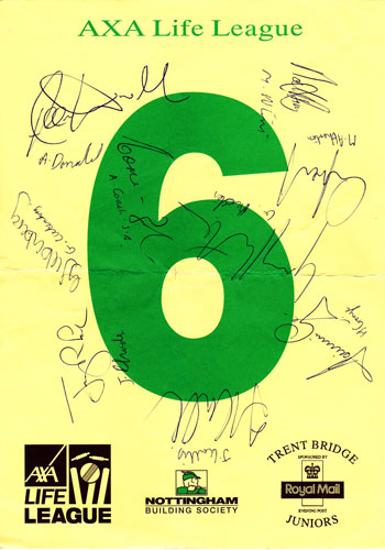 SOUTH AFRICA

SIGNED TRENT BRIDGE JUNIORS
AXA LIFE LEAGUE SIX CARD
Autographed by
Allan Donald,
Makhaya Ntini,
Jacques Kallis,
Hansie Cronje,
Gary Kirsten,
Jonty Rhodes
+ 2 other Proteas

and (for some reason ??)
Mike Atherton (England).

SOLD £20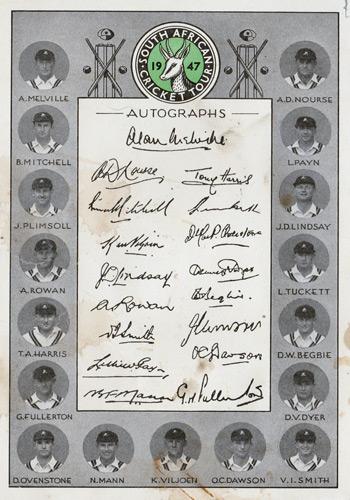 SOUTH AFRICA

1947 Tour to England Official Team Sheet card with
printed
autographs & pen pics of the 17 man squad plus the Springbok tour logo.

Approx size: 13 x 21 cms
Has some slight stains / blemishes as per photo.
SOLD £20

SOUTH AFRICAN CRICKET MEMORABILIA
Players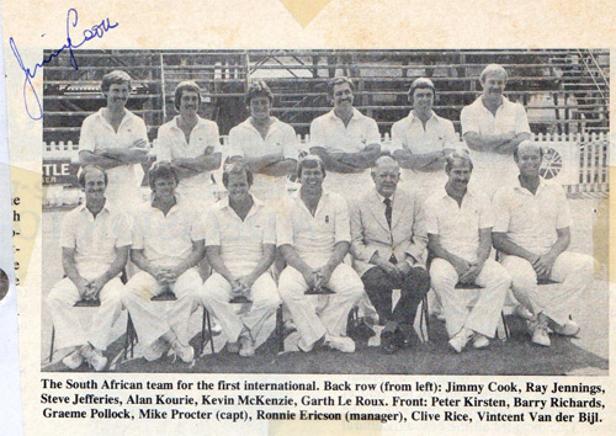 JIMMY COOK
Signed B&W South Africa team photo.
Approx size: 13 x 10 cms.

=============

Click Here for ALLAN DONALD Memorabilia

=============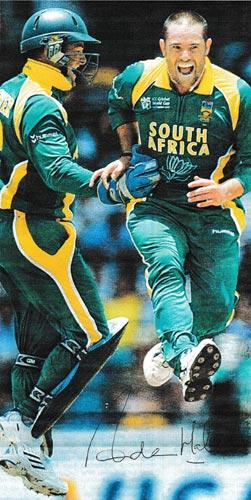 ANDREW HALL

Signed magazine colour pic playing in an ODI for South Africa.
SHAUN POLLOCK MEMORABILIA

(Warks CCC & South Africa)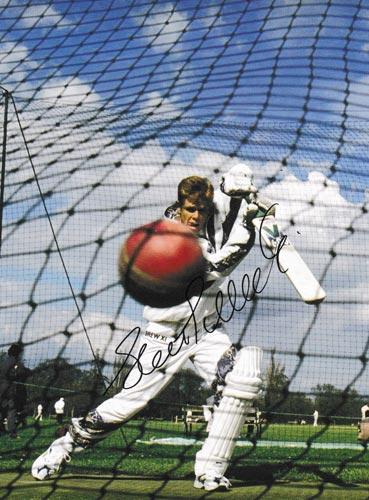 SHAUN POLLOCK

Signed cricket magazine colour page.

Approx A4 size
BARRY RICHARDS MEMORABILIA

(Hampshire CCC, Western Australia & South Africa)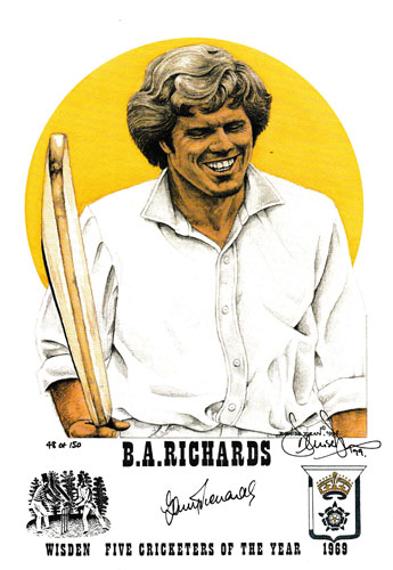 BARRY RICHARDS
Signed Five Wisden Cricketers of the Year (1969) colour poster card.
Also signed by artist Denise Dean
Limited edition 48 of 150.


Approx A4 size
---------------------------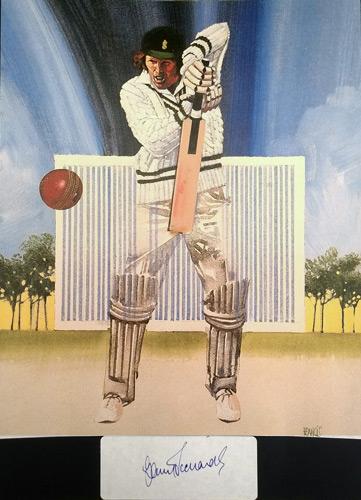 BARRY RICHARDS
Autograph + Lord's Taverners Greatest book plate.


Approx A3 size

BARRY RICHARDS
Signed magazine pic cut-out.


Approx size: 30 x 8 cms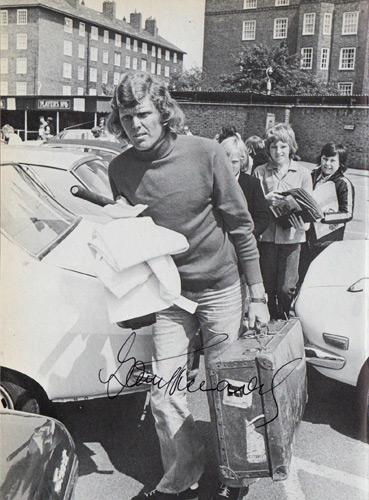 BARRY RICHARDS
Signed B&W book page picture
Approx A5 size.

SOLD £20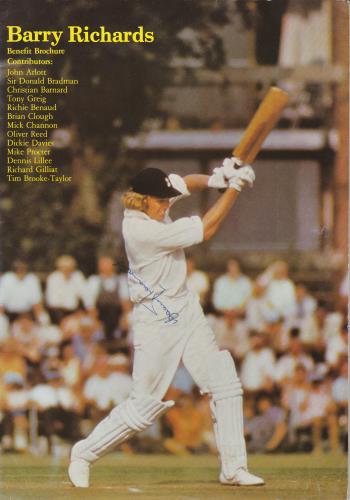 BARRY RICHARDS

Signed 1977 cricket benefit brochure.
SOLD £25

MIKE PROCTER MEMORABILIA

(Gloucs CCC & South Africa)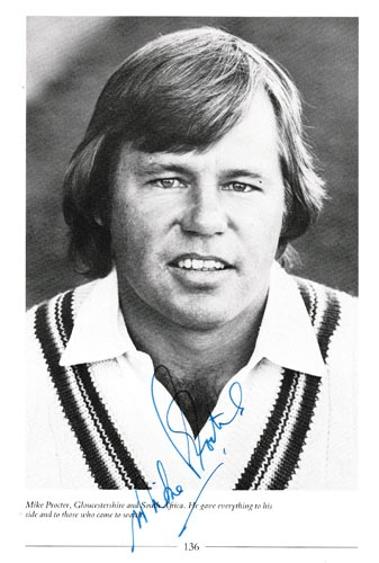 MIKE PROCTER



Signed book page B&W portrait pic.
-------------------------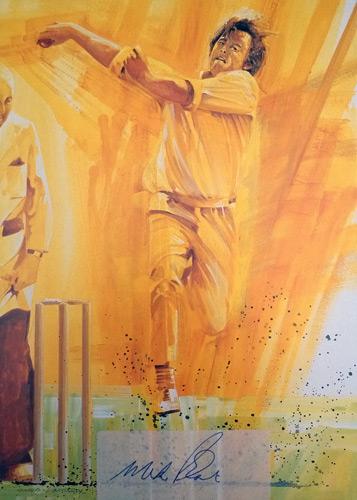 MIKE PROCTER



Autograph + Lord's Taverners book plate

Approx A3 size
--------------------------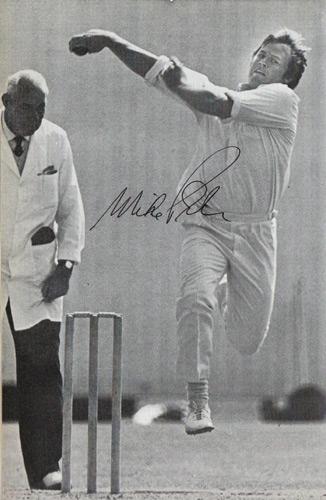 MIKE PROCTER

Signed B&W book page pic.


Approx A5 size.
--------------------------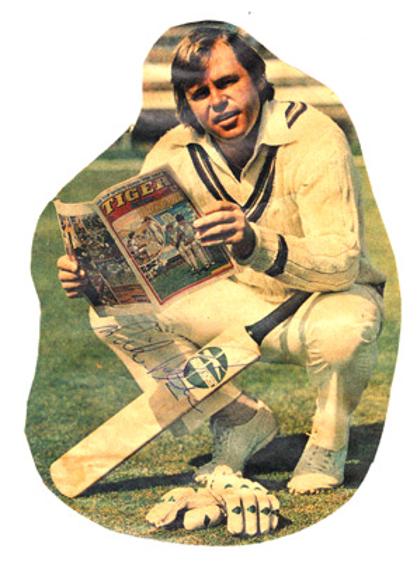 MIKE PROCTER

Signed colour Tiger comic pic (cut out).

Approx size: 15 x 21 cms
Scrapbook Quality*.
KAGISO RABADA MEMORABILIA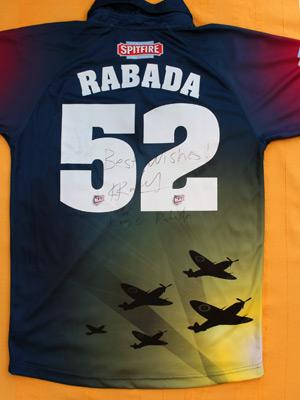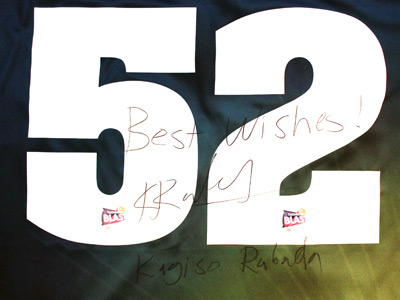 KAGISO RABADA
Signed Kent Spitfires match worn 2016 T20 playing shirt.
Autographed on reverse.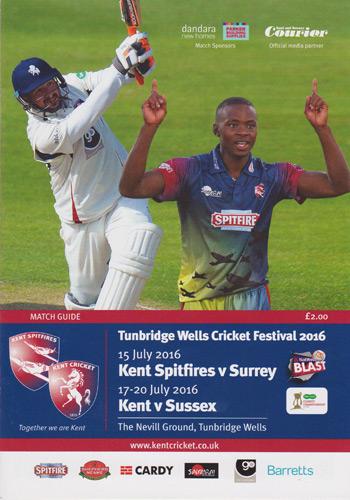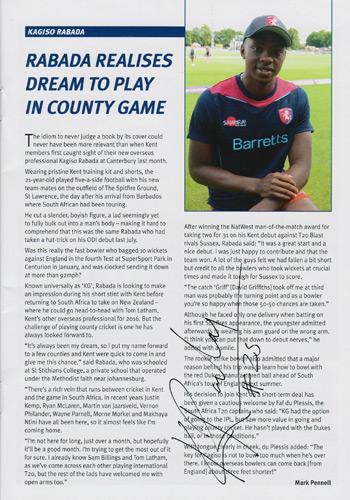 KAGISO RABADA autograph
KCCC's Tunbridge Wells Cricket Week programme featuring Rabada on the cover - signed inside across an interview with the South African fast bowling phenom.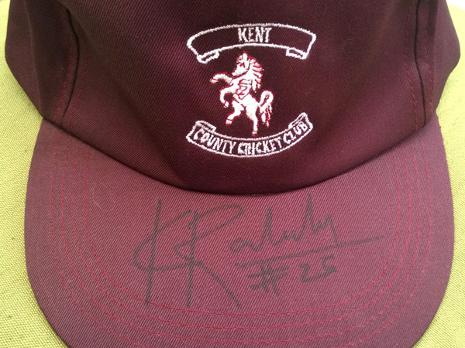 KAGISO RABADA autograph
Signed Kent County Cricket Club baseball cap.
(One size fits all)

S O L D £30
Welcome to Uniquely Sporting's sports shop / store page for cricket memorabilia, Test Match collectables & Ashes souvenirs, with a great collection of autographed & signed items: photos, prints, posters, player cards, postcards, balls, boots, shirts, clothing, books & First Day Covers ... from Tests to ODIs to 20/20 to World Cup, County Cricket to Sheffield Shield to Currie Cup, Australia to West Indies, India to Pakistan to Sri Lanka, New Zealand to South Africa to Zimbabwe, Sobers memorabilia to Botham memorabilia, Bradman memorabilia to Pietersen memorabilia, Lara memorabilia to Richards memorabilia, Cowdrey memorabilia to Ponting memorabilia, Muralitharan memorabilia to Warne. memorabilia
PLEASE USE THE CONTACT US FORM ...
FOR FURTHER DETAILS ON THE ABOVE ITEMS.
IF YOU ARE LOOKING FOR A SPECIFIC ITEM
OR SPORTS STAR / TEAM / EVENT.
IF YOU HAVE A "UNIQUELY SPORTING" ITEM OF MEMORABILIA YOU WANT TO SELL, PLEASE SEND DETAILS WITH YOUR VALUATION & A CONTACT EMAIL / PHONE NUMBER.
Please note we cannot always reply to every enquiry given the amount of mail we receive. We will be in touch only if we are interested.
IF YOU HAVE ANY OTHER QUESTIONS...
WE LOOK FORWARD TO HEARING FROM YOU!
-