SIGNED MINI CRICKET BATS MEMORABILIA

(Listed chronologically)
1935 SOUTH AFRICA "SIGNED" MINI-BAT




SOUTH AFRICAN 1935 CRICKET TOUR of ENGLAND


Printed autographs of the South Africa tour party on a Gradidge mini cricket bat.

SA squad: X C Balaskas, A J Bell, H B Cameron, R J Crisp, E L Dalton, A C B Langton, B Mitchell, A D Nourse, E A B Rowan, I J Siedle, D S Tomlinson, K G Viljoen, C L Vincent, H F Wade, R J Williams & S J Snooke - Manager

Reverse of bat hand-signed by players from the Middlesex and Lancashire teams who played the tourists in 1935.
N.B. The images of the reverse of the bat have been enhanced as the autographs have faded.

Middlesex team: WFF Price, GE Hart, JW Hearne, EH Hendren, JH Human, GC Newman, RWV Robins, HGO Owen-Smith, JHA Hulme, CIJ Smith & IAR Peebles.

Lancashire team: FB Watson, JL Hopwood, J Iddon, E Paynter, C Washbrook, W Farrimond, WHL Lister, PT Eckersley, FM Sibbles, G Duckworth & R Pollard.

HISTORIC ITEM:
South Africa won this series 1–0 with the four matches drawn. A victory at Lord's was their first win in a Test match in England ... This also meant that the tourists won a series for the first time in England.
1953 ENGLAND ASHES TEST SERIES MINI-BAT


1953 Australian Ashes Touring team
'signed' The Keith Miller Autograph Nicolls mini-cricket bat
16 facsimile player autographs, inc:
RICHIE BENAUD, KEITH MILLER, ARTHUR MORRIS, RAY LINDWALL, NEIL HARVEY, LINDSAY HASSETT, ALAN DAVIDSON,
DON TALLON, GRAEME HOLE, JACK HILL, BILL JOHNSTON,
IAN CRAIG, JIM De COURCY, RON ARCHER, DOUG RING & GIL LANGLEY.

SOLD £35
BOB WOOLMER SIGNED COUNTY MINI-BAT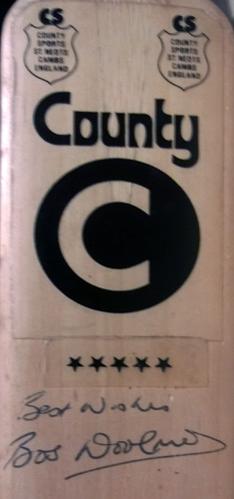 BOB WOOLMER

(Kent, Worcs & England)

Signed County mini cricket bat.
1980s HAMPSHIRE SQUAD SIGNED MINI-BAT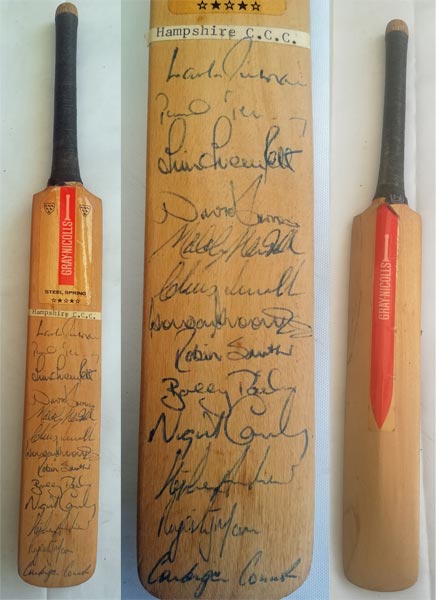 1980s HANTS CCC SQUAD SIGNED GRAY NICOLLS STEEL SPRING MINI BAT

Signed by 13 players: Malcolm Marshall, Gordon Greenidge, Robin Smith, Chris Smith, Mark Nicholas, Tim Tremlett, Bobby Parks, Rajesh Maru, Cardigan Connor, Paul Terry, Steve Andrew, David Turner & Nigel Cowley.

Bat size: 30 cms
(c 1984)
All autographs clear and legible.

SOLD £75
1990 NEW ZEALAND SIGNED MINI-BAT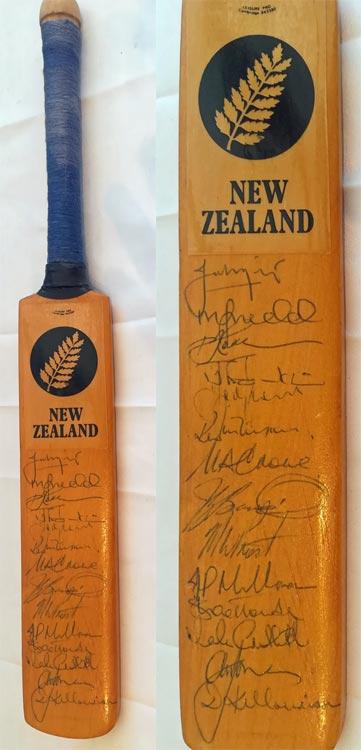 NEW ZEALAND 1990 SQUAD SIGNED MINI BAT
Signed by 14 players, John Wright, Richard Hadlee, Martin Crowe, John Bracewell, Mark Greatbatch, Danny Morrison, Ken Rutherford, Andrew Jones, Ian Smith, Martin Snedden, Mark Priest, Jonathan Millmow, Trevor Franklin & Shane Thomson.
Approx bat length: 44 cms
Autographs are crisp & clear

SOLD £50

1992/93 KENT CRICKET SQUAD SIGNED MINI-BAT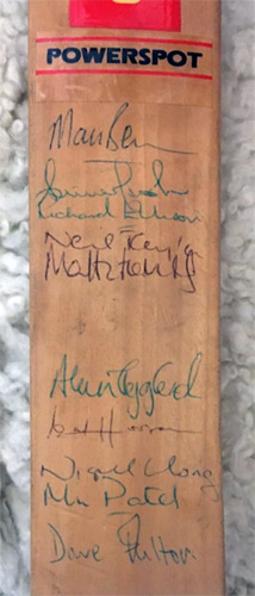 Gray Nicolls Powerspot mini cricket bat
Signed by Kent cricket players:

Mark Benson (Captain)
Steve Marsh
Richard Ellison
Neil Taylor
Matthew Fleming
Alan Igglesden
Carl Hooper
Nigel Llong
Min Patel
David Fulton
(c 1992/93 seasons)
ESSEX CCC
Multi-Signed Duncan Fearnley Magnum cricket bat (c 1990)


S

igned by 12 players:

Derek Pringle, Neil Foster, John Childs, John Stephenson, Peter Such, Nasser Hussain, Nadeem Shahid, Mike Garnham, Mark Waugh, Paul Prichard, Don Topley, Nick Knight.

Also signed on front by Norman Cowans (Middx) and on reverse by British Boxing Heavyweight champion Gary Mason & unknown.


BAS VAMPIRE MINI BAT
Signed by 6 South African players:
Jonty Rhodes, Gary Kirsten, Allan Donald, Clive Eksteen, Rudi Steyn & John Commins.

37 cms long (c 1994/5)
Black handle grip has slightly perished.

SOLD £30
c 1999 SURREY CRICKET SQUAD SIGNED MINI BAT

SURREY CCC
Multi-Signed mini cricket bat (c 1999) signed by 14 players:
Including: DAVID WARD, IAN GREIG, TONY MURPHY, GRAHAM THORPE, GRAHAME CLINTON, DARREN BICKNELL, MONTE LYNCH, TREVOR JESTY, ANDY SMITH, ALEC STEWART, CHRIS BULLEN & KEITH MEDLYCOTT.
Approx size: 42 cms long
MARK RAMPRAKASH SIGNED MINI-BATS

MARK RAMPRAKASH
Signed Gray-Nicolls Fusion mini-bat.

This bat was signed at the Gray-Nicolls Robertsbridge factory in East Sussex when Ramprakash picked up his full-size bats.

MARK RAMPRAKASH
Signed Gray-Nicolls Fusion mini-bat.

This bat was signed at the Gray-Nicolls Robertsbridge factory in East Sussex when Ramprakash picked up his full-size bats.

SURREY COUNTY CRICKET CLUB Memorabilia



Official Surrey CCC MINI Cricket Bat signed by seven members of the 1999, 2000 & 2002 County Championships winning squads.

Kookaburra Bubble mini bat.

SUSSEX CCC
Multi-Signed Newberry mini cricket bat (c 2001-2) autographed by 16 players, including:
Chris Adams (Captain)
James Kirtley
Richard Montgomerie
Billy Taylor
Tim Ambrose
Tony Cottey
Mark Davis
Christopher Martin-Jenkins
Michael Yardy
Baz Zuiderent
Keith Greenfield
Carl Hopkinson
Jason Lewry
Mushtaq Ahmed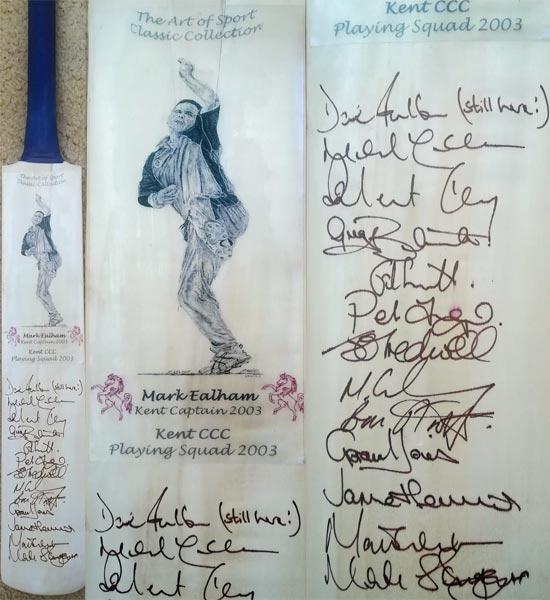 2003 MARK EALHAM
ART of SPORT CLASSIC COLLECTION MIDI BAT

Signed by Ealham and 12 other Kent cricket players inc: David Fulton (club captain despite the notation under Ealham's name - hence the "Still Here!" note), Rob Key, Greg Blewett, Geraint Jones, Ed Smith, Peter Trego, James Tredwell, Michael Carberry, Martin Saggers, Ben Trott & James Hewitt.

25 inches long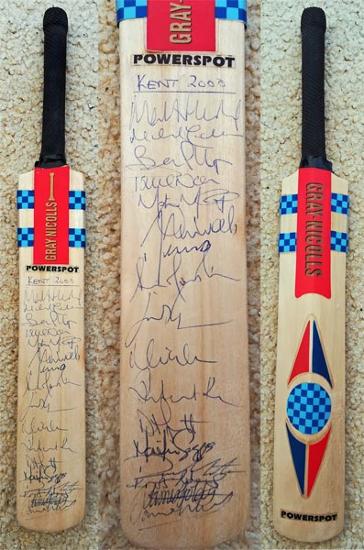 2003 KENT CRICKET SIGNED
GRAY NICOLLS POWERSPORT MINI BAT

Signed by 17 Kent cricket players inc: Rob Key, Matthew Fleming, Min Patel, Mark Ealham, Ben Phillips, Paul Nixon, Martin McCague, Steve Marsh, Martin Saggers + others.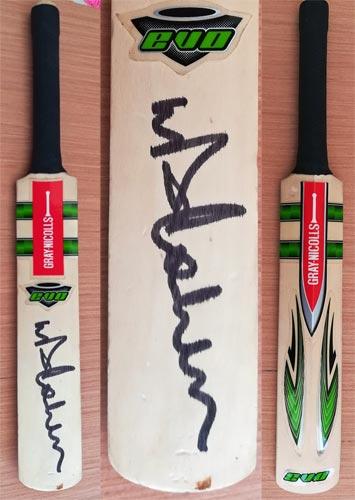 MICHAEL VAUGHAN



Signed Gray Nicolls EVO mini cricket bat.

Approx size: 37 cms long
(c 2005)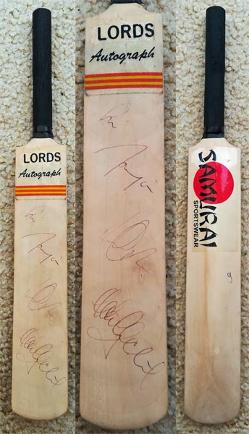 2010 MIDDLESEX LORDS SAMURAI MINI BAT



Signed by Eoin Morgan & two Australian overseas players: Adam Gilchrist & David Warner.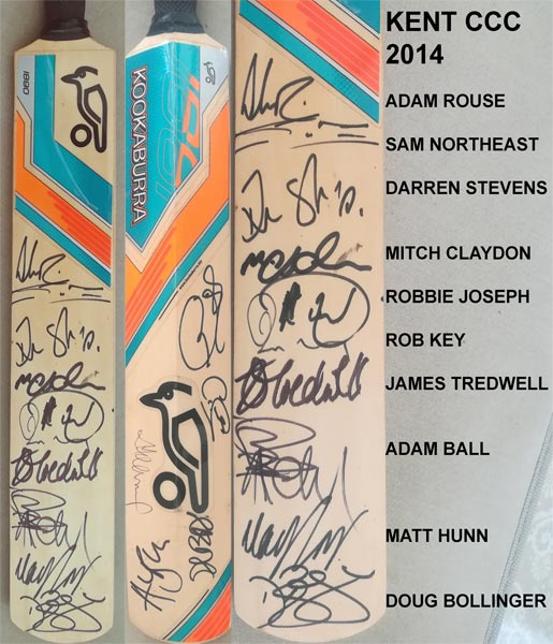 KOOKABURRA 100 mini-bat signed
(front and back) by 15 Kent cricket players:
inc: Darren Stevens, Sam Northeast, Rob Key, Doug Bollinger, Mitch Claydon, Daniel Bell-Drummond, Alex Blake, Robbie Joseph, Geraint Jones, Sam Billings, James Tredwell, Adam Ball, Adam Rouse & Matt Hunn.
SARAH TAYLOR SIGNED MINI-BAT

SARAH TAYLOR
(Sussex & England)
Signed Duncan Fearnley mini-bat.

Approx size: 42 cms long (c 2015)
TOM LATHAM SIGNED MINI-BAT

TOM LATHAM
(New Zealand)
Signed mini cricket bat (c 2016)
==============



OTHER MINI BATS
GRAY-NICOLLS "RULER" MINI CRICKET BAT
G.B. KENT MINI CRICKET BAT CLOTHES BRUSH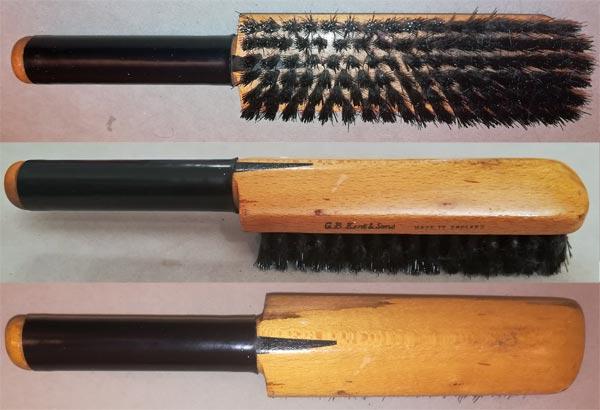 G.B. KENT & Sons
Mini cricket bat clothes brush.

c. 1940s
21 cms long.
Made in England
BAT SIZES
: Due to the different sizes of bats for sale we have classed bats under 28 inches as Mini, and bats over 28 inches as Full-size.
GRIPS
: Where necessary (due to wear & tear) we may replace original grips with new ones.