PAKISTAN CRICKET MEMORABILIA
1996 PAKISTAN SQUAD SIGNED BAT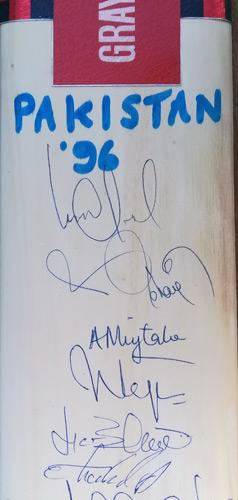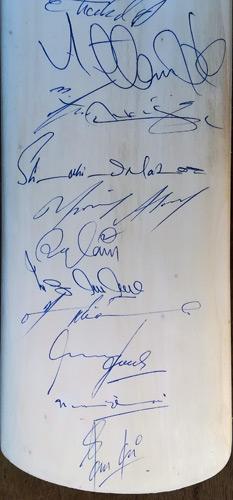 1996 PAKISTAN TOUR to ENGLAND & SCOTLAND squad signed full-size Gray Nicolls cricket bat.

Squad players include: Waqar Younis, Wasim Akram, Mushtaq Ahmed, Aamer Sohail, Ijaz Ahmed, Inzamam-ul-Haq, Saeed Anwar, Asif Mujtaba, Moin Khan, Saleem Malik, Asif Mujtaba, Rashid Latif, Saqlain Mushtaq, Shahid Nazir, Shadab Kabir & Mohammad Akram.

SOLD £150


1987 ENGLAND v PAKISTAN multi-signed Duncan Fearnley Magnum bat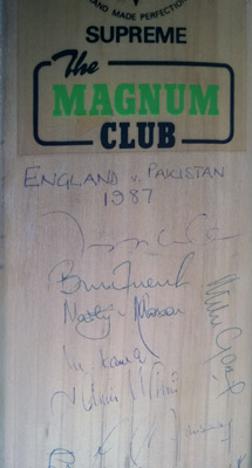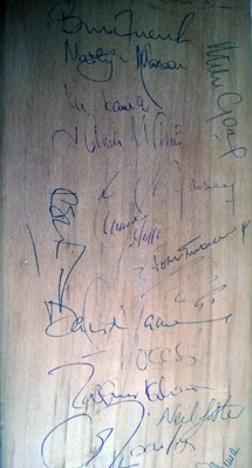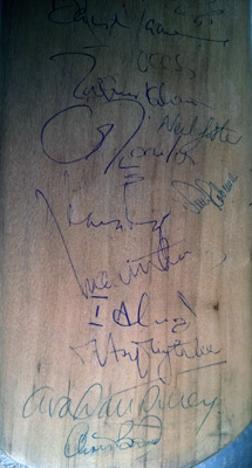 Celebrating Pakistan's first-ever Test series win in England this is a full-size bat signed by 24 players from both sides, inc: Pakistan captain Imran Khan, Javed Miandad, Abdul Qadir, Zakir Khan, Ijaz Ahmed, Shoaib Mohammad, Mohsin Kamal + England players inc Mike Gatting, David Gower, Chris Broad, Graham Dilley, Neil Foster, Tim Robinson, Martyn Moxon & Bruce French.

SOLD £150
-------------------------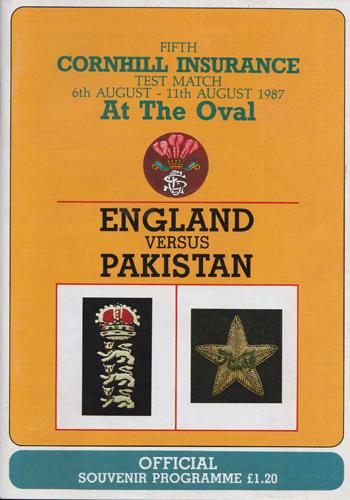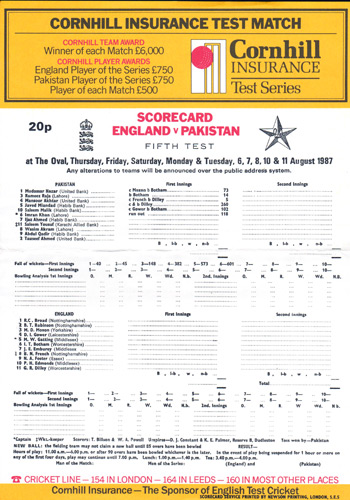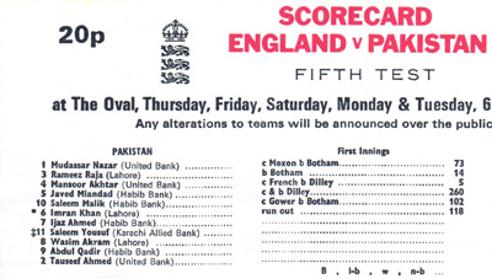 ENGLAND v PAKISTAN
1987 FIFTH TEST at The Oval Programme & Scorecard showing Pakistan's first innings which eventually ended on a record 708 all out with Javed Miandad scoring 260, Saleem Malik 102 & Imran Khan 118.
This test match was drawn & saw Pakistan win the five match series 1-0 ... for their first-ever series win in England.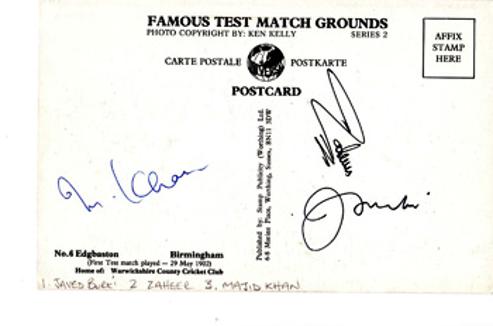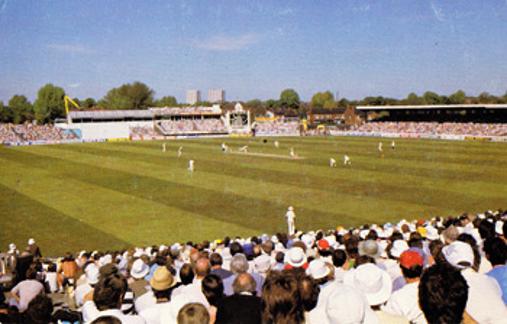 MULTI-SIGNED PAKISTAN TEST CRICKET POSTCARD of EDGBASTON CRICKET GROUND, BIRMINGHAM.
Signed by three former Pakistan captains:
MAJID KHAN, ZAHEER ABBAS & JAVED BURKI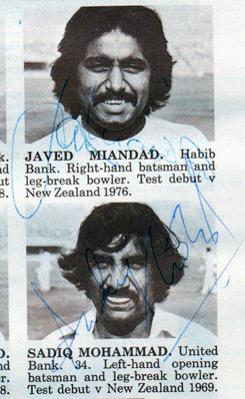 JAVED MIANDAD & SADIQ MOHAMMAD

Signed small bio-pics.
Sold as a pair.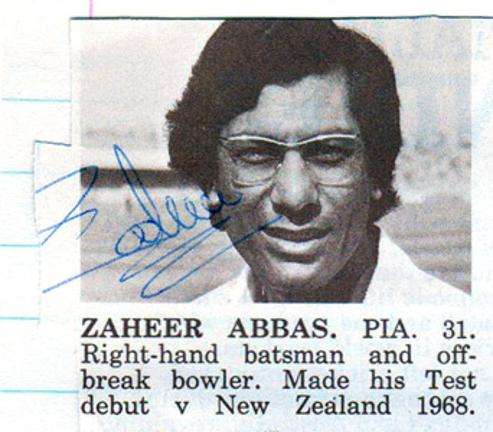 ZAHEER ABBAS


Signed small B&W bio-pic.
Scrapbook Quality*
MUSHTAQ AHMED Memorabilia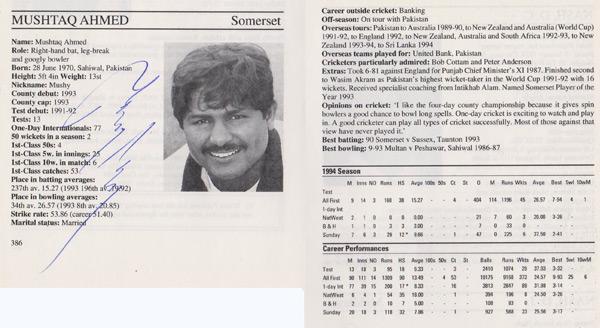 MUSHTAQ AHMED
(Somerset, Sussex & Pakistan)

Signed Cricketers Who's Who bio entry pages & portrait pic.
SHOAIB AKHTAR Memorabilia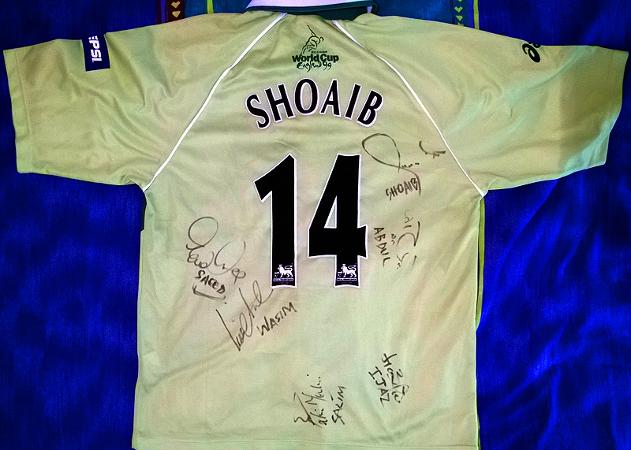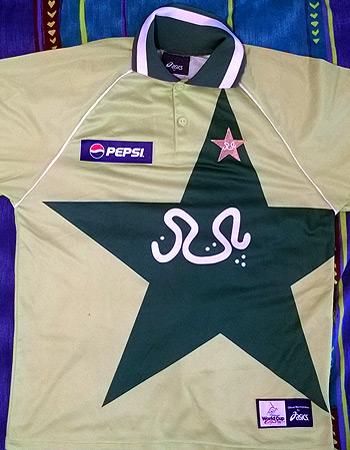 Multi-signed No. 14 Shoaib Akhtar official Pakistan World Cup 1999 One-Day cricket shirt
Signed on back by
:
Shoaib Akhtar,
Wasim Akram,
Salim Malik,
Ijaz Ahmed,
Saeed Anwar &
Adbul Razzaq.

S O L D £75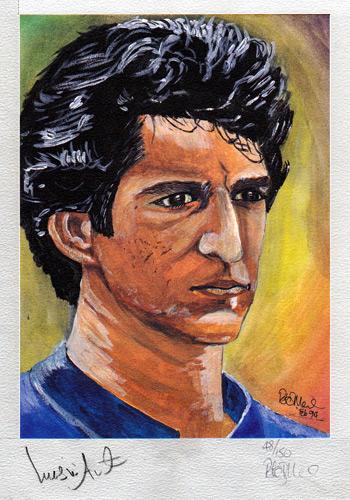 WASIM AKRAM

(Lancs CCC & Pakistan)
Signed Limited Edition portrait print

48 of 150 - 12" x 8"
Also signed by artist Peter Martin.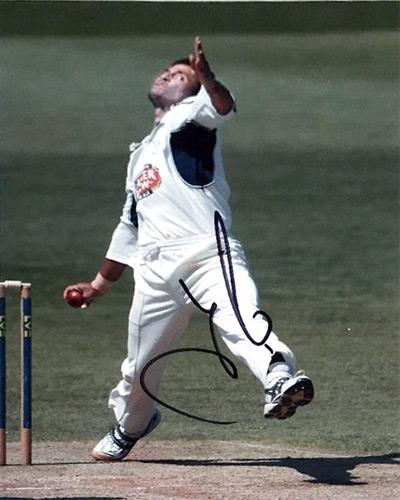 YASIR ARAFAT
(Kent, Sussex & Pakistan)


Signed colour photograph bowling for Kent.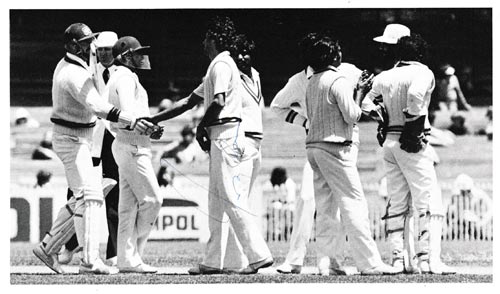 IMRAN KHAN


(Sussex CCC & Pakistan)

Signed B&W book pic showing Imran shaking hands with Australia's Dennis Lillee at the conclusion of a Test match.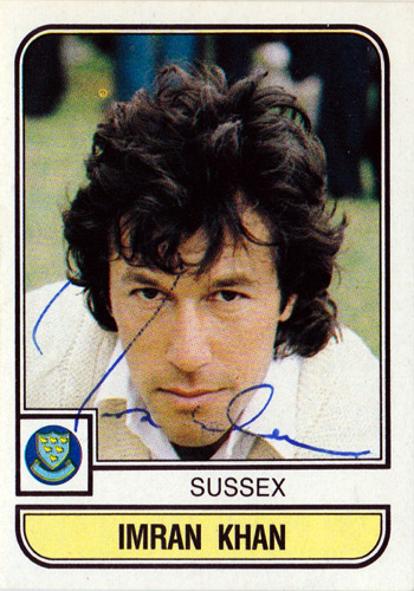 IMRAN KHAN


Signed Sussex county
player trading card
S O L D £40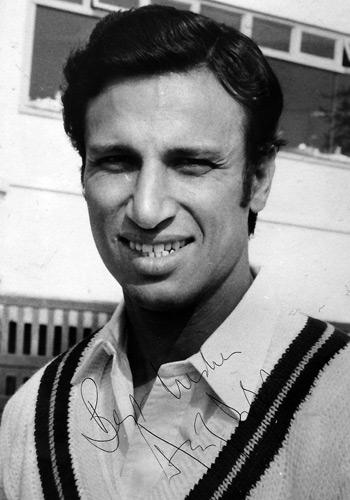 ASIF IQBAL
(Kent and Pakistan)

Autographed black & white photo.
Approx A5 size
--------------------------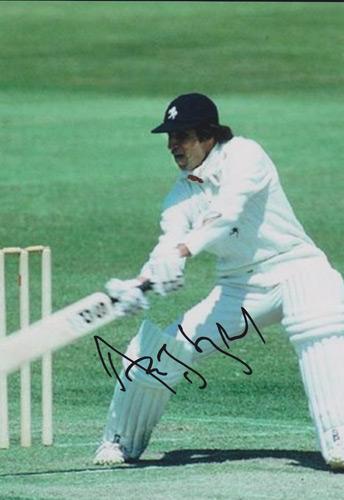 ASIF IQBAL
Signed colour KCCC photo.
Approx size: 18 x 25 cms

RANA NAVED ul HASAN Memorabilia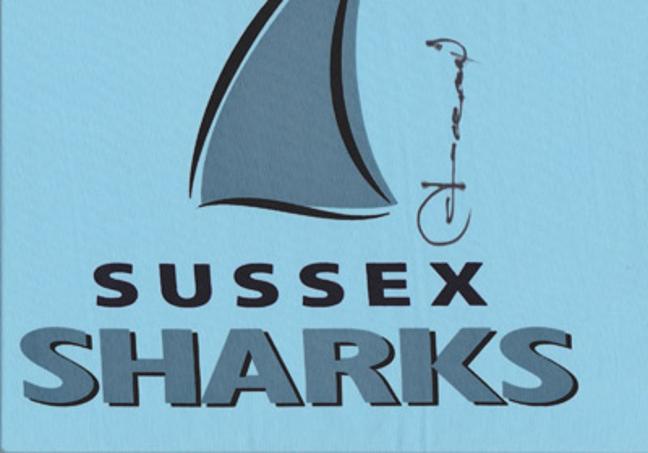 RANA NAVED

(Sussex CCC & Pakistan)
Signed Sussex Sharks flag.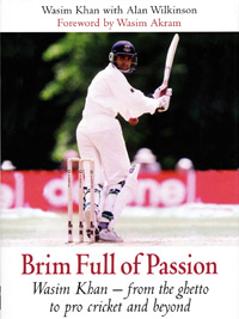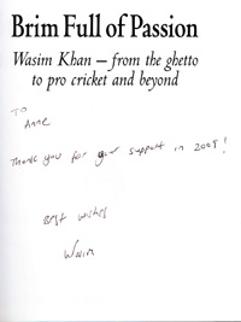 "BRIM FULL OF PASSION"
From the ghetto to pro cricket and beyond
by
WASIM KHAN
Autobiography Signed & Dedicated
First Edition
Foreword by Wasim Akram

Click here for more signed cricket books and other sports titles
JAVED MIANDAD Memorabilia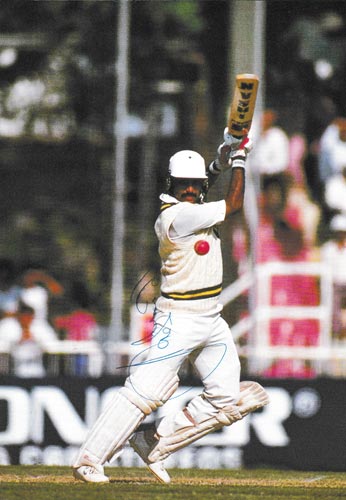 JAVED MIANDAD
(Sussex, Glamorgan & Pakistan)

Signed colour book pic batting against England.

Approx A4 size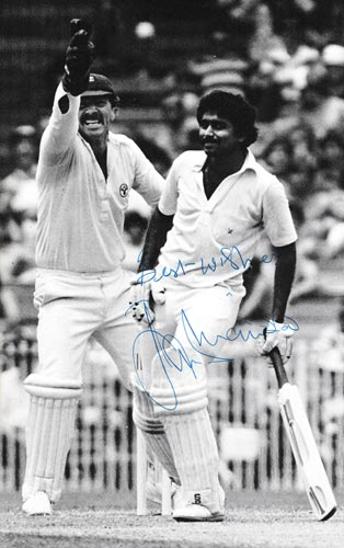 JAVED MIANDAD

Signed B&W book pic batting against Australia.

SOLD £10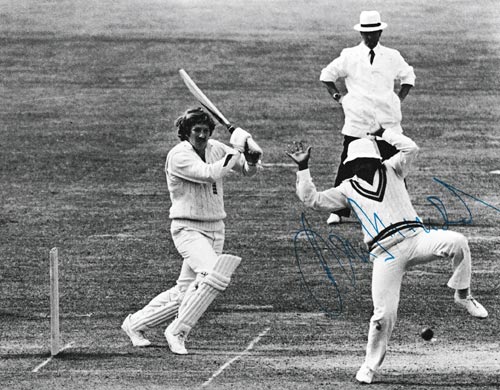 JAVED MIANDAD

Signed B&W book pic showing him avoiding a drive from Ian Botham.
SARFRAZ NAWAZ Memorabilia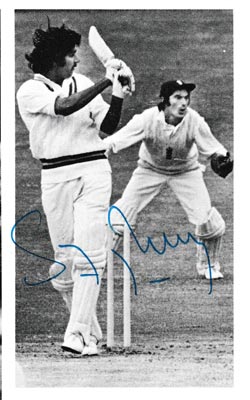 SARFRAZ NAWAZ
(Northants & Pakistan)

Signed small B&W book pic batting against England.
----------------------------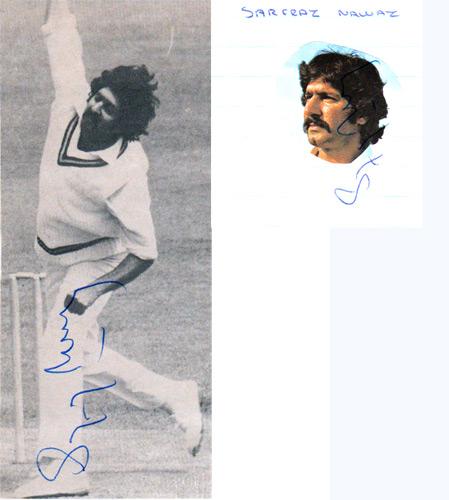 SARFRAZ NAWAZ

2 x signed magazine pics (cut outs)

Scrapbook Quality*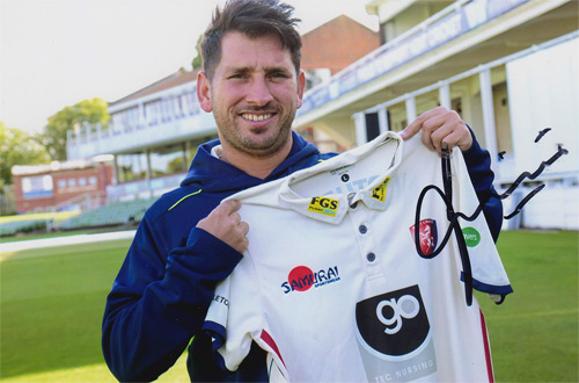 YASIR SHAH
(Kent & Pakistan)

Signed colour photograph at the Spitfire Ground, Canterbury.

Approx A5 size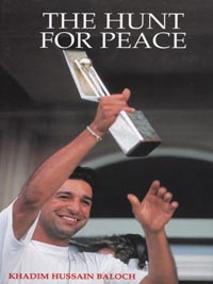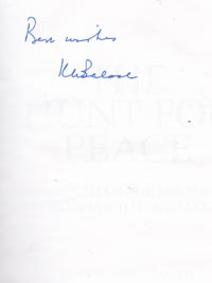 KHADIM HUSSAIN BALOCH



Signed hardback book: "The Hunt for Peace - An Account of the 1996 Tour by Pakistan to England."

First Edition (1997)
MAIN SPORTS MEMORABILIA MENUS