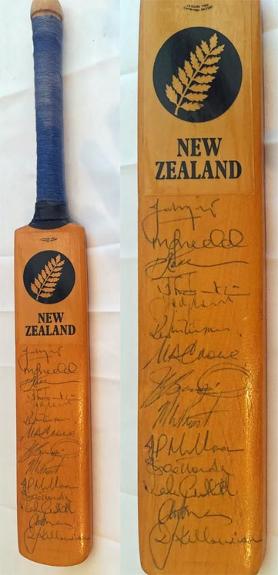 NEW ZEALAND 1990 SQUAD SIGNED MINI BAT
Signed by 14 players, John Wright, Richard Hadlee, Martin Crowe, John Bracewell, Mark Greatbatch, Danny Morrison, Ken Rutherford, Andrew Jones, Ian Smith, Martin Snedden, Mark Priest, Jonathan Millmow, Trevor Franklin & Shane Thomson.
Approx bat length: 44 cms
Autographs are crisp & clear

SOLD £50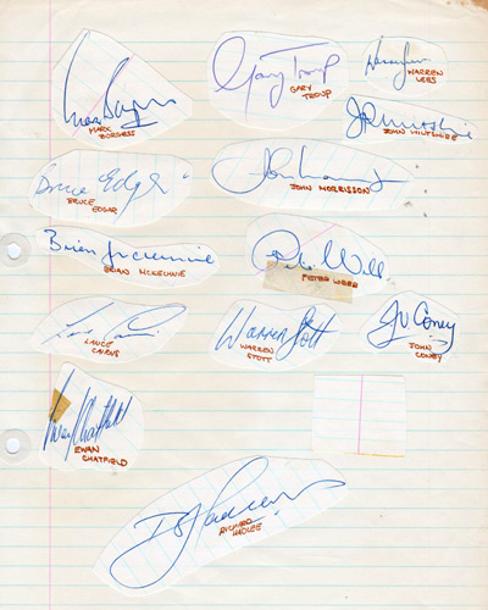 NEW ZEALAND
NZ Touring Party to England (c 1979).

13 autographs laid down on A4 lined paper.

Players' signatures include:
Mark Burgess (captain), Lance Cairns, Ewen Chatfield, Jeremy Coney, Bruce Edgar, Richard Hadlee, Warren Lees, Brian McKechnie, John Morrison, Warren Stott, Gary Troup, John Wiltshire & Peter Webb.

SOLD £15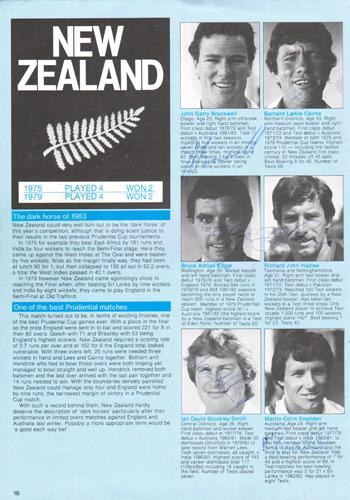 NEW ZEALAND
1982 World Cup Cricket bio page signed by: Richard Hadlee, John Bracewell, Lance Cairns, Bruce Edgar, Martin Snedden & Ian Smith.
Approx A4 size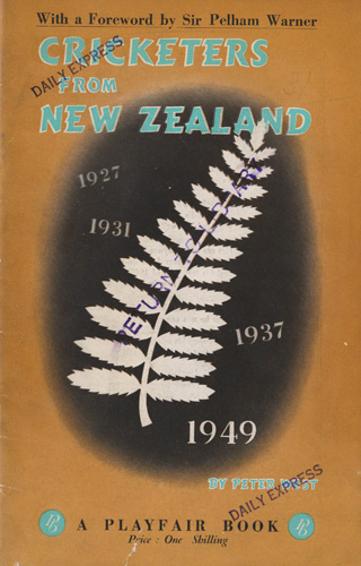 "CRICKETERS FROM NEW ZEALAND"
The 1949 Tour official Souvenir Booklet
by Playfair Books
Stamped "Daily Express" Office Copy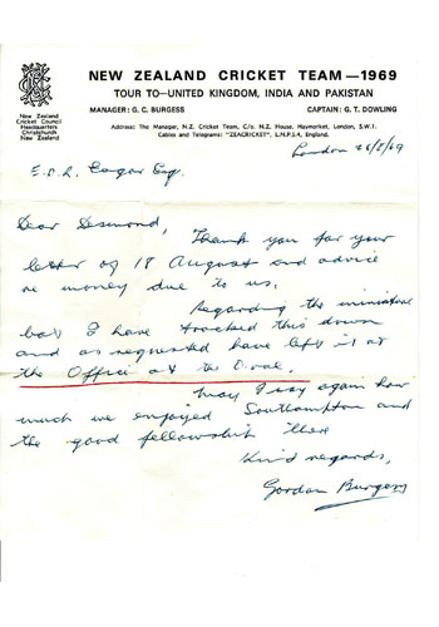 GORDON BURGESS

(NZ's England Tour Manager)

Signed
NEW ZEALAND 1969 England tour letterhead.
-------------------------
NZ PLAYERS MEMORABILIA
(Listed alphabetically)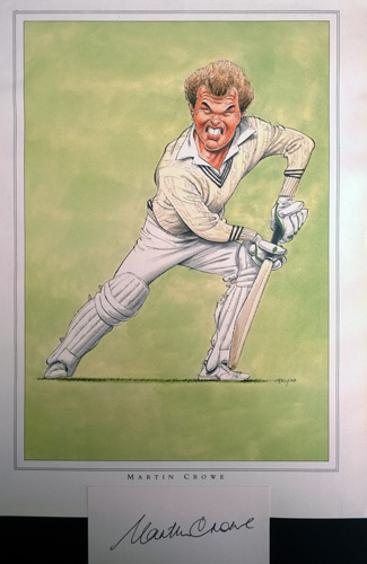 MARTIN CROWE
Autograph + John Ireland book plate
Approx A3 size


SIR RICHARD HADLEE MEMORABILIA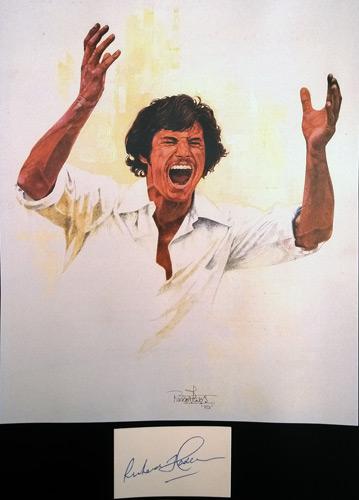 RICHARD HADLEE
Autograph + Lord's Taverners book plate
Approx A3 size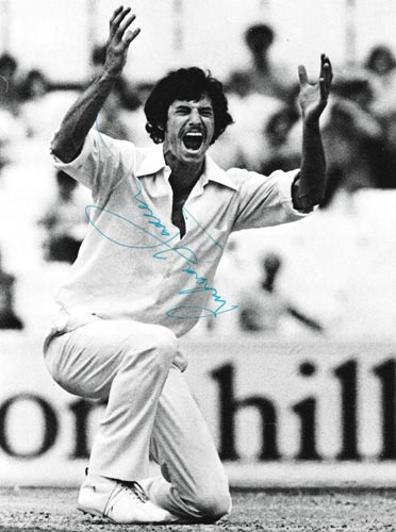 RICHARD HADLEE

Signed B&W book pic showing Hadlee appealing for an LBW against England in a Test match at the Oval.
-------------------------
RICHARD HADLEE

Signed B&W book pic showing Hadlee being run out by Ian Botham in a Test match against England at Lord's.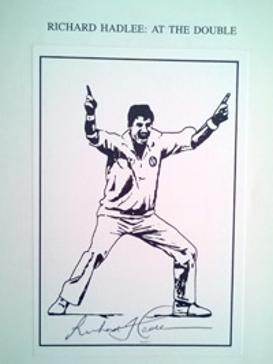 RICHARD HADLEE

"At the Double - The Story of Cricket's Pacemaker" - signed autobiography with laid down autograph plate.

First Edition (1985)
Ex School Library book with imprints
GEOFF HOWARTH MEMORABILIA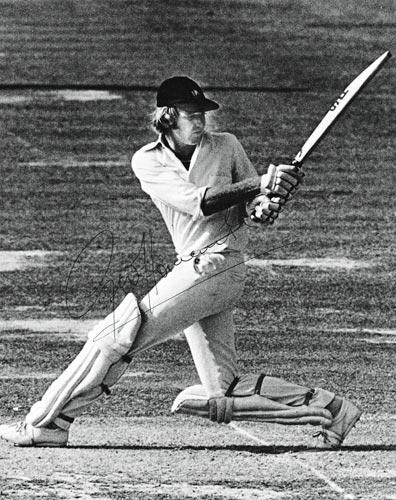 GEOFF HOWARTH

Signed B&W book pic showing Howarth batting against England in a Test match.

Approx A4 size

TOM LATHAM
Signed mini cricket bat.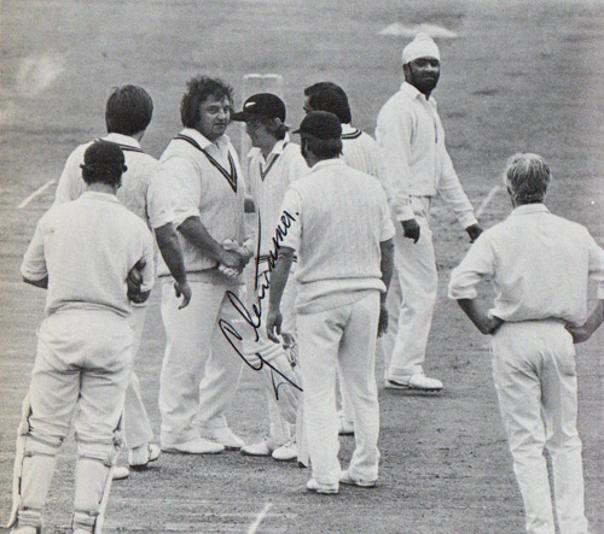 GLENN TURNER

Signed B&W book page pic playing for NZ against Northants CCC.

Welcome to Uniquely Sporting's sports shop / store page for New Zealand cricket memorabilia, Black Caps collectables & NZ cricket souvenirs, from autographed & signed items: photos, prints, posters, player cards, postcards, balls, boots, shirts, clothing, books & First Day Covers ...
PLEASE USE THE CONTACT US FORM ...
FOR FURTHER DETAILS ON THE ABOVE ITEMS.
IF YOU ARE LOOKING FOR A SPECIFIC ITEM
OR SPORTS STAR / TEAM / EVENT.
IF YOU HAVE A "UNIQUELY SPORTING" ITEM OF MEMORABILIA YOU WANT TO SELL, PLEASE SEND DETAILS WITH YOUR VALUATION & A CONTACT EMAIL / PHONE NUMBER.
Please note we cannot always reply to every enquiry given the amount of mail we receive. We will be in touch only if we are interested.
IF YOU HAVE ANY OTHER QUESTIONS...
WE LOOK FORWARD TO HEARING FROM YOU!
-