ICE HOCKEY MEMORABILIA SIGNED COLLECTABLES
(NHL, STANLEY CUP, AHL, EIHL, IIHF & OLYMPICS)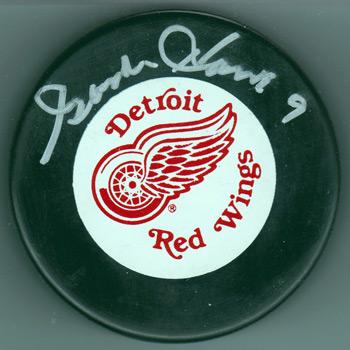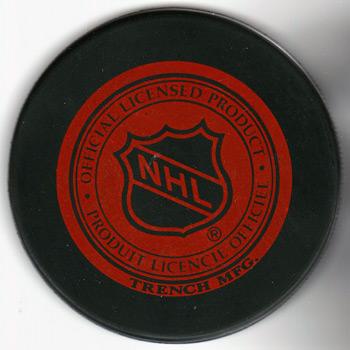 GORDIE HOWE
Signed Detroit Red Wings NHL puck
in display stand.

"Mr Hockey"
4 x Stanley Cup champion
6 x League MVP (Hart Trophy winner)
6 x NHL leading Scorer (Art Ross Trophy winner)

NHL Hall of Fame (1972)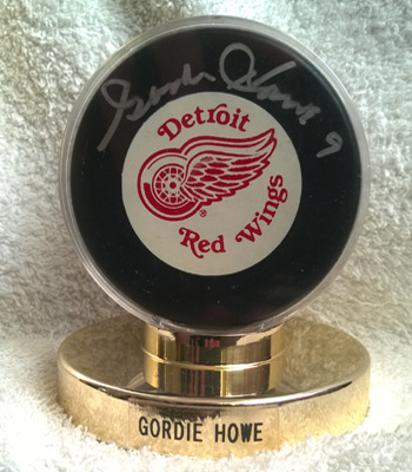 CHICAGO BLACKHAWKS MEMORABILIA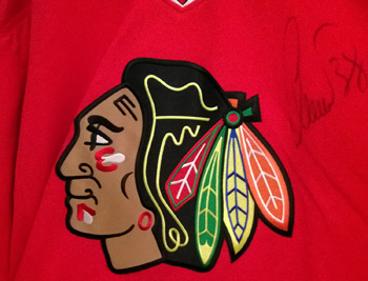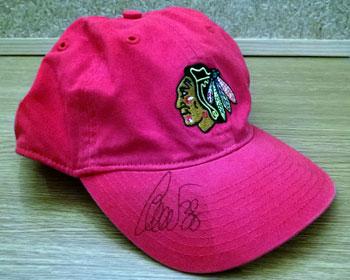 CHRISTOBAL HUET (France)
(Goalie - 2010 Stanley Cup winner)

Signed Chicago Blackhawks hockey jersey (with tags) &
NHL
cap.
--------------------------

CHICAGO BLACKHAWKS
2010 Stanley Cup Champions Bud Light Commemorative beer bottle (limited edition).
Bottle is empty and has a couple of mimnor dents.
1980 OLYMPIC "MIRACLE ON ICE" MEMORABILIA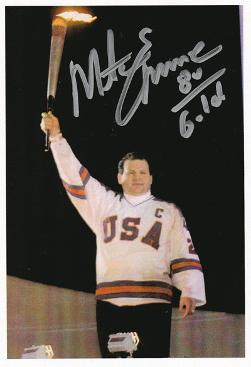 MIKE ERUZIONE Memorabilia
Signed 7"x5" colour photo of the 1980 Olympic USA National Ice Hockey team captain Mike Eruzione.


Scoring the winning goal Eruzione led the underdog US team in the "Miracle on Ice" 4-3 win over Russia in the Final round, and onto take the gold medal in Lake Placid.

The photo shows Eruzione with the Olympic Torach
just before he lit the Olympic Cauldron
at the 2002 Salt Lake City Winter Olympics, where he reunited with his 1980 gold-medal winning team-mates.

Eruzione has signed the photo in silver ink
and added "80 Gold"
ICE HOCKEY TRADING CARDS
Contact Us for more details and prices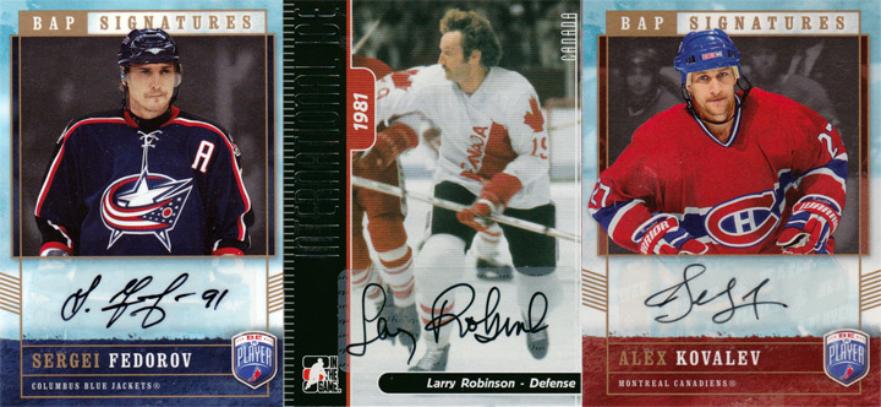 SERGEI FEDOROV (1994 NHL MVP Hart Trophy winner)
LARRY ROBINSON (2 x James Norris Memorial Trophy NHL's most outstanding defenceman)
ALEX KOVALEV (First Russian player to be drafted in the NHL's first round)
signed NHL hockey trading cards
--------------------------

SEAN BURKE
(Whalers),
TOMMY SALO
(Islanders) &
STEVE LARMER
(Blackhawks)
signed NHL trading cards.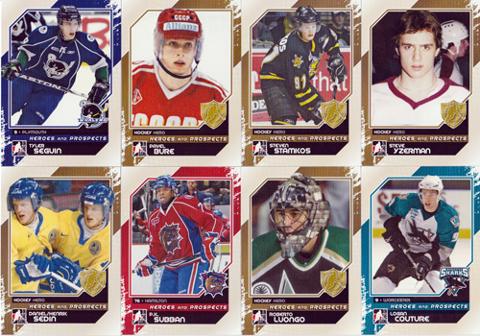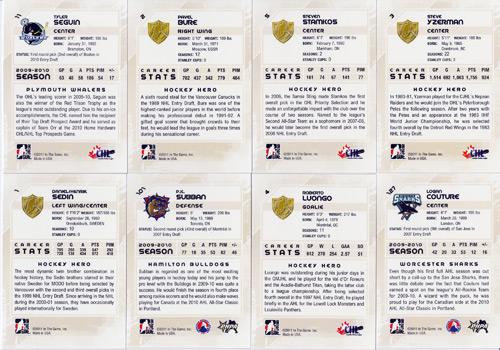 AHL / NHL "HEROES & PROSPECTS" BOXED CARD COLLECTION
Trading cards in clear plastic display box include: Tyler Seguin, Pavel Bure, Steven Stamkos, Steve Yzerman, Daniel & Henrik Sedin Twins, PK Subban, Roberto Luongo & Logan Couture. Released Jan 2011
INTERNATIONAL ICE HOCKEY MEMORABILIA


IIHF World Championships badge collection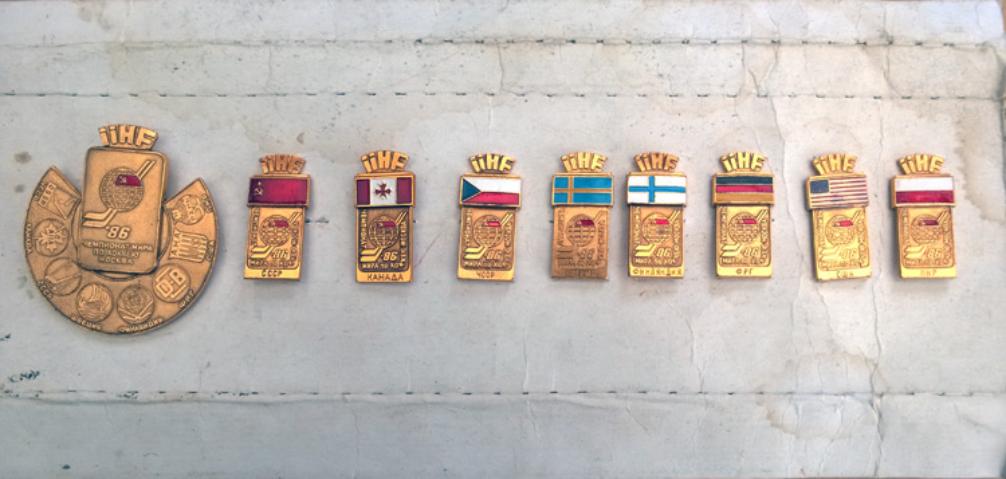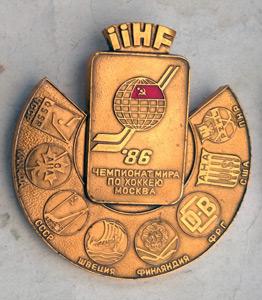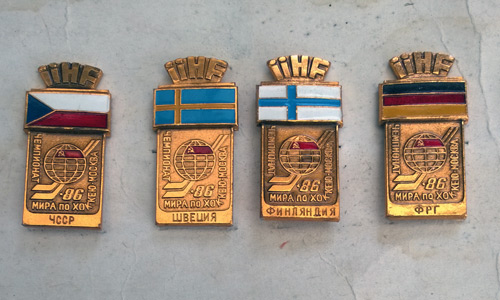 1986 IIHF Moscow World Championships collection of 9 pin badges inc large Main Badge featuring logo & all eight competing nations, plus individual nation & enamel flag badges: Russia, Canada, Czech Republic, Sweden, Finland, Germany, USA & Poland.
Mounted on a card display.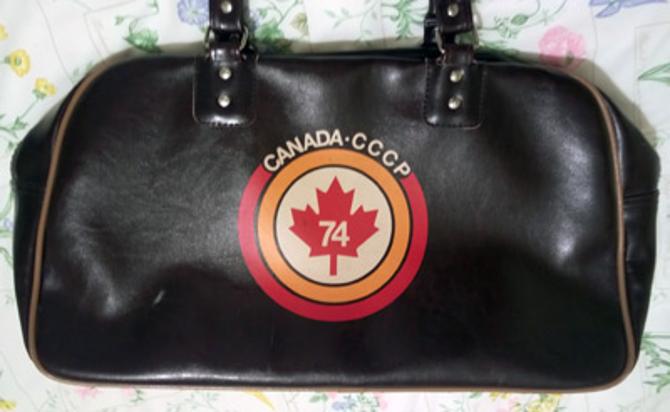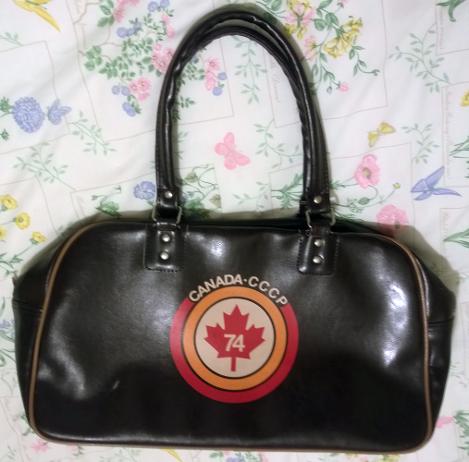 1974 SUMMIT SERIES BROWN HOLDALL BAG
Canada v CCCP International Ice Hockey Competition between players from the WHA and Soviet Union over 8 games in Canada and Moscow.
Welcome to Uniquely Sporting's sports shop / store page for authentic North American Football memorabilia, Baseball collectables, Basketball collectibles & Ice Hockey souvenirs - with a great collection of autographed & signed items: photos, prints, posters, artwork, cards, balls, caps, helmets, shirts, jerseys, clothing & books ... NFL, MLB, NBA, NHL, NCAA, CFL, AHL, Hall of Fame & Major League. From gridiron to diamond, court to rink, New York to Los Angeles, New Orleans to Chicago, USA to Canada, Yankees to Cowboys, Giants to Cardinals, Eagles to Dolphins, Reds to Red Sox, Super Bowl to World Series, Stanley Cup to World Championships.
PLEASE USE THE CONTACT FORM >>>
FOR FURTHER DETAILS ON THE ABOVE ITEMS.
IF YOU WANT TO BUY AN ITEM OR ITEMS ... PLEASE SEND US YOUR BID OFFER.
IF YOU ARE LOOKING FOR A SPECIFIC ITEM OR SPORTS STAR / TEAM / EVENT.
IF YOU HAVE A "UNIQUELY SPORTING" ITEM OF MEMORABILIA YOU WANT TO SELL, PLEASE SEND DETAILS WITH YOUR VALUATION & A CONTACT EMAIL / PHONE NUMBER.
Please note we cannot always reply to every enquiry given the amount of mail we receive. We will be in touch only if we are interested.
IF YOU HAVE ANY OTHER QUESTIONS...
WE LOOK FORWARD TO HEARING FROM YOU!
-