FULHAM FC FOOTBALL MEMORABILIA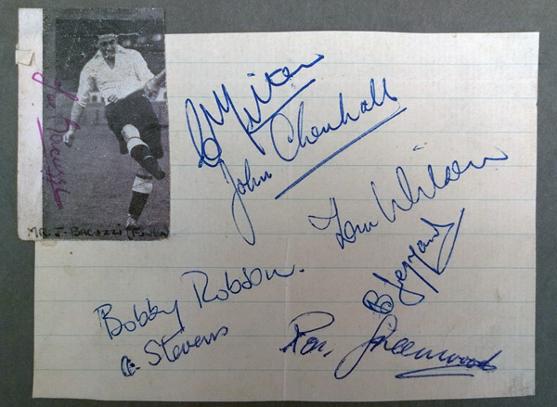 1950s FULHAM PLAYER AUTOGRAPHS
Autograph page signed by seven Fulham FC players from the 1950s inc two future England football managers: Bobby Robson & Ron Greenwood. Also signed by Joe Bacuzzi (+ B&W pen pic), Charlie Mitten, Arthur Stevens, Bedford Jezzard, John Chenhall & Tom Wilson.
Approx size: 15 x 11 cms.
--------------------------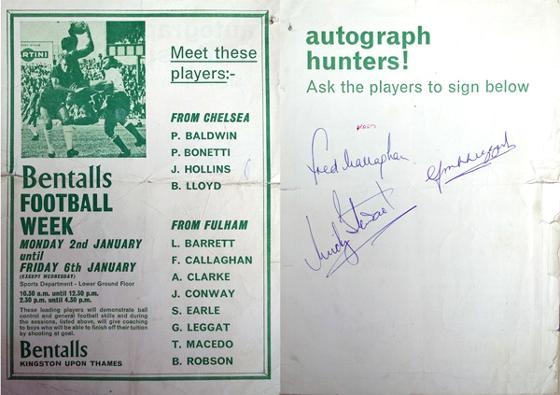 Bentall's 'Meet the Players' autograph leaflet (c. 1965) Signed by 2 Fulham players:
Graham Leggat & Fred Callaghan
(Also signed by England & Surrey cricketer Micky Stewart).
Approx size: 16 x 22 cms.
Front & back shown
-------------------------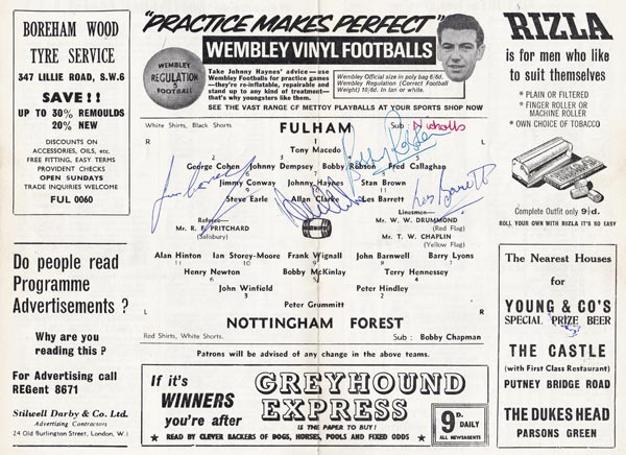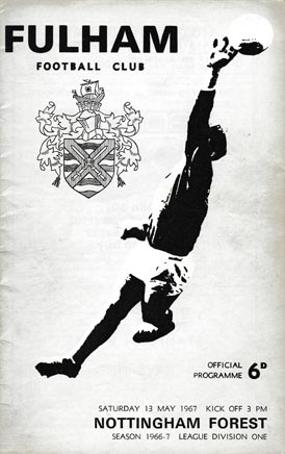 1967 FOOTBALL LEAGUE DIV ONE PROGRAMME
v Nott'm Forest
Signed inside on team line up centre page by Bobby Robson
(in his last playing appearance for Fulham F.C. - 13 May 1967)
+ Allan Clarke, Jimmy Conway & Les Barrett.

FULHAM PLAYER MEMORABILIA

(Listed Alphabetically)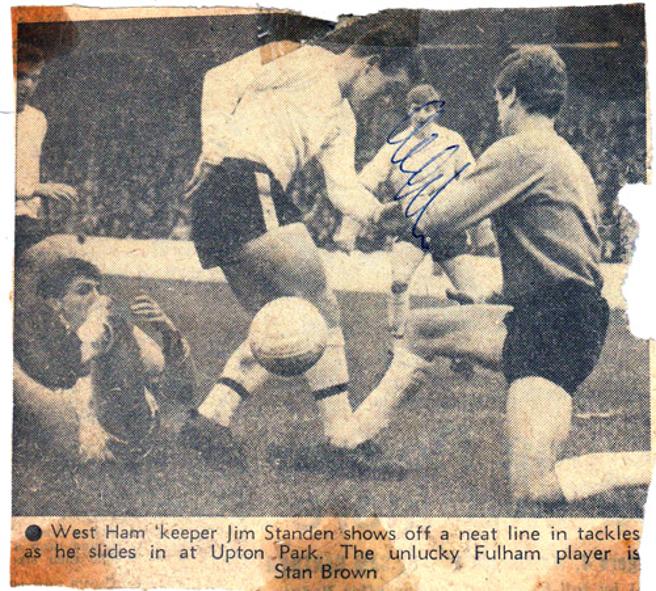 STAN BROWN




Signed 1960s newspaper clipping showing Stan playing against West Ham Utd
Scrapbook Quality*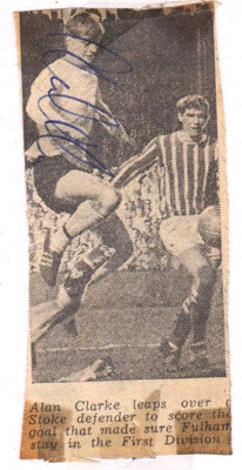 ALLAN CLARKE
(Fulham, Leeds Utd & England)


Signed late 1960s newspaper clipping.

Scrapbook Quality*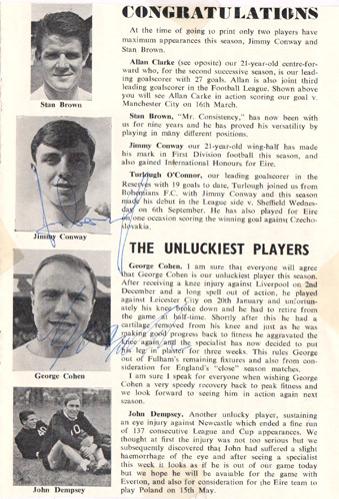 (Fulham & England 1966 World Cup Winner)
Signed 1968 Fulham programme notes page.
Also signed by Jimmy Conway.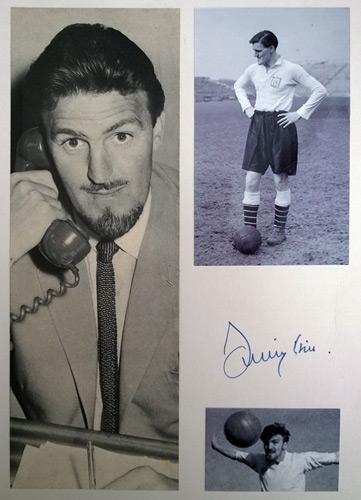 JIMMY HILL
Autographed 1950s Fulham FC montage.

Approx A4 size.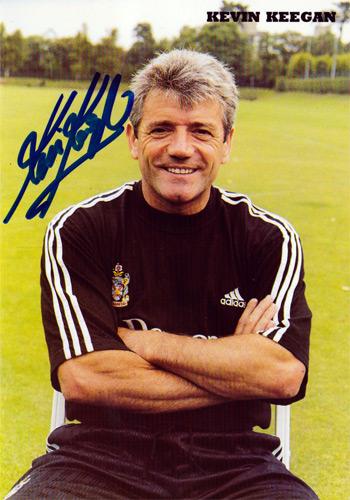 KEVIN KEEGAN
Signed Fulham FC manager A5 photo / postcard

ARTHUR STEVENS MEMORABILIA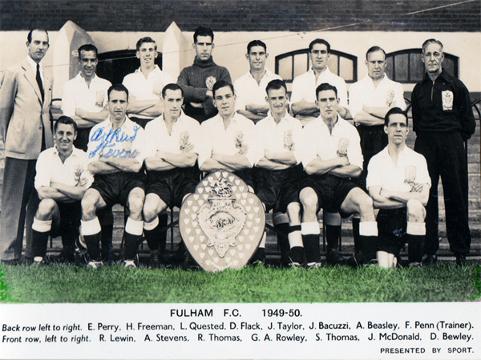 ARTHUR STEVENS
Signed Fulham FC team pic (1949-50)

Approx size: 13 x 10 cms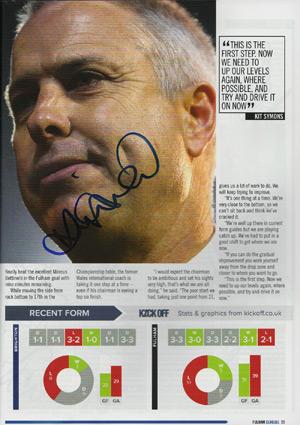 KIT SYMONS


(Fulham manager 2014-15)

Signed 2014 programme page & portrait pic.

FULHAM FC Official Silk Neck Tie
Black with silver banded stripes & FFC club logo

100% Silk
Welcome to Uniquely Sporting's sports shop / store page for Fulham FC football memorabilia & soccer collectables, with a great collection of autographed & signed items: photos, prints, posters, cards, balls, boots, shirts, clothing, books & First Day Covers.
PLEASE USE THE CONTACT US FORM >>>
FOR FURTHER DETAILS ON THE ABOVE ITEMS.
IF YOU ARE LOOKING FOR A SPECIFIC ITEM OR SPORTS STAR / TEAM / EVENT.
IF YOU HAVE A "UNIQUELY SPORTING" ITEM OF MEMORABILIA YOU WANT TO SELL, PLEASE SEND DETAILS WITH YOUR VALUATION & A CONTACT EMAIL / PHONE NUMBER.
Please note we cannot always reply to every enquiry given the amount of mail we receive. We will be in touch only if we are interested.
IF YOU HAVE ANY OTHER QUESTIONS...
WE LOOK FORWARD TO HEARING FROM YOU! -