1957 TOUR de FRANCE Media Guide Video Documentary
"Alex Virot - The Voice of the Tour de France"
with Special Guest FELIX LOWE (aka Blazin' Saddles)
It is not often that a simple item of Sports Memorabilia spawns not one, but two documentary-style videos. The 44th edition Tour de France Media Guide [below left] did just that; thanks to the three autographs [below right] on the front cover. As well as a unique sporting perspective, this vintage journalist's reference booklet full of race and stage details also spawned a tragic human interest story. With the help of Eurosport's cycling expert Felix Lowe, we slowly uncovered a touching tale of two-wheeled tradition, triumph and tragedy.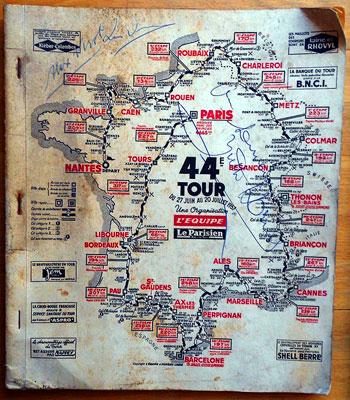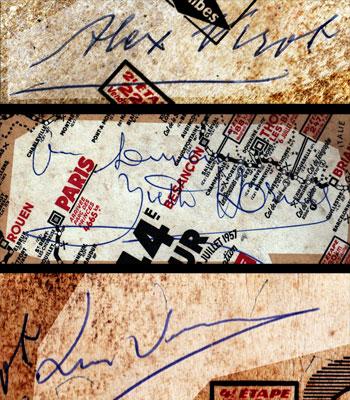 In the following two videos, Uniquely Sporting's Colin M Jarman and cycling author Felix Lowe look at the history & characters behind an intriguing item of vintage Tour de France memorabilia. The 1957 TDF Media Guide provides a number of interesting facets of Tour history with a tragic human twist.
PART ONE: Alex Virot "Voice of the Tour" Tribute
"THE VOICE of the TOUR DE FRANCE"
Part One: CREDITS & THANKS
FELIX LOWE aka Blazin' Saddles / @SaddleBlaze
Rapha Cycle Club Cafe & Shop, Soho, London
L'Equipe / Miroir Sprint / New York Times
Cohira.fr / l'Humanite.fr / VosgesMatin.fr
Noël Tulot / Émile Besson / Renée Viard
Jean-Marie LeBlanc / Marcel Queheille / Jean Luc Moxhet
Video: 1951 TdF Footage courtesy:
ArchiveAlive.org / ArchivesEnLigne.fr
Music (via YouTube):
'MotoCross' by Mohr / Elena
'Grass' by Silent Partner
PART TWO: Virot, Anquetil, Horner & more ...