Signed WIGAN WARRIORS Memorabilia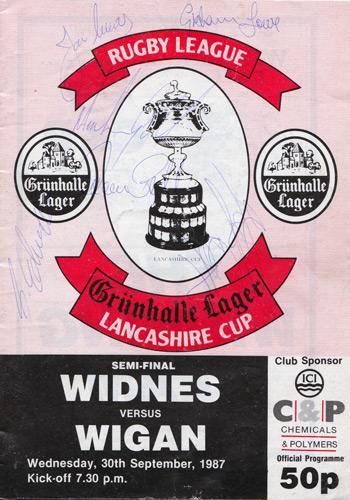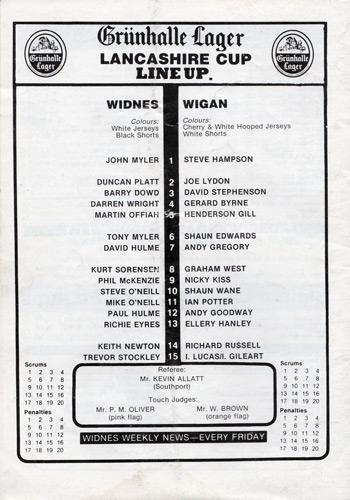 WIGAN RUGBY LEAGUE memorabilia
Lancashire Cup Semi-Final programme v Widnes (Wed 30th Sept 1987)
Cover signed by six players: Graham Lowe, Shaun Edwards, Ian Lucas, Henderson Gill, Dean Bell &
Ian Gildart (?)
.
KRIS RADLINSKI MEMORABILIA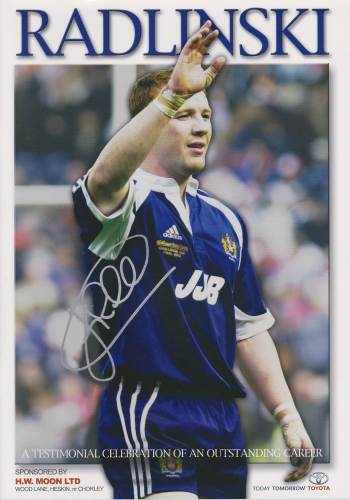 KRIS RADLINSKI
(Wigan Warriors - 1993-2006
& Great Britain)
Signed 2005 Rugby League Testimonial Brochure.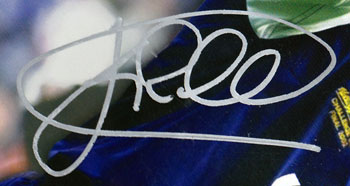 MARTIN OFFIAH MEMORABILIA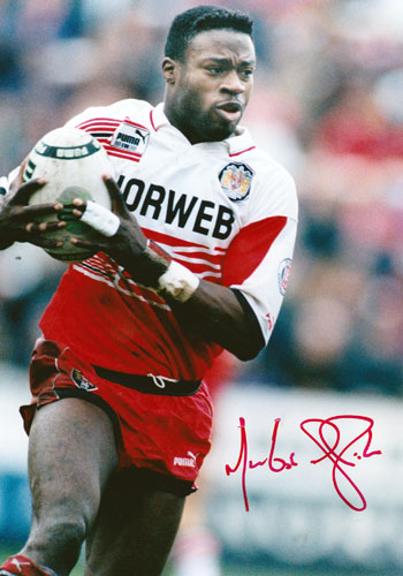 MARTIN OFFIAH
aka 'Chariots of Fire'
(Wigan Warriors - 1992-95
Widnes, London Broncos, Wasps, & Great Britain)
Signed Rugby League photo.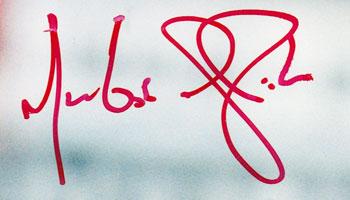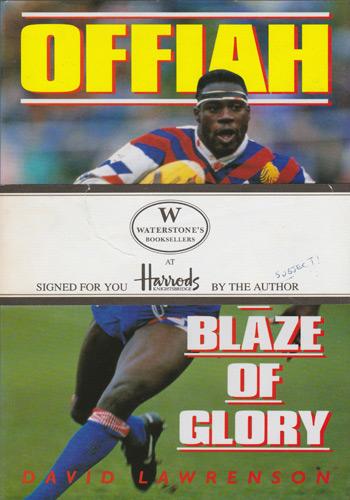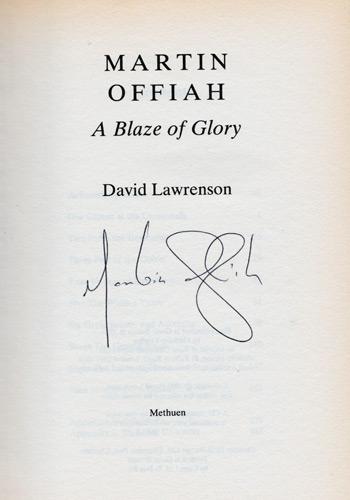 MARTIN OFFIAH


Autographed biography "A Blaze of Glory" by David Lawrenson
First Edition (1983)
Signed at Waterstones in Harrods store (with branded strap)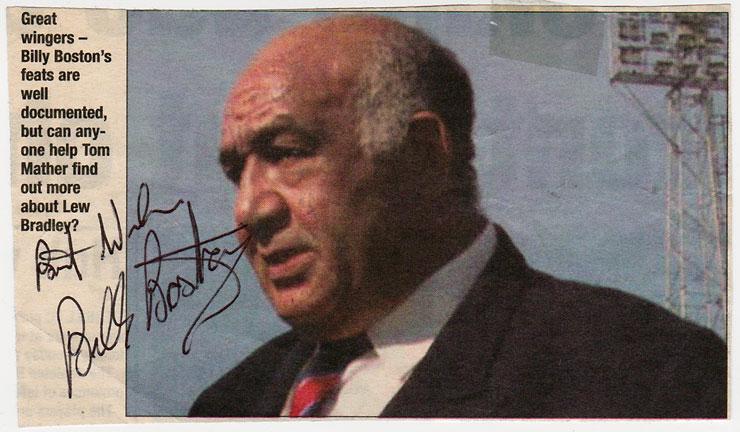 BILLY BOSTON
(Wigan 1953-1968 & Great Britain)
2 x signed newspaper pictures:
Above: Portrait photo & Below: Great Britain XIII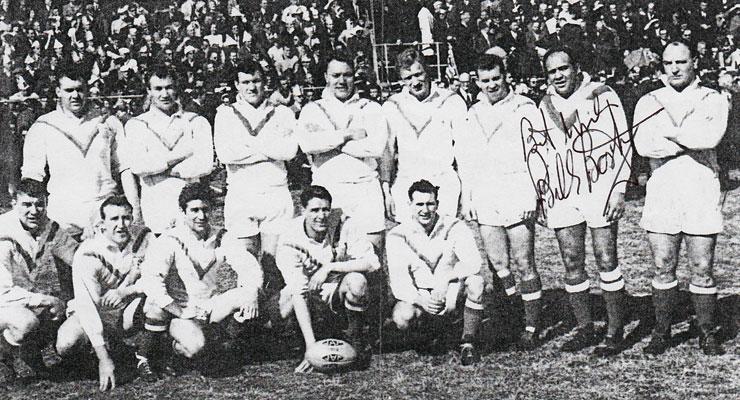 SHAUN EDWARDS MEMORABILIA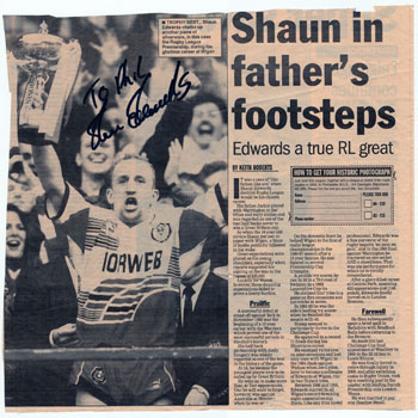 SHAUN EDWARDS
(Wigan Warriors - 1983-97
& Great Britain)
Signed Rugby League newspaper article.
Scrapbook cutting*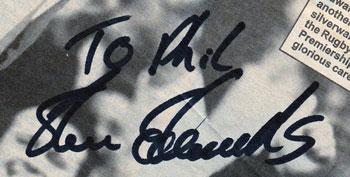 ANDY FARRELL
(Wigan Warriors - 1991-2004
Saracens RUFC, England & Great Britain)
Signed 'Rugby League World' (2004)
magazine page on Wigan's Immortals All-Time XIII.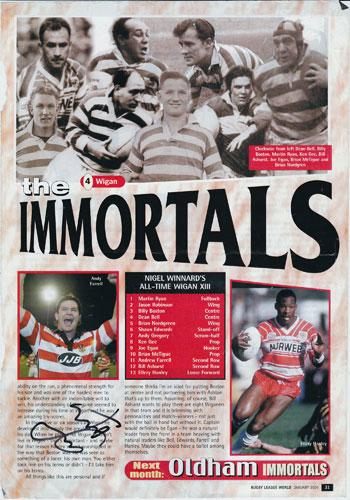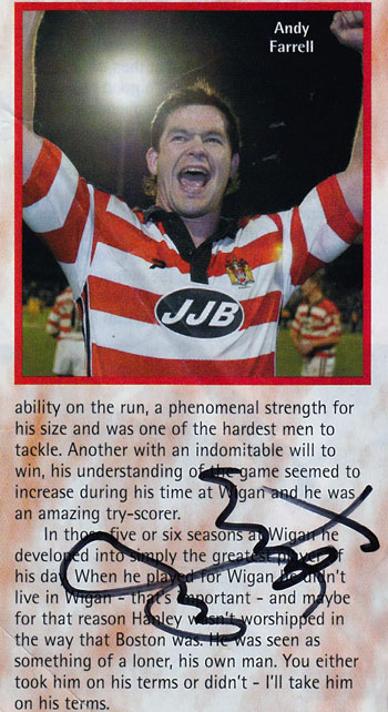 MICK SULLIVAN MEMORABILIA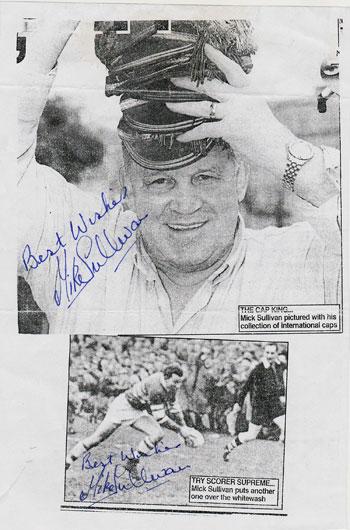 MICK SULLIVAN
(Wigan - 1957-61
+ Huddersfield, St Helens & Great Britain)
2 x Signed Rugby League magazine pics.
Scrapbook cuttings*
S O L D £5.00
JASON ROBINSON MEMORABILIA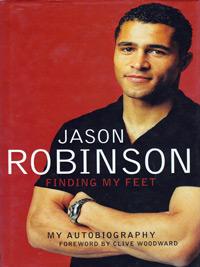 JASON ROBINSON
(Wigan Warriors - 1992-2000
Sale Sharks RUFC, Great Britain, England
& British Lions)
Signed autobiography
"Finding My Feet"
First Edition
SOLD £20
Welcome to the Uniquely Sporting Sports Memorabilia page for Wigan Rugby league memorabilia and Wigan Warriors memorabilia, and other rugby league related rugby collectables and signed souvenirs.