WALES RUGBY MEMORABILIA
(Players listed alphabetically)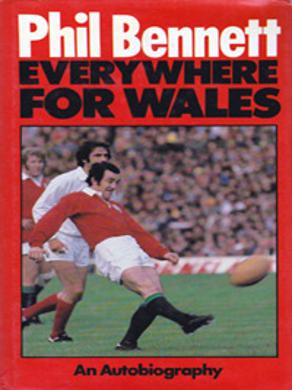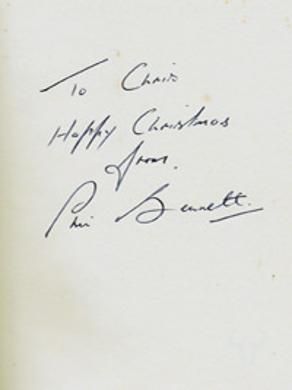 PHIL BENNETT
Signed & Dedicated autobiography "Everywhere for Wales"
Hand-written message
"To Chris, Happy Christmas
from Phil Bennett"
First Edition (1991)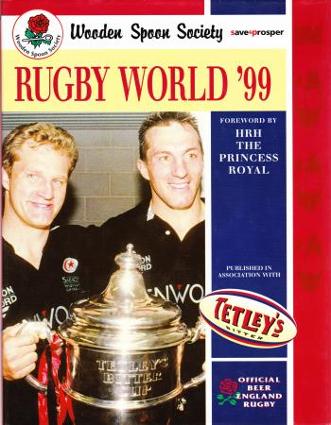 PHIL BENNETT
Signed Wooden Spoon Rugby World Yearbook 1999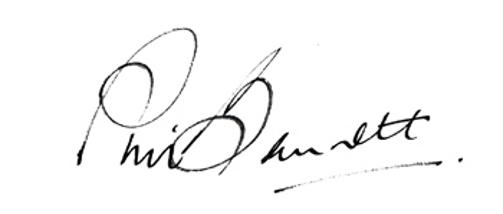 GARETH EDWARDS Memorabilia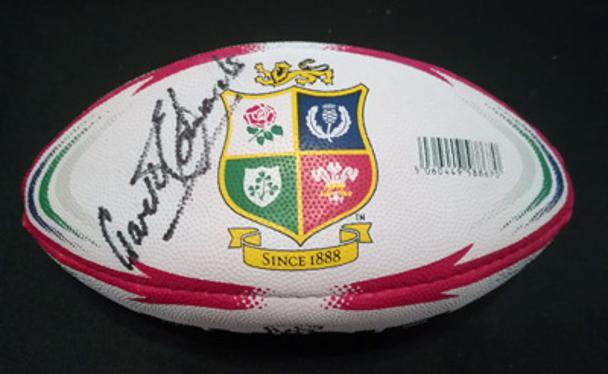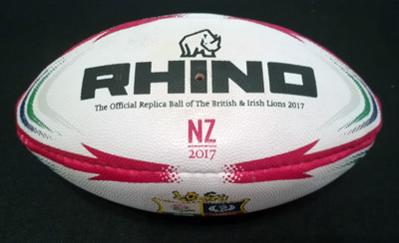 Signed 2017 British Lions v New Zealand Tour Rhino Official Replica Mini Ball.

SOLD £30

-----------------------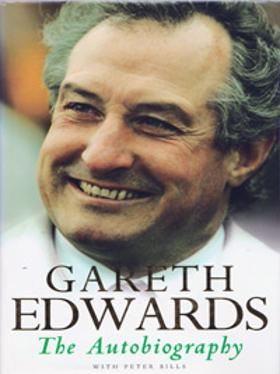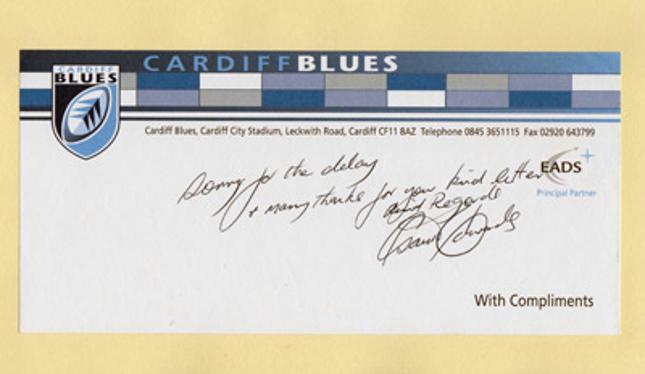 "The Autobiography" with - on inside page - laid down signed Cardiff Blues compliments slip and handwritten note.

First Edition (1999)

---------------------------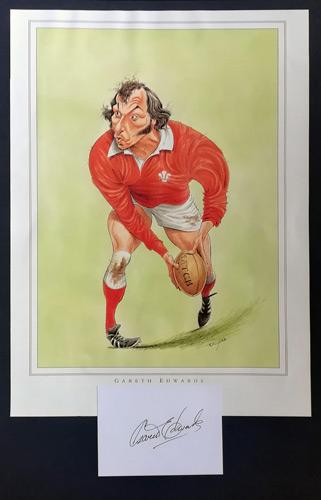 Autograph card laid down on John Ireland caricature print.

Approx A3 size.
STEPHEN JONES Memorabilia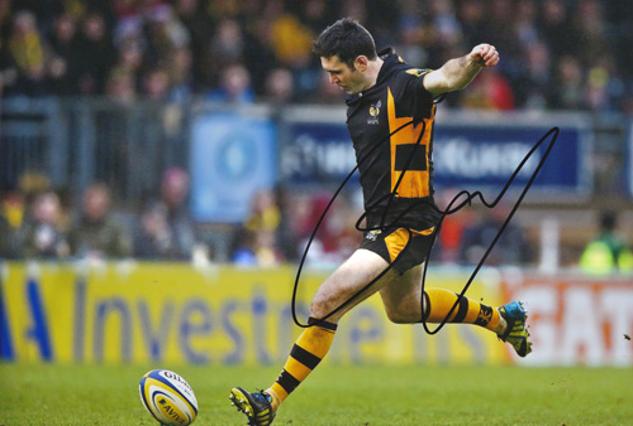 STEPHEN JONES
(Wasps & Wales)
Signed Wasps RUFC photo.
Approx A4 size
CLIFF MORGAN
(Cardiff, Wales, Barbarians & Lions)

Signed B&W action photo (playing for the British Lions) laid down autographed / hand-written note.

Approx A5 size.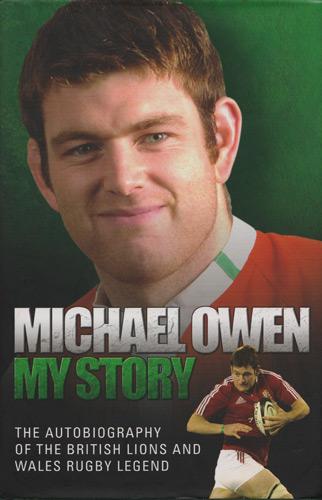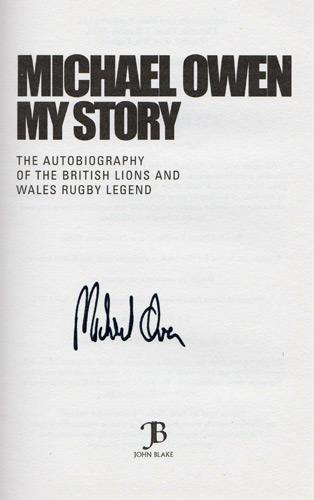 MICHAEL OWEN
(Pontypridd, Newport Dragons, Saracens, Wales & British Lions)
Signed hardback book "My Story - The Autobiography of the British Lions and Wales Rugby Legend.
First Edition (2011)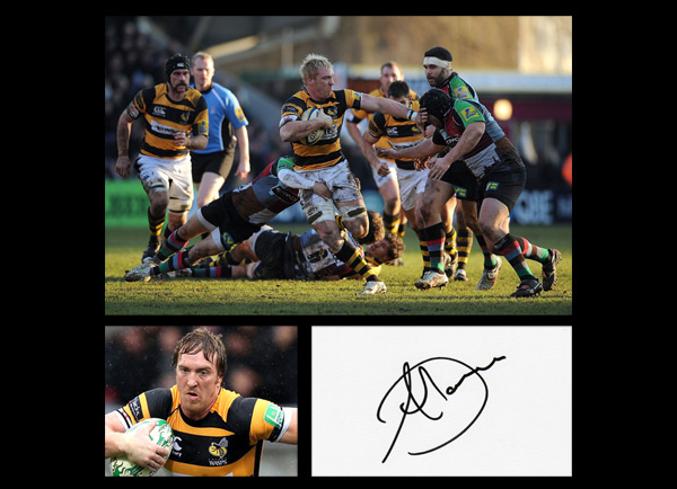 ANDY POWELL
(Cardiff, Wasps, Sale, Wales)

Autograph card + action photos playing for Wasps - mounted on card (for framing).

Approx A4 size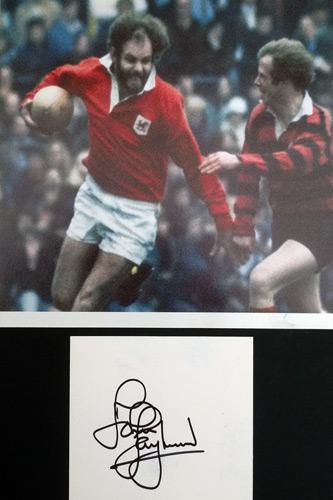 JOHN TAYLOR

Autograph card + action photo playing for Wales - mounted on card (for framing).

Approx A4 size
J.P.R. WILLIAMS Memorabilia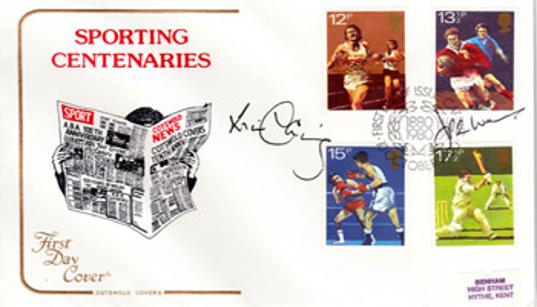 JPR WILLIAMS
&
WILL CARLING
co-signed Sporting Centenaries First Day Cover.
WELSH TEAM memorabilia
(Club & Country alphabetically)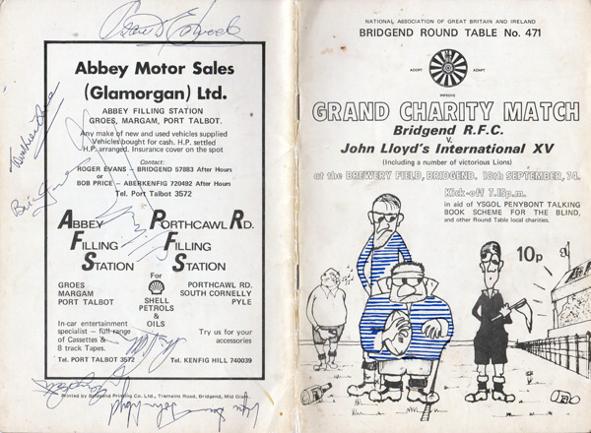 BRIDGEND RFC

Multi-signed Grand Charity Match Programme at Brewery Field
(18 Sept 1974)
Back cover signed by eight including Wales & 1974 British Lions legends: Gareth Edwards, Phil Bennett & JJ Williams + future Wales Head Coach John Lloyd and Brian Jones + Ireland's Tom Kiernan and Welsh soccer star Wyn Davies.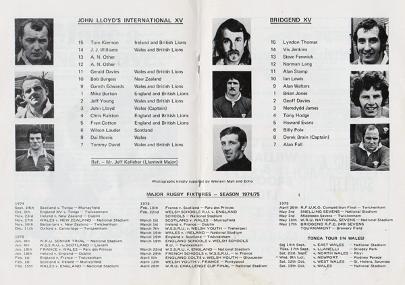 CARDIFF BLUES Memorabilia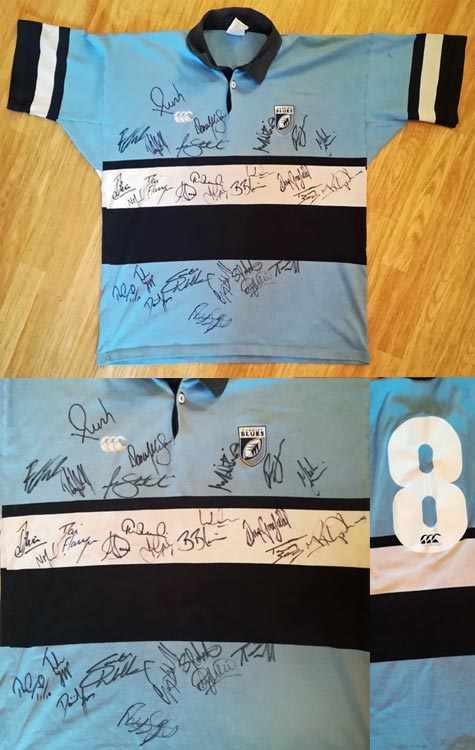 XAVIER RUSH
(Cardiff 2005-12 & New Zealand)

Player issued / worn No 8 training top (c 2008)
signed by 27 players inc: Rush, Paul Tito, Ben Blair, Martyn Williams, Tom Shanklin, John Yapp, Maama Molitika, Dai Flanagan, Taufa'ao Filise, Deiniol Jones, Andy Powell, Duane Goodfield, Marc Stcherbina, Scott Roberts, coach Dai Young and 12 others.

SOLD £90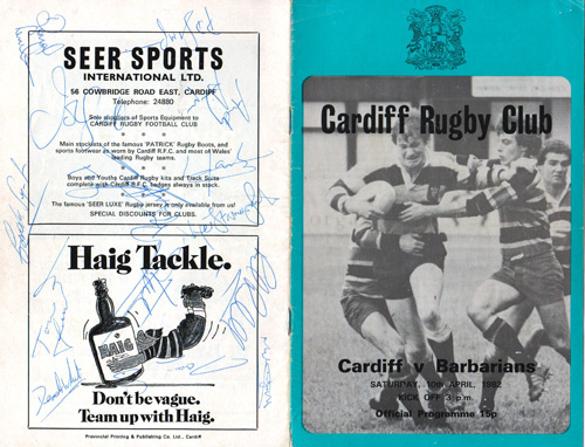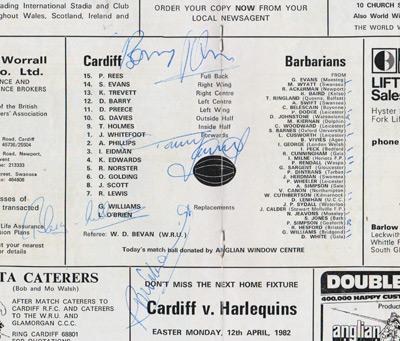 CARDIFF v BARBARIANS
Multi-signed Cardiff Arms Park programme
10th April 1982
18 autographs include: BARRY JOHN, TOMMY DAVID, BLEDDYN WILLIAMS, JOHN SCOTT, MIKE WYATT, DONAL LENIHAN, PAUL SIMPSON, NIGEL STARMER-SMITH, TONY SWIFT, PAUL RENDALL, DEREK WHITE, ROGER BAIRD, ANDY SIMPSON, GORDON SARGENT + 4 others.
Also comes with newspaper reports of the match Cardiff won 36-31.
LONDON WELSH RFC Memorabilia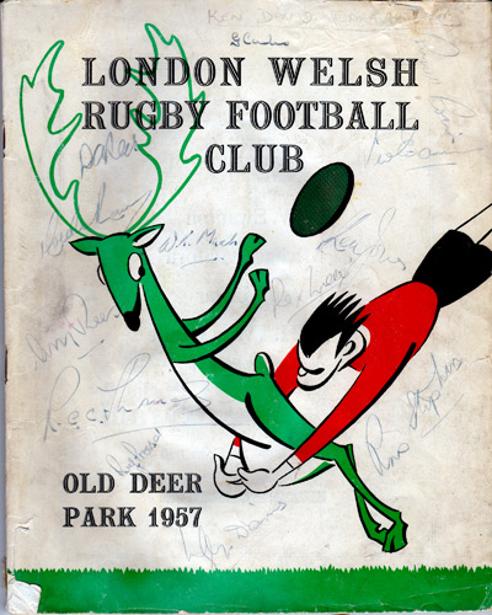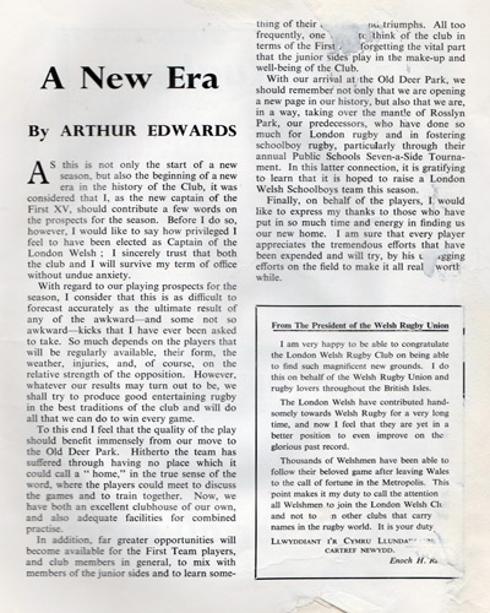 LONDON WELSH RFC
Multi-signed Old Deer Park 1957 Souvenir Booklet (60 pages)

A souvenir to commemorate the partnership with Richmond Cricket Club and the opening of the ground (Sept 21, 1957)
Signed on the front cover with 13 signatures.
Booklet has damage to back cover and a number of inside pages.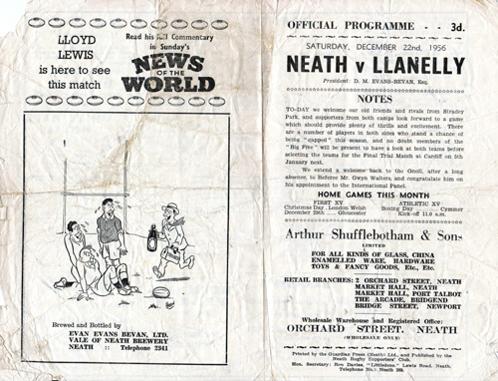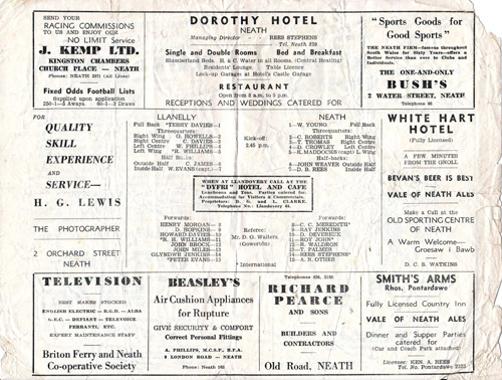 NEATH RFC
1956 Official Programme v Llanelly (Llanelli)
22nd December 1956 at The Gnoll
Teams feature Welsh internationals: Carwyn James, Rees Stephens, Roy John, Courtney Meredith, R. Williams & R.H. Williams.
Ragged edges to programme.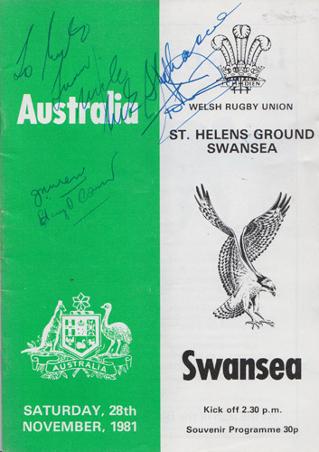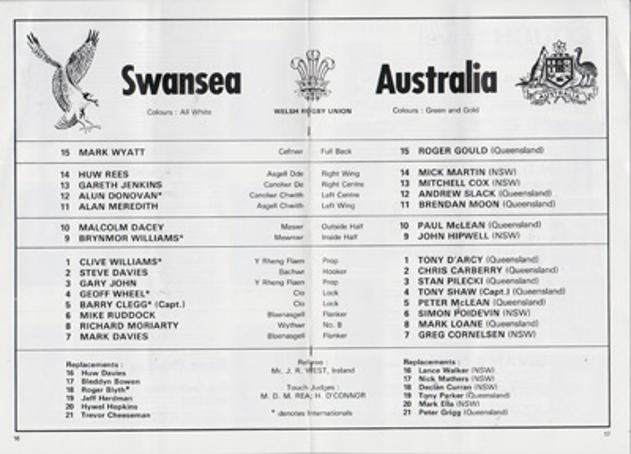 SWANSEA v AUSTRALIA
Multi-signed programme 28th Nov 1981 at St. Helens Ground
Four autographs to front cover.
WALES RUGBY SEVENS Memorabilia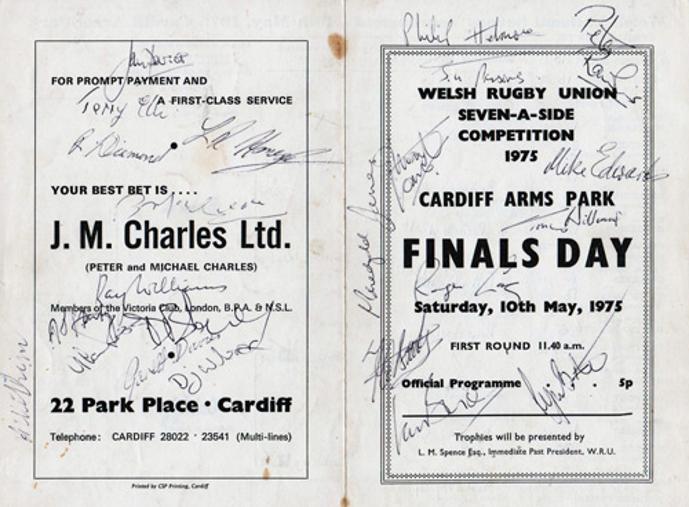 WELSH RUGBY UNION
SEVEN-A-SIDE COMPETITION
CARDIFF ARMS PARK
10th May 1975

Multi-signed programme.
Autographs include: Ray Williams, Mike Edwards, Jim Davies, Gareth Davies, Terry Ellis. DJ 'Danny' Wilson (father of Ryan Giggs), Peter Rawlings, Tony Williams, Phil Hellmore, Jim Parsons, R Diamond, et al ...

Cardiff beat Bridgend in the Final.

-------------------------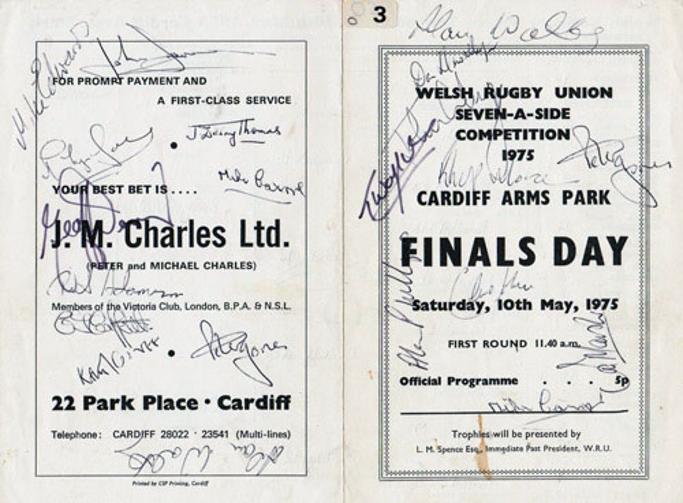 WELSH RUGBY UNION
SEVEN-A-SIDE COMPETITION
CARDIFF ARMS PARK
10th May 1975


Multi-signed programme.
Autographs include: John Dawes, Keith Jarrett, Mike Edwards, Glynn Jones, Peter Jones, Phil Adamson, Alan Walker, John Carling, Rhys Morgan, Mike Campbell, Alan Phillips, et al ...

Cardiff beat Bridgend in the Final.

Welcome to Uniquely Sporting's sports memorabilia page for Wales rugby union memorabilia & Welsh rugby collectables - with a great collection of autographed & signed items: photos, prints, posters, cards, balls, boots, shirts, clothing, books & First Day Covers ...
=================
PLEASE USE THE CONTACT US FORM >>>
FOR FURTHER DETAILS ON THE ABOVE ITEMS.
IF YOU ARE LOOKING FOR A SPECIFIC ITEM
OR SPORTS STAR / TEAM / EVENT.
IF YOU HAVE A "UNIQUELY SPORTING" ITEM OF MEMORABILIA YOU WANT TO SELL, PLEASE SEND DETAILS WITH YOUR VALUATION & A CONTACT EMAIL / PHONE NUMBER.
Please note we cannot always reply to every enquiry given the amount of mail we receive. We will be in touch only if we are interested.
IF YOU HAVE ANY OTHER QUESTIONS...
WE LOOK FORWARD TO HEARING FROM YOU!
-