VISIT THE UNIQUELY SPORTING
SPORTS MEMORABILIA STORE IN
ALLSORTS ANTIQUES VINTAGE & COLLECTABLES, HEADCORN, KENT, UK.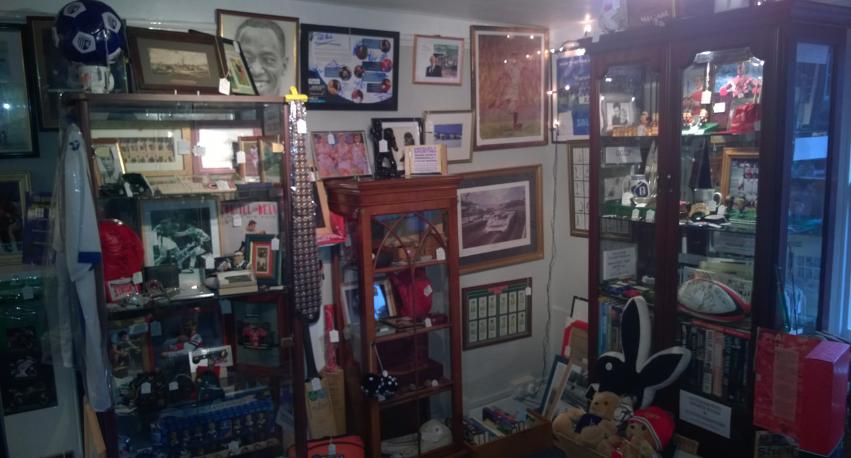 Welcome to Uniquely Sporting's shop
for rare and interesting vintage sports memorabilia
and celebrity collectible souvenirs from
Cricket to Soccer, Rugby to Golf,
Motorsport to Boxing, Athletics to Equestrian,
Baseball to Basketball, American Football to Ice Hockey, Darts to Cycling, Swimming to Diving,
Snooker to Tennis, Skating to Squash,
Bowls to Archery, Triathlon to Modern Pentathlon,
UFC to Mixed Martial Arts to Wrestling,
Surfing to Skeleton to Luge to Bobsleigh,
Aussie Rules to Field Hockey,
Fishing to Country Sports, Parkour to Quidditch,
Summer to Winter Olympics to Paralympics.
Personally signed & authentic autographed items:
Books, Photos, Prints, Posters, Artwork,
Apparel, Clothing, Caps, Hats, Helmets, Shirts, Jerseys, Gloves, Ties, Scarves, Cups, Mugs,
Player Cards,
Balls, Bats, Banners, Flags,
Programmes, Scorecards and First Day Covers.
Also Vintage Sports Equipment: Golf Clubs, Tennis Rackets, Snooker Cues, Darts, Chess Boards and Pieces, Dominoes,
Sports Jigsaws,
Sporting Board Games
(from Superstars to Subbuteo)
,
Sporting Jewellery & Key Rings,
Sports Movies Memorabilia, Sports Flags,
Sports Stamps, Sporting Porcelain & Pottery,
Sporting Paperweights, Sports Figures,
Sporting Teddy Bears, Dolls & Soft Toys,
& much much more !!
OPEN: 7 days a week 10am - 4.30pm
(Sundays 12.00-16.00)
FOR MORE INFO ...
VISIT US ON THE FIRST FLOOR IN
37 HIGH STREET, HEADCORN, KENT, TN27 9NL