SEVERIANO BALLESTEROS MEMORABILIA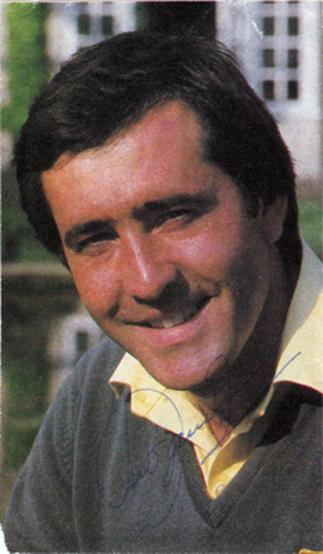 SEVE BALLESTEROS
Signed magazine pic.
Approx size: 7 x 12 cms
Slight tear to top & BLH corner clipped (see pic for more detail)
S O L D £30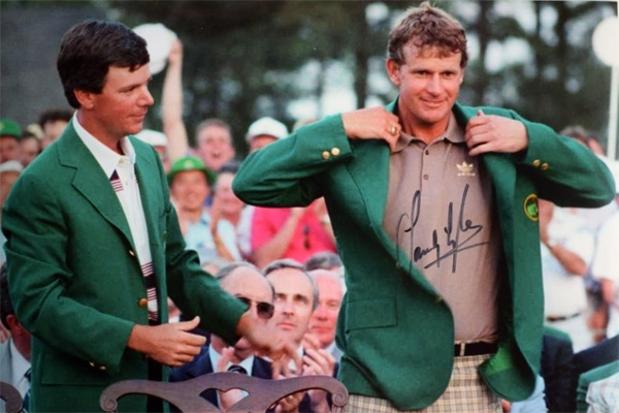 SANDY LYLE SIGNED US MASTERS MEMORABILIA

Signed 1988 Augusta National Masters Champion Green Jacket photo.


Approx A4 size

SOLD £30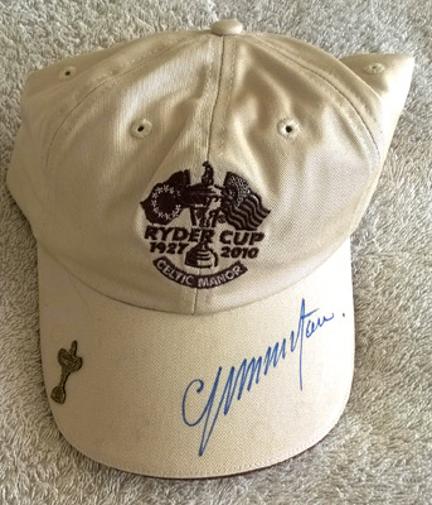 COLIN MONTGOMERIE
(Winning 2010 Ryder Cup Captain)

signed Official Ryder Cup Merchandise golf cap.

SOLD £50

CLICK HERE FOR MORE
COLIN MONTGOMERIE
SIGNED GOLF MEMORABILIA
RICHARD BURTON MEMORABILIA


(1939 British Open champion)
RICHARD (Dick) BURTON British Open Montage

A hand-written list of his career highlights & tour wins, including 1939 British Open victory and two appearances for "England" in the Ryder Cup has been signed by Richard Burton on an autograph book page.
Mounted with two B&W photos of Burton holding the Claret Jug after his Open Championship win at St Andrews.

The montage is approx 30 x 15 cms and is framed under glass.

SOLD AT SOTHEBY'S £180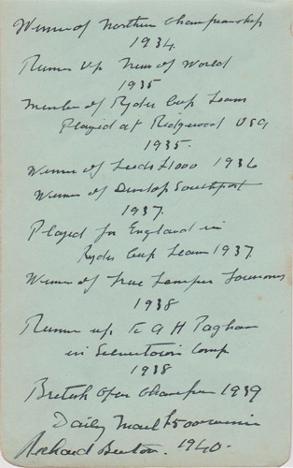 Other career highlights listed: Winner of ... Northern Pro Champs (1934), Leeds £1000 (1936), Dunlop Southport (1937), True Temper Foursomes (1939) & Daily Mail £500 (1940).
PETER THOMSON MEMORABILIA
(Five-time British Open champion - 1954, 1955, 1956, 1958 & 1965)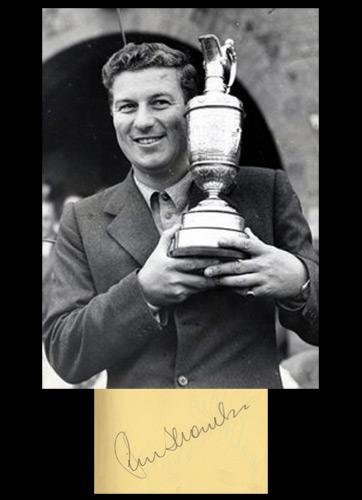 PETER THOMSON
(5 x British Open champion)

Autograph mounted with a B&W photo of Thomson holding the Claret Jug trophy after winning one of his five British Open Championship titles.

Approx A4 size.

SOLD £50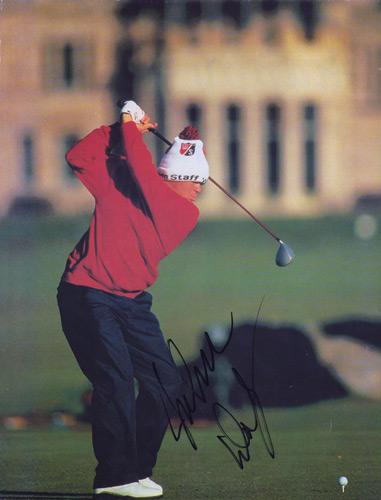 JOHN DALY
(1995 British Open champion & 1991 PGA champion)
Signed colour magazine picture of Daly in action driving off the 18th tee at St Andrews.

Approx A4 size

S O L D £50

LEE TREVINO Memorabilia

(Winner: British Open 1971 & 1972, US Open 1968 & 1971, US PGA 1974 & 1984)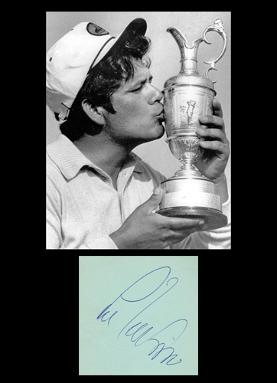 LEE TREVINO


Autograph mounted with B&W photo of Trevino kissing the Claret Jug after winning his second British Open championship in 1971.

SOLD £40
----------------------------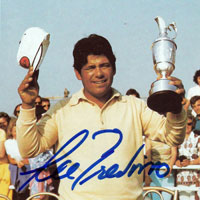 LEE TREVINO
2 x British Open golf champion

Signed 1972 British Open picture
with the Claret Jug.
S O L D £25

TONY JACKLIN Memorabilia

(1970 US Open & 1971 British Open Champion
& former Ryder Cup Captain)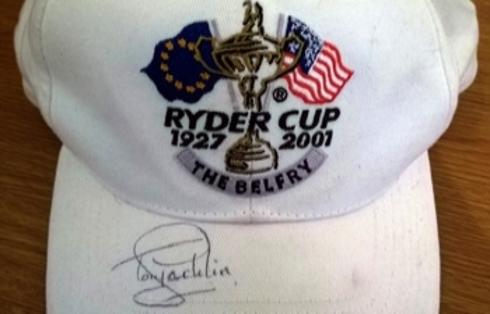 TONY JACKLIN
(1970 US Open & 1971 British Open Champion
& former Ryder Cup Captain)
Signed 2001 Ryder Cup Belfry golf course cap
S O L D £30
DARREN CLARKE Memorabilia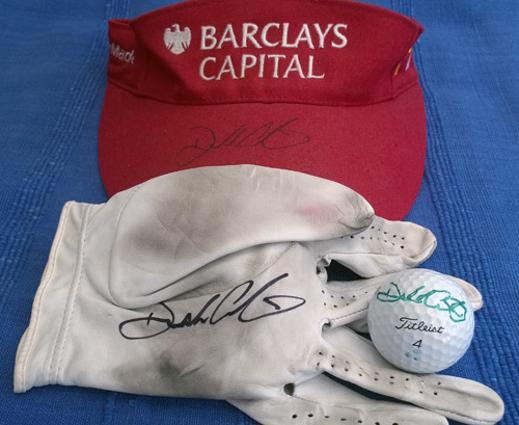 DARREN CLARKE
Signed / Tournament Used during the 2006 season
(possibly Bay Hill Invitational) ...

1. Titleist Golf Glove

2. Titleist 4 Golf Ball + Darren's trademark dots

3. Barclays Capital Taylor Made F7 Golf Visor.
Three signed items combined as one.
SOLD £100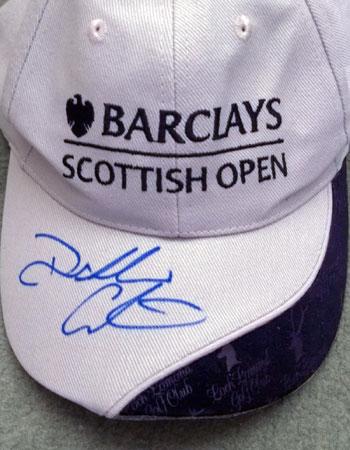 DARREN CLARKE
(2011 British Open champion)
Signed Loch Lomond Golf Course

Barclays Scottish Open golfing cap.
SOLD £40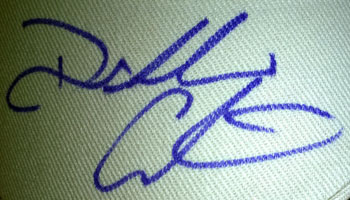 CHRISTY O'CONNOR Jnr memorabilia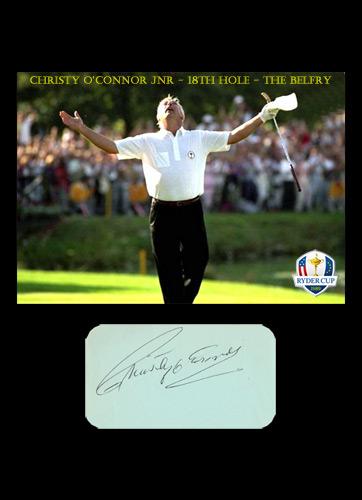 CHRISTY O'CONNOR Jnr
Autograph page mounted with 1989 Ryder Cup photo showing O'Connor celebrating his crucial singles victory over Fred Couples on the 18th hole at The Belfry to set up victory for Europe over the USA.

Approx A4 size

SOLD £40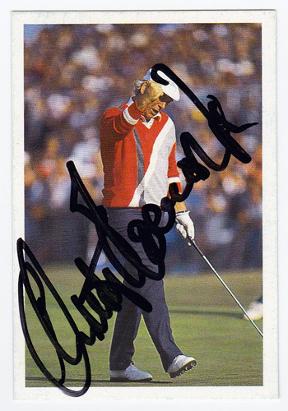 CHRISTY O'CONNOR Jnr
2 x Senior British Open winner

& 2 x Ryder Cup player.
Signed Question of Sport Golfer card

(6 x 9cm)
S O L D £50
PETER ALLISS
[second left]


signed 1969 Ryder Cup team photo.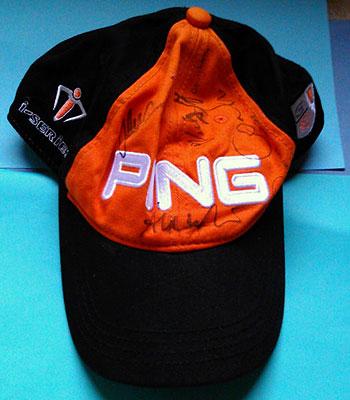 Official PING golf cap signed by
Lee Westwood
Miguel Angel Jimenez

Nick Dougherty
+ two others.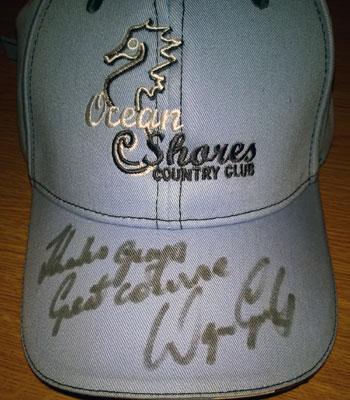 WAYNE GRADY
1990 US PGA Champion
Signed Ocean Shores Country Club (Australia)

golf cap with dedication "Thanks Guys Great Course"
S O L D £25
CELBRITY / COLLECTABLE GOLFING MEMORABILIA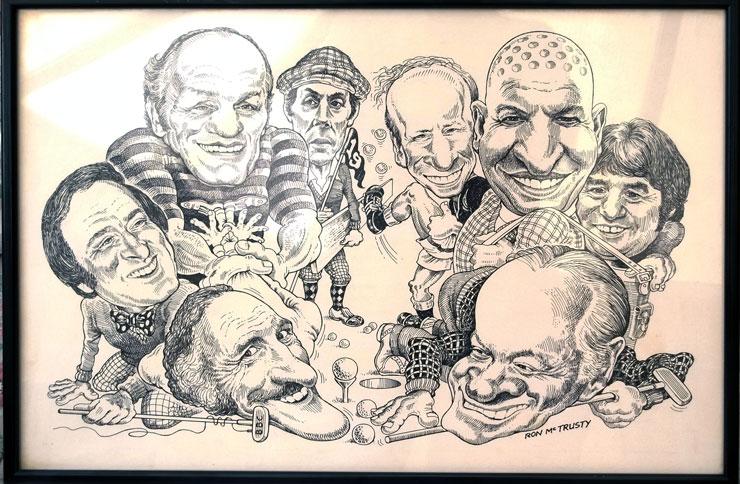 RON McTRUSTY Humorous Celebrity Golf Print (
Framed)
Featuring golfing caricatures of TV, Comedy & Sports Legends: Bob Hope, Bruce Forsythe, Telly Savalas, Terry Wogan, Jimmy Tarbuck, Henry Cooper, Bobby Charlton &
Eric Sykes.
S O L D £50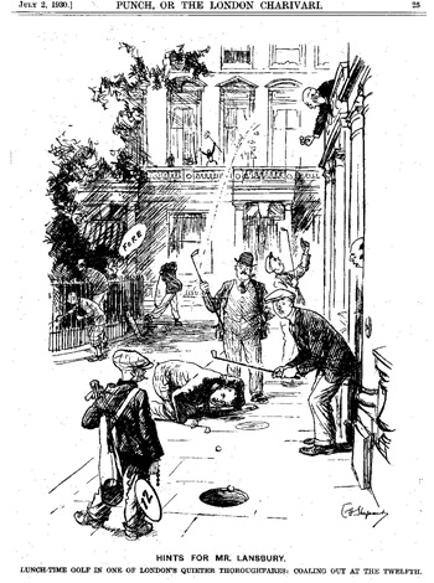 1930 Punch magazine golf print
by
Ernest Howard 'EH' Shepard MC OBE
"Hints for Mr Lansbury"
Lunch time golf in one of London's
quieter thoroughfares, coaling out at the twelfth.
Full page from June 2, 1930 Punch magazine
(uncoloured)
Framed under glass

S O L D £30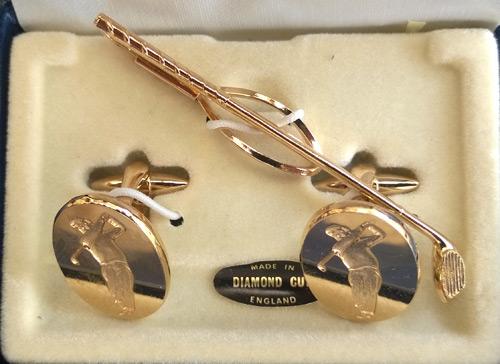 GOLFING CUFF LINKS & DRIVER TIE CLIP
Diamond Cut fashion jewellery in its original jewellers box.
Made in England
----------------------------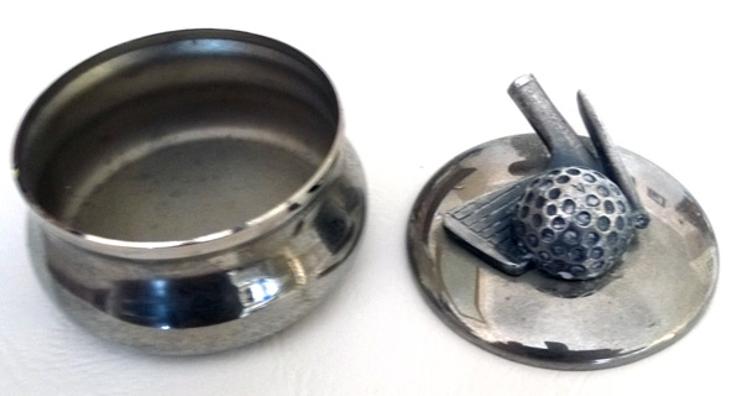 GOLF PIN DISH + LID
Festooned with golf club head, golf ball, and golf tee. Silver plated / date unknown (vintage / antique).
GOLFING HUMOUR & GOLF POSTCARDS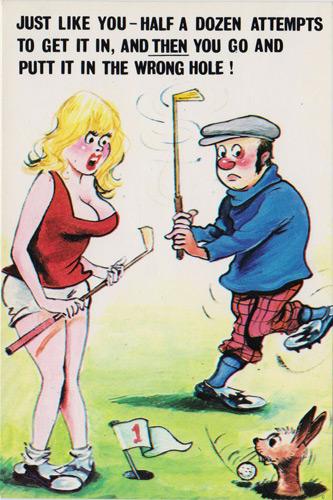 SAUCY CARDTOON GOLFING POSTCARD
Busty Blonde to Wayward Husband:
"Just Like You - Half a Dozen attempts to get it in, and THEN you go and putt it in the Wrong Hole!"

S O L D £15
+ Custom Golf Frame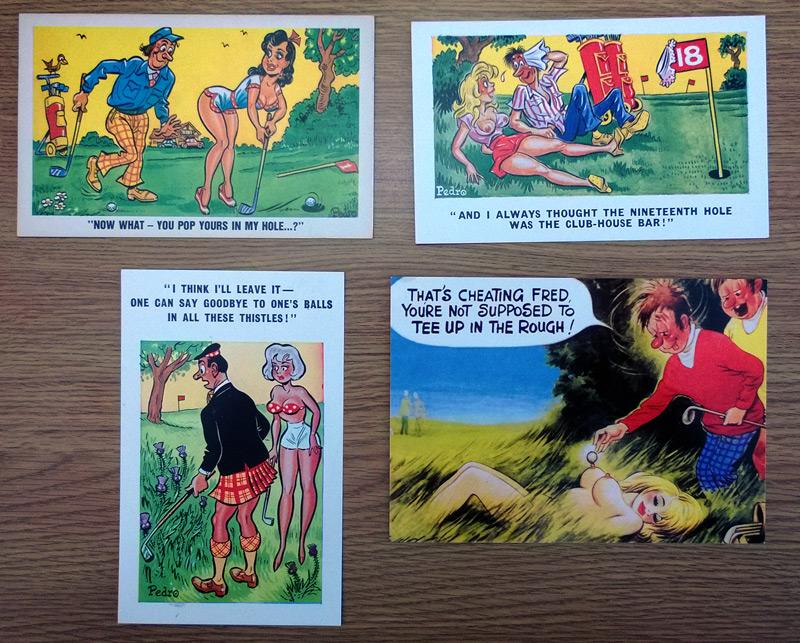 SAUCY PEDRO GOLFING POSTCARDS
Collection of Three Pedro art Golfing Humour postcards + a fourth card.
S O L D £10
If you wish to find out more about a specific item, please email us using the Form below.
PLEASE USE THE CONTACT FORM >>>
FOR FURTHER DETAILS ON THE ABOVE ITEMS.
IF YOU WANT TO BUY AN ITEM OR ITEMS ... PLEASE SEND US YOUR BID OFFER.
IF YOU ARE LOOKING FOR A SPECIFIC ITEM OR SPORTS STAR / TEAM / EVENT.
IF YOU HAVE A "UNIQUELY SPORTING" ITEM OF MEMORABILIA YOU WANT TO SELL, PLEASE SEND DETAILS WITH YOUR VALUATION & A CONTACT EMAIL / PHONE NUMBER.
Please note we cannot always reply to every enquiry given the amount of mail we receive. We will be in touch only if we are interested.
IF YOU HAVE ANY OTHER QUESTIONS...
WE LOOK FORWARD TO HEARING FROM YOU!
-
Welcome to Uniquely Sporting's sports shop / store page for golf memorabilia & golfing collectables - with a great collection of autographed & signed items: golf photos, golfing prints, golf posters, golf artwork, golf cards, golf balls, golf clubs, golf caps, golf shirts, golf clothing, golf books & golf First Day Covers ... across the Majors - British Open, Masters, U.S. Open, U.S.A. PGA, from Ryder Cup to the Claret Jug, from St Andrews to Augusta, from professional to pro-am celebrity, from matchplay to strokeplay.
MAIN SPORTS MEMORABILIA MENUS