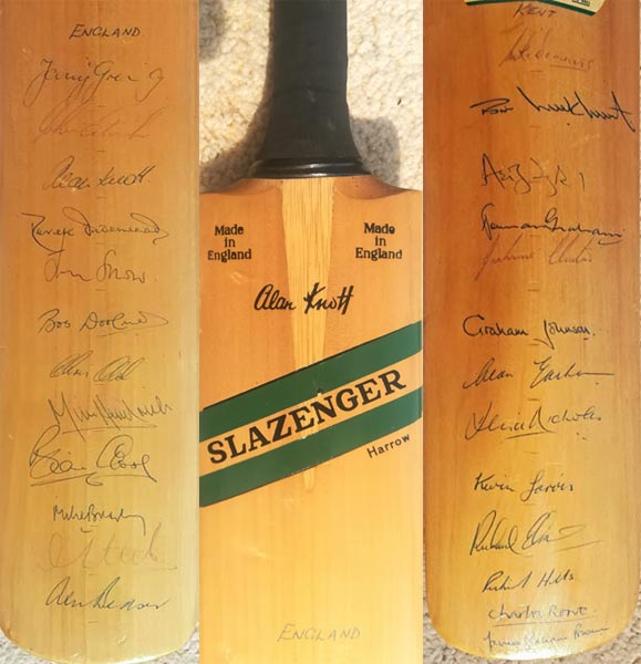 ALAN KNOTT


Multi-signed full-size Alan Knott autograph Slazenger Harrow bat.

From Knotty's 1976 Kent Benefit Season

The front is signed by 11 England players (from the Test series against the West Indies): Tony Greig, John Edrich, Alan Knott, Derek Underwood, John Snow, Bob Woolmer, Alan Old, Mike Hendricks, Brian Close, Mike Brearley, David Steele + manager Alec Bedser.

Reverse is signed by 13 Kent players inc Mike Denness, Brian Luckhurst, Asif Iqbal, Norman Graham, Grahame Clinton, Graham Johnson, Alan Ealham, David Nicholls, Kevin Jarvis, Richard Elms, Richard Hills, Charles Rowe & James Graham Brown.

The bat has been varnished on both sides and is in excellent condition including the original grip.
-------------------------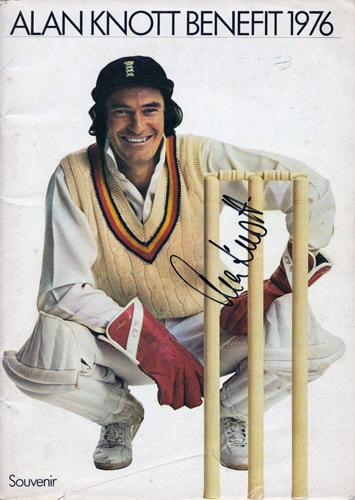 ALAN KNOTT
Signed 1976 Kent CCC benefit brochure.

Cover has some minor folds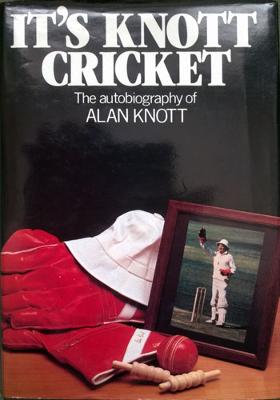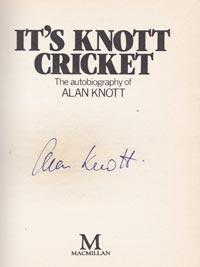 ALAN KNOTT

Signed book / autobiography:
"It's Knott Cricket"

First Edition (1985)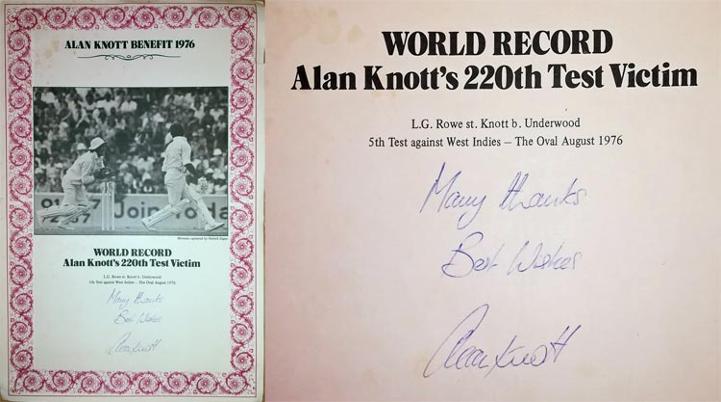 ALAN KNOTT
Signed 1976 Kent CCC benefit certificate celebrating his world record 220th test match dismissal as a wicket-keeper.
B&W pic shows knotty stumping Lawrence Rowe off the bowling of Derek Underwood in 1976.

Approx size: 35 x 23 cms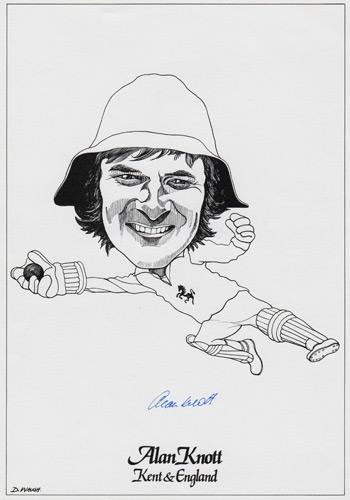 ALAN KNOTT

Signed D. Waugh caricature KCCC print
Approx A4 size.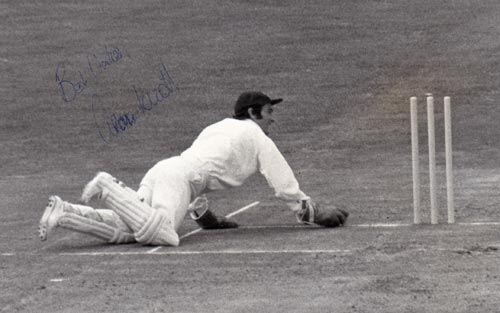 ALAN KNOTT
Signed B&W Press photo of the wicket-keeper in action.
Also signed on the reverse by Knott.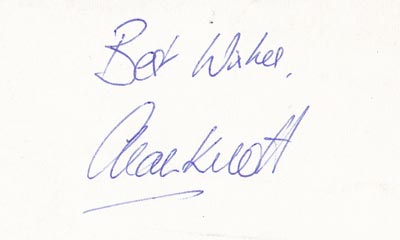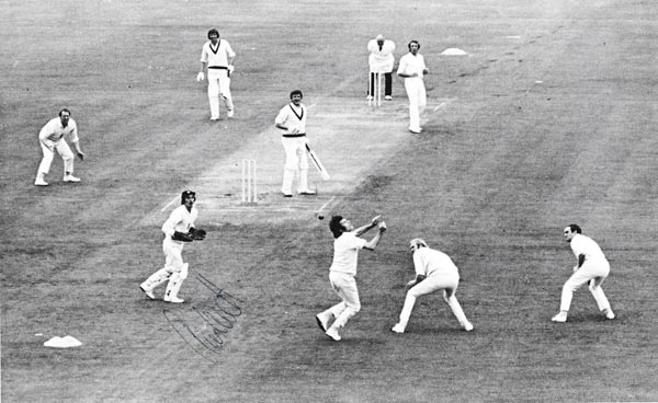 ALAN KNOTT
Signed B&W England v Australia Ashes Test match book pic.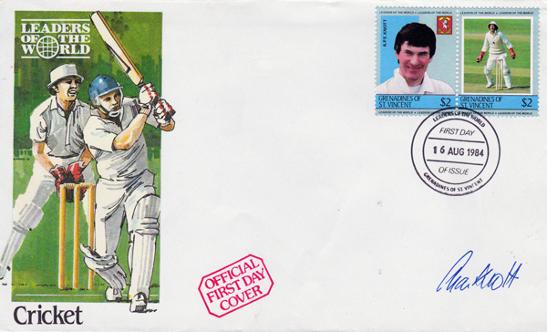 ALAN KNOTT
Signed 1984 Grenadines of St Vincent First Day Cover - Leaders of the World + 2 x Alan Knott $2 stamps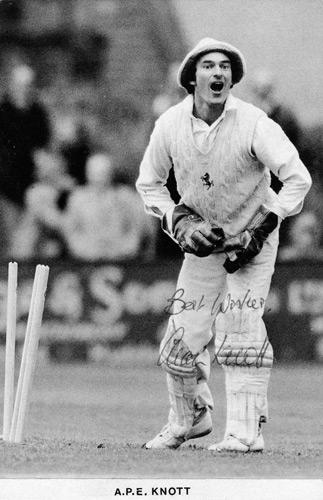 A.P.E. KNOTT

Signed Kent CCC B&W J/V Postcard.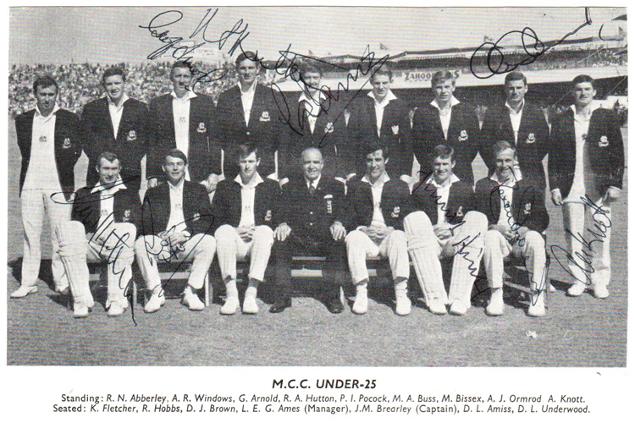 ALAN KNOTT & DEREK UNDERWOOD
Signed 1960s MCC under-25 squad pic.
Also signed by Geoff Arnold, Richard Hutton, Pat Pocock, Alan Ormrod, Keith Fletcher, Robin Hobbs and Dennis Amiss.
Approx size: 17 x 12 cms
B&W mag pic laid to white card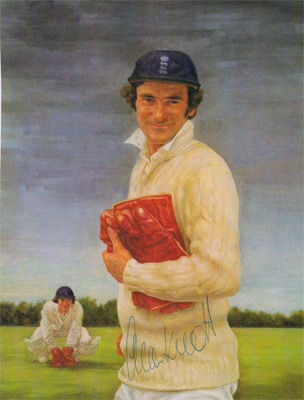 ALAN KNOTT

Signed colour book print picture.

Approx size: 9 x 11.5 cms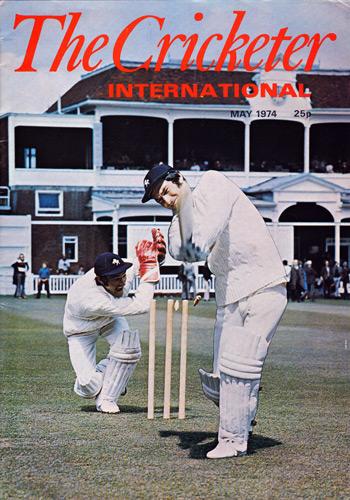 ALAN KNOTT
"Double Exposure"
1974 Cricketer Magazine cover featuring the Kent & England wicket-keeper/ batsman in an action photo keeping wicket and batting in front of the Main Pavilion at the St Lawrence Ground, Canterbury.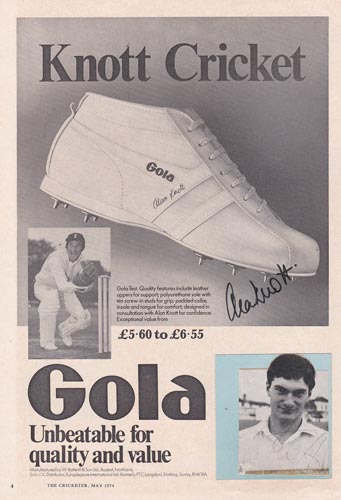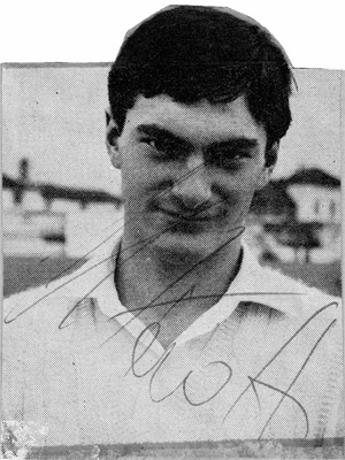 ALAN KNOTT

Signed 1970s Cricketer magazine advert page for Alan Knott cricket boots by Gola + small signed B&W pic attached.
Approx A4 size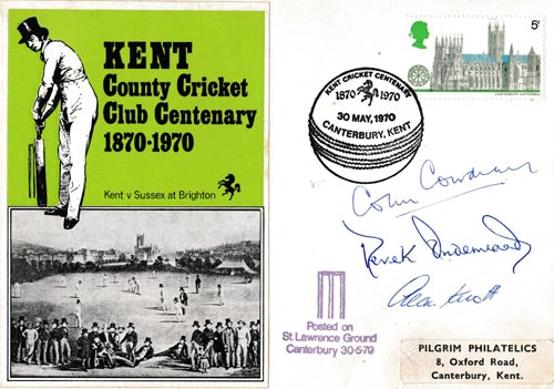 KENT COUNTY CRICKET CLUB CENTENARY 1870-1970 multi-signed First Day Cover



KCCC FDC signed by 3 Kent Cricket legends: Colin Cowdrey, Derek Underwood & Alan Knott.
Posted at St Lawrence Ground, Canterbury (30th May 1970)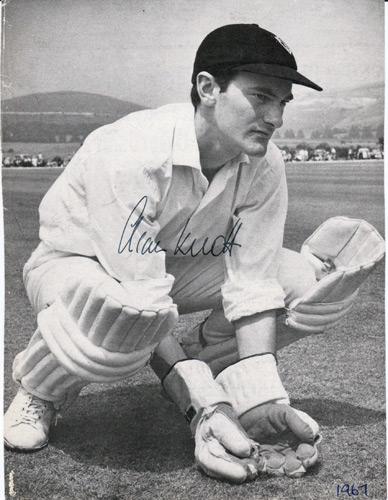 ALAN KNOTT
Signed wicket-keeping magazine pic
(c 1967)

Approx size: 15 x 20 cms
S O L D £30