SIGNED CRICKET BATS MEMORABILIA

(Listed chronologically)
Sir JACK HOBBS signed 1927 cricket bat

RARE! Sir Jack Hobbs (Surrey & England) signed cricket bat and newspaper cricket competition certificate.
The full-size Extra Special The OVAL bat* specially selected from Jack Hobbs' own Fleet Street shop (signed on reverse by Hobbs) was a schoolboy prize given by "The Star" newspaper in May 1927. Along with the newspaper editor Wilson Pope, Hobbs has signed the Certificate (awarded to Master Herbert Manktelow of Wakefield
Central
School, London, E6).
*The bat handle is broken (as per photos) and the bottom of the blade also has some slight damage.
J.B. Hobbs aka John Berry 'Jack' Hobbs who played for Surrey (1905-34) & England (61 Tests) is the leading scorer (61.760 runs) and century-maker (199) in first-class cricket history.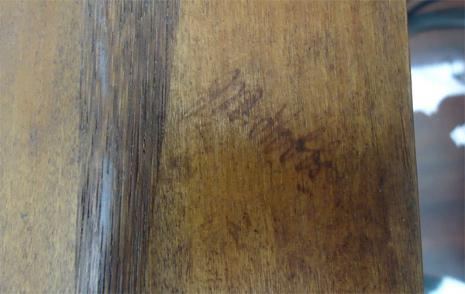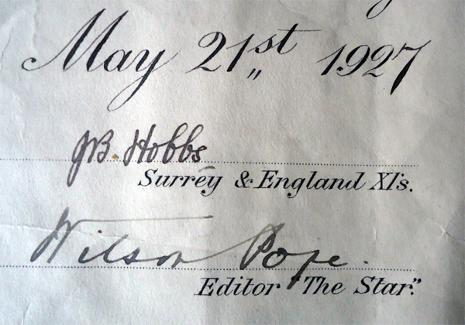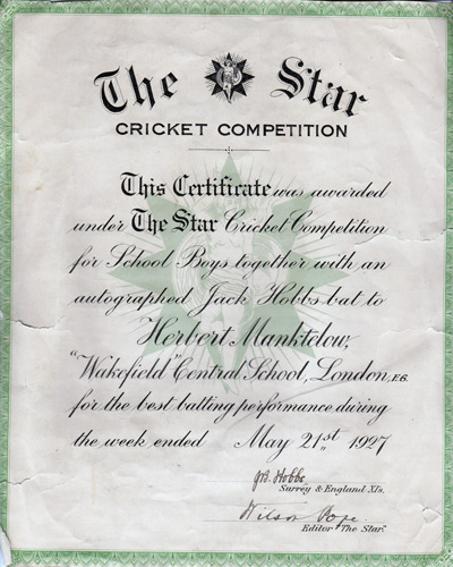 SIR WES HALL SIGNED MINI CRICKET BAT

SIR WESLEY HALL Memorabilia
(Barbados, Queensland & West Indies)
Signed NLW mini cricket bat + accompanying B&W photo affixed to the blade.
1970s AUSTRALIA SIGNED MINI CRICKET BAT


Multi-signed Aussie mini cricket bat (c 1977)
11 autographs include:
Greg Chappell (Captain)
Jeff Thomson
Ray Bright
Ian Redpath
Steve Rixon
Gary Gilmour
Doug Walters
Trevor Chappell
David Hookes
Bob Massie
Ross Edwards (signed separately at bottom of bat)

Approx length of bat 44 cms

1977 AUSTRALIAN ASHES TOURING SQUAD SQUAD SIGNED BAT
also signed by Kent & Gloucestershire CCC players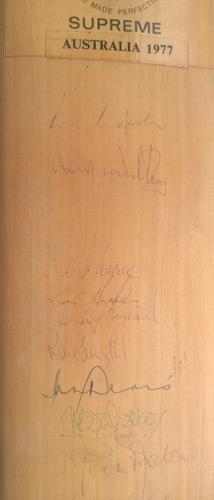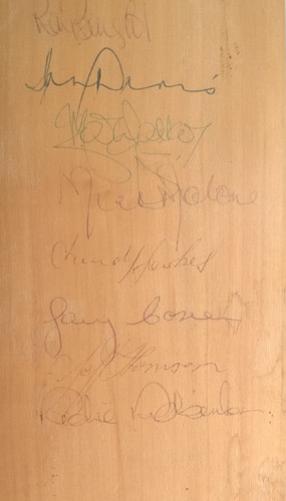 Duncan Fearnley cricket bat
Signed by 13 Australian cricket players from the 1977 Ashes Tour:



Rod Marsh Doug Walters
Len Pascoe Kim Hughes
Craig Sergeant Ray Bright
Ian Davis Max Walker
Mick Malone David Hookes
Gary Cosier Jeff Thomson
Richie Robinson + others.

Some autographs have faded
See photos for details.
Also signed on reverse by 16 Kent players: inc Mike Denness, John Shepherd, Brian Luckhurst, Norman Graham, Alan Knott, Derek Underwood, Bob Woolmer, David Nichols, Kevin Jarvis, Charles Rowe, James Graham Brown, Richard Hills, Paul Downton, Asif Iqbal, Alan Ealham, Colin Cowdrey & Colin Page (team manager)
Also signed by Gloucestershire players inc: Tony Brown, David Shepherd, David Graveney, Alastair Hignell & Zaheer Abbas.

1979/80 ENGLAND CRICKET SQUAD SIGNED BAT
also signed by Kent CCC players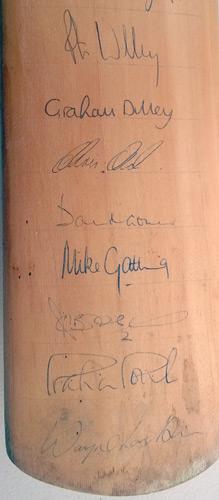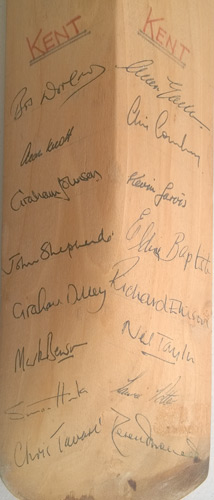 Brian Luckhurst autograph Lillywhite Frowd cricket bat
Signed by 12 England cricket players:



Mike Brearley Bob Willis
Geoff Boycott Bob Taylor
Peter Willey Graham Dilley
Chris Old David Gower
Mike Gatting ?????
Graham Gooch Wayne Larkins


Also signed on reverse by 16 Kent players: inc Alan Knott, Derek Underwood, Bob Woolmer,
John Shepherd, Eldine Baptiste, Graham Dilley, Mark Benson, Simon Hinks, Chris Tavare, Richard Ellison, Neil Taylor, Kevin Jarvis, Chris Cowdrey, Alan Ealham, Graham Johnson & Laurie Potter.
1980 KENT CRICKET SQUAD SIGNED BAT
also signed by Essex, Sussex & Hampshire squads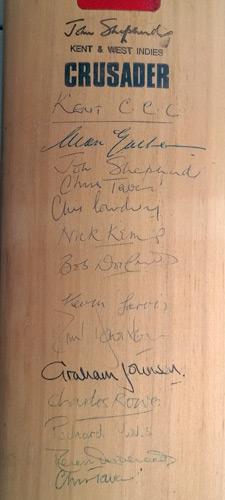 John Shepherd autograph Gray Nicolls Crusader cricket bat
Signed by 12 Kent cricket players inc:



John Shepherd Derek Underwood
Bob Woolmer Kevin Jarvis
Chris Cowdrey Paul Downton
Chris Tavare (twice)
Graham Johnson
Charles Rowe Richard Hils
Alan Ealham Nick Kemp

Also signed by Essex, Sussex & Hampshire players: inc
Mike Denness (former Kent captain),
Keith Fletcher, Ray East, Ken McEwan, Trevor Jesty, Andy Roberts & John Barclay.
1983 JOHN STEELE SIGNED BENEFIT BAT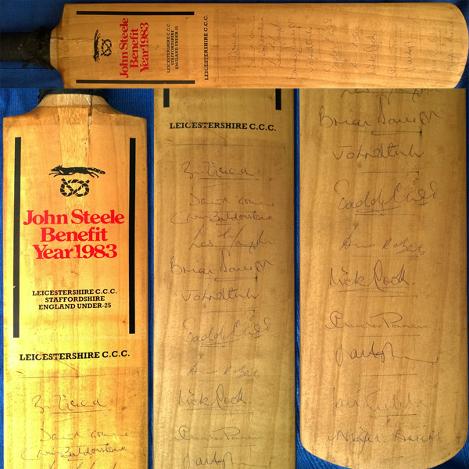 JOHN STEELE
(Leics CCC)
Squad signed full-size cricket bat for his 1983 Testimonial Season.
13 x Leicestershire players autographs include:

Andy Roberts, David Gower, Jonathan Agnew, Les Taylor, Chris Balderstone, Roger Tolchard, Brian Davison, Nick Cook, Nigel Briers, Graham Parsons, John Steele + 2 others.
UK only delivery.
£80 inc P&P
1992/93 KENT CRICKET SQUAD SIGNED BAT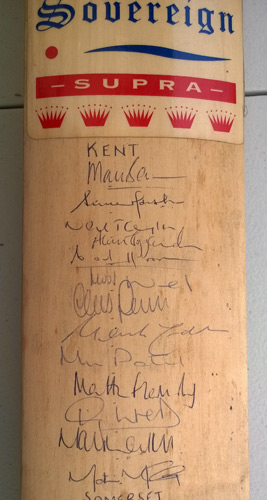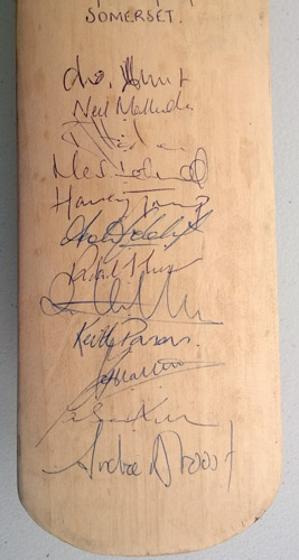 Sovereign Supra cricket bat
Signed by 13 Kent cricket players inc:



Mark Benson (Captain)
Steve Marsh
Neil Taylor
Matthew Fleming
Alan Igglesden
Carl Hooper
Min Patel
Chris Penn
Tim Wren
Trevor Ward
Mark Ealham

Also signed by 12 Somerset players
(c 1992/93 seasons)
1992/93 KENT CRICKET SQUAD SIGNED MINI-BAT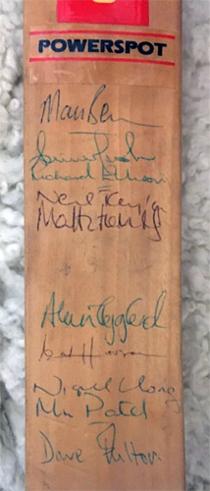 Gray Nicolls Powerspot mini cricket bat
Signed by 10 Kent cricket players inc:

Mark Benson (Captain)
Steve Marsh
Richard Ellison
Neil Taylor
Matthew Fleming
Alan Igglesden
Carl Hooper
Nigel Llong
Min Patel
David Fulton
(c 1992/93 seasons)
1992-93 KENT CRICKET SQUAD SIGNED BAT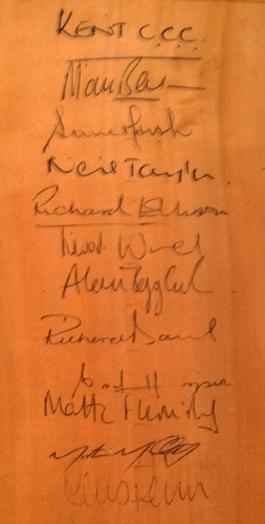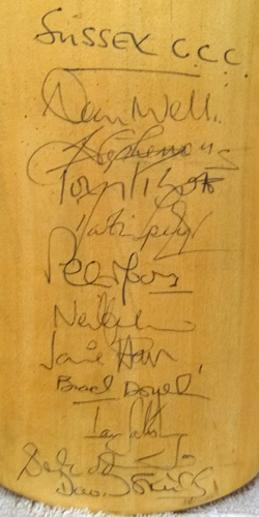 Full size Gray Nicolls cricket bat signed by 11 Kent county players

:

Mark Benson
Steve Marsh
Neil Taylor
Richard Ellison
Trevor Ward
Alan Igglesden
Richard Davis
Carl Hooper
Matthew Fleming
Martin McCague
Tim Wren
&
11 Sussex CCC players,
inc: Wells, Pigott, Moore, Salisbury, Lenham & Speight.
1996 ESSEX CRICKET SQUAD SIGNED MINI BAT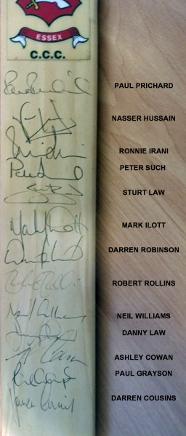 ESSEX CCC
Multi-Signed mini cricket bat (c 1996) signed by 13 players:
Paul Prichard (captain), Nasser Hussain, Ronnie Irani, Peter Such, Stuart Law, Mark Ilott, Darren Robinson, Robert Rollins, Neil Williams, Danny Law, Ashley Cowans, Paul Grayson & Darren Cousins.
1999 DARREN BICKNELL SIGNED BENEFIT BAT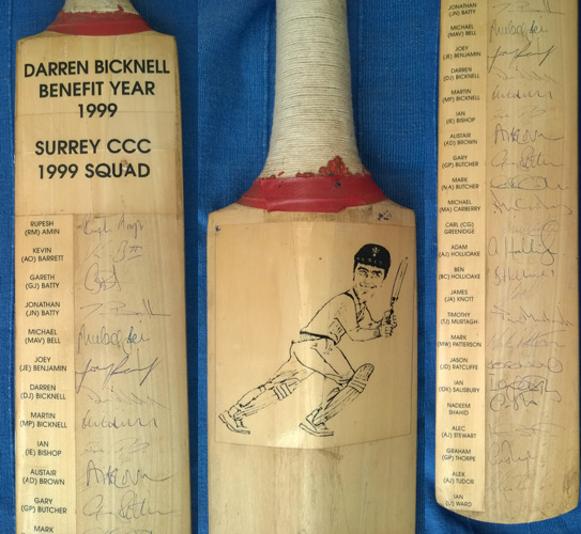 DARREN BICKNELL
(Surrey CCC & England)
Squad signed full-size cricket bat with printed caricature (on reverse) to commemorate Bicknell's 1999 Benefit Season.
26 x Surrey player autographs include:
Darren & Martin Bicknell, Adam & Ben Hollioake, Jonathan Batty, Gareth Batty, Joey Benjamin, Ian Bishop, Alec Stewart, Graham Thorpe, Ian Ward, Ian Salisbury, Alistair Brown, Alex Tudor, Gary Butcher, Mark Butcher, Michael Carberry, Carl Greenidge, Nadeem Shahid + 6 others.

£80 (inc P&P)
UK only courier delivery.

1999 Kent Cricket squad signed cricket bat


Full size Gray Nicolls cricket bat signed by 13 Kent county players inc:
Matthew Fleming
Mark Ealham
Steve Marsh
Tim Wren
Martin McCague
Min Patel
Dave Fulton
Rob Key
Martin Saggers
+ 4 others.
£60 (inc P&P)
UK only courier delivery or Collection in mid-Kent
LEICS CCC & SURREY CCC SIGNED CRICKET BAT
JULY 2000 CHAMPIONSHIP GAME AT OAKHAM SCHOOL
inc Ben Hollioake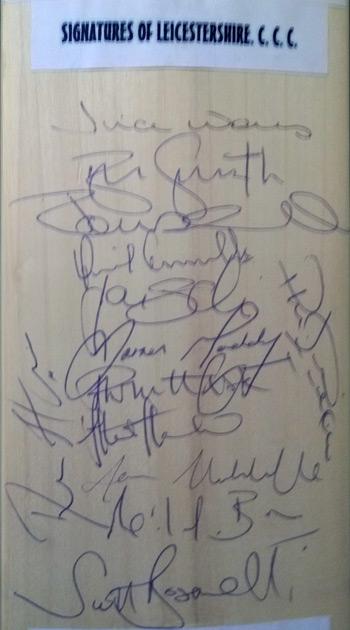 Bat signed by 13 Leicestershire Foxes players, inc:
Darren Maddy, Iain Sutcliffe, Vince Wells, Ben Smith, Aftab Habib, Darren Stevens, Chris Lewis, Phil DeFreitas, Neil Burns, Anil Kumble & James Ormond.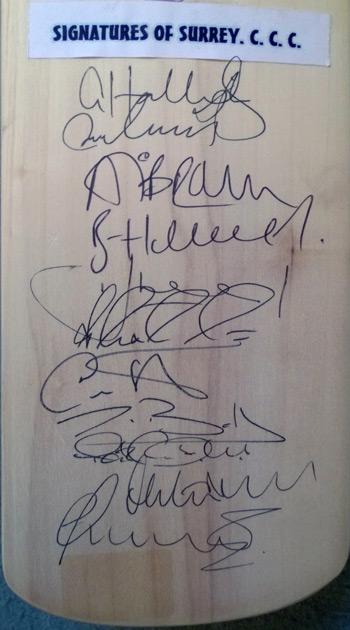 Bat signed by 11 Surrey Lions players, inc: Mark Butcher, Ian Ward, Nadeem Shahid, Adam Hollioake, Alistair Brown, Ben Hollioake, James Batty, Martin Bicknell, Alex Tudor. Ian Salisbury & Saqlain Mushtaq.
£80 inc P&P
UK delivery only.
2002 SURREY ccc SIGNED CHAMPIONS CRICKET BAT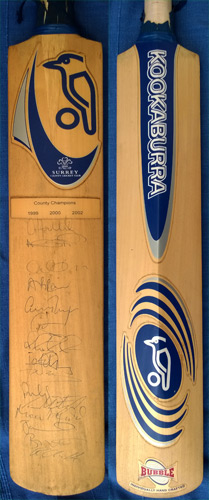 SURREY CRICKET CLUB
Squad signed full-size Kookaburra Bubble Bat
Celebrating the county's three County Championship Titles in four years: 1999, 2000 & 2002.
Bat signed by 15 players inc: Adam Hollioake (captain), Saqlain Mushtaq, Alec Stewart, Mark Ramprakash, Alec Tudor, Graham Thorpe, Mark Butcher, Ian Salisbury, Alistair Brown, Tim Murtagh, Rikki Clarke, Ian Ward + 3 others.
£80 (inc P&P)
UK only courier delivery
2005 RICKY PONTING SIGNED CRICKET BAT

RICKY PONTING
(Australia Captain - 2005 Ashes)
Signed Kookaburra Kahuna full-size cricket bat
2014 IAN BELL SIGNED CRICKET BAT

Commemorating his 100th Test Match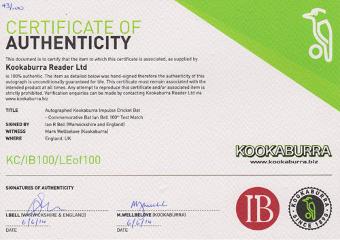 IAN BELL
(Warks CCC & England)
Signed Limited Edition (43 of 100) specially produced Kookaburra Impulse full-size cricket bat to celebrate his 100th cap for England.
Comes with COA signed by Bell and Kookaburra's Mark Wellbelove.
2016 ENGLAND SIGNED CRICKET BAT
from One-Day Tour of Bangladesh


England's ODI Squad signed Gray-Nicolls full-size cricket bat
Autographed by 14 players:
JOS BUTTLER (Captain)
MOEEN ALI
JONNY BAIRSTOW
JAKE BALL
SAM BILLINGS
LIAM DAWSON
BEN DUCKETT

LIAM PLUNKETT
ADIL RASHID
JASON ROY
BEN STOKES
JAMES VINCE
DAVID WILLEY
CHRIS WOAKES
2017 TREDDY TESTIMONIAL KENT CRICKET BAT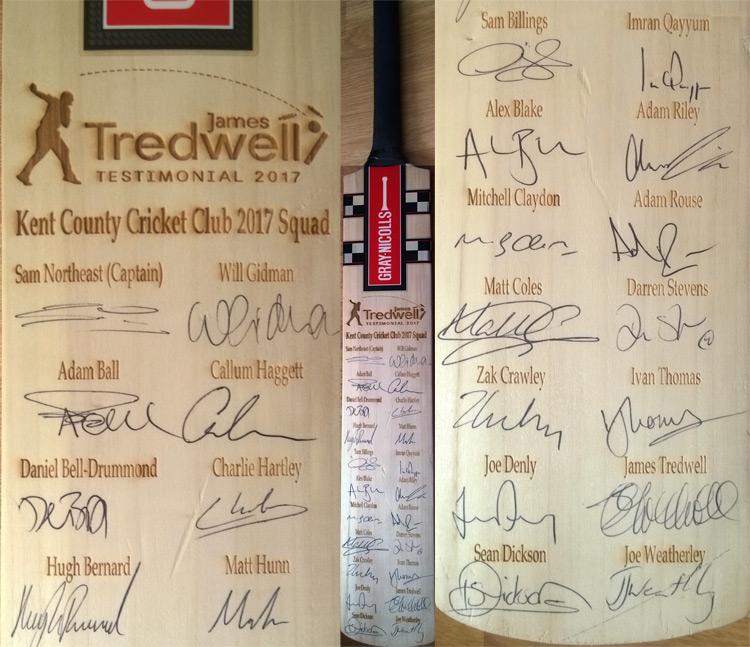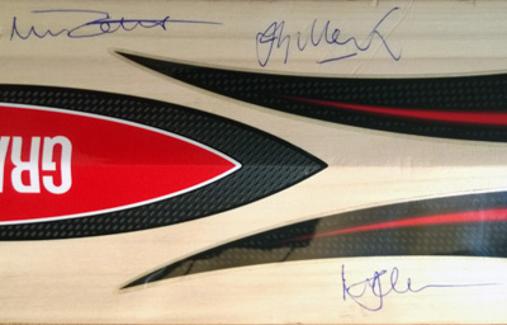 Signed by Kent CCC Squad inc players Sam Northeast (Capt), Sam Billings, Darren Stevens, Joe Denly, Matt Coles, Daniel Bell-Drummond

+ on reverse by
KCCC Coaching Staff: Matt Walker (Head Coach), Jason Gillespie & Min Patel.
KENT CRICKET AUTOGRAPHED BAT (2008)

KCCC Signed Gray Nicolls cricket bat (2008 season)


Official Kent County Cricket bat signed by 18 players:
Rob Key (captain)
Martin van Jaarsveld (vice-captain)
Yasir Arafat
Simon Cook
Joe Denly
Neil Dexter
Paul Dixey
Geraint Jones
Robbie Joseph
Justin Kemp
Amjad Khan
Azhar Mahmood
Ryan McLaren
Sam Northeast
Martin Saggers
Darren Stevens
James Tredwell

Matt Walker
ENGLAND LEGENDS signed Gray Nicolls cricket bat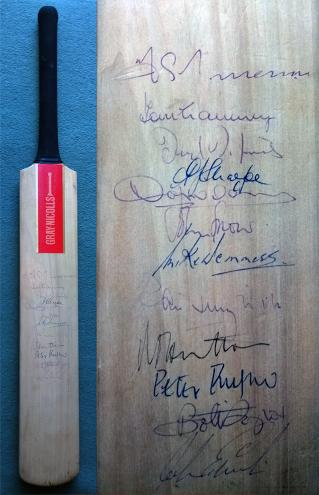 Full-Size Gray Nicolls Autograph cricket bat
Signed by 12 England cricketing legends
from the 1940s to 80s.
Including:
Fred Trueman,
Tom Graveney,
Phil Sharpe,
John Snow,
Mike Denness,
Ray Illingworth,
Len Hutton,
Peter Parfitt,
Bob Taylor
&
John Edrich.
S O L D £60
1985 ASHES SERIES SIGNED BAT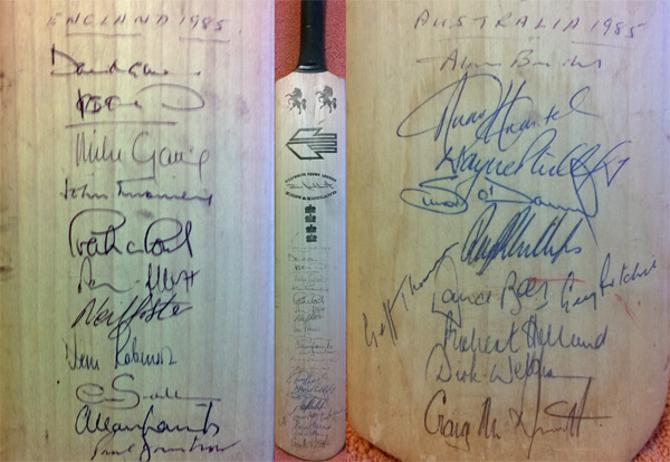 England autographs
: David Gower, Phil Edmonds, Mike Gatting, John Emburey, Graham Gooch, Paul Allott, Neil Foster, Tim Robinson, Arnie Sidebottom, Allan Lamb, Paul Downton.
Australia autographs: Allan Border, Andrew Hilditch, Wayne Phillips, Simon O'Donnell, Ray Phillips, Geoff Lawson, David Boon, Greg Ritchie, Bob Holland, Dirk Wellham, Craig McDermott.

England won the six Test series 3-1 with two matches drawn.


SOLD £100
1987 ENGLAND v PAKISTAN multi-signed
Duncan Fearnley Magnum bat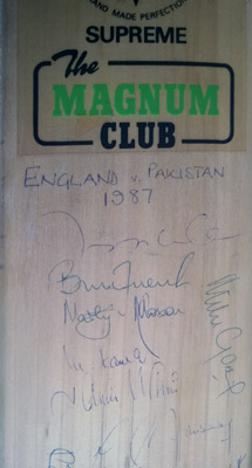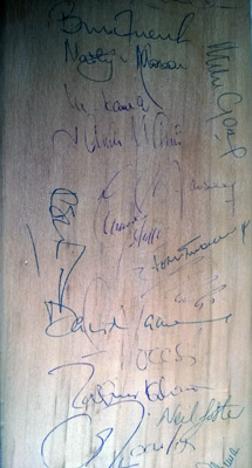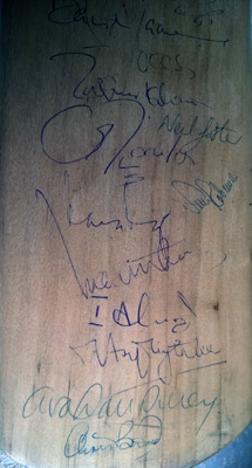 Celebrating Pakistan's first-ever Test series win in England this is a full-size bat signed by 24 players from both sides, inc: Pakistan captain Imran Khan, Javed Miandad, Abdul Qadir, Zakir Khan, Ijaz Ahmed, Shoaib Mohammad, Mohsin Kamal + England players inc Mike Gatting, David Gower, Chris Broad, Graham Dilley, Neil Foster, Tim Robinson, Martyn Moxon & Bruce French.

SOLD £100
SRI LANKA signed cricket bat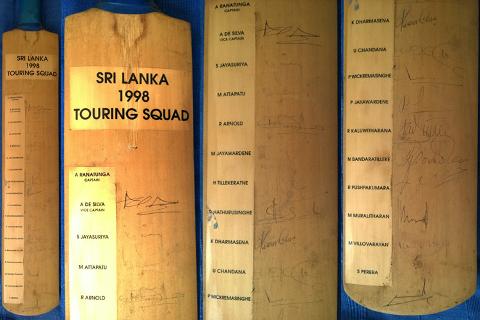 Official full-size cricket bat signed by 18 Sri Lanka cricket players on the 1998 Tour of England,

autographed by: Arjuna Ranatunga, Aravinda De Silva, Sanath Jayasuriya, Marvin Attapatu, Russell Arnold, Mahela Jayawardene,
Tillekeratne Dilshan, Hathurusinghe, Dharmasena, Chandana, Wickremasinghe, P Jayawardene, Kaluwitharana, Bandaratilleke, Pushpakumara, Muttiah Muralitharan, Villovarayan & Perera.
S O L D £50
Full size bat with Player Name sticker
Some autographs have slightly faded.
Bat handle rubber has perished
1953 AUSTRALIAN ASHES TOURING PARTY
MULTI-SIGNED CRICKET BAT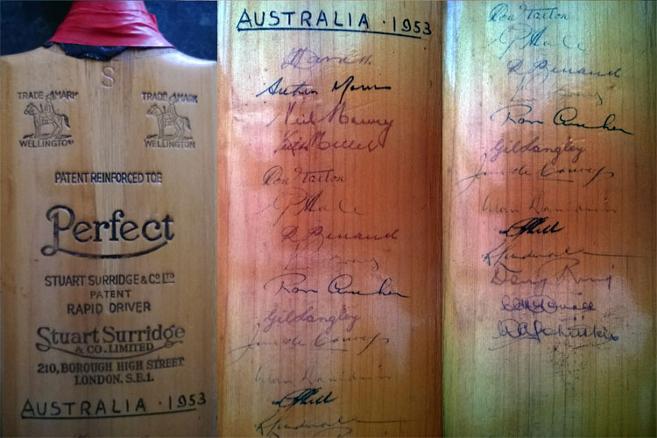 Full-size Perfect Stuart Surridge Rapid Driver cricket bat signed by 17 players:
RICHIE BENAUD, KEITH MILLER, ARTHUR MORRIS, RAY LINDWALL, NEIL HARVEY, LINSDSAY HASSETT,
ALAN DAVIDSON, DON TALLON, GRAEME HOLE, JACK HILL, BILL JOHNSTON, COLIN MacDONALD, IAN CRAIG, JIM De COURCY, RON ARCHER, DOUG RING & GIL LANGLEY.
S O L D £100
1964 ENGLAND v AUSTRALIA ASHES SERIES
SIGNED STUART SURRIDGE CRICKET BAT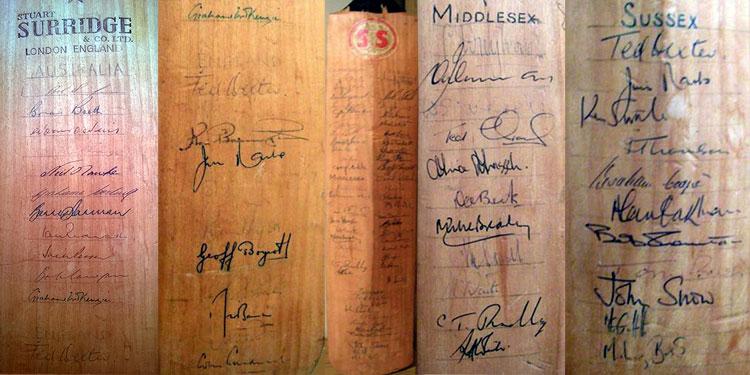 Signed on the front by members of the 1964 Australian Touring Party, inc: Bob Simpson, Ian Redpath, Graham McKenzie & Barry Jarman,
and England, inc: Colin Cowdrey, Ted Dexter, Geoff Boycott & Ken Barrington.
Signed on the back by county players from... MIDDLESEX, inc: Mike Brearley & Clive Radley; SUSSEX, inc: Ted Dexter (again) & John Snow; GLAMORGAN, inc: Tony Lewis & David Shepherd; SURREY, inc: John Edrich & Micky Stewart; & NOTTS, inc: Brian Bolus & Geoffrey Millman.
HUNTS COUNTY COLTS TURBO SIGNED CRICKET BAT
60+ authentic autographs from 1930s to 2000s


Full-sized County cricket bat with 60+ signatures (front & back) including:
Len Hutton, Alec Bedser, Tom Graveney,
Hubert Doggart,
Ted Dexter,
Tony Lewis, Geoffrey Boycott, Ken Higgs, Asif Iqbal, Eddie Barlow, Robin Jackman, Peter Willey, Clive Rice, Angus Fraser, Neil Fairbrother, Robin Smith, Alec Stewart, Nasser Hussain, Mike Atherton and many more. S O L D £100

1991 WEST INDIES Signed Cricket Bat
TOURING TEAM to England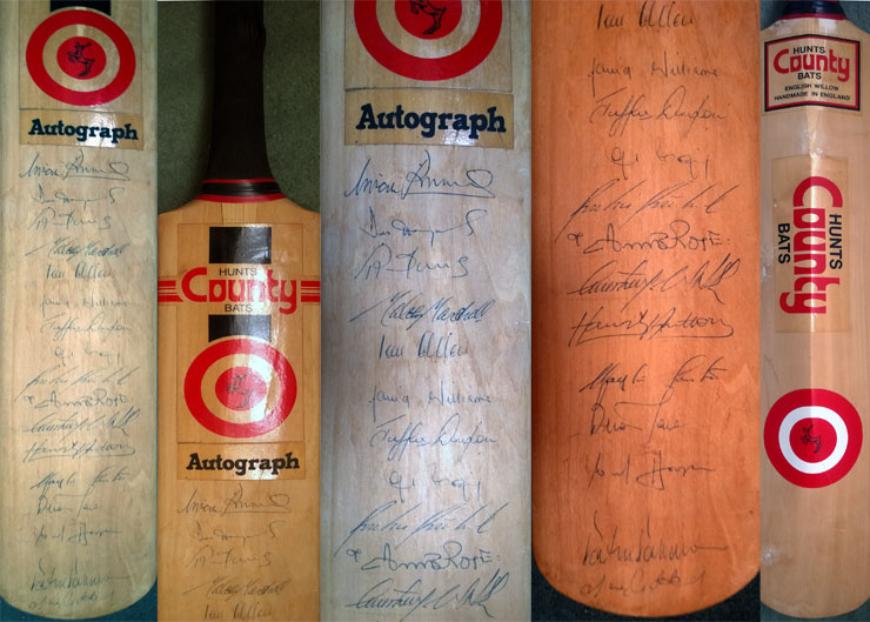 West Indies signed Hunts County Autograph cricket bat
Autographs include: Viv Richards (captain), Malcolm Marshall, Brian Lara, Desmond Haynes, Courtney Walsh,Curtley Ambrose, Jeffrey Dujon, Carl Hooper, Gus Logie, Patrick Patterson, Richie Richardson, Phil Simmons & Lance Gibbs (tour manager).

1993
AUSTRALIAN ASHES TOURING PARTY

SIGNED CRICKET BAT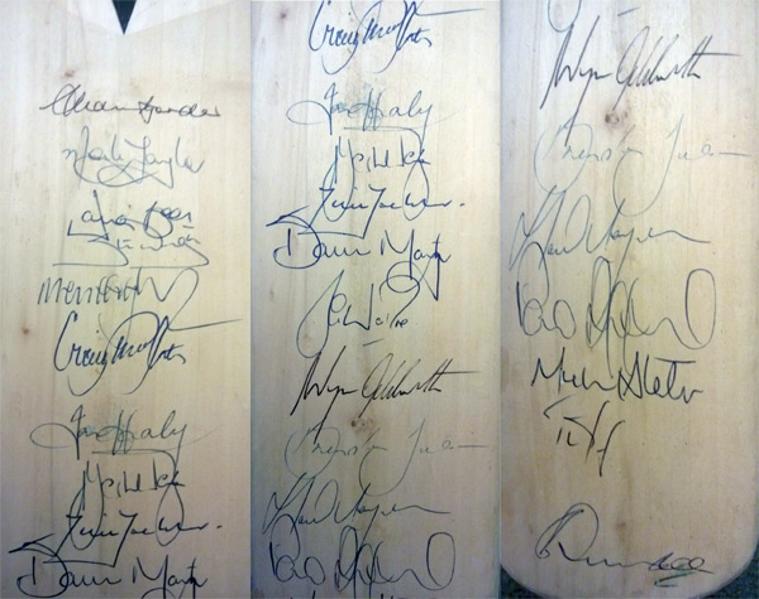 1993 AUSTRALIAN
ASHES TOURING PARTY
Duncan Fearnley bat
signed by:
Allan Border (capt)
Ian Healy
David Boon
Matthew Hayden
Wayne Holdsworth
Merv Hughes
Brendon Julian
Damien Martyn
Tim May
Craig McDermott
Paul Reiffel
Michael Slater
Mark Taylor
Shane Warne
Mark Waugh
Steve Waugh
Tim Zoehrer
S O L D £75


SIR GARRY SOBERS & SIR VIVIAN RICHARDS
Signed Slazenger V600 mini cricket bat (approx 14" tall)
S O L D £50

1966 WEST INDIES & ENGLAND SIGNED
GRADIDGE IMPERIAL DRIVER MINI-BAT


17 inch mini cricket bat signed by:
England (inc: Mike Smith, Colin Cowdrey, Ken Barrington, Fred Titmus, Jim Parks etc)
West Indies (inc: Garry Sobers, Conrad Hunte, Lance Gibbs, Rohan Kanhai, Charlie Griffiths).
S O L D £100

ALAN EALHAM (KENT) SIGNED CRICKET BAT
1982 BENEFIT YEAR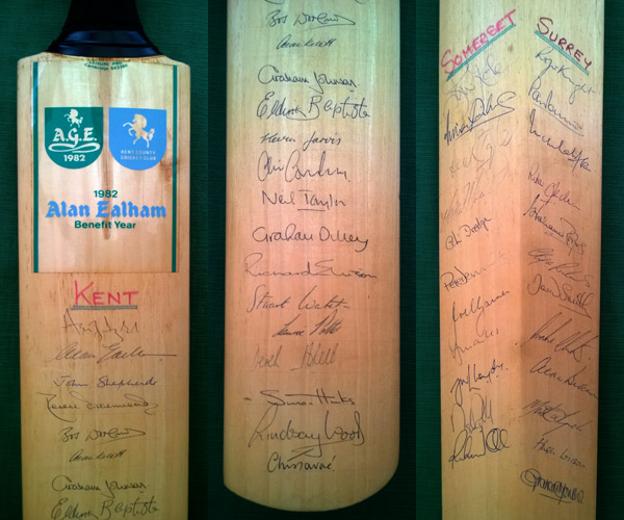 Signed by:
KENT CCC (on front)
Alan Ealham, Asif Iqbal, John Shepherd, Derek Underwood, Bob Woolmer, Alan Knott, Graham Johnson, Eldine Baptiste, Kevin Jarvis, Chris Cowdrey, Neil Taylor, Graeme Dilley, Richard Ellison, Stuart Waterton, Laurie Potter, Derek Aslett, Simon Hinks, Lindsay Wood & Chris Tavare.
SOMERSET CCC inc Vivian Richards, Joel Garner & Jeremy Lloyds.
SURREY CCC inc Monte Lynch, Alan Butcher, Graham Clinton & Robin Jackman.
S O L D £60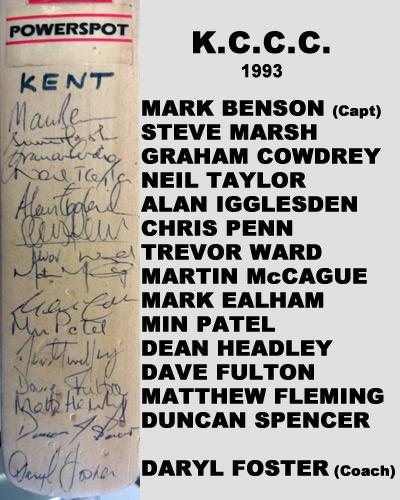 KENT CRICKET
SIGNED MINI BAT (1993)
A rare piece of Kent cricket memorabilia with the autographs of the 'regular' 1993 squad along with mercurial fast bowler Duncan Spencer (who only played four games for KCCC).
Duncan was famously described by Viv Richards as "the fastest bowler he'd ever faced."
This mini Gray Nicolls PowerSpot bat is also signed by coach Daryl Foster.
S O L D £30
1992 KENT CCC

signed mini cricket bat

Signed by 13 Kent players from the 1992 Benson & Hedges Cup Final at Lords:
Mark Benson
Steve Marsh
Richard Ellison
Martin McCague
Alan Igglesden
Matthew Fleming
Trevor Ward
Richard Davis
Neil Taylor
Carl Hooper
Graham Cowdrey
Mark Ealham &
Chris Penn.
S O L D £25
1976 WEST INDIES TOURING TEAM TO ENGLAND

Facsimile signed autographs on a card Stuart Surridge mini cricket bat:
Clive Lloyd
Deryck Murray

Viv Richards

Alvin Kallicharan

Vanburn Holder

Roy Fredericks

Bernard Julien

Wayne Daniel

Michael Holding

Gordon Greenidge

Collis King

Andy Roberts

Larry Gomes

Lawrence Rowe

Michael Findlay

Raphick Jumadeen

Albert Padmore.
S O L D £20
Official
2008
Rajasthan Royals S
igned Cricket Bat
Champions of the inaugural Indian Premier League (IPL)

Shane Warne
(captain)
Graeme Smith
(vice-captain)
Shane Watson
Sohail Tanvir
Kamran Akmal
Mohammed Kaif
Yusuf Pathan
Munaf Patel
Pankaj Singh
Mahesh Rawat
Siddharth Trivedi
Ravindra Jadeja
Niraj Patel
Swapil Asnodkar
Dinesh Salunkhe
Anup Revandkar
Taruwar Kohli
+
Younis Khan
(unnamed -
signed on the toe)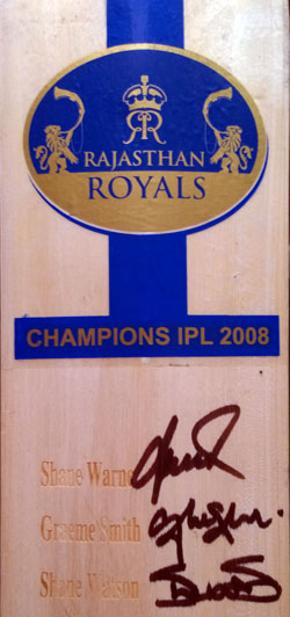 Australian "A" signed mini cricket bat (c early 1990s)
Signatures include future Test legends: Adam Gilchrist, Ricky Ponting, Matthew Hayden & Damien Martyn.
S O L D £25

TRANSVAAL & WESTERN PROVINCE CURRIE CUP
Signed mini-bats (c mid-1980s South Africa)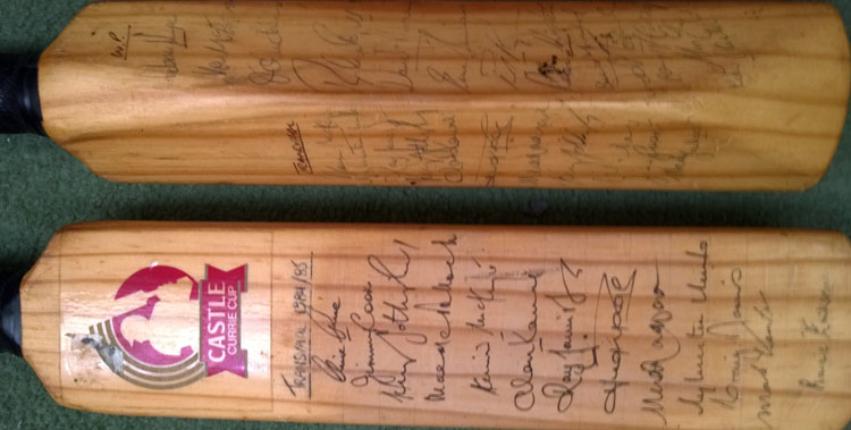 Transvaal 1984-85 Currie Cup winners signed cricket mini-bat
Inc: Graeme Pollock, Clive Rice, Jimmy Cook, Neal Radford & Sylvester Clarke
+ Transvaal & Western Province squads signed back of a second Castle Currie Cup mini-bat
Inc Peter Kirsten, Ken McEwan & Adrian Kuiper.
S O L D £25 each