Please browse our online Sports Memorabilia Departments below:
ABOUT US - Uniquely Sporting
Our primary function is to help charities maximise their own efforts in fund-raising, event management and communications (websites, video, social media, etc). As well as donating items directly to charities, all profits made from the sale of our Sporting Memorabilia will be reinvested into achieving our goal.
COMING SOON:
"The UNIQUELY SPORTING Auction Challenge"
where Sports Personalities buy & sell Sporting Memorabilia for Charity!
CONTACT US for more details or if you'd like to: take part, have any donations or host a visit from us.
VISIT our first Uniquely Sporting Sports Memorabilia retail unit
in Allsorts, Headcorn High Street, Kent, UK.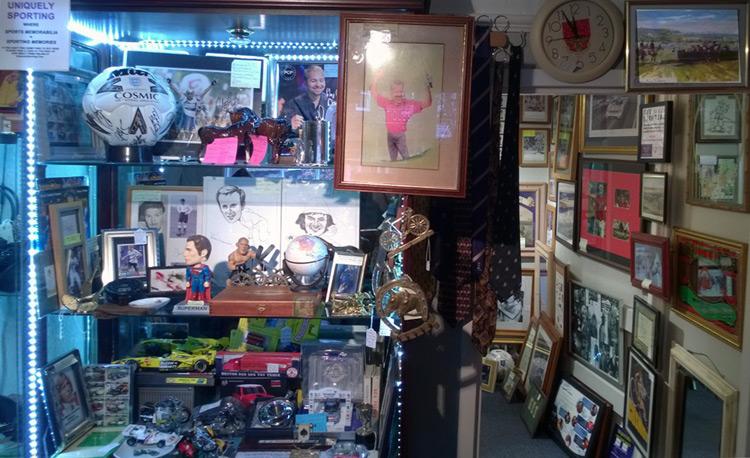 Location
: Ground & First Floor
ALLSORTS Antiques Vintage Collectables
37 High Street, Headcorn, TN27 9NL

01622892400
Open: 10am - 4.30pm
(Sundays opens at 12 noon)


UNIQUELY SPORTING
where
SPORTS MEMORABILIA = SPORTING MEMORIES
If you have any questions about any of our items, or...
Want to make an offer on one of our items...

Have something uniquely sporting you think we might like to buy or feature... (see note below)

Would like to book a visit from us,

Have an idea for our "Uniquely Sporting" TV show...

If you own a large sports memorabilia collection and would like to see it featured on our show and be interviewed about it, send us details about yourself and your collection.
please fill in the Contact Form above to email us.
Please Note: If you have an item of sports memorabilia for sale, please let us know your value for the item, as - due to the overwhelming number of enquiries we receive - we are unable to reply to all of the offers for sale.
Also bear in mind that any profits from sales we make are re-invested in our partner charities & NFPs; so this will affect the price we are able to offer / pay.
FOR CELEBRITY AUTOGRAPHS
& SIGNED MEMORABILIA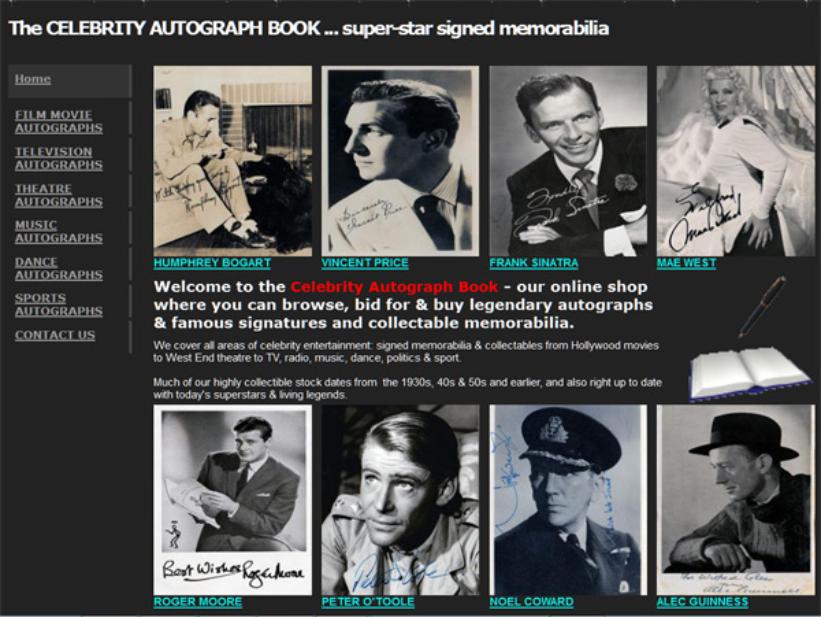 "UNIQUELY SPORTING" & "CELEBRITY AUTOGRAPH BOOK" & "BLUE EYED BOOKS"
are owned & operated by JARMAGEDDON
WELCOME to the UNIQUELY SPORTING SPORTS MEDIA website which features thousands of signed sports memorabilia and authentic autographed sporting collectables across: Football Memorabilia, Cricket Memorabilia, Rugby Union Memorabilia, Rugby League Memorabilia, Tennis Memorabilia, Golf Memorabilia, Boxing Memorabilia, MotorSports Memorabilia, Formula One Memorabilia, Athletics Memorabilia, Snooker Memorabilia, Darts Memorabilia, Soccer Memorabilia, US Sports Memorabilia, Baseball Memorabilia, American Football Memorabilia, Ice Hockey Memorabilia, Basketball Memorabilia, NCAA Memorabilia, Horse Racing Memorabilia, Equestrian Memorabilia, Cycling Memorabilia, Olympics Memorabilia, Triathlon Memorabilia, Ice Skating Memorabilia, Lawn Bowls Memorabilia, Swimming Memorabilia, Hurling Memorabilia, GAA Memorabilia, Surfing Memorabilia, Bowling Memorabilia, Squash Memorabilia, Archery Memorabilia, Fishing Memorabilia, Angling Memorabilia, Parkour Memorabilia, Skeleton Memorabilia, Winter Sports Memorabilia, Aussie Rules Memorabilia, Sailing Memorabilia, Yachting Memorabilia. As well as Signed Sports Books, Sporting Board Games and other sports-related items of interest and historic value.
As well as the Sports Memorabilia business side to our charitable ventures, Uniquely Sporting Sports Media also develops sports-related projects for TV, video, online digital and radio broadcast - all with a charity / NFP link.