ARNOLD PALMER MEMORABILIA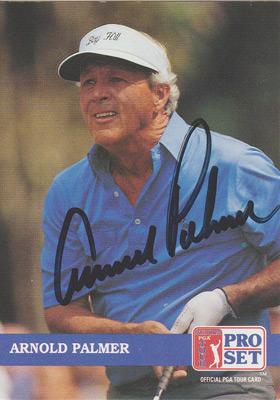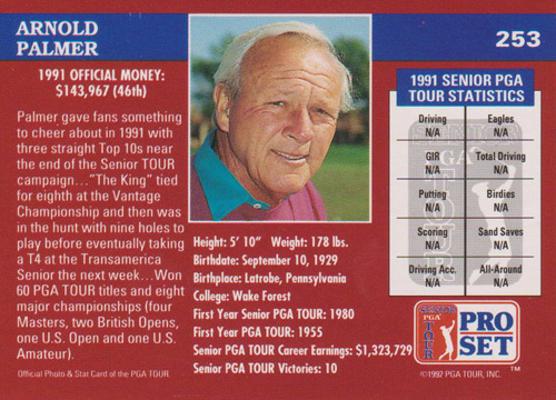 ARNOLD PALMER
Signed Official 1992 PGA Tour Pro Set player card.
U.S. MASTERS GOLF MEMORABILIA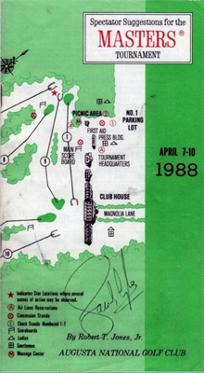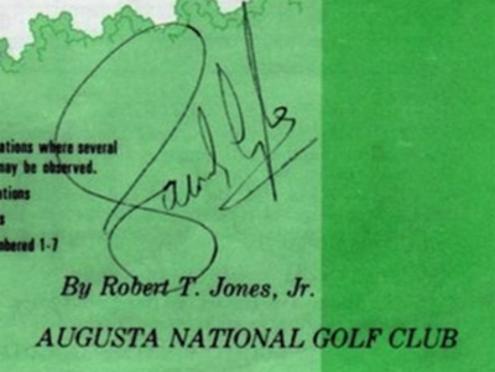 SANDY LYLE SIGNED MEMORABILIA
(1988 US Masters champion)
Signed 1988 Robert T Jones Jr Augusta National Golf Club "Spectator Suggestions for the Masters Tournament" guide.
Also signed by Byron Nelson, Fred Couples, Ben Crenshaw, Scott Simpson & Billy Casper.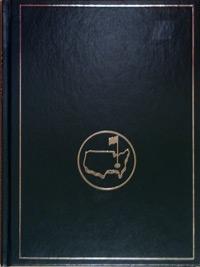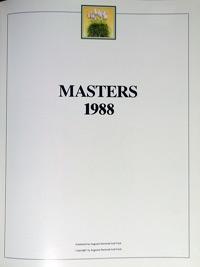 NINETEEN HUNDRED EIGHTY-EIGHT U.S. MASTERS 1988
OFFICIAL
REPORT
HANDBOOK
details the events and results of the 1988 Augusta Masters Tournament won by Sandy Lyle.
Heavily illustrated with statistics and expert commentary on the golfing action.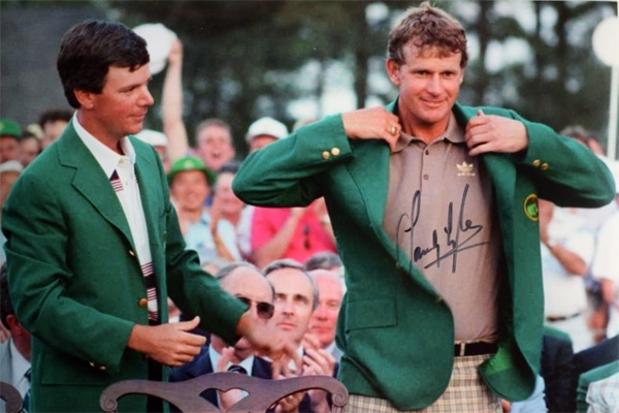 SANDY LYLE SIGNED US MASTERS MEMORABILIA

Signed 1988 Augusta National Masters Champion Green Jacket photo.


Approx A4 size

SOLD £30
BERNARD DARWIN Memorabilia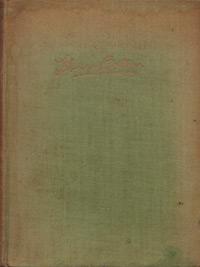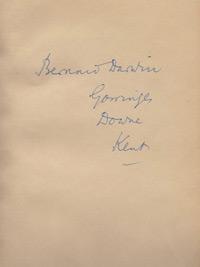 BERNARD DARWIN
(Grandson of Charles, noted golfing writer and amateur golfer)
Signed first edition copy of Henry Cotton's "My Swing" golf manual.
Also inscribed with his home address "Gorringes, Downe, Kent" signifying this was Darwin's personal copy.

RICHARD BURTON MEMORABILIA


(1939 British Open champion)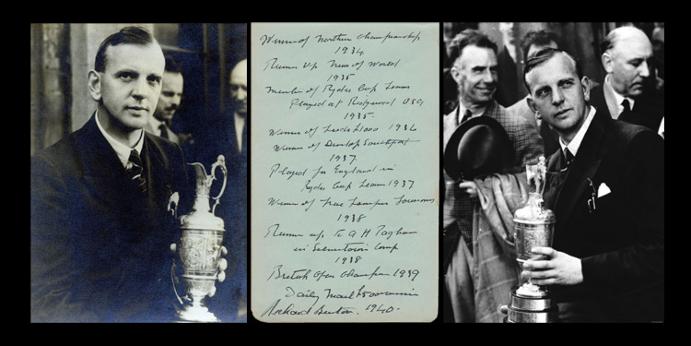 RICHARD (Dick) BURTON British Open Montage

A hand-written list of his career highlights & tour wins, including 1939 British Open victory and two appearances for "England" in the Ryder Cup has been signed by Richard Burton on an autograph book page.
Mounted with two B&W photos of Burton holding the Claret Jug after his Open Championship win at St Andrews.

The montage is approx 30 x 15 cms and is framed under glass.

SOLD AT SOTHEBY'S £180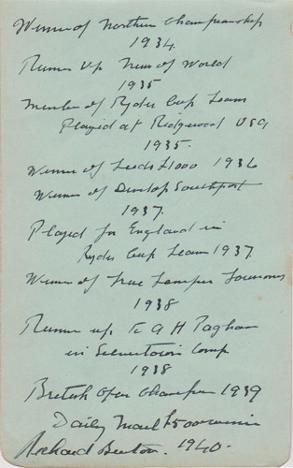 Other career highlights listed: Winner of ... Northern Pro Champs (1934), Leeds £1000 (1936), Dunlop Southport (1937), True Temper Foursomes (1939) & Daily Mail £500 (1940).
PETER THOMSON MEMORABILIA
(Five-time British Open champion - 1954, 1955, 1956, 1958 & 1965)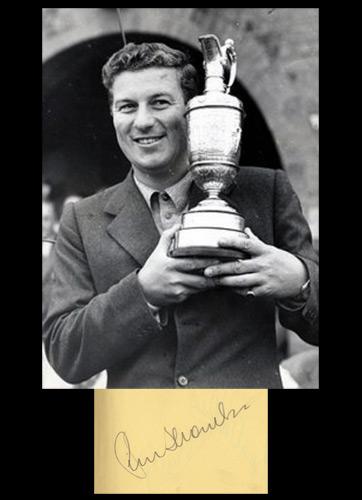 PETER THOMSON
(5 x British Open champion)

Autograph mounted with a B&W photo of Thomson holding the Claret Jug trophy after winning one of his five British Open Championship titles.

Approx A4 size.

SOLD £50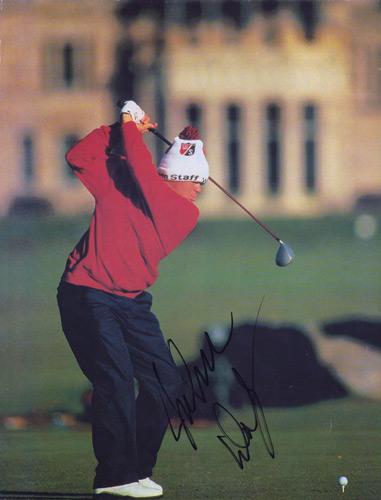 JOHN DALY
(1995 British Open champion & 1991 PGA champion)
Signed colour magazine picture of Daly in action driving off the 18th tee at St Andrews.

Approx A4 size

S O L D £50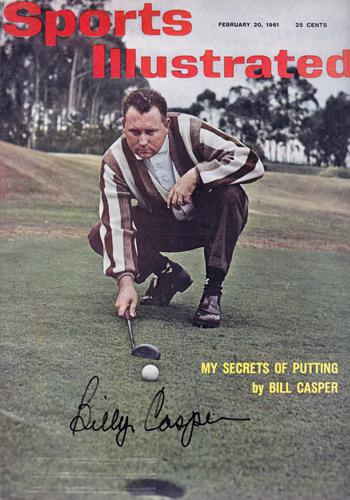 BILLY CASPER
(2 x US Open champion & US Masters)
Signed Feb 20, 1961 "Sports Illustrated" cover.
Mounted in card frame.
SEVERIANO BALLESTEROS MEMORABILIA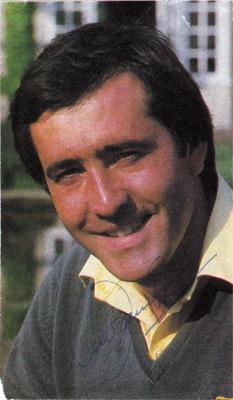 SEVE BALLESTEROS
Signed magazine pic.
Approx size: 7 x 12 cms
Slight tear to top & BLH corner clipped (see pic for more detail)
S O L D £30

SIR NICK FALDO MEMORABILIA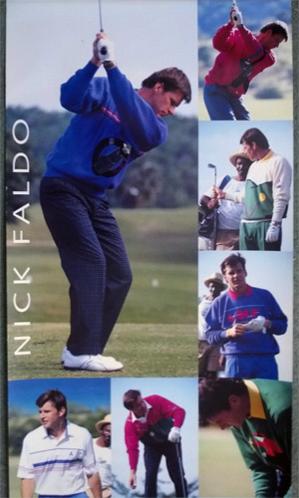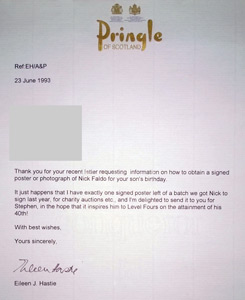 SIR NICK FALDO signed Pringle Sports Nick Faldo Collection Golf Sweater poster (c 1993) + letter of authenticity direct from Pringle of Scotland.
Very Limited Edition
Approx size: 27 x 90 cms

NICK FALDO
signed Nike golf glove
S O L D £50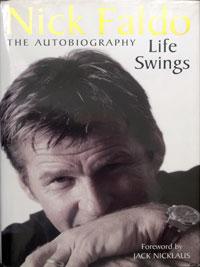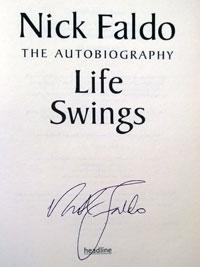 NICK FALDOSigned autobiography
"Life Swings" First Edition
S O L D £25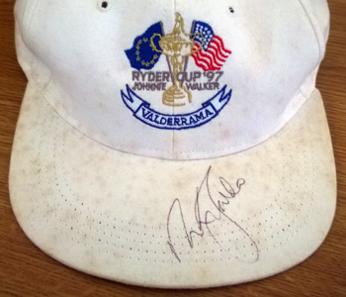 NICK FALDO
signed 1997 Ryder Cup cap from Valderrama
Some discolouration hence low asking price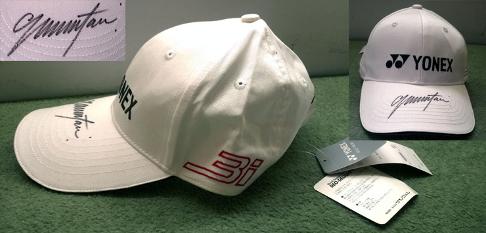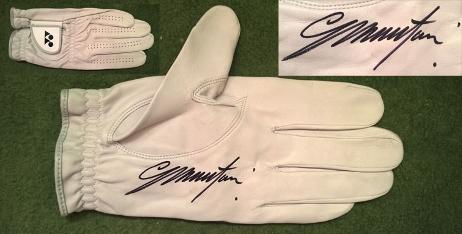 COLIN MONTGOMERIE aka 'Monty'
European Ryder Cup player / captain / legend & 8 x European Tour Order of Merit titles
1: Signed as new Yonex 3i golf cap with tags.
2: Signed as new Yonex golf glove (left hand).
BOTH SIGNED CAP & GLOVE
S O L D £70
CLICK HERE FOR MORE COLIN MONTGOMERIE / MONTY SIGNED GOLF MEMORABILIA
LEE TREVINO Memorabilia
(Winner: British Open 1971 & 1972, US Open 1968 & 1971, US PGA 1974 & 1984)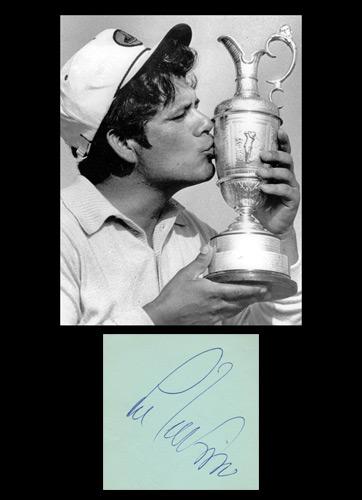 LEE TREVINO


(2 x British Open golf champion)
Autograph mounted with B&W photo of Trevino kissing the Claret Jug after winning his second British Open championship in 1971.

Approx A4 size.

SOLD £40
----------------------------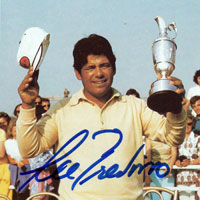 LEE TREVINO
2 x British Open golf champion
Signed 1972 British Open picture
with the Claret Jug.
S O L D £25

TONY JACKLIN Memorabilia

(1970 US Open & 1971 British Open Champion
& former Ryder Cup Captain)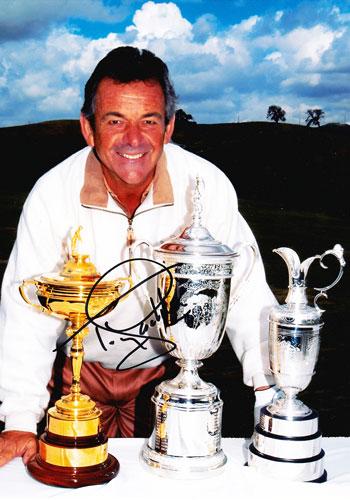 TONY JACKLIN
Signed multi trophy photo:
Ryder Cup, US Open & British Open Claret Jug.
S O L D £30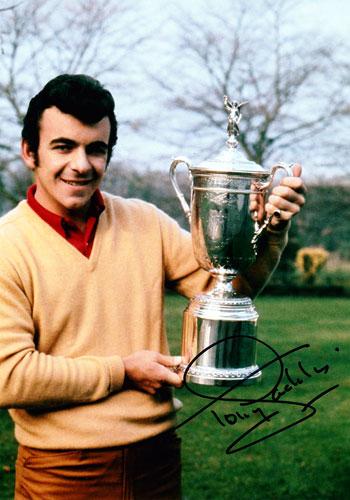 TONY JACKLIN
Signed 1970 US Open Trophy photo.



S O L D £30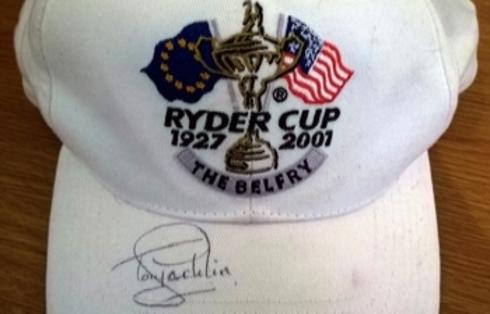 TONY JACKLIN
(1970 US Open & 1971 British Open Champion
& former Ryder Cup Captain)
Signed 2001 Ryder Cup Belfry golf course cap
S O L D £30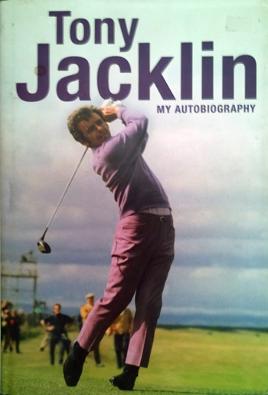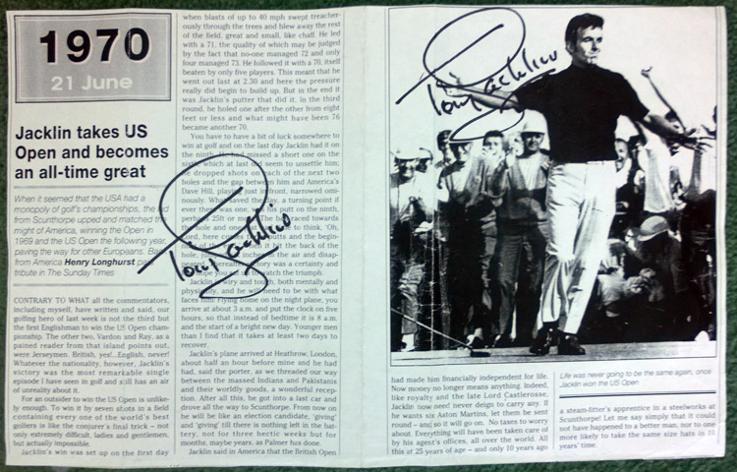 TONY JACKLIN
1: First Edition of Jacklin's 2006 Autobiography
2: Dual-signed photocopy* of a book article on Jacklin's 1970 US Open victory + pics. * = Scrapbook item
PAUL McGINLEY memorabilia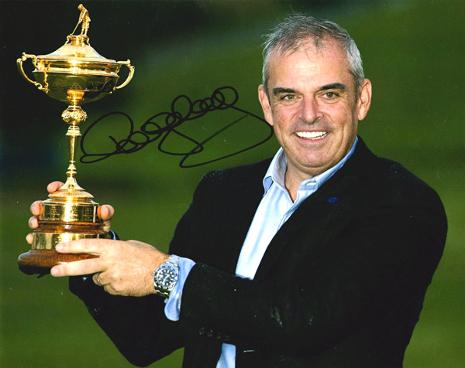 EUROPE'S RYDER CUP CAPTAIN PAUL McGINLEY signed colour photo with him holding the Samuel Ryder Trophy at Gleneagles in 2014 where EUR beat the USA.

Approx A4 size.
DARREN CLARKE Memorabilia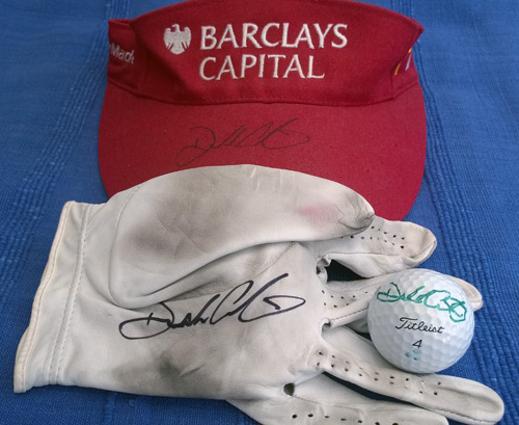 DARREN CLARKE
Signed / Tournament Used during the 2006 season
(possibly Bay Hill Invitational) ...

1. Titleist Golf Glove

2. Titleist 4 Golf Ball + Darren's trademark dots

3. Barclays Capital Taylor Made F7 Golf Visor.
Three signed items combined as one.
SOLD £100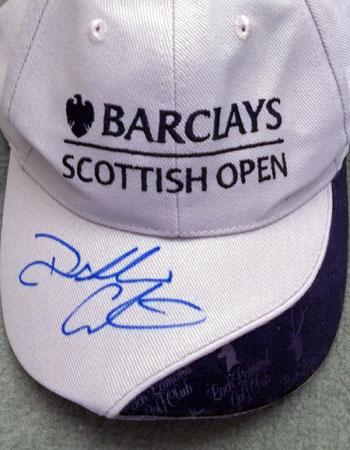 DARREN CLARKE
(2011 British Open champion)
Signed Loch Lomond Golf Course

Barclays Scottish Open golfing cap.
SOLD £40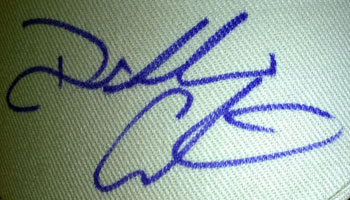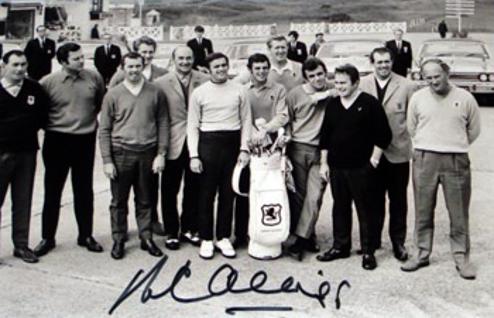 PETER ALLISS
[second left]
signed 1969 Ryder Cup team photo.
DAME LAURA DAVIES Memorabilia

Former world No. 1 golfer DAME
LAURA DAVIES

2 x signed laminated golf pics & golfing birthday card.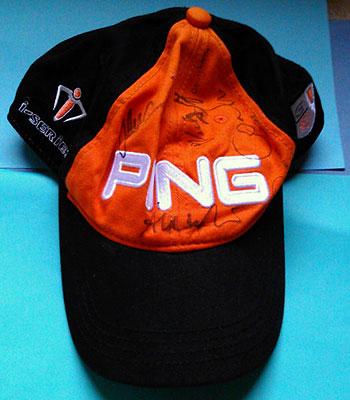 Official PING golf cap signed by
Lee Westwood
Miguel Angel Jimenez

Nick Dougherty
+ two others.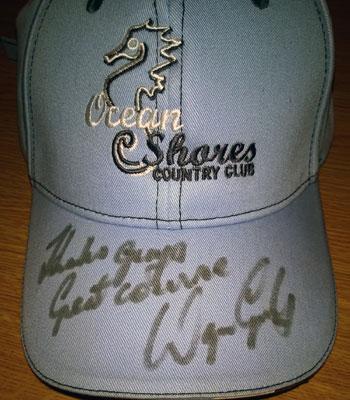 WAYNE GRADY
1990 US PGA Champion
Signed Ocean Shores Country Club (Australia)

golf cap with dedication "Thanks Guys Great Course"
S O L D £25
CHRISTY O'CONNOR Jnr memorabilia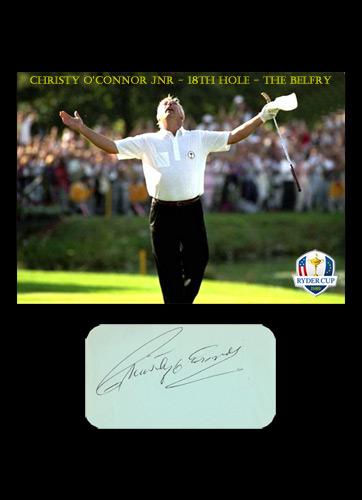 CHRISTY O'CONNOR Jnr
Autograph page mounted with 1989 Ryder Cup photo showing O'Connor celebrating his crucial singles victory over Fred Couples on the 18th hole at The Belfry to set up victory for Europe over the USA.

Approx A4 size

SOLD £40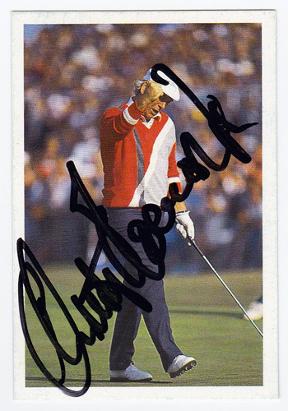 CHRISTY O'CONNOR Jnr
2 x Senior British Open winner

& 2 x Ryder Cup player.
Signed Question of Sport Golfer card

(6 x 9cm)
S O L D £50
CELBRITY / COLLECTABLE GOLFING MEMORABILIA


BOB HOPE GOLF MEMORABILIA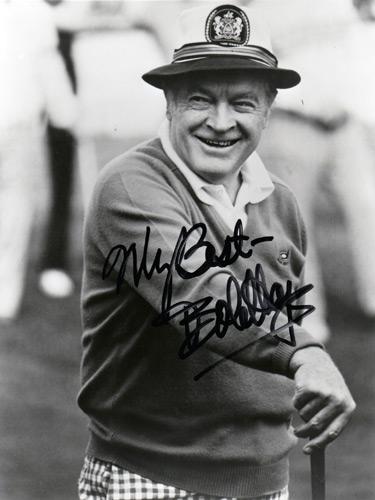 BOB HOPE
Signed B&W celebrity golf photo
Approx A4 size
Comes with accompanying envelope from
Bob Hope Enterprises in the USA.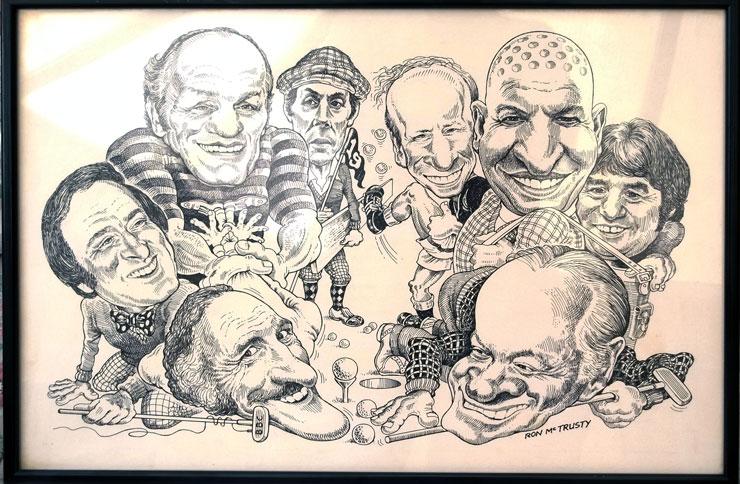 RON McTRUSTY Humorous Celebrity Golf Print (
Framed)
Featuring golfing caricatures of TV, Comedy & Sports Legends: Bob Hope, Bruce Forsythe, Telly Savalas, Terry Wogan, Jimmy Tarbuck, Henry Cooper, Bobby Charlton &
Eric Sykes.
S O L D £50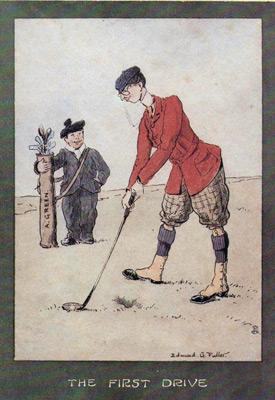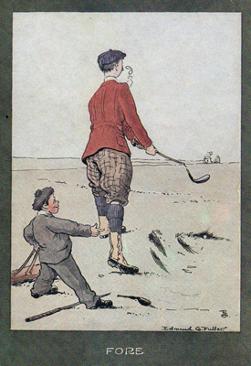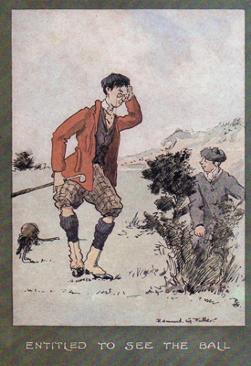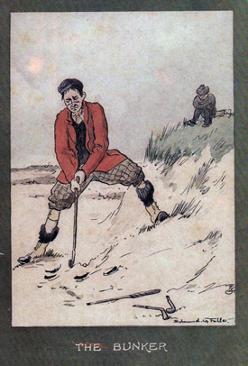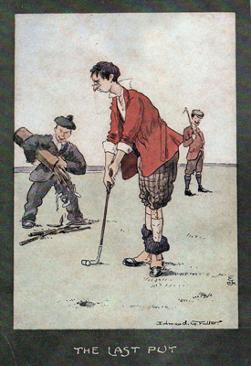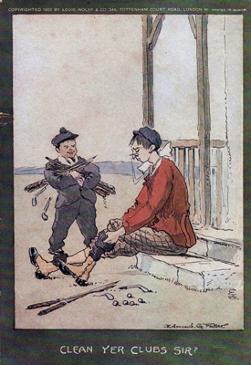 EDMUND G FULLER
Set of Six Antique / Humorous Golfing Cartoons (1903)

1. The First Drive
2. Fore
3. Entitled to See the Ball
4. The Bunker
5. The Last Putt
6. Clean Yer Clubs Sir?
Approx A4 size
----------------------------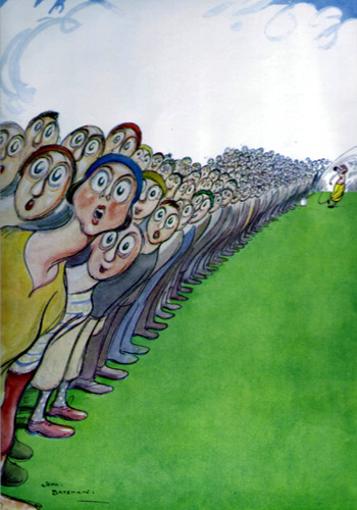 Henry Mayo H.M. BATEMAN
Full page Colour Cartoon
Originally from May 1932 Punch Magazine.
Unframed
S O L D £25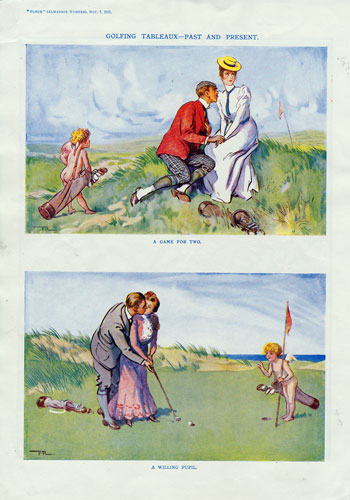 1927 Punch magazine golf print
by
Frank Reynolds
"Golfing Tableaux: Past and Present"
Top: "Game for Two"
Bottom: "Willing Pupil"
Full Page / Framed under Glass
Punch (Almanack Number) Nov 7, 1927
"A Game for Two" shows Cupid caddying for a love-struck couple relaxing on a hillock beside the green
&
"A Willing Pupil" shows Cupid caddying for a couple kissing on the green while they make a putt together.
Very collectable A4 size print comes suitably framed for the UK only. If purchased outside UK, only the print will be dispatched.
Would make a great romantic anniversary gift for a golfing couple or a cute sporting valentine's present for a golfer, or simply a lovely double print in its own right.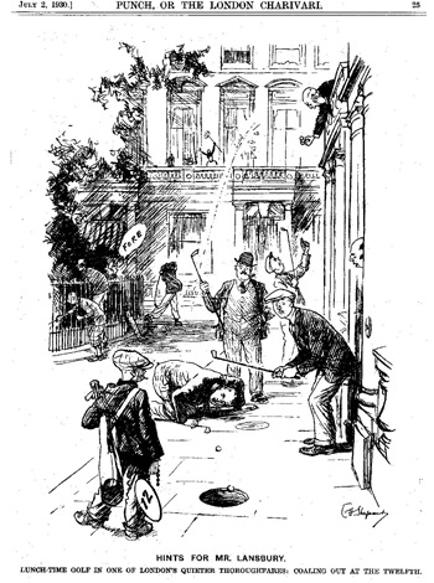 1930 Punch magazine golf print
by
Ernest Howard 'EH' Shepard MC OBE
"Hints for Mr Lansbury"
Lunch time golf in one of London's
quieter thoroughfares, coaling out at the twelfth.
Full page from June 2, 1930 Punch magazine
(uncoloured)
Framed under glass

S O L D £30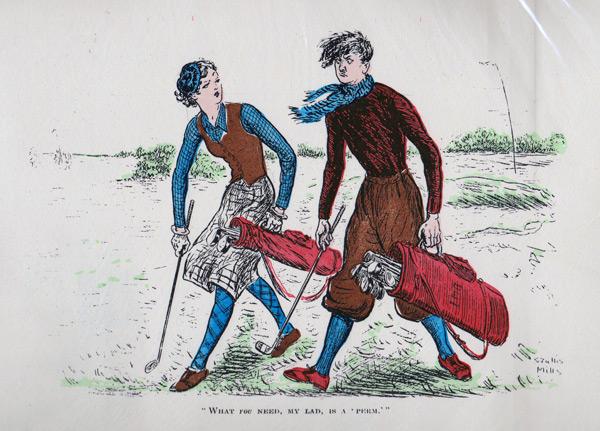 1930s Punch Magazine
Wallis Mills Golf Cartoon
"What You Need, My Lad, is a Perm"
Framed / Approx A4 size (Hand-Coloured)
---------------------------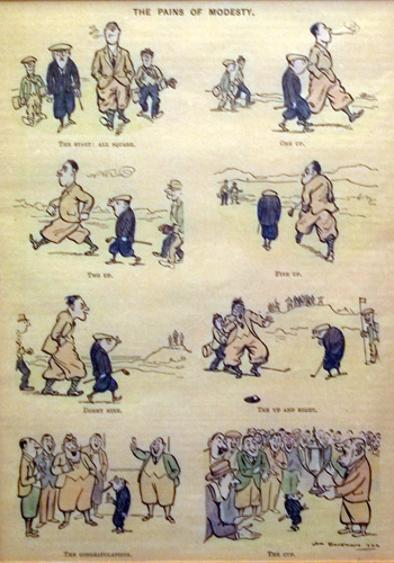 H.M. BATEMAN
1922 Punch magazine golfing cartoon
"The Pains of Modesty"

Hand-Coloured print / A4 Framed
---------------------------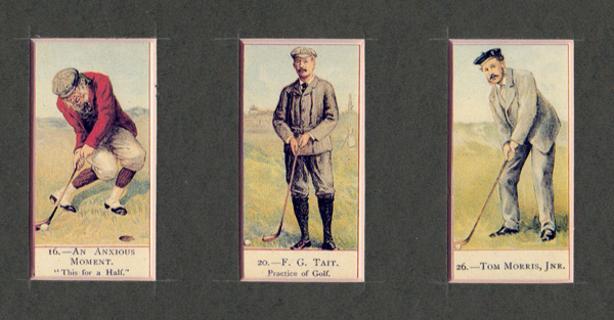 GOLFING COLLECTORS CARDS
Trio of Golf related portraits
F.G. Tait,
Tom Morris, Jnr
&
An Anxious Moment.
GOLF MAGAZINES & EPHEMERA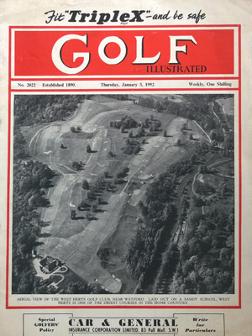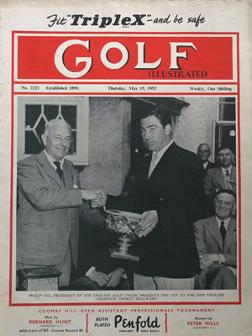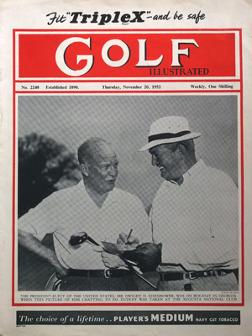 "GOLF ILLUSTRATED" magazine - 1952 UK editions: Jan 3rd, May 15th & Nov 20th. One shilling
(3 copies)
GOLF JEWELLERY & GOLFING BLING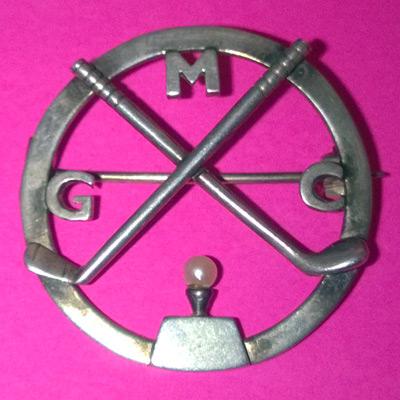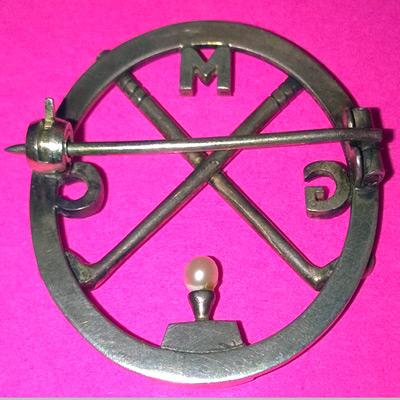 LADIES GOLF BROOCH
Metal brooch with crossed golf clubs (driver and iron), 'pearl' ball on a tee mounted on an outer ring with lockable clasp to reverse - with the initials M.G.C. (Moortown Golf Club ??). Date & metal unknown.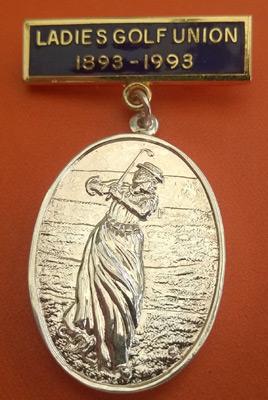 LADIES GOLFING UNION
Commemorative Brooch & Bar celebrating the 100 year anniversary of the LGU - 1893-1993.

Sponsored (on reverse) by Famous Grouse Whisky.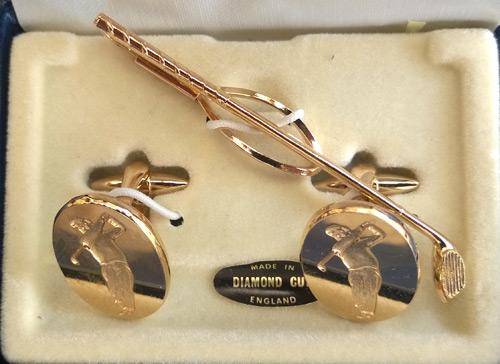 GOLFING CUFF LINKS & DRIVER TIE CLIP
Diamond Cut fashion jewellery in its original jewellers box.
Made in England

LADIES GOLF BROOCH - Long metal one wood / driver brooch, yellow metal with clasp to reverse. Date & metal unknown.
----------------------------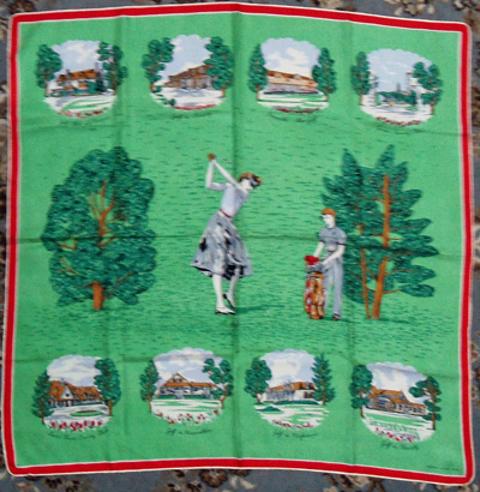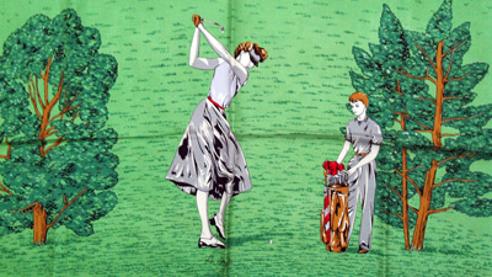 1950s BIANCHINI FERIER LADIES GOLF SCARF
features French golf country clubs: Le Tourquet, Biarritz, Deauville, Cannes, Saint Cloud, Fontainebleau, Morfontaine, Chantilly.
Approx size: 85 x 85 cms
----------------------------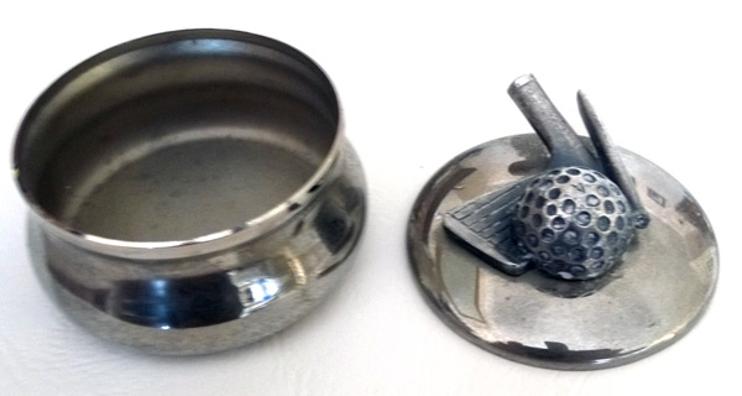 GOLF PIN DISH + LID
Festooned with golf club head, golf ball, and golf tee. Silver plated / date unknown (vintage / antique).
----------------------------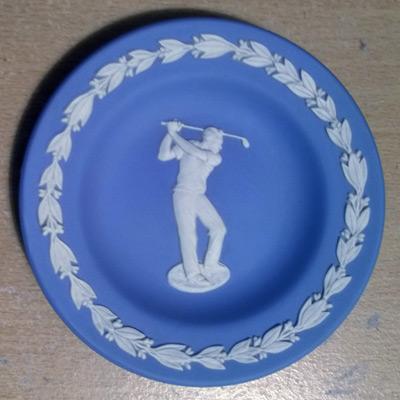 WEDGWOOD BLUE JASPER GOLF PIN DISH (c 1980)
GOLFING HUMOUR & GOLF POSTCARDS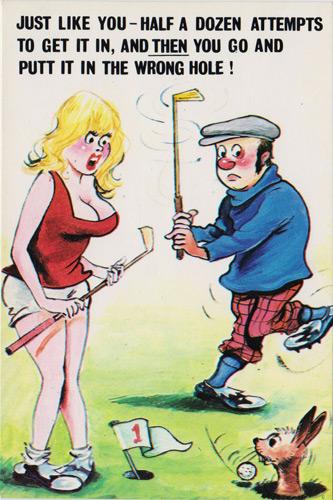 SAUCY CARDTOON GOLFING POSTCARD
Busty Blonde to Wayward Husband:
"Just Like You - Half a Dozen attempts to get it in, and THEN you go and putt it in the Wrong Hole!"

S O L D £15
+ Custom Golf Frame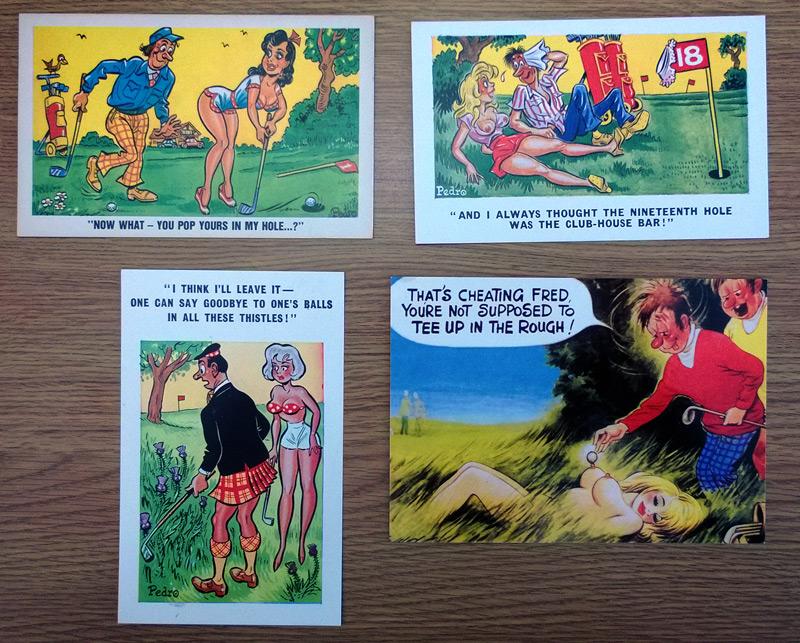 SAUCY PEDRO GOLFING POSTCARDS
Collection of Three Pedro art Golfing Humour postcards + a fourth card.
S O L D £10
Welcome to Uniquely Sporting's sports shop / store page for golf memorabilia & golfing collectables - with a great collection of autographed & signed items: golf photos, golfing prints, golf posters, golf artwork, golf cards, golf balls, golf clubs, golf caps, golf shirts, golf clothing, golf books & golf First Day Covers ... across the Majors - British Open, Masters, U.S. Open, U.S.A. PGA, from Ryder Cup to the Claret Jug, from St Andrews to Augusta, from professional to pro-am celebrity, from matchplay to strokeplay.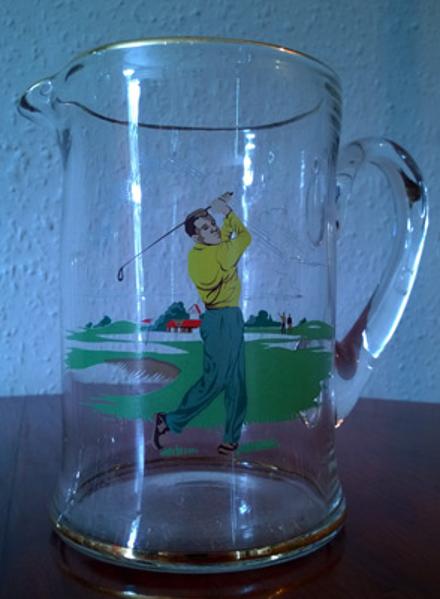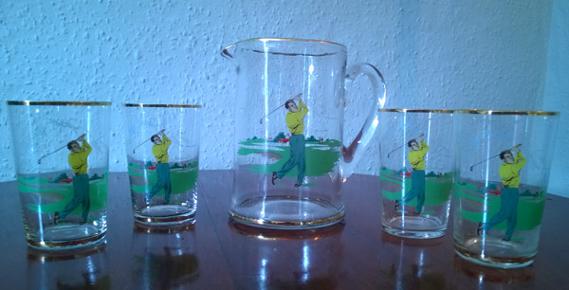 1950s Vintage Golfing Cocktail Jug
and 4 matching gilt-rimmed glasses.

If you wish to find out more about a specific item, please email us using the Form below.
PLEASE USE THE CONTACT FORM >>>
FOR FURTHER DETAILS ON THE ABOVE ITEMS.
IF YOU WANT TO BUY AN ITEM OR ITEMS ... PLEASE SEND US YOUR BID OFFER.
IF YOU ARE LOOKING FOR A SPECIFIC ITEM OR SPORTS STAR / TEAM / EVENT.
IF YOU HAVE A "UNIQUELY SPORTING" ITEM OF MEMORABILIA YOU WANT TO SELL, PLEASE SEND DETAILS WITH YOUR VALUATION & A CONTACT EMAIL / PHONE NUMBER.
Please note we cannot always reply to every enquiry given the amount of mail we receive. We will be in touch only if we are interested.
IF YOU HAVE ANY OTHER QUESTIONS...
WE LOOK FORWARD TO HEARING FROM YOU!
-