GLOUCS ccc CRICKET MEMORABILIA
GLOUCS CCC
1973 Gillette Cup Champions
B&W pic of the team celebrating their victory at Lord's signed by captain and player of the match Tony Brown.
Approx size: 18 x 19 cms.
+
TONY BROWN signed B&W pic of him in action during the 1973 Gillette Cup Final.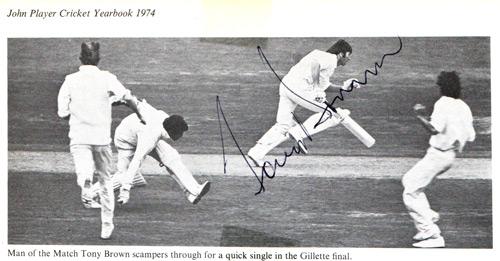 TWO for ONE DEAL
Both above Tony Brown signed photos
£15
GLOUCS CCC
John Player League match scorecard
(Hants v Gloucs on Jul 31 1980)
Page signed by 13 players: Andy Stovold, Paul Romaines, Phil Bainbridge, Alistair Hignell, Zaheer Abbas, John Shepherd, David Graveney, Jack Russell, John Childs, Gary Sainsbury, Syd Lawrence, Tony Wright + Chris Broad.
Approx A5 size.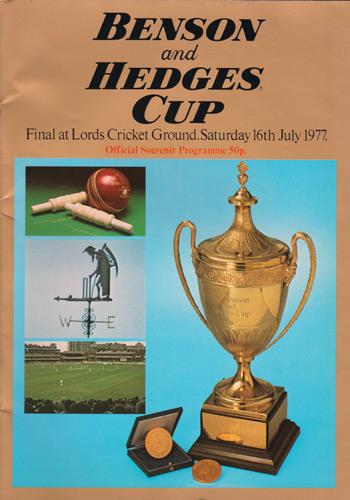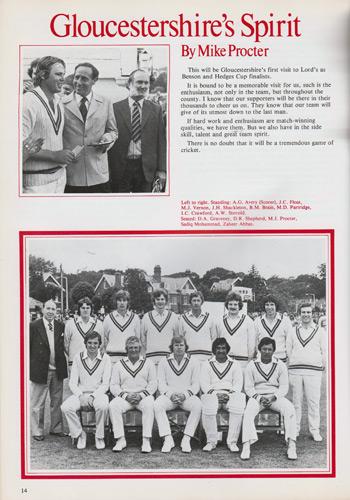 1977 BENSON & HEDGES CUP FINAL PROGRAMME

FINAL at LORD'S CRICKET GROUND SAT 16th JULY 1977
Gloucestershire beat Kent by 64 runs.
Gloucs CCC 237/6 Kent 173 all out.
Welcome to Uniquely Sporting's sports shop / store page for Gloucestershire cricket memorabilia, Gloucs CCC collectables & souvenirs, with a great collection of autographed & signed items: photos, prints, posters, player cards, postcards, balls, boots, shirts, clothing, books & First Day Covers ...
PLEASE USE THE "CONTACT US" FORM FOR FURTHER INFO.
IF YOU ARE LOOKING FOR A SPECIFIC ITEM OR SPORTS STAR / TEAM / EVENT.
IF YOU HAVE A "UNIQUELY SPORTING" ITEM OF MEMORABILIA YOU WANT TO SELL, PLEASE SEND DETAILS WITH YOUR VALUATION & A CONTACT EMAIL / PHONE NUMBER.
Please note we cannot always reply to every enquiry given the amount of mail we receive. We will be in touch only if we are interested.
IF YOU HAVE ANY OTHER QUESTIONS...
WE LOOK FORWARD TO HEARING FROM YOU!
-