MOTORBIKE MEMORABILIA & MOTORCYCLING MEMORABILIA
[SUPERBIKE / MOTO GP / MOTOCROSS / SPEEDWAY / HARLEY-DAVIDSON]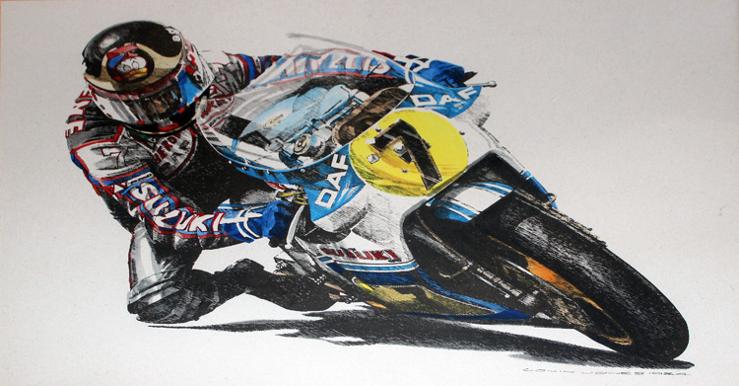 BARRY SHEENE Limited Edition print
Artist: Colin Jones (signed)
Size: 15" x 11" Framed under glass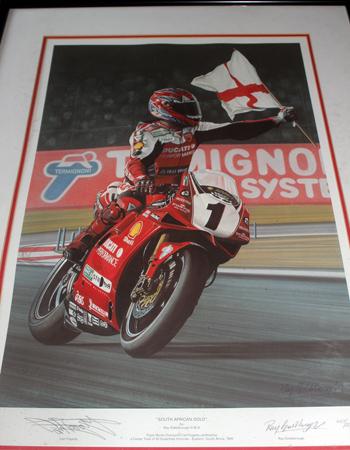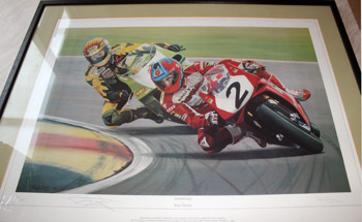 CARL FOGARTY
Signed limited edition prints
Left: South African Gold & Above: Champions
For more on these Carl Fogarty signed prints, please click here to visit our "Foggy" Gallery.
'FAST' FREDDIE SPENCER MEMORABILIA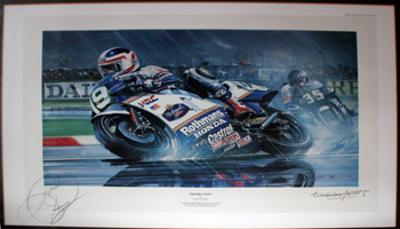 FREDDIE SPENCER
Signed limited edition print
"Double Take" by Nicholas Watts
For more on this Freddie Spencer signed print,
click here for our "Fast Freddie" Gallery.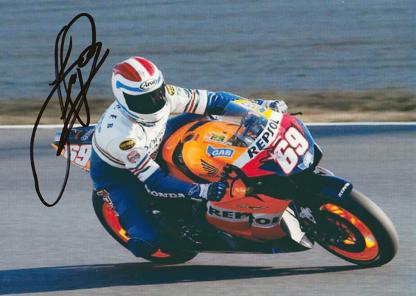 FREDDIE SPENCER
Signed Repsol motorcycling photo
Approx size: 16 x 12cm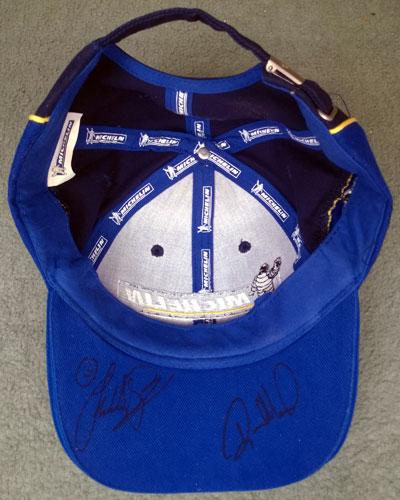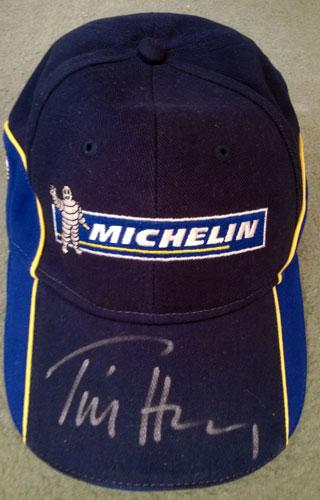 Multi-Signed Michelin Baseball Cap
FREDDIE SPENCER
(3 x World Motorbike GP champion 500c & 250cc)
+ RANDY MAMOLA (13 x Motor Cycle Grand Prix wins) +
TIM HARVEY (
1992 British Touring Car Champion
)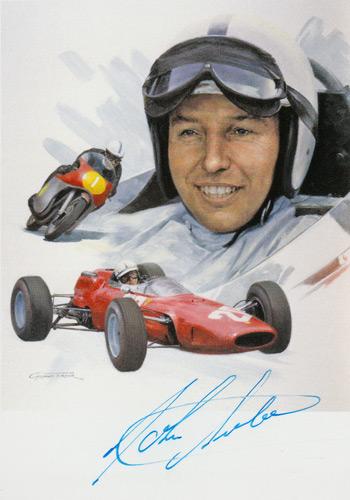 JOHN SURTEES
Signed Motor-Cyling &
F1 Motor-Racing Montage Postcard.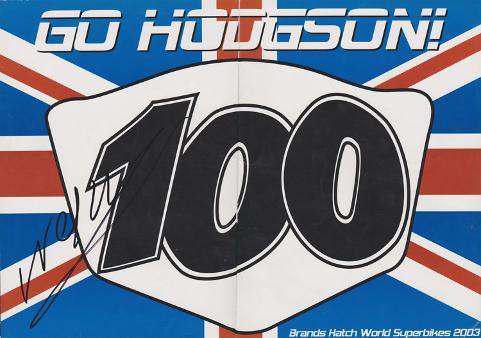 NEIL HODGSON
(2003 World Superbikes champion)
Signed 2003 Brands Hatch SuperBikes "Go Hodgson!" Union Jack 100 poster card (from Two Wheels Only magazine).

Approx size: 42 x 30 cms
With fold down the middle
Signature highlighted below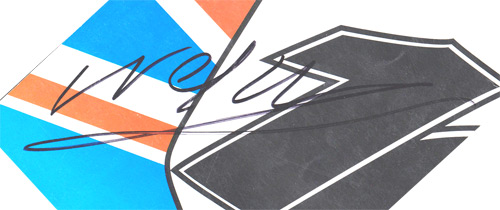 SCOTT REDDING MEMORABILIA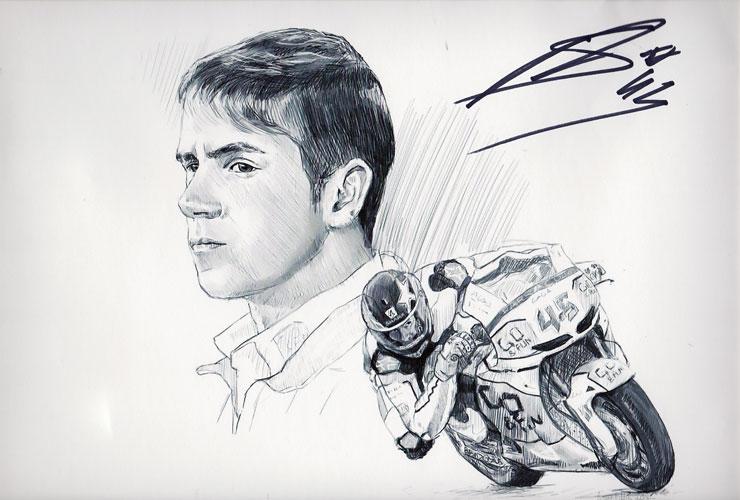 SCOTT REDDING
(youngest rider in history of Grand Prix motorcycle racing to win a race)
Signed "Scott Redding 45" Moto GP bike print.
PLEASE USE THE CONTACT US FORM >>>
FOR FURTHER DETAILS ON THE ABOVE ITEMS.
IF YOU ARE LOOKING FOR A SPECIFIC ITEM
OR SPORTS STAR / TEAM / EVENT.
IF YOU HAVE A "UNIQUELY SPORTING" ITEM OF MEMORABILIA YOU WANT TO SELL, PLEASE SEND DETAILS WITH YOUR VALUATION & A CONTACT EMAIL / PHONE NUMBER.
Please note we cannot always reply to every enquiry given the amount of mail we receive. We will be in touch only if we are interested.
IF YOU HAVE ANY OTHER QUESTIONS...
WE LOOK FORWARD TO HEARING FROM YOU!
-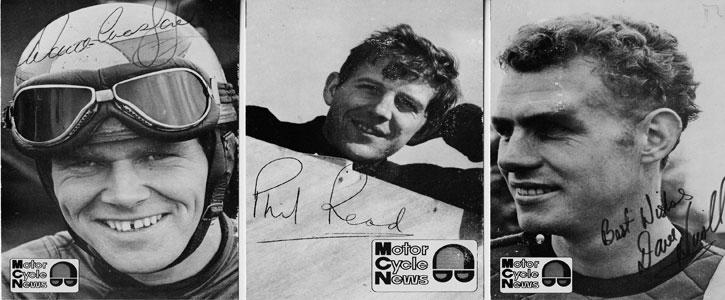 3 x Motor Cycle News 'signed' postcard photo prints:
Dave Croxford: 1975 IOM TT Champ
Phil Read: 7 x MotorBike World Champion
Dave Nicoll: Moto Cross legend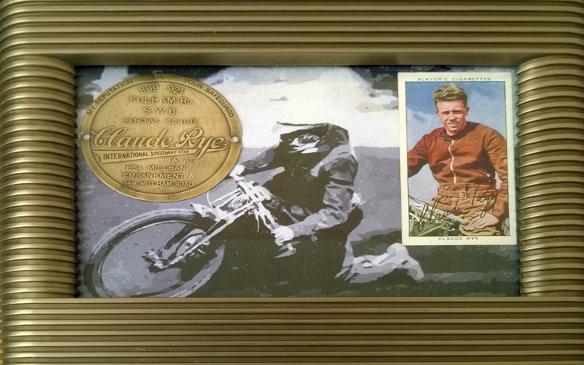 CLAUDE RYE MEMORABILIA
(Wimbledon captain 1937)
Speedway montage:
1937 John Player tobacco card
+
Claude Rye motor-cycle metal disc
for Fulham & Millbank shops
+
Heavy Metal Designer Frame
Approx size: 6" x 4"
S O L D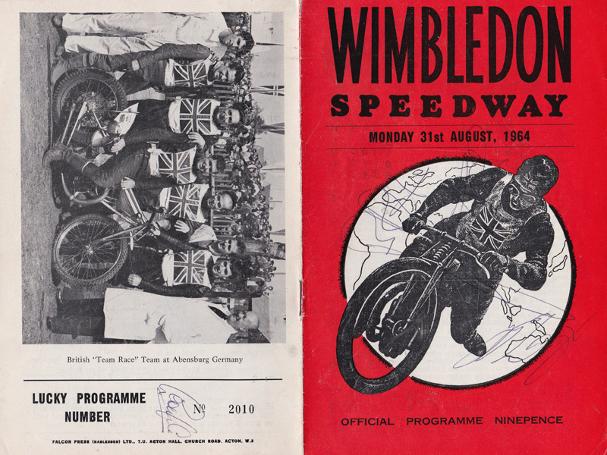 WIMBLEDON SPEEDWAY
Multi-signed August 1964 Programme
Unknown autographs on front & back cover.
Riders competing on this day inc:
Barry Briggs, Gote Nordin & Bob Andrews

SOLD £20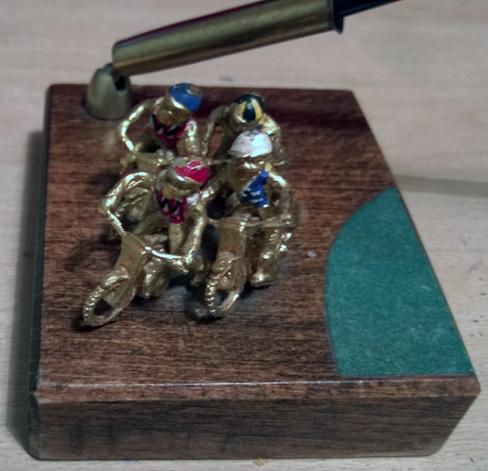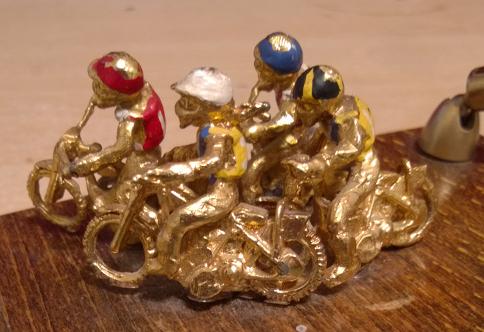 SPEEDWAY PEN DESK SET
Vintage executive toy featuring four metal cast speedway riders & speedway bikes racing round the oval on a wooden base (12 x 8 cms) with a metal swivel pen holder.
HARLEY-DAVIDSON MEMORABILIA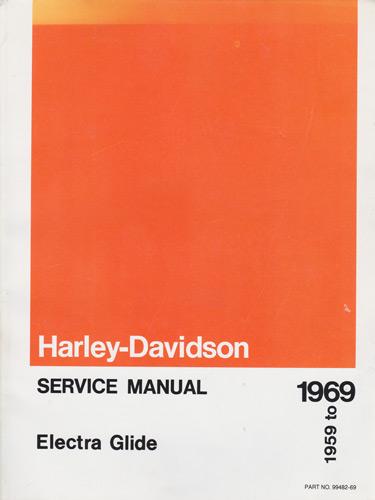 HARLEY-DAVIDSON
Electra-Glide & Duo-Glide
Service Manual (1959-1969)
1968 paperback edition in very good condition
Approx size: 22 x 28 cms
Welcome to Uniquely Sporting's sports store page for motor-cycling memorabilia & motorbike collectables - with a great collection of autographed & signed items: photos, prints, posters, cards, caps, shirts, clothing, books & First Day Covers ... from Superbikes to Moto GP to Speedway to Moto-Cross to Isle of Man TT to Enduro,