CHESS BOARDS & CHESS PIECES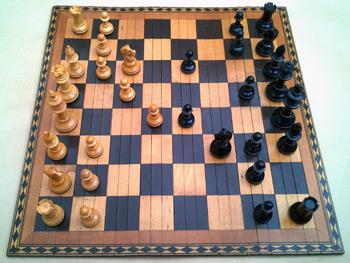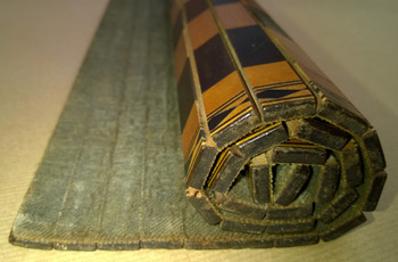 Rare & unusual piece of chess memorabilia - a roll up wooden slatted chess board with a canvas backing. Approx 14" wide.
Age & origin unknown (possibly a campaign piece).

BOARD SOLD (vintage chess pieces available)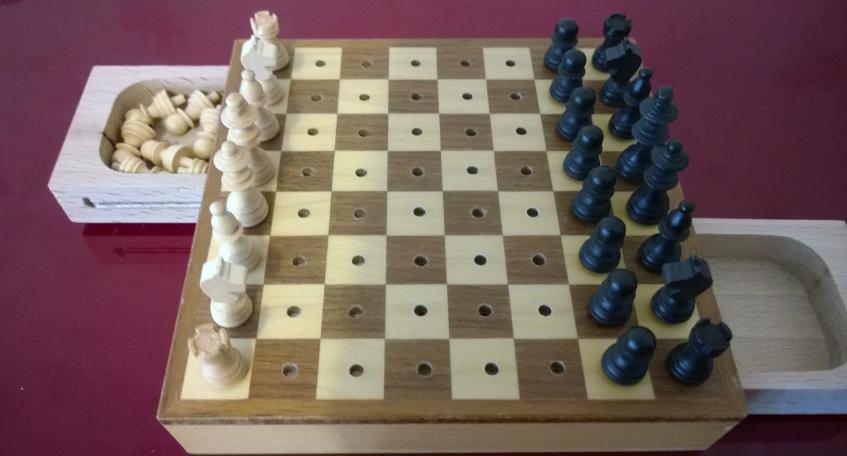 POCKET-SIZED EXECUTIVE TRAVEL CHESS SET with synchronized drawers
S O L D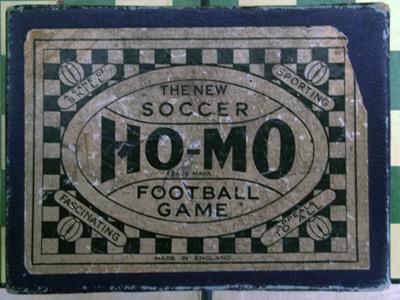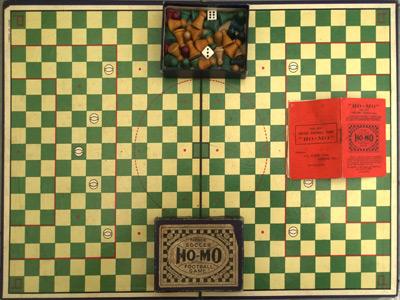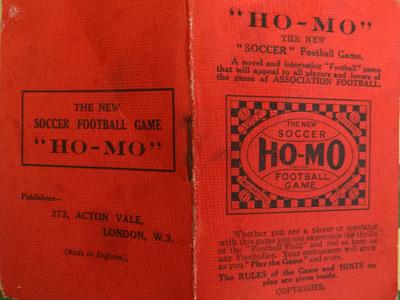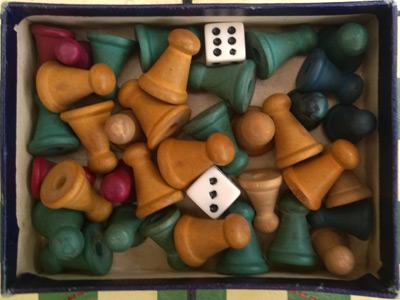 HO-MO The New Soccer Football Game
1940s / 50s Table top Board Game complete with original box, board, players, dice and rule book.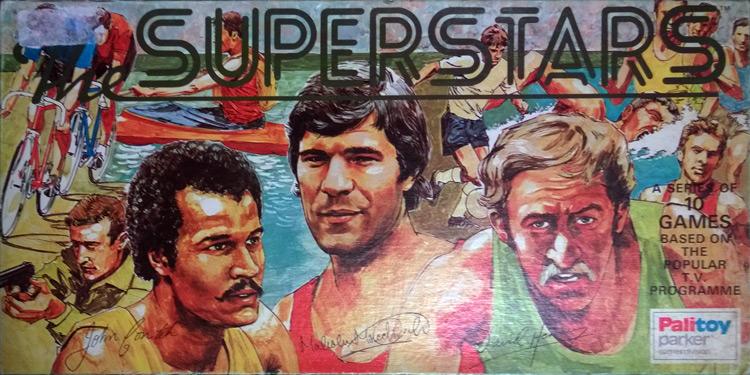 The SUPERSTARS Board Game
A series of ten games based on the popular TV Programme.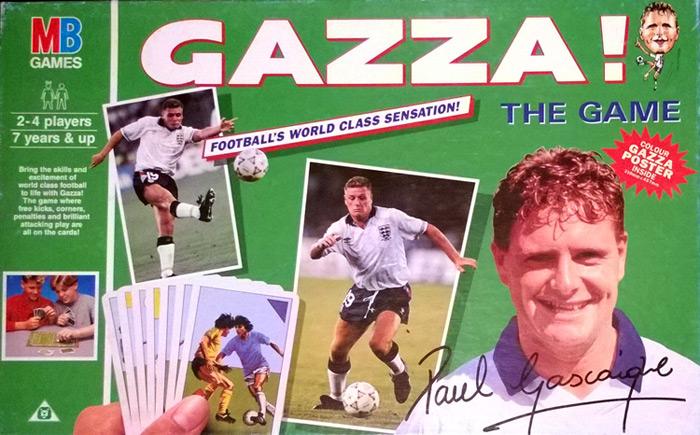 PAUL GASCOIGNE "Gazza!" the Football Board Game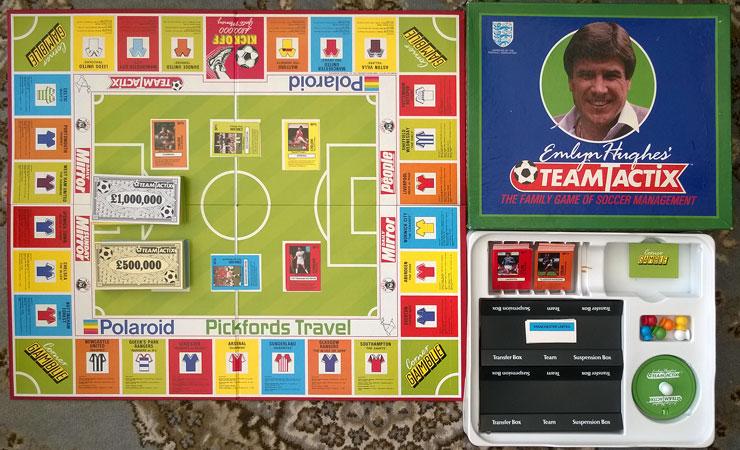 EMLYN HUGHES' Team Tactix Football Board Game (1986)

The Family Game of Soccer Management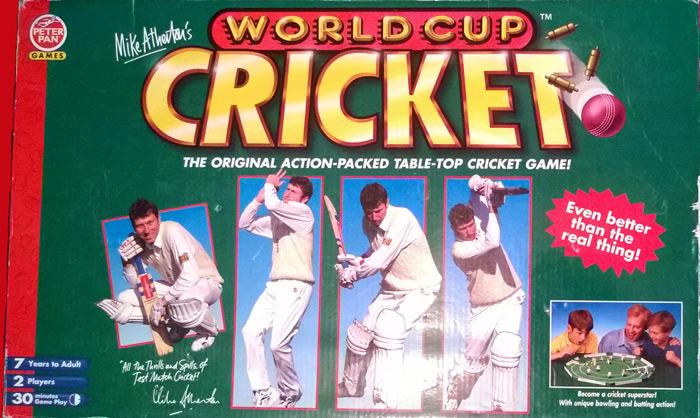 MICHAEL ATHERTON World Cup Cricket table-top game.

[Not sure it is "Even better than the real thing!]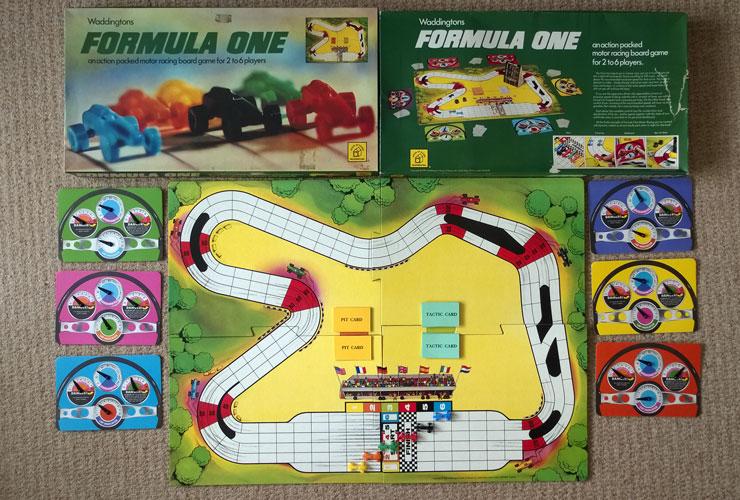 Waddington's Formula One Motor-Racing Grand Prix Board Game
for 6 players
Highly collectable 1978 version with board, pieces and cards
in pristine condition - small 'rip' to box & some old price sticker marks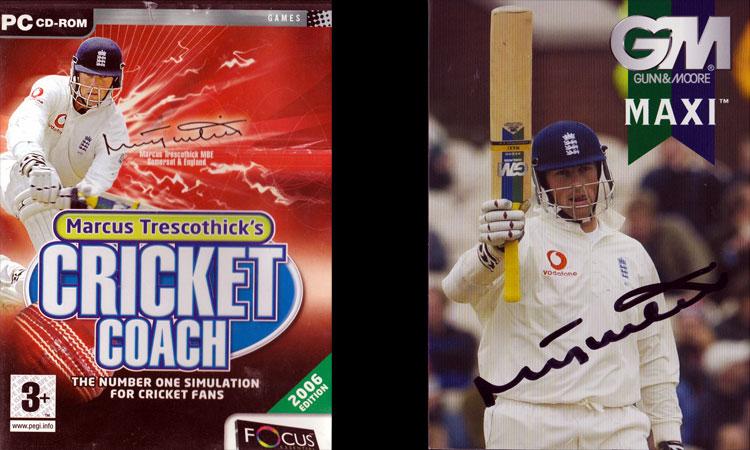 Marcus Trescothick's "Cricket Coach" PC /CD-Rom Game (2006)

+ Hand Signed Gunn & Moore promotional photo of the England & Somerset batsman.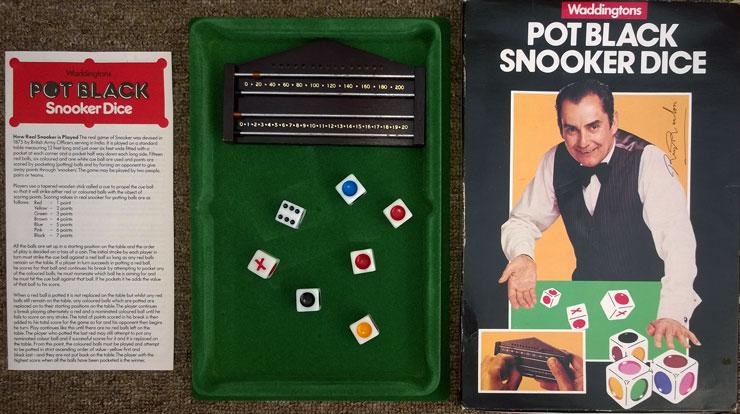 POT BLACK SNOOKER Dice Game

6 x World Snooker champion Ray Reardon autograph version (1980)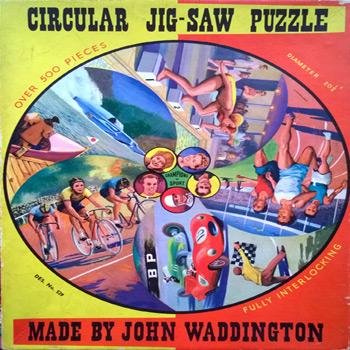 "HEROES OF SPORT"
1958 Circular Jigsaw puzzle featuring:
Donald Campbell, Stirling Moss, Doug Ibbotson,
Reg Harris & Anita Lonsbrough.
500+ pieces. Waddingtons Puzzle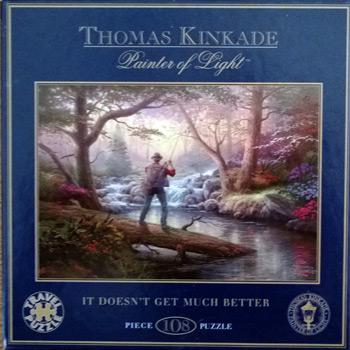 THOMAS KINKADE's
Fly Fishing jigsaw puzzle
"It Doesn't Get Much Better"
108 pieces.
New - still in original wrapper.
A Gibsons / Painter of Light travel puzzle.
S O L D
Also available a second-hand
1000 piece version of this Kinkade artwork.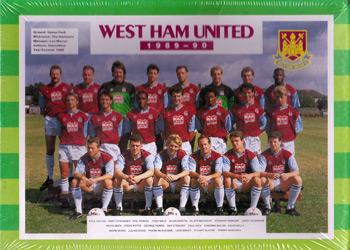 WEST HAM UNITED FC
500 piece Jigsaw of 1989-90 Hammers team


New unopened - in original clear wrapping.
S O L D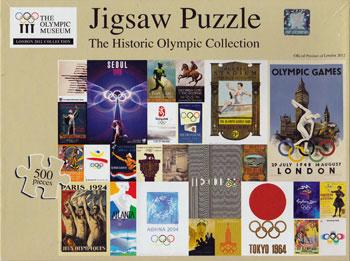 Official London 2012 Olympic Games
500 piece Jigsaw
from Olympic Museum Historic Collection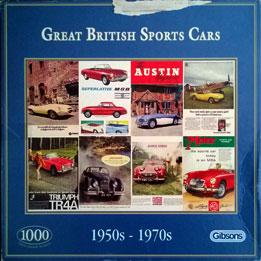 Gibsons Jigsaw Great British Sports Cars
1000 piece puzzle...
1950s - 1970s
S O L D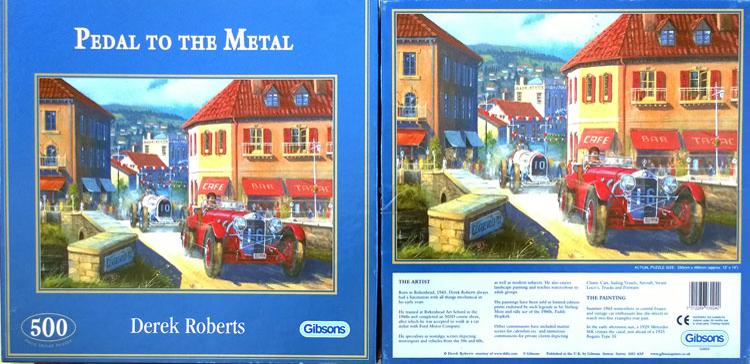 "PEDAL TO THE METAL" 500 piece Gibsons 13" x 19" jigsaw puzzle by Derek Roberts
Summer 1965 somewhere in central France and vintage car enthusiasts line the streets to watch two fine examples roar past. In the early afternoon sun, a 1929 Mercedes SSK crosses the canal just ahead of a 1925 Bugatti Type 35.
S O L D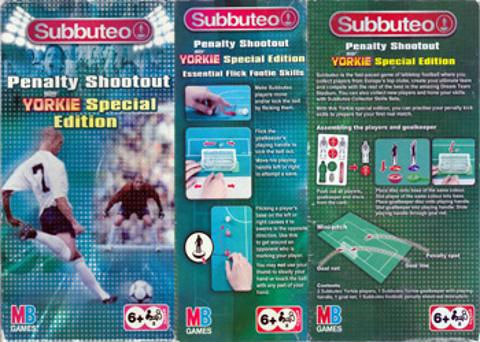 Subbuteo Yorkies Penalty Shoot Out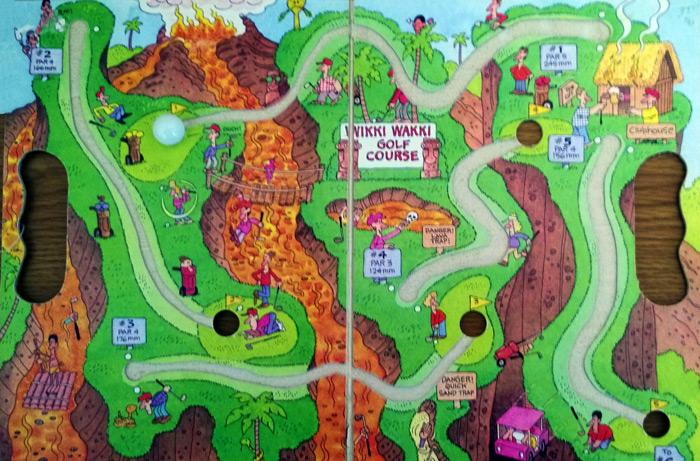 ARMCHAIR GOLF Waikiki Golf Course skill game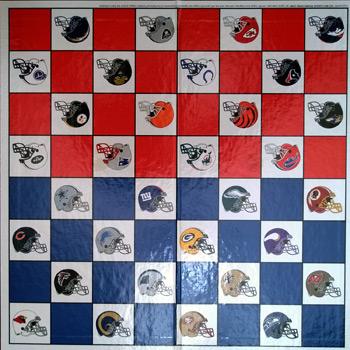 NFL checkers game - Steelers v Browns
SOLD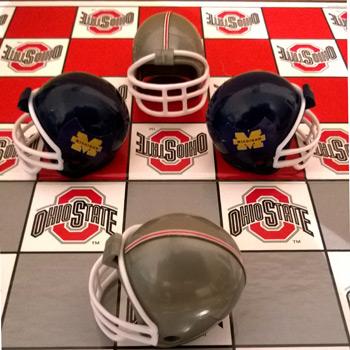 OHIO STATE checkers game
v Michigan
.
MORE BOARD GAMES & SPORTING JIGSAW PUZZLES COMING SOON ...
The items above are shown for illustrative purposes at the moment.
NB Jigsaws and board games are only available in the UK - due to postal costs, etc.
WELCOME to the
UNIQUELY SPORTING SPORTS MEDIA
website which features thousands of signed sports memorabilia and authentic autographed sporting collectables across: Football Memorabilia, Cricket
Memorabilia, Rugby Union
Memorabilia,
Rugby League
Memorabilia,
Tennis
Memorabilia, Golf
Memorabilia, Boxing
Memorabilia, MotorSports
Memorabilia,
Formula One
Memorabilia,
Athletics
Memorabilia, Snooker
Memorabilia, Darts
Memorabilia, Soccer
Memorabilia, US Sports
Memorabilia, Baseball
Memorabilia, American Football
Memorabilia, Ice Hockey
Memorabilia, Basketball
Memorabilia, NCAA
Memorabilia,
Horse Racing
Memorabilia, Equestrian
Memorabilia, Cycling
Memorabilia, Olympics
Memorabilia, Triathlon
Memorabilia, Ice Skating
Memorabilia, Lawn Bowls
Memorabilia, Swimming
Memorabilia, Hurling
Memorabilia, GAA
Memorabilia, Surfing
Memorabilia, Bowling
Memorabilia, Squash
Memorabilia, Archery
Memorabilia, Fishing
Memorabilia, Angling
Memorabilia, Parkour
Memorabilia, Skeleton
Memorabilia, Winter Sports
Memorabilia, Aussie Rules
Memorabilia, Sailing
Memorabilia, Yachting
Memorabilia. As well as Signed Sports Books, Sporting Board Games and other sports-related items of interest and historic value.

As well as the Sports Memorabilia business side to our charitable ventures, Uniquely Sporting Sports Media also develops sports-related projects for TV, video, online digital and radio broadcast - all with a charity / NFP link.