ARSENAL FC TEAM MEMORABILIA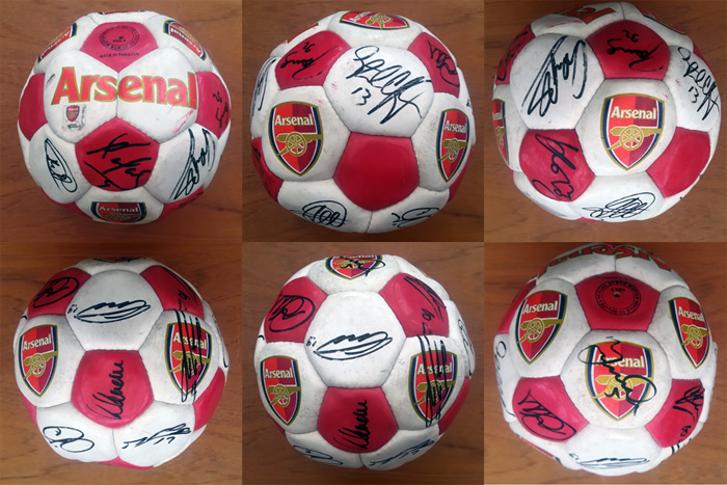 ARSENAL FC
1988-89 Football League Champions squad signed official Arsenal football.
Squad: John Lukic, Lee Dixon, Nigel Winterburn, Paul Davis, David O'Leary, Tony Adams, David Rocastle, Michael Thomas, Alan Smith, Paul Merson, Steve Bould, Martin Hayes, Rhys Wilmot, Gus Caesar, Niall Quinn, Perry Groves, Brian Marwood, Kevin Richardson.
-------------------------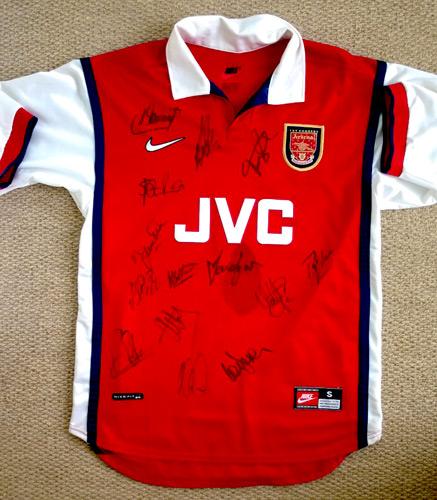 ARSENAL FC 1998-99 Signed Football Shirt
An authentic
JVC / Nike
playing shirt signed by 14 members of the 1998-99 Arsenal squad, including Tony Adams, Dennis Bergkamp, David Seaman, Patrick Vieira, Emmanuel Petit, Lee Dixon, Nigel Winterburn, Martin Keown, Steve Bould, Christopher Wreh, Luis Boa Morte, Alex Manninger and manager Arsene Wenger.
Size: Small
Nike Dri-Fit Shirt in vgc except for a tea stain in the centre that does not affect the signatures.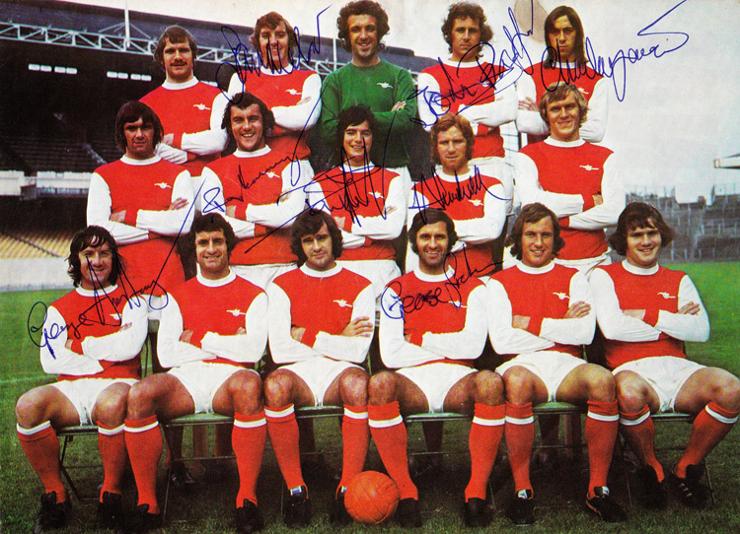 ARSENAL FC signed team pic (24 x 17 cm) Unframed
from 1973 FA Cup Semi-Final programme (v Sunderland). Autographed by:
Sammy Nelson, John Radford, Charlie George, Ray Kennedy,
Peter Marinello, Alan Ball, George Armstrong & George Graham.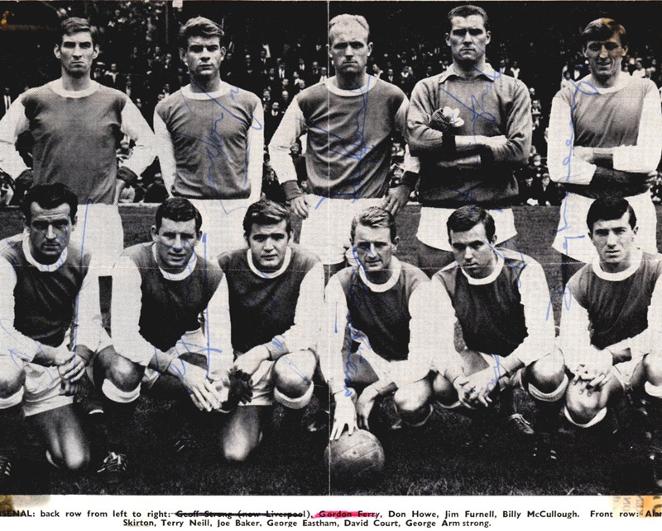 ARSENAL FC Programme Pic
(c 1964)
Signed by 9 players: Left to Right: (Unsigned) Geoff Strong - Signed by Gordon Ferry, Don Howe, Jim Furnell, Billy McCullough
(Front row): Alan Skirton, Terry Neill, Joe Baker, George Eastham, David Court & (unsigned) George Armstrong.
Pic removed from scrapbook so has folds and sellotape marks but autographs are crisp and in good condition.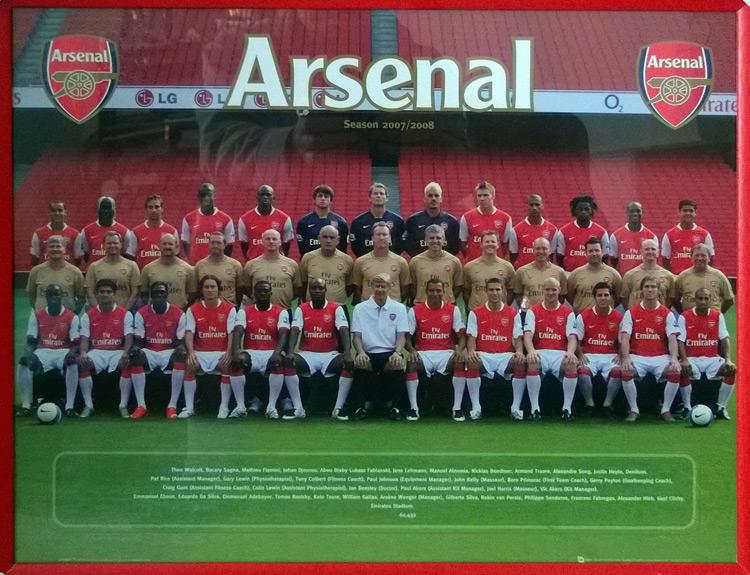 ARSENAL FRAMED SQUAD PHOTO at The Emirates 2007-08.

UK only: This large item is framed, so please CONTACT US for delivery options, costs, etc.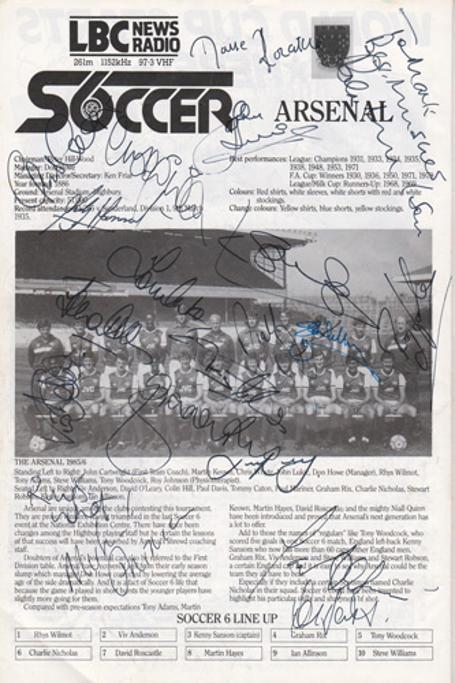 ARSENAL FC
Signed 1986 LBC Radio 6 a side soccer championships programme page with 20 player autographs inc Charlie Nicholas, Graham Rix, Viv Anderson, Kenny Sansom, David O'Leary, John Lukic, Tommy Caton, Niall Quinn, Steve Williams, Chris Whyte, Ian Allison, Rhys Wilmot.

Approx A4 size.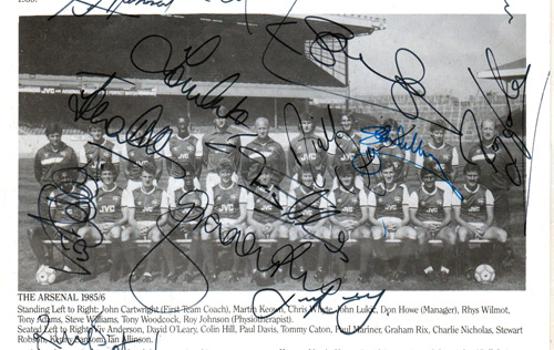 -------------------------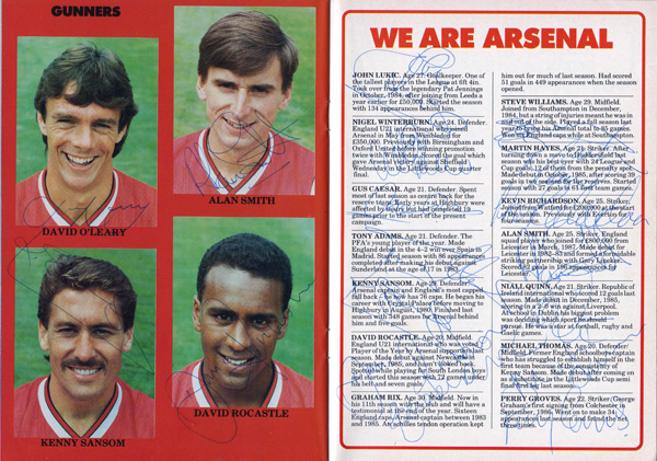 ARSENAL FC signed 1988 FA Cup 4th Round programme v BHAFC player bio double page

with 14 autographs inc: Graham Rix, Kenny Sansom, John Lukic, Niall Quinn, Nigel Winterburn, Gus Caesar, Tony Adams, David Rocastle, Steve Williams, Martin Hayes, Kevin Richardson, Alan Smith, Michael Thomas & Perry Groves.

David O'Leary (not listed in bio) + Smith, Sansom & Rocastle have also signed their profile pics.
-------------------------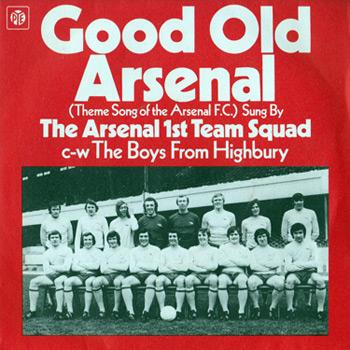 "GOOD OLD ARSENAL / Boys from Highbury"
1971 FA Cup Final / League Double single
by The Arsenal 1st Team Squad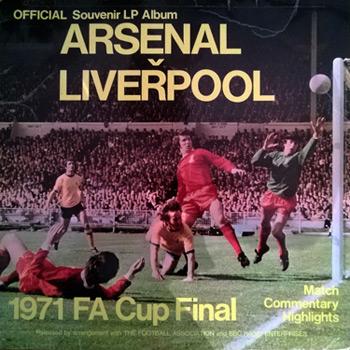 ARSENAL v Liverpool - 1971 FA Cup Final
Official Souvenir LP Album
with Radio Commentary from Bryon Butler.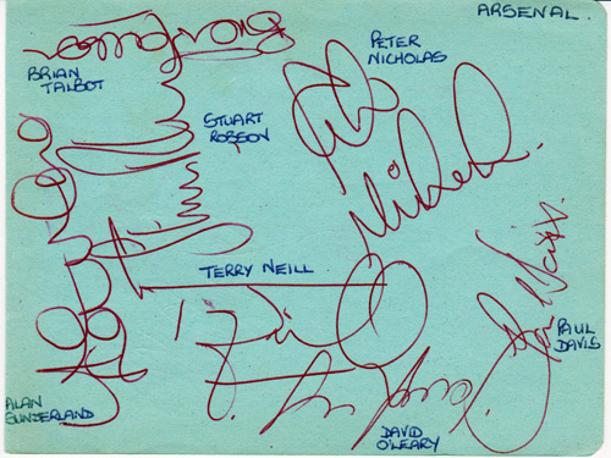 ARSENAL FC
Multi-signed autograph album page (c
1982/3).
Signed by seven squad members:
TERRY NEILL (Manager)
DAVID O'LEARY
BRIAN TALBOT
ALAN SUNDERLAND
PETER NICHOLAS
PAUL DAVIS
STEWART ROBSON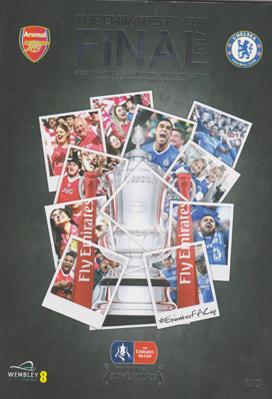 2017 FA CUP FINAL PROGRAMME
Arsenal 2 v Chelsea 1 at Wembley Stadium

Arsenal won a record 13th cup, making Arsène Wenger the most successful manager in FA Cup history with seven wins.

SOLD £12.50
ARSENAL PLAYER MEMORABILIA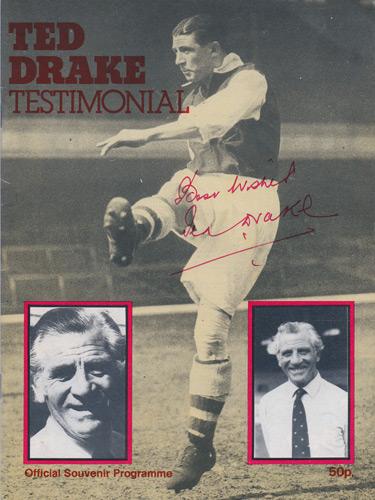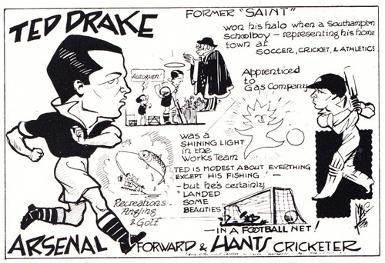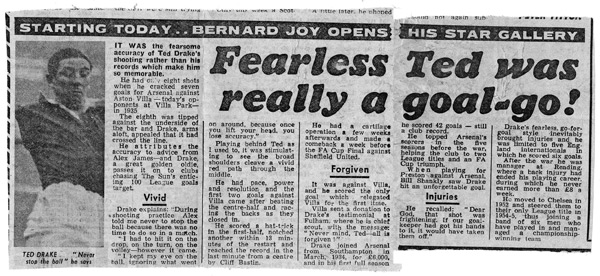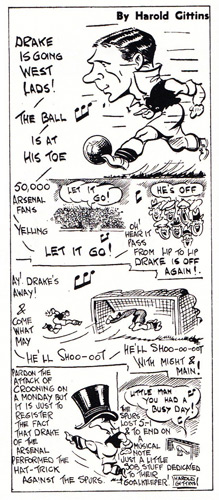 TED DRAKE
(AFC 1934-45)
Signed Testimonial Programme
with interesting articles inside
(inc 2 x fun Cartoon / Caricatures - pictured)
+
Newspaper article by Bernard Joy
(in two parts)
+
Large Vintage B&W "Topical Time"
Player Card.
S O L D £50
CHARLIE GEORGE MEMORABILIA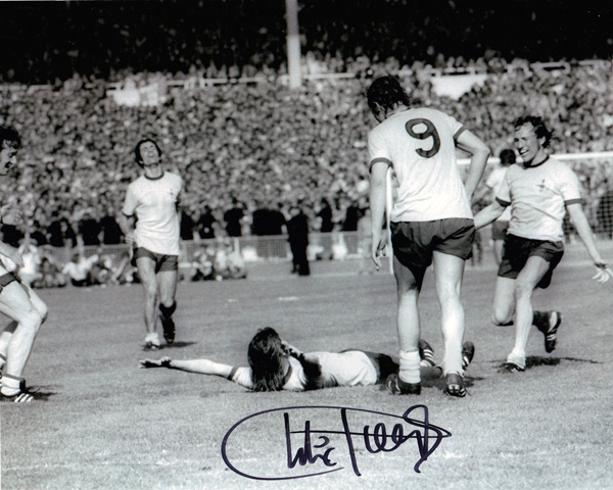 Signed 1971 FA Cup Final winning goal celebration B&W photo.
Approx 25 x 21 cms

S O L D £30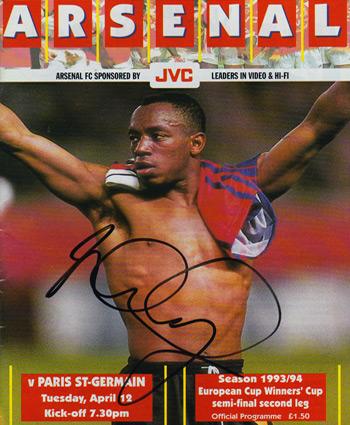 IAN WRIGHT
signed Arsenal FC programme
European Cup Winners Cup Semi Final
v Paris St-Germain (Apr 1994)

S O L D £25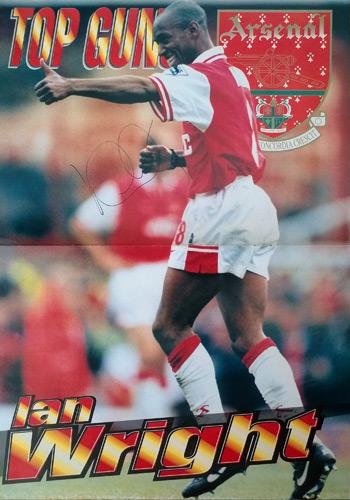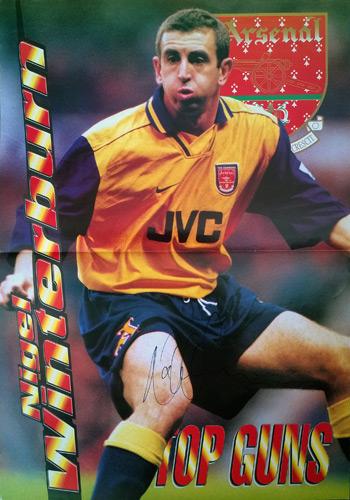 IAN WRIGHT & NIGEL WINTERBURN

s
igned back-to-back reverse Arsenal "Top Guns" magazine posters
A3 size with fold down centre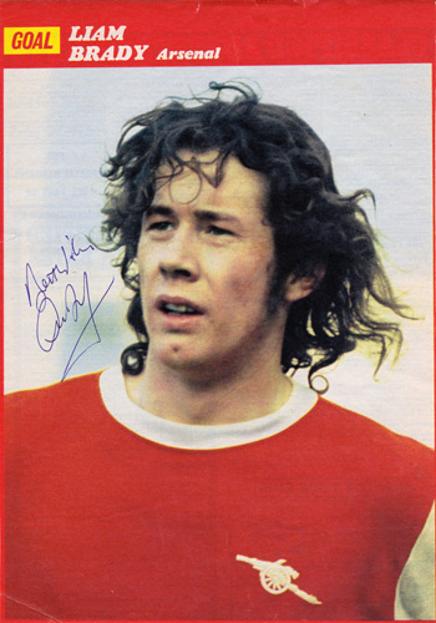 LIAM BRADY
1970s Goal magazine poster signed by
the Arsenal & Ireland midfielder.
Approx A4 size
Slight fold to bottom left corner (see pic)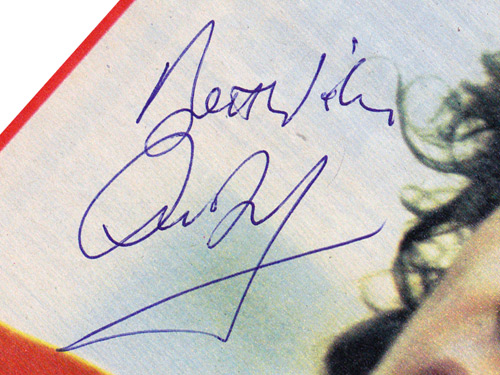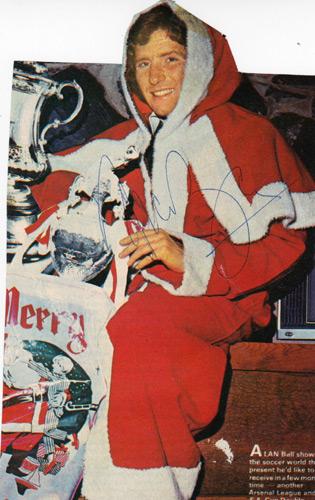 Signed Father Christmas magazine pic cut-out.
Approx 13 x 21 cms
GEORGE GRAHAM MEMORABILIA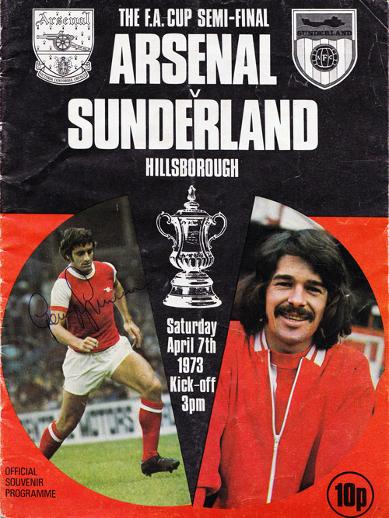 GEORGE GRAHAM
Signed 1973 FA Cup Semi-Final Programme
Arsenal FC v Sunderland FC at Hillsborough.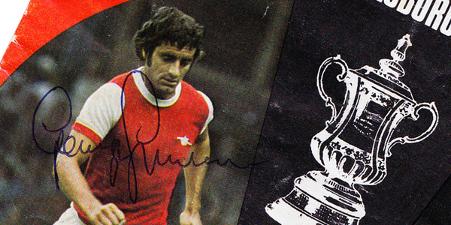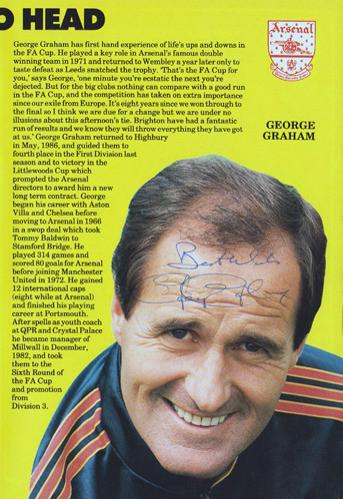 Signed 1984 FA Cup Programme v Brighton
Bio page for the Gunners' Manager.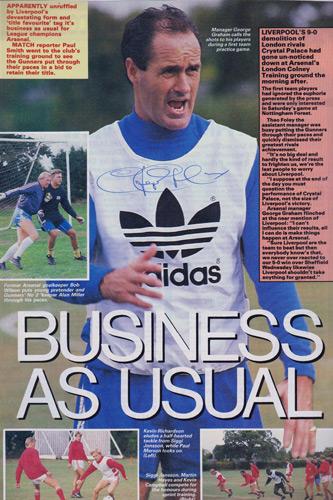 Signed Match football magazine article page (Sep 1989) on the Arsenal manager defending the League title
.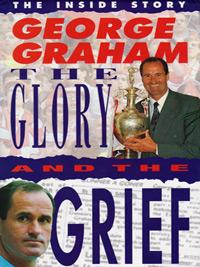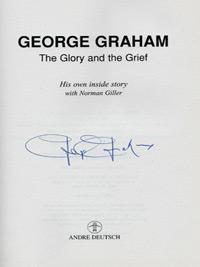 GEORGE GRAHAM
(Arsenal, Chelsea & Scotland)
signed copy of "The Inside Story of the Glory and the Grief" autobiography

First Edition (1995)
DENIS BERGKAMP MEMORABILIA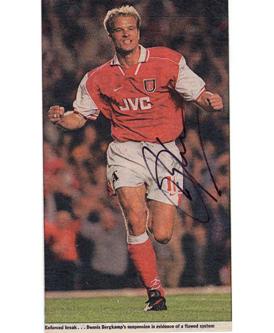 DENNIS BERGKAMP

signed newspaper pic.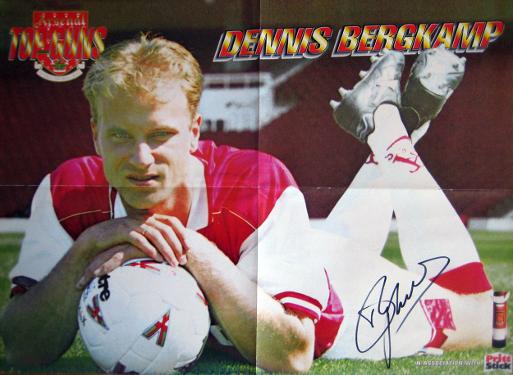 DENNIS BERGKAMP
Large signed Arsenal FC Top Guns A2 poster.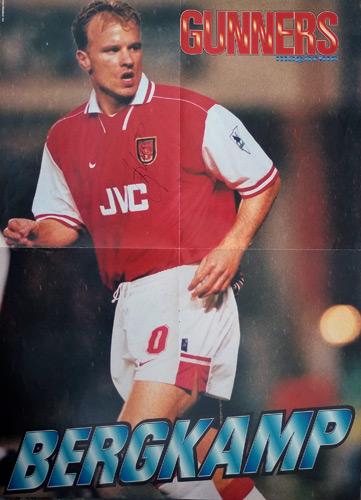 DENNIS BERGKAMP
Large signed Arsenal FC Gunners A3 poster.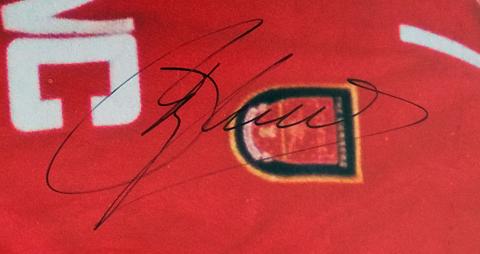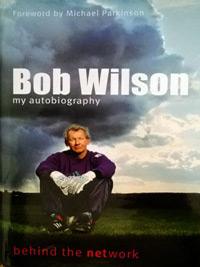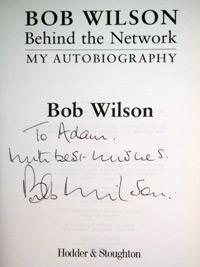 BOB WILSON


(Arsenal & Scotland)
signed & dedicated copy of
"My Autobiography
Behind the Network"
Sixth Edition
-------------------------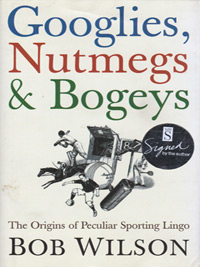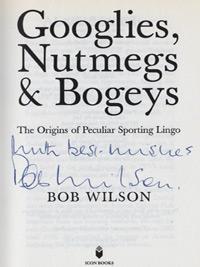 BOB WILSON


(Arsenal & Scotland)
signed copy of
"Googlies, Nutmegs & Bogeys - The Origins of Peculiar Sporting Lingo"
First Edition (2006)
-------------------------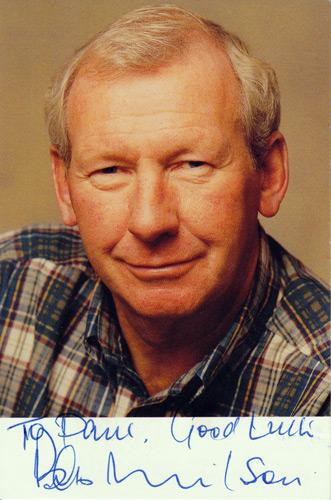 BOB WILSON


signed & dedicated ITV Presenters promo post/card.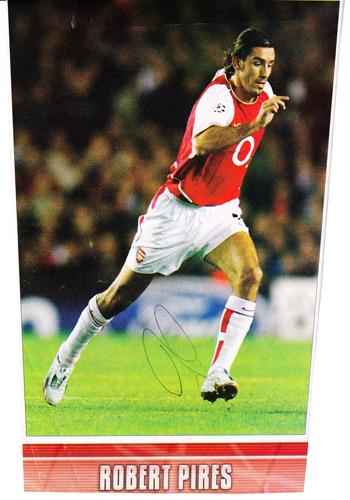 ROBERT PIRES
Signed Arsenal FC mag pic cut out
Approx Size: 10" x 6.5"
Scrapbook Quality*
DAVID ROCASTLE MEMORABILIA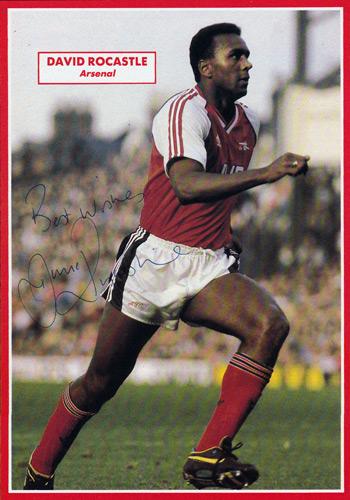 DAVID 'Rocky' ROCASTLE
Signed 1990 Topical Times Annual page
Approx size 17 x 25 cms
S O L D £20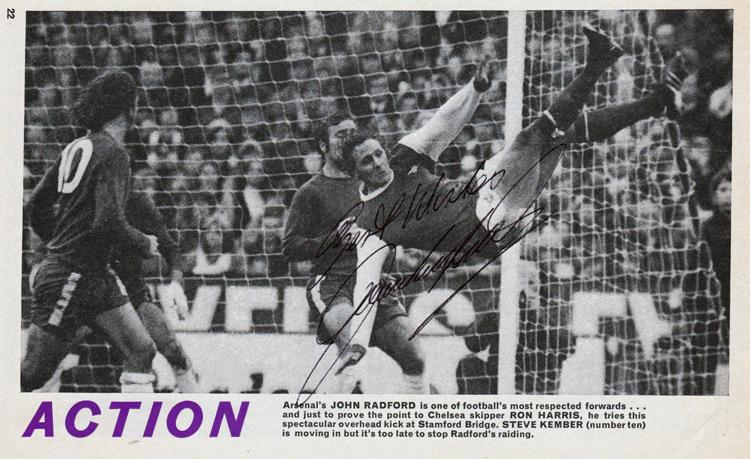 JOHN RADFORD
Signed Arsenal FC programme action picture
PETER MARINELLO MEMORABILIA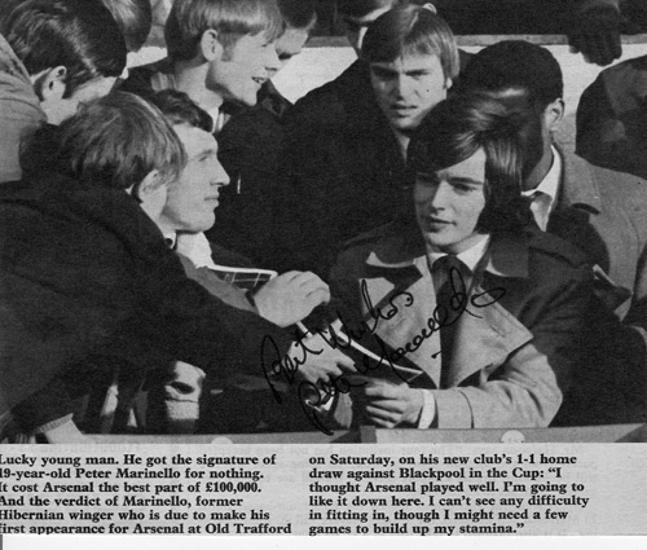 PETER MARINELLO
Hand-signed newspaper photo.
Further to the newspaper caption ...
"In January 1970 Marinello joined Arsenal for £100,000 (a club record fee and the first time Arsenal had paid a six-figure sum for a player) and he scored on his debut, against Manchester United at Old Trafford on 10 January 1970."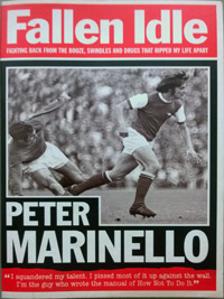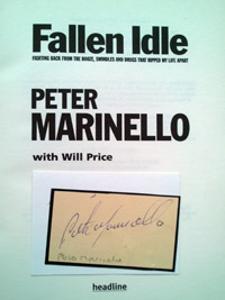 PETER MARINELLO
Autographed (laid down signature)
paperback copy of his autobiography
First Edition (2007)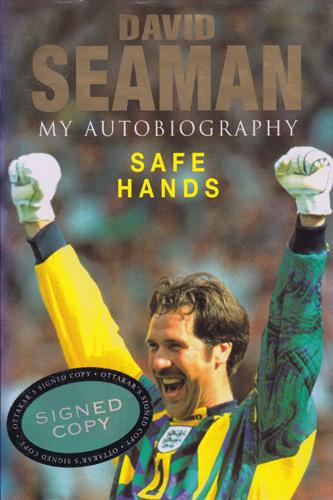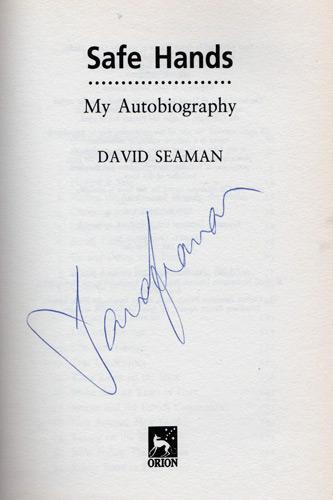 DAVID SEAMAN
(QPR, Arsenal & England)
signed copy of "Safe Hands - My Autobiography"

First Edition (2000)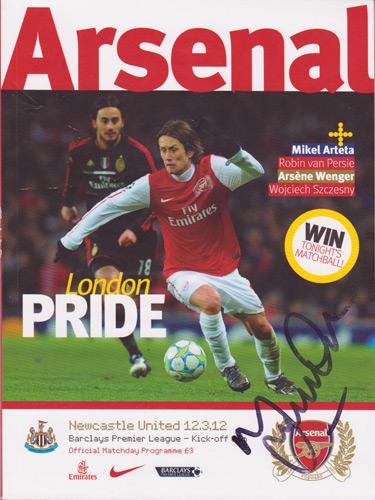 MARTIN KEOWN signed
Arsenal FC offical football matchday programme
(AFC v Newcastle United 12th March 2012).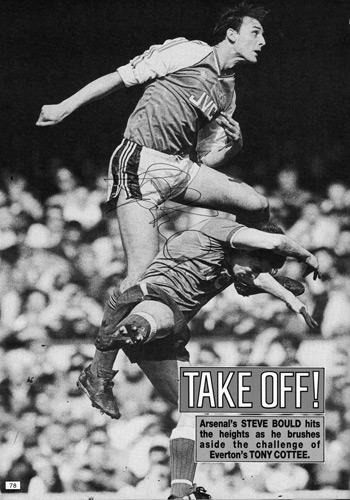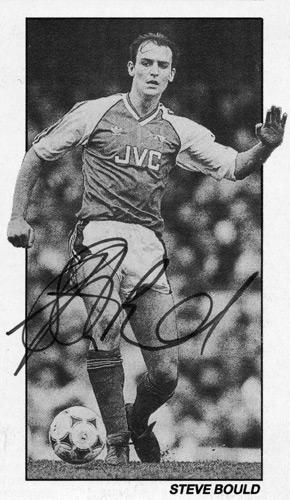 STEVE BOULD
Signed 2 x 1990s Football Annual pics
Approx pic sizes: 19 x 28 cms & 7 x 11 cms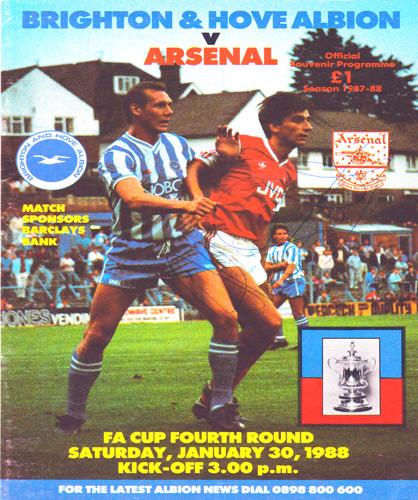 Signed 1988 FA Cup 4th Round Programme Cover
v Brighton & Hove Albion
Cover only.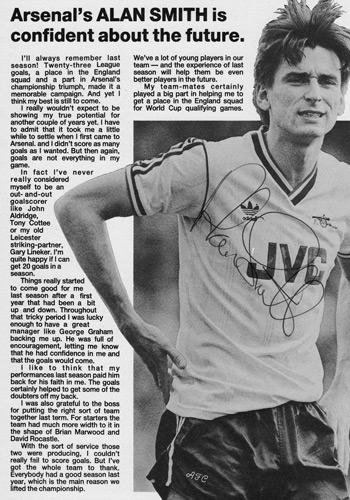 Signed 1980s Football Annual post page
Approx A4 size.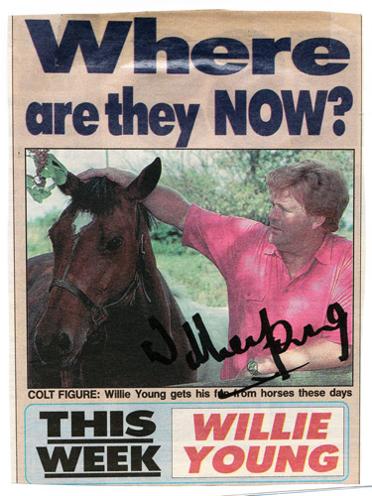 WILLIE YOUNG
Signed "Where are they now?" newspaper article
Approx Size: 6" x 4" / Scrapbook Quality*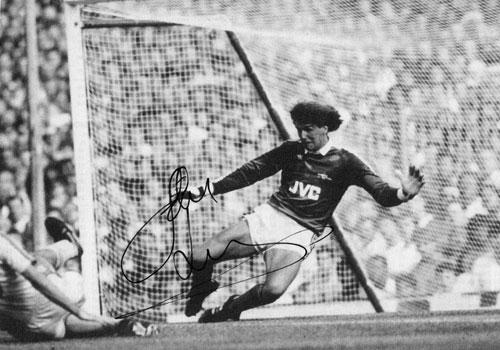 JOHN LUKIC
Signed Arsenal FC action pic.
NIGEL WINTERBURN MEMORABILIA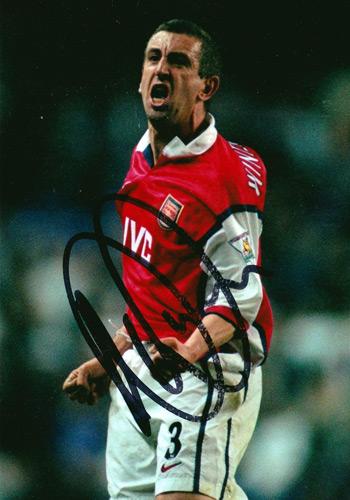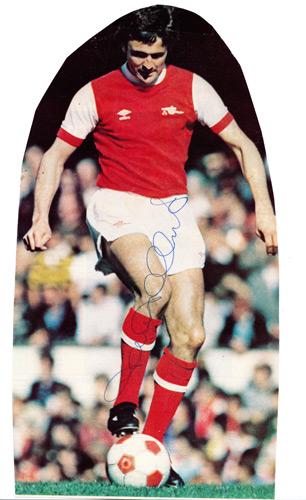 JOHN HOLLINS
Signed Arsenal FC mag pic cut out
Approx Size: 10" x 5"
Scrapbook Quality*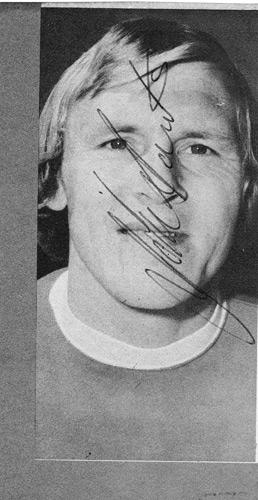 JOHN ROBERTS
Signed Arsenal FC B&W mag pic.
Approx Size: 2.5" x 5"
Scrapbook Quality*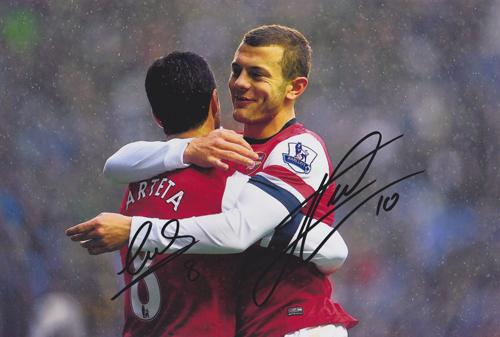 JACK WILSHERE memorabilia
& MIKEL ARTETA memorabilia
Signed Arsenal framed photo - A4 size.
S O L D £25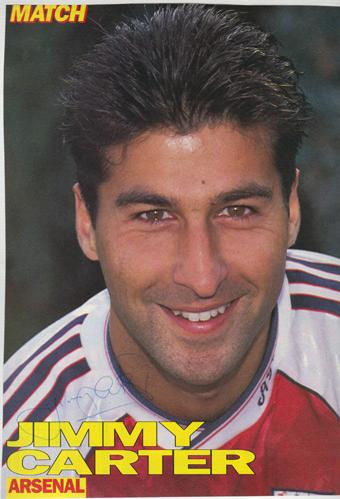 JIMMY CARTER
Signed Match football magazine portrait poster page.

Approx A4 size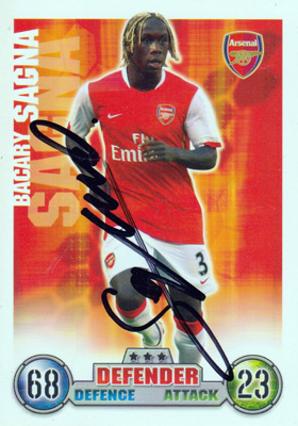 BACARY SAGNA memorabilia
Signed Arsenal FC Match Attax card
S O L D £15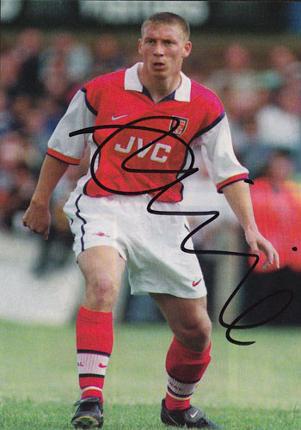 OLEG LUZHNY memorabilia
Signed Arsenal FC pic.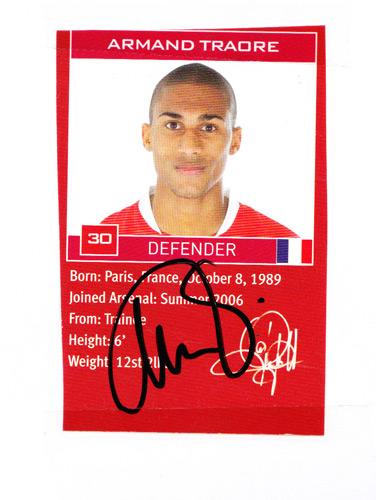 ARMAND TRAORE memorabilia
Signed Arsenal FC player biopic
Approx size: 2" x 3"
Scrapbook Quality*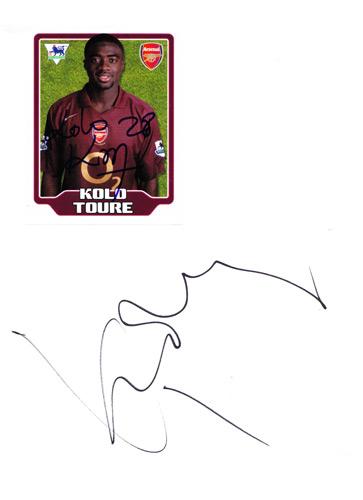 KOLO TOURE memorabilia
Autograph + Arsenal FC player sticker
Approx Overall size: 6" x 8"
Scrapbook Quality*
MORE ARSENAL FOOTBALL MEMORABILIA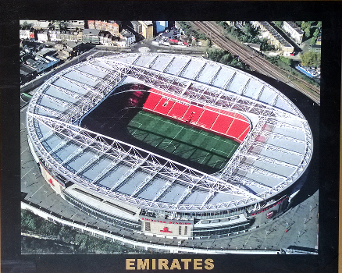 Arsenal Emirates Stadium framed aerial photo.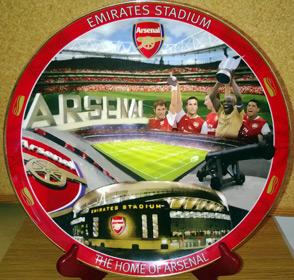 Emirates gold rimmed commemorative plate.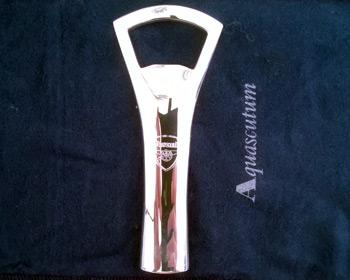 Arsenal chrome Aquascutum
Bottle Opener & Jewellery Bag
S O L D £12.50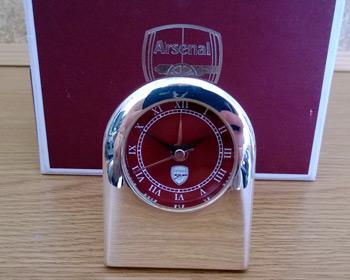 Arsenal chrome travel clock
& box
S O L D £25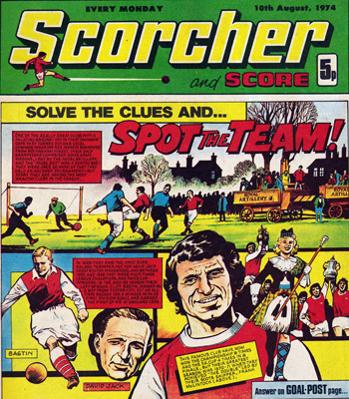 Arsenal Spot-the-Team 1974 Scorcher comic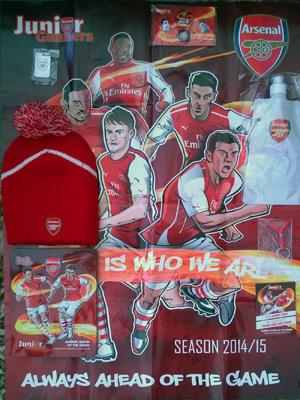 JUNIOR GUNNERS PACK 2014-15
inc Poster, Pin Badges, Cards, Hat, Water Bottle & Tin.
S O L D £5
Welcome to Uniquely Sporting Sports Memorabilia page for Arsenal Memorabilia & Arsenal FC football memorabilia and authentic signed player autographs & Gunners collectables.