MIKE RAMIREZ FINE ART
SIGNED UFC PAINTINGS & BOXING ARTWORK
Uniquely Sporting is proud to introduce Mike Ramirez's fine art collection of
original, premium paintings

personally autographed by Ultimate Fighting Championship legends and
boxing
world champions.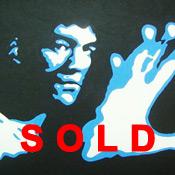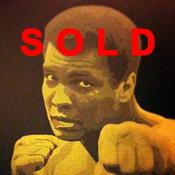 MEE THE ARTIST: MIKE RAMIREZ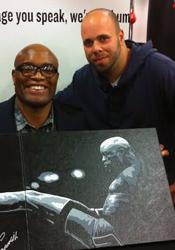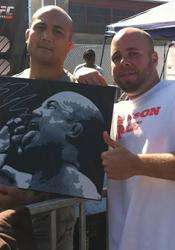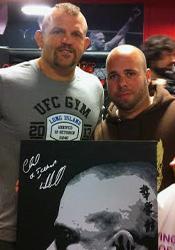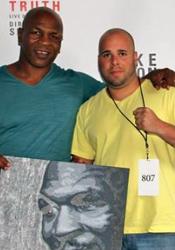 is a classical trained artist whose works embody the form and beauty of the human body. Mike went to the New York School of Fine Arts where he majored in Fine Art. He is best known for his Acrylic Gesso which boldly absorbs the canvas.
This Brooklyn native specializes in portraits on canvas using light and gentile brush strokes to bring his subjects to life.
Mike is passionate about Mixed Martial Arts and uses many of the fighters as inspirations for his works. After he is finished with his paintings, Mike goes to various events and meets with these athletes.
As seen above and to the right, these champions are thrilled, friendly, and flattered when receiving one of Mike's one-off works to sign.
Mike has been featured on Foxsports1.com and Ufc.com for his stunning works.
Mike's work is not limited to canvas. He has been commissioned by the World Famous Coney Island Luna Park to paint murals and festivities for the grounds.
To
ask Mike
a question, or to commission a unique piece of artwork from him,

All images on this page are copyright Mike Ramirez Fine Art
and may not be reproduced in any form without his prior written consent.
Mike Ramirez UFC & Boxing Fine Art sale is hosted by
the Uniquely Sporting Sports Memorabilia Store.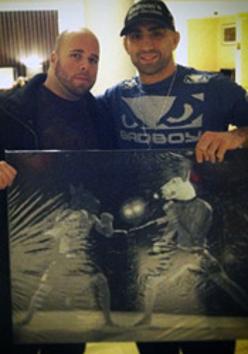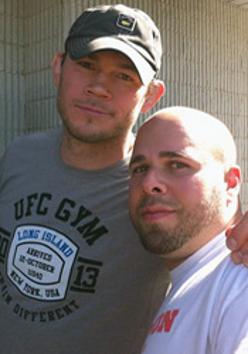 UNIQUELY SPORTING SPORTS MEMORABILIA STORE