Graham Budd Sporting Memorabilia Auctions
at Sotheby's, London
on Oct 25-27 2015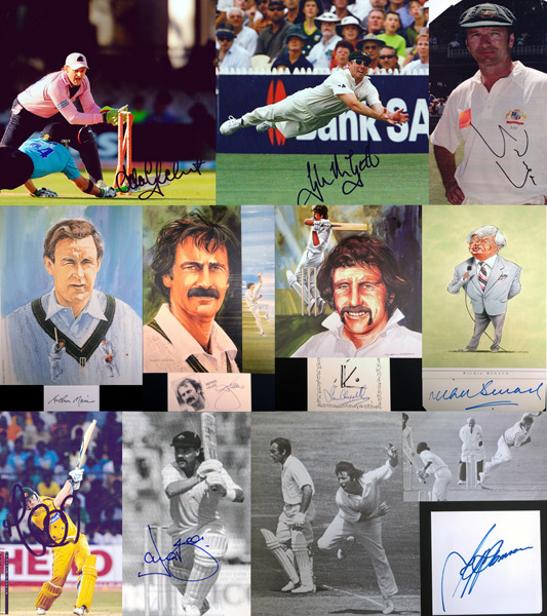 1. Signed pictures of Australian cricket legends 1950-2000s
13 Aussie greats: Richie Benaud, Dennis Lillee, Jeff Thompson, Glenn McGrath, Arthur Morris, Adam Gilchrist, Matthew Hayden, Michael Clarke, Darren Lehmann, David Boon, Mitchell Johnson, Ian Chappell & Steve Waugh.
Lot 253 estimate: £140-180
------------------------------

2 A collection of signed pictures of all 22 England Test Match cricket captains of the last 40 years (1975-2015), photos, pics, prints etc., comprising:
Gower, Brearley, Hussain, Emburey, Botham, Strauss, Cook, Atherton, Vaughan, Pietersen, Gooch, Trescothick, Lamb, Gatting, Cowdrey, Fletcher, Stewart, Butcher, Greig, Flintoff, Boycott & Willis.
Lot 259 estimate: £220-260
----------------------------------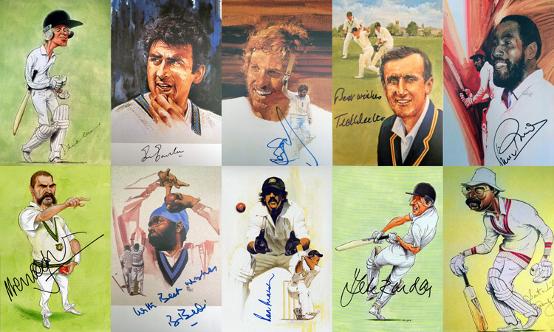 3. Ten signed prints of World Cricketing greats (1960-2000s), John Ireland caricature or Lord's Taverners prints:
Clive Lloyd, Viv Richards, Ian Botham, David Gower, Ted Dexter, Derek Randall, Sunil Gavaskar, Bishen Bedi, Rodney Marsh & Merv Hughes.
Lot 254 estimate: £100-150
----------------------------------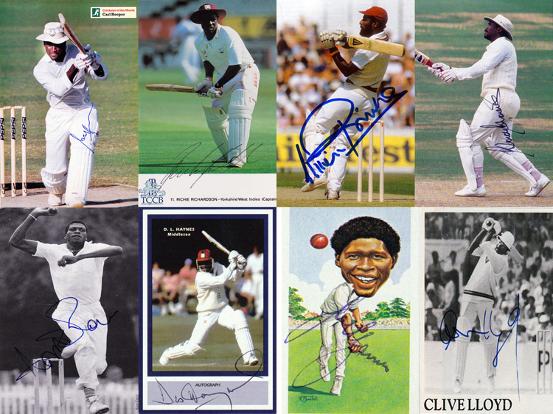 4. Autographs of 17 West Indies cricketing greats (1970-2000s), signed photos, pics, prints etc, comprising:
Gordon Greenidge, Desmond Haynes, Joel Garner, Richie Richardson, Clive Lloyd, Viv Richards, Corey Collymore, Patrick Patterson, Carl Hooper, Curtley Ambrose, Winston Benjamin, Anderson Cummins, Jimmy Adams, Tino Best, Hamish Anthony, David Williams & Gus Logie.
Lot 258 estimate: £160-200
----------------------------------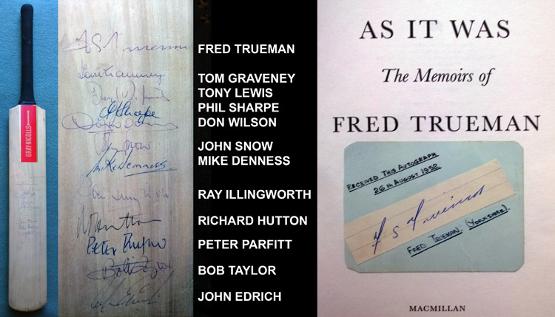 5. A cricket bat signed on the occasion of a Fred Trueman benefit event, a full-size Gray Nicolls cricket bat signed by ex-England Test players (1950s-70s) Fred Trueman, Tom Graveney, Tony Lewis, Phil Sharpe, Don Wilson, John Snow, Mike Denness, Ray Illingworth, Richard Hutton, Peter Parfitt, Bob Taylor & John Edrich; sold together with
a Trueman 1952 autograph page laid down in his 2004 memoirs "As It Was" (2).
----------------------------------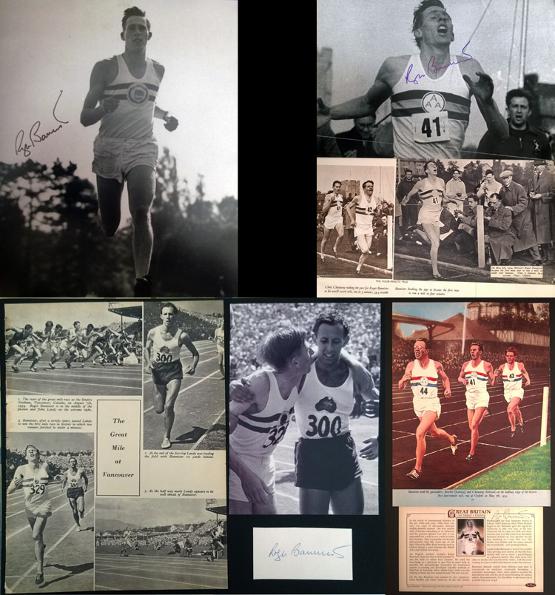 6. Four signed Roger Bannister pictures
i) 4 minute mile b&w photo & pics (A3)
ii) Benhams 4 minute mile history card & bookplate (A4)
iii Great Mile b&w bookplate/pics (A3)
iv) 1951 b&w training photo (A4)
Lot 544 estimate: £70-100
----------------------------------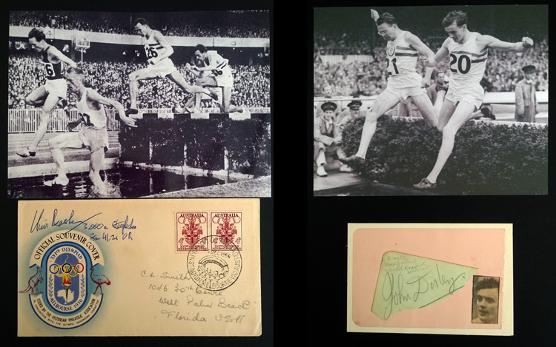 7. The autographs of Chris Brasher & John Disley
i) Chris Brasher signed Official 1956 Melbourne Olympics FDC & photo (A4), Brasher has annotated his autograph with "3000m steeplechase OR 8m 41.2s"
ii) John Disley autograph & White City steeplechase photo [with Brasher] (A4), Disley has annotated his autograph with "2 mile Steeplechase world record holder"
Lot 545 estimate: £25-40
---------------------------------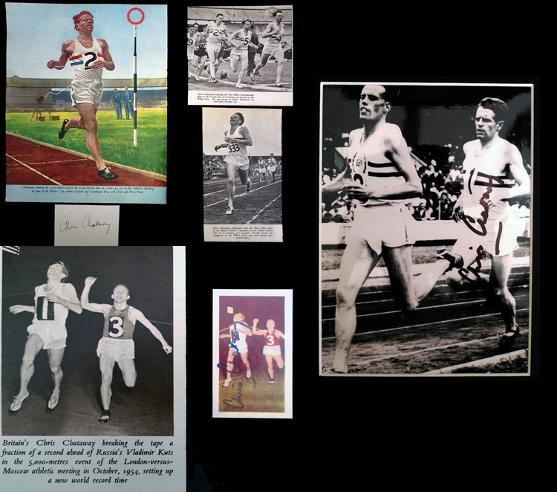 8. Chris Chataway autographs
i) autograph & colour bookplate of 2-mile British record in 1955 (A4)
ii) signed 1955 B&W 3-mile world record photo (with Ibbotson) (A4)
iii) signed 1954 cigarette card [5000m WR duel v Kuts] & pic (A4)
Lot 546 estimate: £40-60
---------------------------------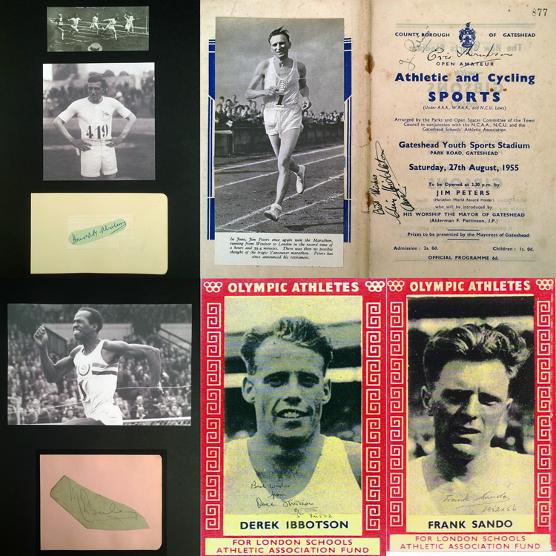 9. Autographs of 1920-50s GB Olympic & World Record athletes
i) Harold Abrahams autograph & 2 pics [inc 1924 Olympic 100m victory] (A4)
ii) Jim Peters signed 1955 Gateshead Sports Athletics & Cycling programme (A4), also signed by international cyclists: Eric Thompson & Clive Middleton
iii) Derek Ibbotson signed London Schools Athletic Fund Olympic Athletes pic (A4) annotated with his mile world record time: "3.57.2" plus runner doodle
iv) Frank Sando signed LSAF Olympic Athletes pic (A4), annotated with "1952 & 56" - his two Olympic Games appearances
v) MacDonald Bailey autograph & photo (A4)
Lot 537 estimate: £70-100
---------------------------------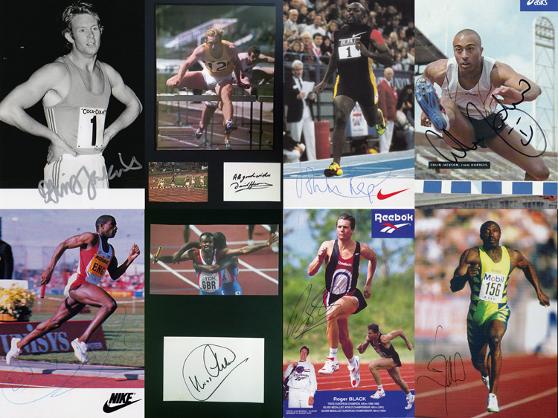 10. Autographs of GB Olympic Sprinters 100-400 metres (1960s-2000s),
i) David Hemery autograph & 2 x pics [inc 1968 Olympic 400m hurdles victory] (A4)
ii) Darren Campbell autograph & photo (A4)
iii) Kris Akabusi autograph & photo (A4)
iv) Allan Wells signed 1988 Olympics FDC
v) Gary Cook signed Nike promotional postcard
vi) David Jenkins signed Coca Cola meeting B&W photo
vii) Linford Christie signed Puma promotional leaflet
viii) Colin Jackson signed ASICS promotional postcard with doodled smiley
ix) John Regis signed Nike promotional postcard x) Mark Richardson signed Nike promotional postcard
xi) Derek Redmond signed Nike promotional postcard xii) Roger Black signed Reebok promotional postcard
xiii) Adrian Metcalfe signed 1962 OUAC v AAA Iffley Road Athletics Programme & pic of 1964 GB&NI Olympics 4x400m silver medal quartet (A4)
Lot 572 estimate: £140-180
---------------------------------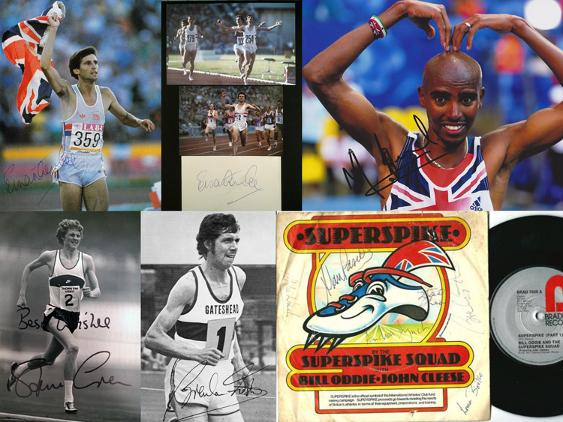 11. Autographs of GB Olympic Middle/Long Distance runners (800m-10,000m):
i) Seb Coe signed 1984 Olympics pic (A5)
ii) Seb Coe autograph & 2 x pics [1980 Olympics 1500m] (A4)
iii) Mo Farah signed 2012 Olympics Mobot photo (A4)
iv) Steve Cram signed B&W Gateshead AC photo
v) Brendan Foster signed B&W Gateshead AC photo
vi) Steve Ovett & Brendan Foster signed 1976 Olympics 45rpm single "SuperSpike" additionally signed by GB Olympians: Alan Pascoe, Mike Winch, Andrea Lynch & Lorna Boothe.
Lot 595 estimate: £90-130
---------------------------------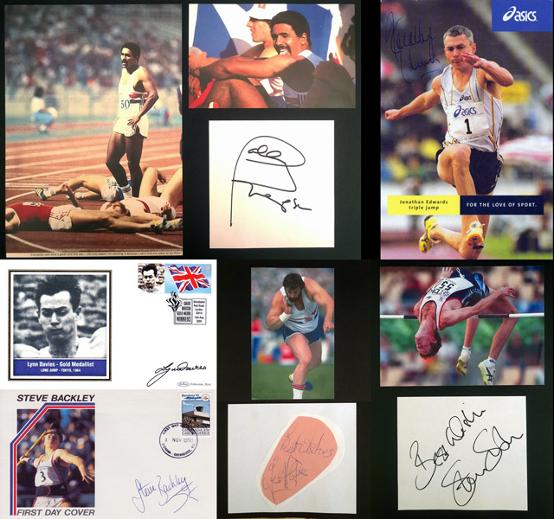 12. Autographs of Great Britain Olympic Field athletes (1960s-2000s):
i) Daley Thompson autograph & 2 x bookplates [inc 1982 Euro decathlon] (A3)
ii) Lynn Davies signed 1964 Olympics FDC & Benhams bio-card
iii) Steve Smith autograph & 1999 Seville World Champs pic
iv) Steve Backley signed 1992 Olympics picture FDC & bio-card v) Geoff Capes cut-out autograph & pic
vi) Jonathan Edwards signed Asics promotional postcard.
Lot 565 estimate: £70-100
---------------------------------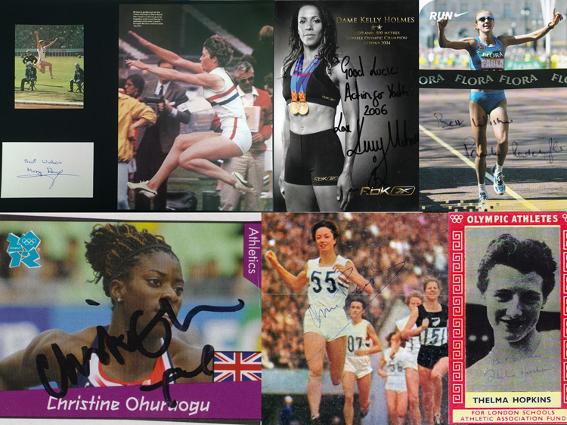 13. Autographs of GB Women Olympic Athletes (1950s-2000s):
i) Mary Rand autograph & 2 x pics [inc 1964 Olympics long jump] (A3)
ii) Sally Gunnell autograph & 1992 Barcelona Olympics pic (A4)
iii) Tanni Grey autograph & 6 x pics (A4)
iv) Tessa Sanderson autograph & 1984 Olympics pic (A4)
v) Fatima Whitbread dedicated autograph & 1986 Stuttgart European Champs pic (A4)
vi) Christine Ohuruogu signed 2012 Olympics athlete card
vii) Ann Packer signed 1964 Olympics ESSO promo pic
viii) Paula Radcliffe signed Nike promotional London Marathon postcard
ix) Kathy Cook signed Nike promotional postcard x) Thelma Hopkins signed 1950s Olympic Athletes pic
xi) Kelly Holmes signed Reebok promotional postcard (A5) xii) Mary Peters signed postcard.
Lot 566 estimate: £120-160
---------------------------------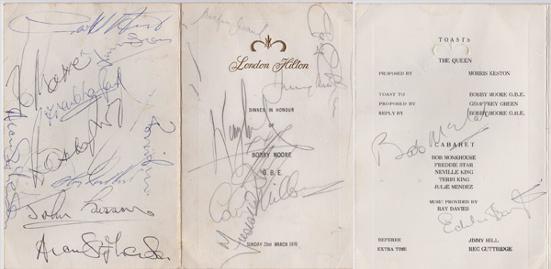 14. An autographed 1970 Bobby Moore Tribute menu, London Hilton, signed by West Ham United players Bobby Moore (twice), Geoff Hurst, Jimmy Greaves, Frank Lampard Snr, Harry Redknapp (twice), Alan Stephenson (twice), Brian Dear & John Sissons, additionally signed by guests including Jimmy Hill, George Graham, Godfrey Evans, Colin Milburn, Bob Monkhouse, Freddie Starr and one other possibly Eddie Barlow.
Lot 1166 estimate: £150-200
---------------------------------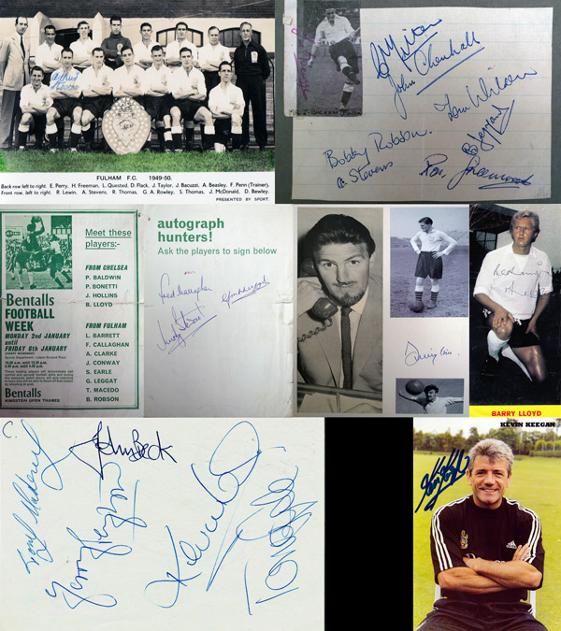 15. Fulham FC players' (1940s-90s) autographs
i) Arthur Stevens signed 1949-50 team pic
ii) Mid-1950s autograph page signed by 8 players Bobby Robson, Ron Greenwood, Joe Bacuzzi (+ B&W pen pic), Charlie Mitten, Arthur Stevens, Bedford Jezzard, John Chenhall & Tom Wilson
iii) Jimmy Hill autograph & pics (A4)
iv) Bentall's 'Meet the Players' autograph leaflet (c. 1965) signed by 2 Fulham players Graham Leggat & Fred Callaghan, and additionally signed by England cricketer Micky Stewart
v) Barrie Lloyd signed 1970s magazine pic.
vi) Fulham autograph page (c. 1978) signed by Tony Gale, John Beck, Gerry Peyton, Tony Mahoney & Kevin Lock
vii) Kevin Keegan signed 1998 Fulham FC photo.
Lot 1106 estimate: £80-120
---------------------------------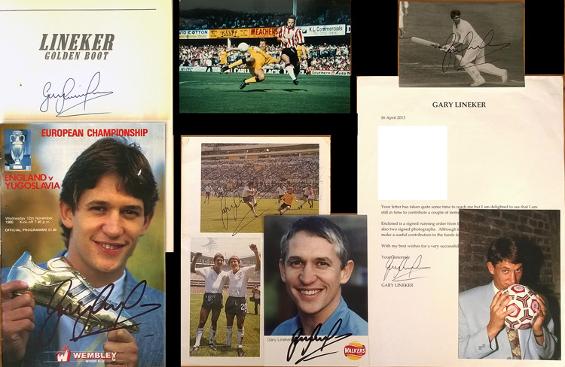 16. Gary Lineker autographs
i) Official Letterhead signed by Lineker
ii) Signed b&w photo of Lineker playing cricket
iii) Two signed book pages of Lineker in action for England and club sides
iv) Signed Walker's Crisps promotional postcard
v) Signed 1986 European Championships programme cover (v Yugoslavia) featuring Lineker and his World Cup Golden Boot
vi) Signed copy Lineker's "Golden Boot" autobiography
vii) 2 x unsigned Lineker colour photos
Lot 1173 estimate: £60-90
---------------------------------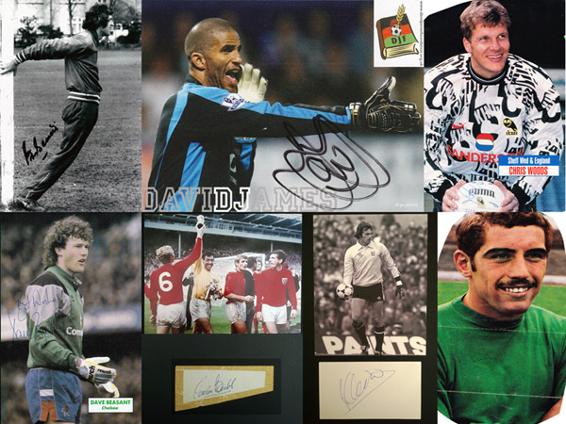 17. Autographs of England Goalkeepers
i) Gordon Banks autograph & 1966 World Cup photo (A4)
ii) Ray Clemence autograph & B&W England photo (A4)
iii) David James signed Foundation postcard
iv) Gordon Banks & Alex Stepney signed autograph book pages v) Chris Woods signed magazine pic (A4)
vi) David Seaman signed book page (A4)
vii) Dave Beasant signed book page (A4)
viii) Peter Bonetti signed B&W England training photo (A4+)
ix) Peter Shilton signed magazine pic (A4)
x) Nigel Martyn signed book page (A4)
Lot 1183 estimate: £120-160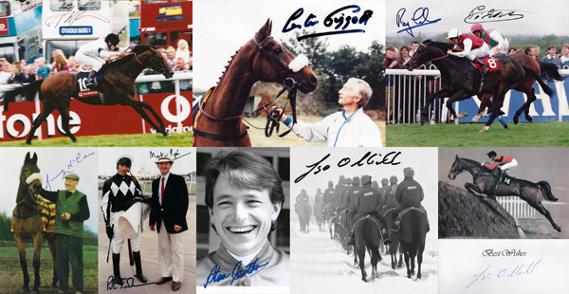 18. Autographs of Jockeys & Trainers (1970s-2000s)
i) Johnny Murtagh signed photo of Motivator winning the 2005 Derby
ii) Pat Eddery & Ray Cochrane signed 10x8 colour photo
iii) Jonjo O'Neill autographed Dawn Run greetings card
iv) Jonjo O'Neill signed B&W "Riding Out" photo
v) Lester Piggott signed card + hand-written reply to questions
vi) Lester Piggott signed photo
vii) Peter Scudamore & Martin Pipe signed colour photo viii) Donald 'Ginger' McCain signed colour Red Rum photo
ix) Steve Cauthen signed B&W portrait photo.
Lot 137: Estimate: £100-150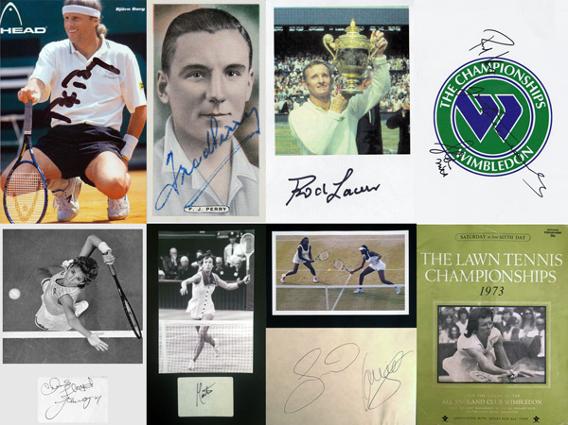 20. Autographs of Wimbledon Tennis Champions (1930-2000s)
i) Fred Perry signed 1930s Ardath cigarette card + Wimbledon memorabilia
ii) Rod Laver signed 2003 Tennis FDC / Postcard + Laver 50c Australian Stamp
iii) Bjorn Borg signed colour photo iv) Pete Sampras signed 1999 Wimbledon Championships Guide
v) Andre Agassi signed 1999 Wimbledon Championships ticket holder
vi) John Newcombe, Stan Smith & Richard Krajicek signed Wimbledon Tennis Logo
vii) Martina Navratilova autograph + pic
viii) Venus & Serena Williams autographs + pic ix) Chris Evert Lloyd autograph & pic + Also signed by John Lloyd
x) Jan Kodes signed 1973 Wimbledon programme.
Lot 372 estimate: £120-160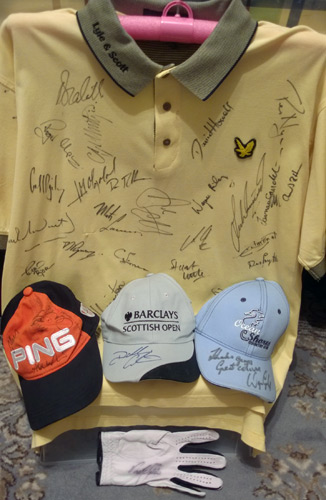 21. Autographed golf clothing
i) Lyle & Scott golf shirt signed by 20 golfers including Colin Montgomerie, Jose Maria Olazabal, Padraig Harrington, Thomas Bjorn, Geoff Ogilvy, David Howell, Wayne Riley, Mats Lanner, Des Smyth, Peter Fowler, Jarmo Sandelin and others
ii) Nick Faldo signed Nike golf glove
iii) Darren Clarke signed Loch Lomond Golf Course Scottish Open golf cap
iv) PING golf cap signed (at Wentworth) by Lee Westwood, Miguel Angel Jimenez, Nick Dougherty, Michael Campbell and one other
v) Wayne Grady signed Ocean Shores Country Club (Australia) cap.
Lot 276 estimate: £120-160
----------------------------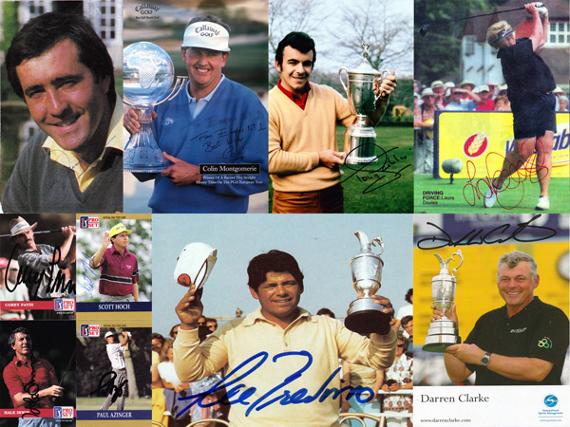 22. Signed golf photos, cards:
i) Colin Montgomery signed & dedicated large "Europe's No 1" Callaway Golf poster
ii) Tony Jacklin signed 1970 US Open trophy photo
iii) Darren Clarke signed British Open postcard
iv) Laura Davies signed colour magazine pic
v) Seve Ballesteros signed colour magazine pic
vi) Lee Trevino signed 1972 British Open Claret Jug colour magazine pic
vii) 1991 & '92 Pro Set Official US PGA Tour Cards signed by 19 players Paul Azinger, Hale Irwin,Corey Pavin, Larry Mize, Ken Green, John Huston, Scott Hoch, Jeff Maggert, Chip Beck, George Archer, Mark Brooks, Dow Finsterwald, Bob Eastwood, Bert Yancey, Bob Gilder, John Inman, Gil Morgan, Dan Forsman, Bill Snider, Robert Thompson, Mike Smith, Dick Mast & Willie Wood.
Lot 275 estimate: £70-100
------------------------------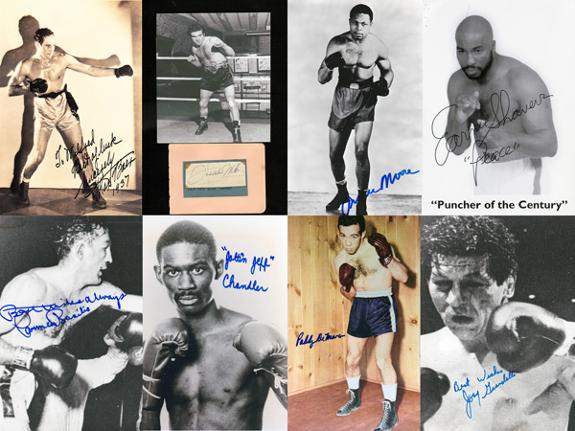 23. Autographs of boxing champions
i) Max Baer (1934 World Heavyweight champion) signed & dedicated 1937 photo
ii) Freddie Mills (1948-50 World Light Heavyweight champion) autograph & photo
iii) Archie Moore (1952-62 World Light Heavyweight champion) signed B&W photo iv) Carmen Basilio (1950s World Welter & Middleweight champion) signed B&W photo
v) Paddy DeMarco (1954 World Lightweight champion) signed colour photo
vi) Joey Giardello (1963-65 World Middleweight, champion) signed B&W photo
vii) Earnie Shavers signed B&W "Puncher of the Century" photo-card
viii) Joltin' Jeff Chandler (1980-84 World Bantamweight champion) signed B&W photo
Estimate: £120-160
-----------------------------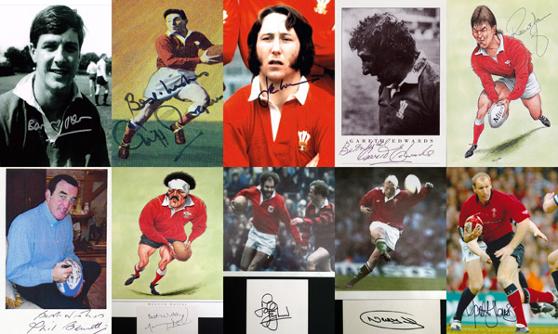 24. Auotographs of Wales Rugby Legends (1970-2000s)
i) Gareth Edwards signed B&W postcard
ii) Phil Bennett signed colour photo
iii) Cliff Morgan signed 1950s Radio Fun card
iv) Barry John signed B&W photo
v) J P R Williams signed colour photo
vi) John Taylor autograph & John Ireland bookplate vii) Neil Jenkins autograph + pic
viii) Gareth Thomas signed colour photo
ix) Mervyn Davies autograph & John Ireland bookplate x) Robert Jones signed John Ireland bookplate.
Lot 444 estimate: £120-160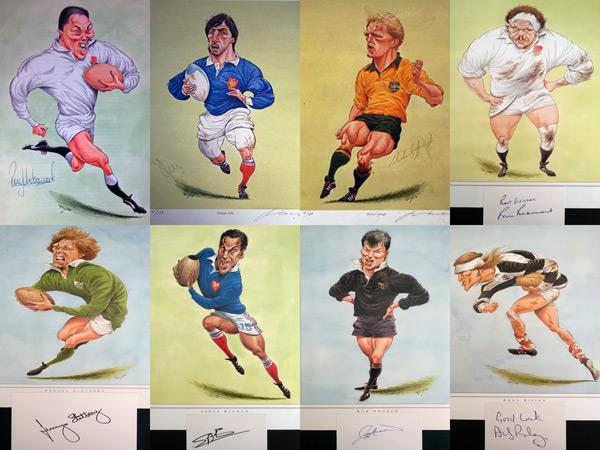 25. Signed John Ireland Rugby prints & book plates (1970-90s)
i) Bill Beaumont autograph + book plate
ii) Andy Ripley autograph + book plate
iii) Rob Andrew autograph + book plate
iv) Rory Underwood signed book plate
v) Serge Blanco autograph + book plate
vi) Phillipe Sella signed print
vii) Michael Lynagh signed print (slight damage)
viii) Fergus Slattery autograph + book plate.
Lot 443 estimate: £ 70-90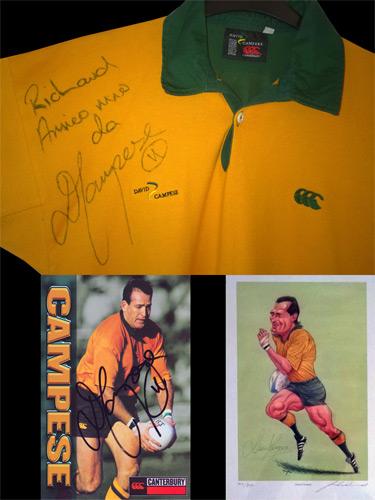 26. Autographed David Campese rugby memorabilia
i) signed John Ireland print (also signed by artist) - framed
ii) signed Campese Australia style rugby shirt
iii) signed promotional postcard
Lot 445 estimate: £60-90
--------------------------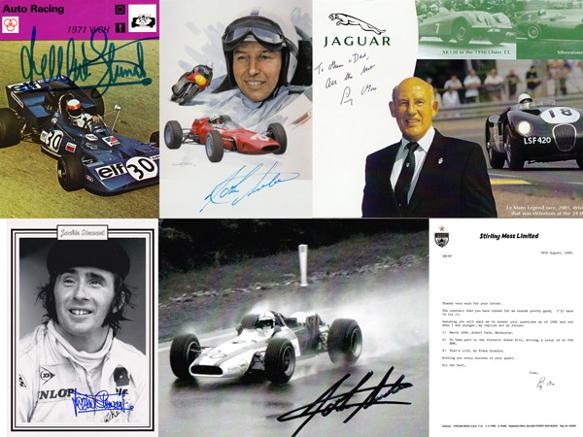 27. British motor racing champions ephemera:
i) a promotional Jaguar card and a letter on his personal company letterhead signed by Stirling Moss,
ii)a 4 by 6in. period photo and colour postcard signed by John Surtees
iii) a 1971 Formula 1 fact card and a 10 by 7in. period portrait signed by Jackie Stewart.
Lot 473 estimate: £150-200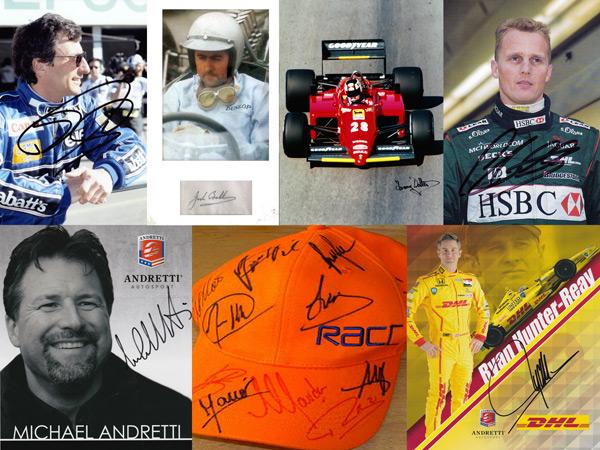 28. Signed Formula 1 and Indycar ephemera:
i) orange RAC cap signed in marker pen by Damon Hill, Bobby Rahal, Paul Tracey, Mark Blundell, Ryan Hunter Reay, Roberto Moreno, Jonathan Palmer, Alex Yoong, and five others
ii) promotional cards signed by Johnny Herbert, Michael Andretti and his race team drivers Ryan Hunter-Reay, James Hinchcliffe, Carlos Munoz, plus
Jack Brabham autograph and F1 photo;
an 8 x 6in photo signed by Ricardo Patrese
a 10 x 8in Ferrari photo by Murray Walker.
Lot 480 estimate: £120-180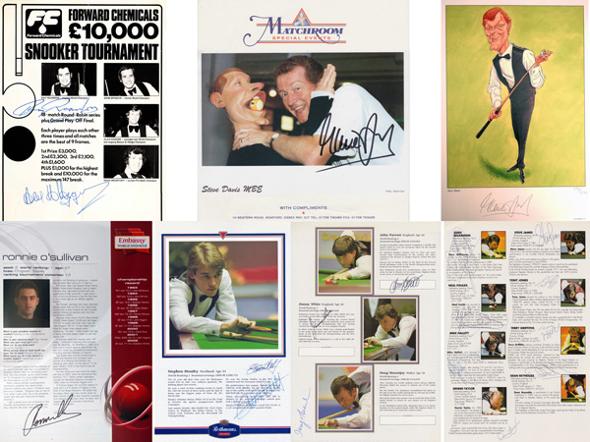 29. Signed snooker memorabilia
i) Alex Higgins & Ray Reardon signed Exhibition Programme
ii) 2003 World Snooker Championship Programme at The Crucible multi-signed including Peter Ebdon, Ronnie O'Sullivan, Mark Williams, John Higgins, Ken Doherty, Stephen Hendry, Stephen Lee, John Parrott, Drew Hendry, Marco Fu, Tony Drago, Nigel Bond, James Wattana, Robert Milkins, Ian McCulloch, Shaun Murphy, Sean Storey, Jimmy White, Mark King, Graeme Dott, Joe Perry, Quinten Hann & Joe Swail, also signed by Jan Verhaas (Final referee) & Hazel Irvine (BBC Presenter)
iii) 1990 Rothmans Grand Prix Programme at the Hexagon Reading signed by World Ranked 1-8:
Stephen Hendry, Steve Davis, John Parrott, Jimmy White, Doug Mountjoy, Terry Griffiths, Mike Hallett & Dean Reynolds iv) 1991 Coalite World Matchplay Programme at The Dome Doncaster, signed by 12: Jimmy White, Stephen Hendry, Steve Davis, John Parrott, Gary Wilkinson, Steve James, Neal Foulds, Tony Jones, Mike Hallett, Terry Griffiths, Dennis Taylor & Dean Reynolds
v) 1992 Coalite World Matchplay Programme at The Dome Doncaster, multi-signed including Jimmy White, Stephen Hendry, Steve Davis, John Parrott, Gary Wilkinson, Martin Clark, James Wattana, Alan McManus, Terry Griffiths, Nigel Bond, Alain Robidoux & Darren Morgan, also by former players & officials John Spencer, Dennis Taylor, Mark Williams, Rex Williams, John Pulman, Jim Meadowcroft, John Williams, Sharron Tokley & others
vi) a Steve Davis signed John Ireland bookplate vi) Steve Davis signed Spitting Image puppet Matchroom photo
Lot 325 estimate: £140-180
============================
Graham Budd Sporting Memorabilia Auctions
at Sotheby's, London on May 18-19 2015
Items offered for sale by Uniquely Sporting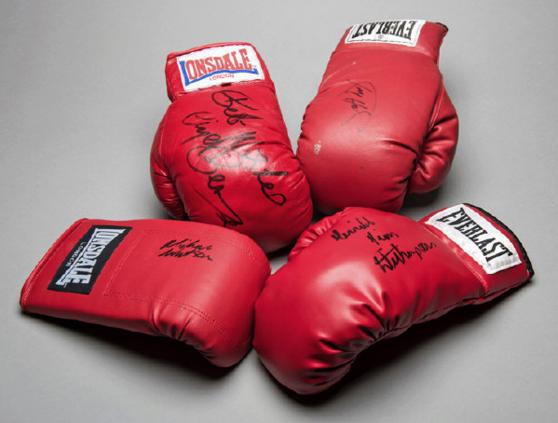 Lot 30 Boxing Gloves
Four signed boxing gloves,
i) Larry Holmes
red right-hand Everlast
ii) Nigel Benn
red left-hand Lonsdale
iii) Michael Watson
red right-hand Everlast
iv) Tim Witherspoon
red left-hand Everlast
All signatures in black marker pen
Est: £180-220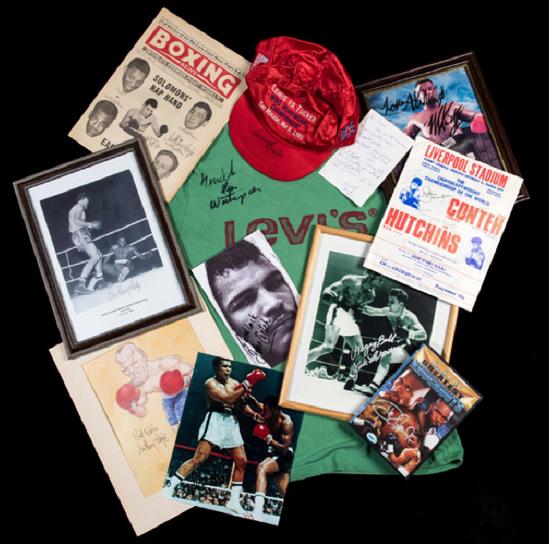 Lot 51 Boxing autographs
i) a Lennox Lewis signed cap for the Tony Tucker fight
ii) a Tim Witherspoon signed Levi's t-shirt (with three small photos from a training session in London)
iii) a Mike Tyson signed photo, framed
iv) Roy Jones Jr signed DVD
v & vi) John Conteh signed picture and signed 1977 World Title Fight programme v Len Hutchins,
with additional signatures including the Liverpool FC players Phil Thompson, Ian Callaghan, Phil Neal
& Terry McDermott,
and the Welsh boxer
David Davies ...
of note on the undercard is future World Champion Leon Spinks' one and only fight in the U.K.
vii) Jake La Motta signed picture, framed
viii) Chuck Wepner signed letter ix) Jimmy Young signed photo
x, xi & xii) Henry Cooper signed caricature print, framed photograph and edition of Boxing News
Est: £280-320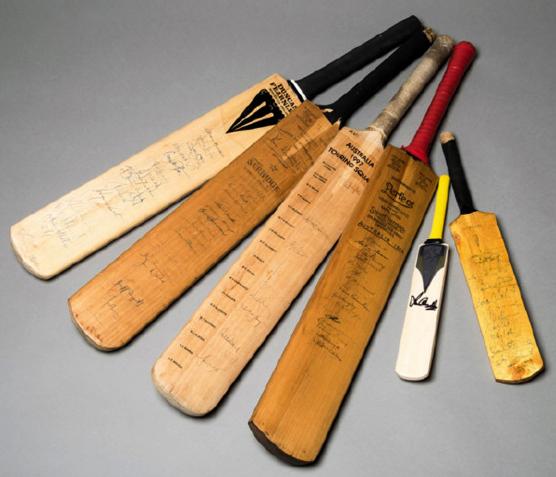 Lot 91 Six autographed
cricket bats signed by Australian Legends
i) the 1953 Australians
ii) the 1964 England & Australia Ashes teams plus Glamorgan, Surrey, Middlesex, Nottinghamshire & Sussex
iii) the 1993 Australians
iv) the 1997 Australians
2 x miniature bats
v) Australia 'A' early 1990s
vi) signed by Ian Chappell
Est: £200-250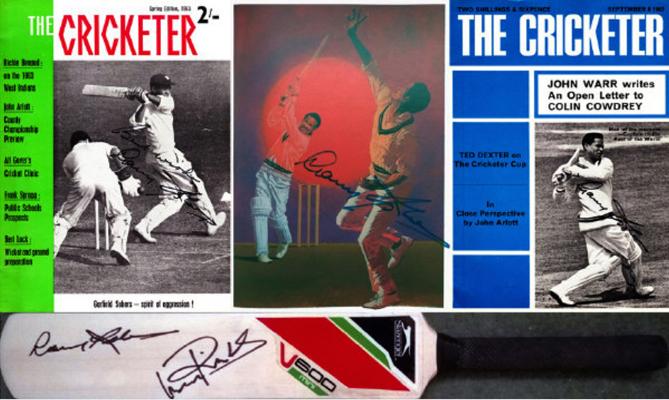 Lot 104 Garry Sobers memorabilia


A miniature cricket bat double-signed by Sir Garfield Sobers &
Sir Viv Richards,
sold together with a Gary Sobers-signed book illustration, 35.5 by 27cm., 14 by 10 3/4in.; and two signed 1960s Cricketer magazines both featuring Sobers flashing the blade on the front cover
Est: £100-150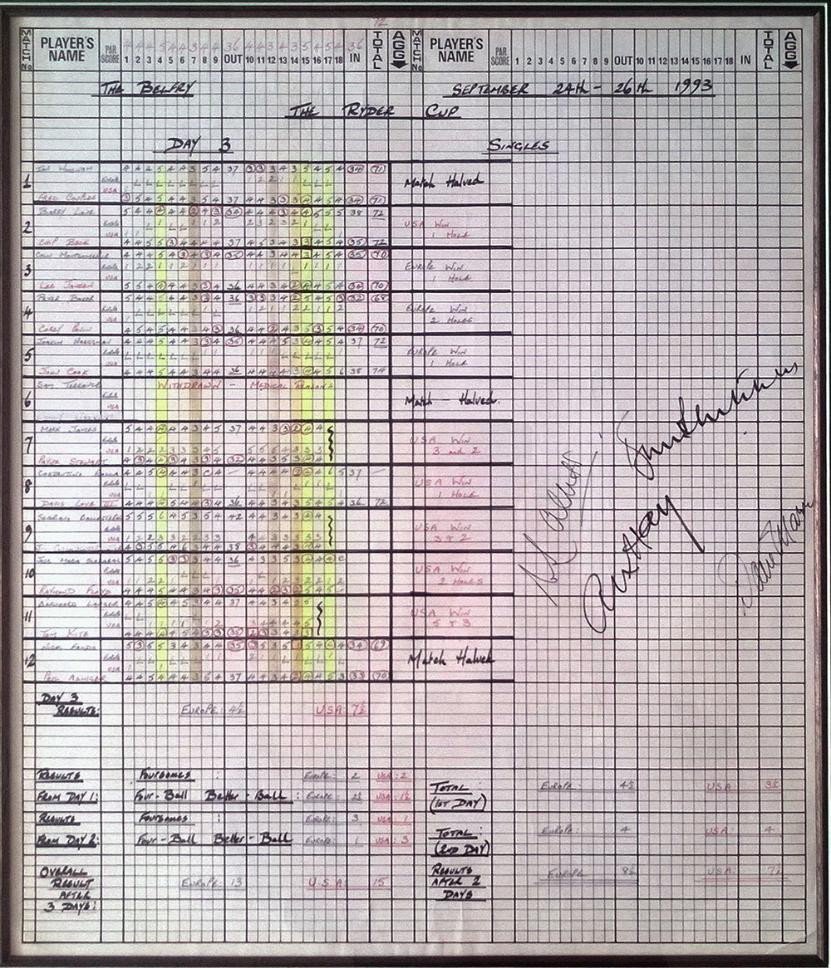 Lot 109 Three framed 1993 Ryder Cup official BBC TV scorecards
With three days complete scoring, hole-by-hole, the Sunday singles card signed by the commentators Peter Alliss, Alex Hay, Bruce Critchley & Dave Marr
Framed sizes:
70 by 62 cm.,
27 1/2 by 24 1/2 ins.
Est: £300-400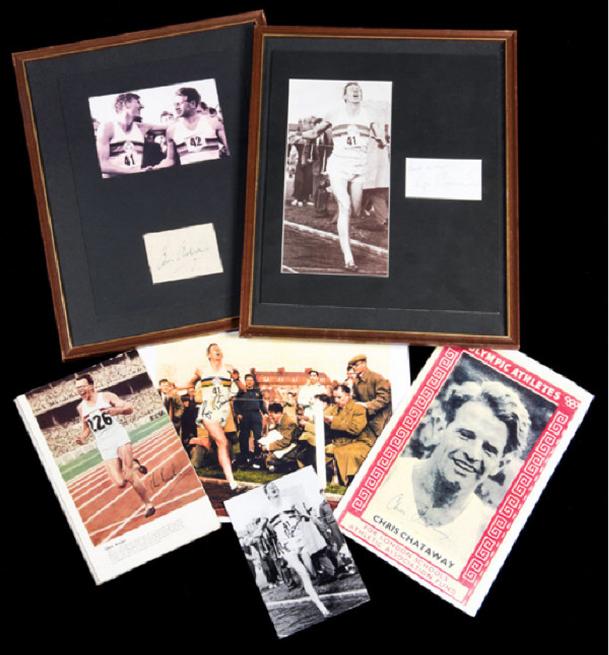 Lot 323 A collection of autographs of the Four Minute Mile athletes
Roger Bannister
framed presentation with signed white card mounted together with a picture of him crossing the finishing line
+
a signed colour picture +
a signed b&w photo
Chris Chataway
framed presentation with signed sheet mounted together with
a picture;
and a signed picture
Chris Brasher
a signed colour plate from a 1950s Athletics programme
Est: £200-250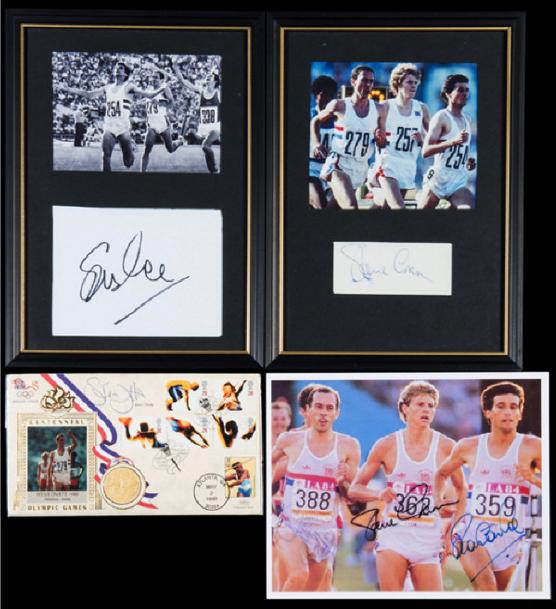 Lot 326 Autographs of rival
British middle distance athletes -
Sebastian Coe, Steve Ovett
and Steve Cram


including ...


a triple-signed picture of them at the 1984 Olympics;
framed presentations of Coe and Cram comprising of a signed card mounted with a picture
and


a 1996 Olympic Games postal cover signed by Steve Ovett
with commemorative medal
Est: £140-180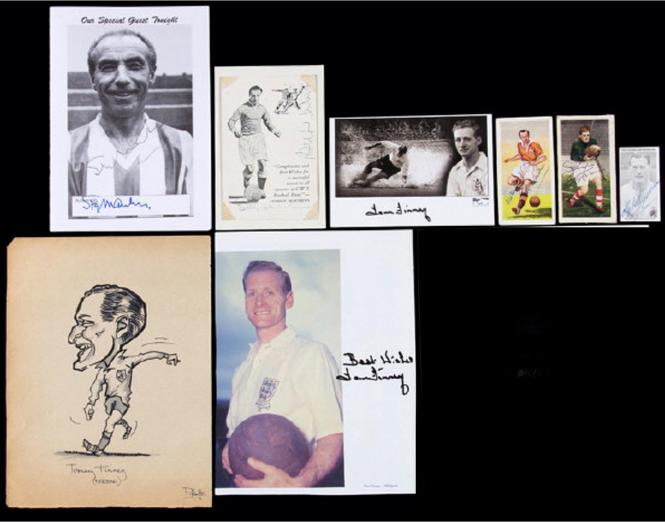 Lot 922
Football Stars of the 1950s: a group of autographed pictures.
Two Tom Finney signed pictures, the famous 'Splash' image and a
portrait in an England shirt;
a Stanley Matthews signed Chix card, and a signed menu where he was Guest of Honour
a Sam Bartram signed Chix card
a Nat Lofthouse signed Football
Magazine card
a CWS Football Boots compliments card double-signed by Billy Wright & Stanley Matthews
the lot also including a pen & ink drawing of Tom Finney signed by the artist
Est: £200-250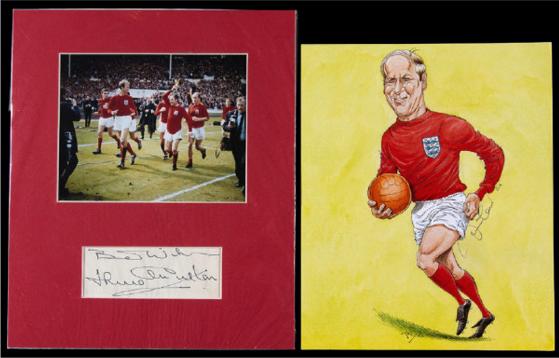 Lot 982 The autographs of Bobby and Jackie Charlton


Bobby Charlton has signed over a John Ireland caricature print depicting the famous 1966 World Cup red shirt strip.
the Jackie Charlton signature mounted with a colour photo of the 1966 World Cup celebrations
Est: £80-100
AUCTION RUNS FROM MAY 18th-19th
with viewing day at Sotheby's in New Bond Street, London on Sunday 17th.