MIKE DENNESS signed
B&W photo showing the Kent captain raising the 1974 Gillette Cup Trophy aloft after KCCC beat Lancashire CCC in a low-scoring, rain-affected final at Lord's.

Approx: 13 x 21 cms

---------------------------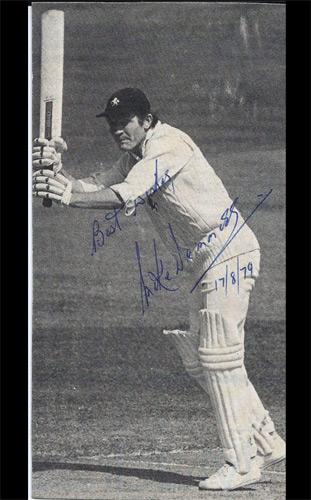 MIKE DENNESS
Signed B&W magazine action photo of him batting for Kent in the late 1970s. Autographed & dated 17/8/1979.

Approx 8 x 16 cms
---------------------------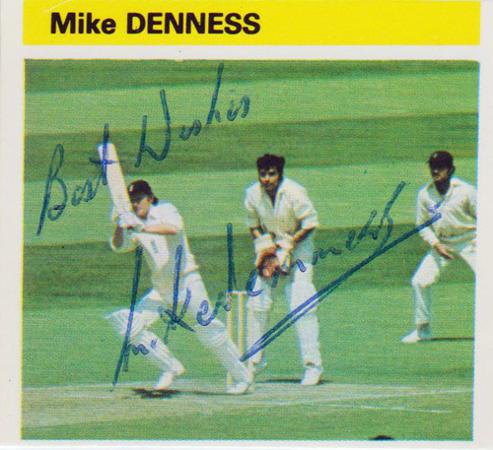 MIKE DENNESS
Signed small player card.
BRIAN LUCKHURST Memorabilia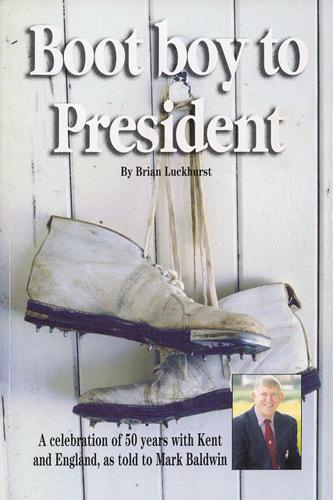 BRIAN LUCKHURST signed
"Boot Boy to President" autobiography
A celebration of 50 years with Kent & England cricket.

First Edition (2004)

S O L D

DENNESS / LUCKHURST MEMORABILIA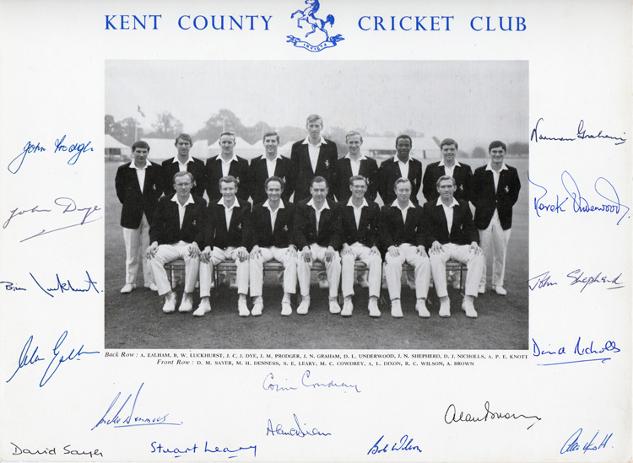 KENT COUNTY CRICKET CLUB
MEMORABILIA
Official team photo s
igned
by 16 players
: Colin Cowdrey, Derek Underwood,
Alan Knott, John Shepherd, Alan Ealham, Mike Denness, Brian Luckhurst, John Dye, Norman Graham, Stuart Leary, David Nicholls, Alan Brown, Alan Dixon, David Sayer, John Prodger and Bob Wilson.
c 1966-67

Approx A4 size
-------------------------------
1968 & 1969 KENT CRICKET SIGNED PLAYFAIR CRICKET ANNUALS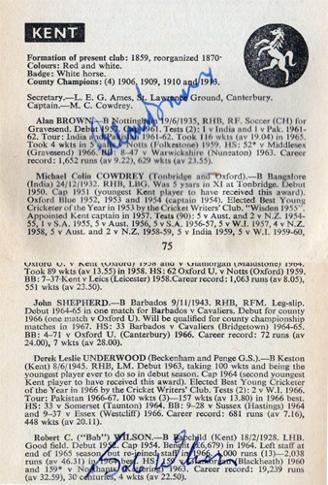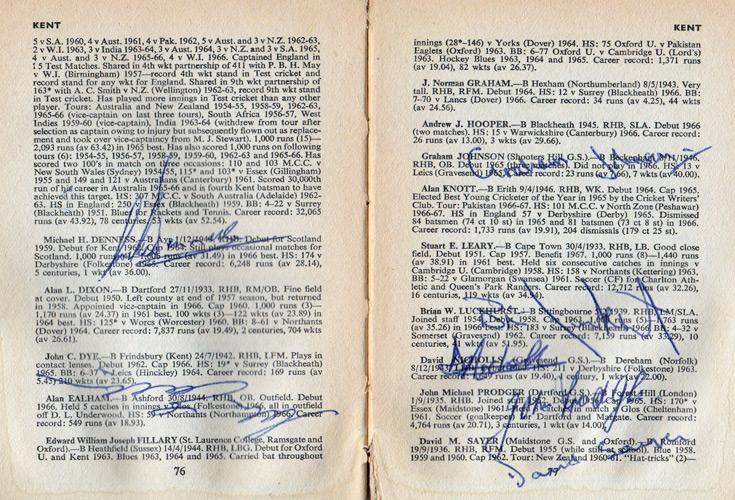 Kent Cricket memorabilia signed 1968 Playfair Cricket Annual player bios.
10 Kent County cricketers have signed in ink across their respective player bio: Alan Brown, Mike Denness, John Dye, Alan Ealham, Graham Johnson, Brian Luckhurst, David Nicholls, John Prodger, David Sayers & Bob Wilson. 4 pages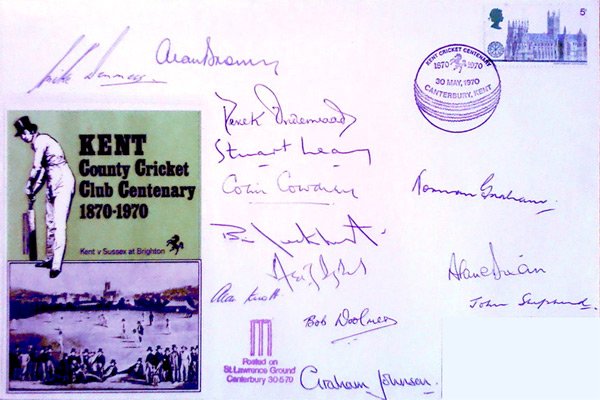 KENT COUNTY CRICKET CLUB CENTENARY 1870-1970 multi-signed First Day Cover



KCCC FDC s
igned by 13 Kent Cricket players inc:
Mike Denness, Alan Brown, Derek Underwood, Stuart Leary, Colin Cowdrey, Brian Luckhurst,
Asif Iqbal, Alan Knott,
Bob Woolmer,
Graham Johnson,
Norman Graham,
Alan Dixon &
John Shepherd.
Posted at St Lawrence Ground, Canterbury (30th May 1970)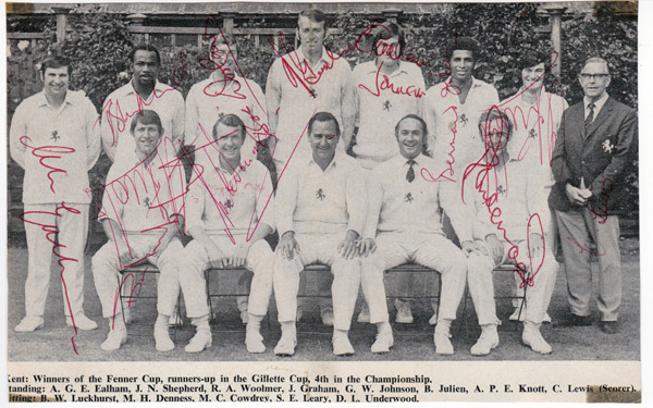 KENT CCC c 1970
signed team magazine pic.



S

igned by 10 Kent Cricket players:


Alan Ealham, John Shepherd, Bob Woolmer,

Norman Graham,

Graham Johnson, Bernard Julien,

Alan Knott (twice), Brian Luckhurst, Mike Denness & Derek Underwood.




Approx Size: 19 x 12 cms


150th anniversary of Canterbury Cricket week memorabilia (1842-1992)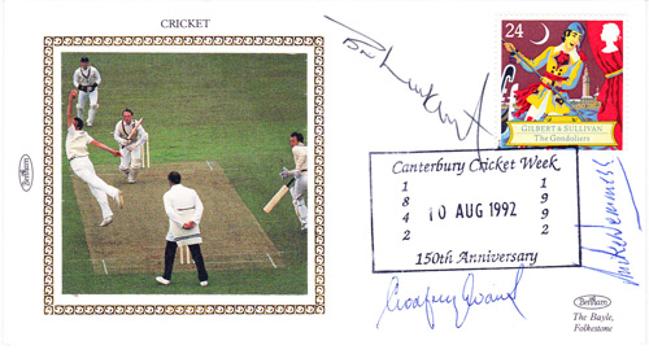 KCCC Canterbury Cricket Week
150th anniversary First Day Cover signed by Godfrey Evans, Mike Denness & Brian Luckhurst.
S O L D